The video of a man sporting four hairstyles at once – fade, braids, locs and twists – has gone viral and sparked a heated debate on social media
Some people find the hairstyle unique and creative, while others think it's a sign of indecisiveness and lack of commitment to one style
Legit.ng takes a closer look at the opinions and reactions of netizens, exploring the reasons behind the mixed reviews
The world of men's hairstyles has just gotten more interesting, thanks to a viral video featuring a man sporting three distinct styles all at once.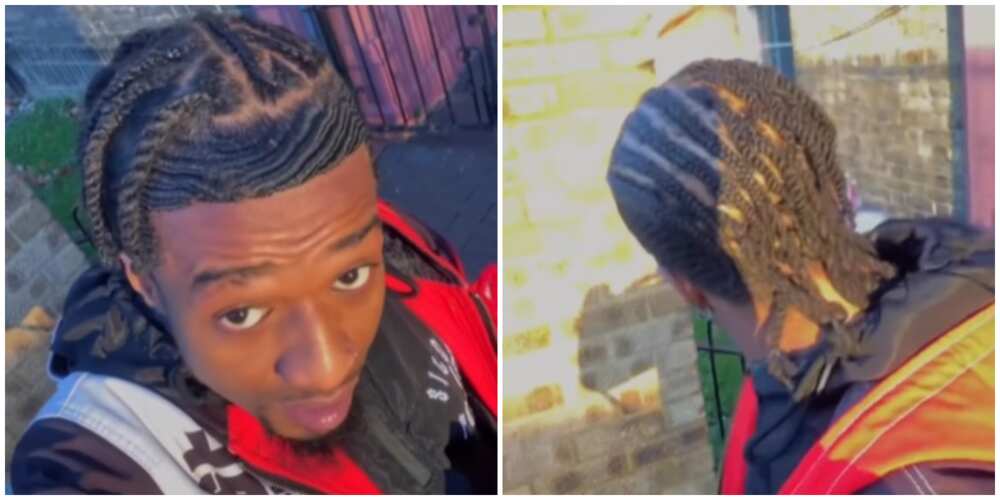 While many people are still trying to come to terms with the idea of men wearing wigs, a man in the trending video took things to a whole new level with his three-in-one hairstyle.
In the video, the man can be seen proudly showing off the interesting hairstyle, which featured fade, braids, locs and twists combination in different sections.
PAY ATTENTION: Share your outstanding story with our editors! Please reach us through [email protected]!
Social media users share thoughts on man's 4-in-1 hairstyle
This led many netizens to express their opinions on the unique hairdo in the comment sections.
While some have praised it as a creative and innovative approach to hair styling, others have been quick to judge it as a sign of indecisiveness and a lack of commitment to a single style.
nomilove23:
"Bruh, If you are afraid of commitment, ️JUST SAY THAT!!!!!!"
johnf_henry:
"We are really living in the end's times."
elletheemodel:
"His hair is beautiful! This is not an everyday look because like how do you maintain it? But I'd do a photoshoot with that! It's definitely not anything I've ever seen before. I fvck with his confidence!"
lanceluv:
"You ever been indecisive or confused?" Barber: "Say less!" *Whips the cape over him* As long as he feel good about it."
xo_queendee:
"It's giving confusion. A for the commitment to the waves but please let's wrap this up by the Spring I beg."
novastyle:
"A mess is what's going on. Pick a side."
i_enigma_:
"4 hairstyles in one. He couldn't decide if he wanted locs, braids, twists or a fade."
terreiscierra:
"This is what you call just wanting attention and he got it."
Video of bald man rocking braided hairdo leaves internet users amused
While many bald people find ways to hide their thinning tops or restore their hair, one man is out here flaunting his, and in style too.
TikToker, @xolanimncube7, left many people cracking up with laughter after sharing a video on the platform. In the video, the man is seen bare-chested, sporting a cornrow hairstyle.
What makes the style interesting is the fact that it was woven around his bald spot, making it shiny and eye-catching.
Source: Legit.ng