"], "filter": "nextExceptions": "img, blockquote, div", "nextContainsExceptions": "img, blockquote, a.btn, a.o-button" }">
Winter hiking is not our favorite term, to be totally honest. It puts too much emphasis on the winter part, making it feel like you should be building snow caves or crossing a glacier to qualify. For many, however, winter hiking is simply a cold, possibly wet day hike on your usual trail, or an afternoon tromp through some snowy woods. The best winter hiking boots of 2024 work for all of those scenarios, keeping you dry, warm, and planted wherever your cold weather adventures may take you.
Winners at a Glance
Best All-Around: Merrell MTL Thermo Rogue 4
Best for Easy Day Hikes: Oboz Andesite II Mid
Best for Technical Terrain: Salewa Ortles Light Mid PTX
Best for Bushwacking: Meindl Bergell MFS Hiker
Best for Deep Snow: Columbia Expeditionist Shield
The Reviews: The Best Winter Hiking Boots of 2024
Best All-Around: Merrell MTL Thermo Rogue 4 ($260)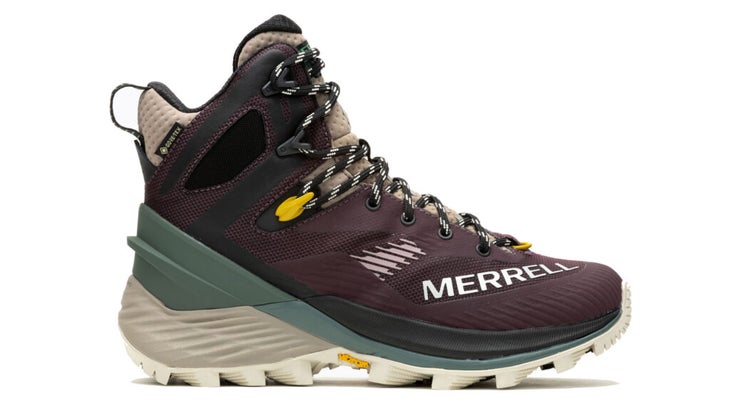 Pros: Great for longer miles in mixed terrain
Cons: The aesthetic isn't for everyone
Sizes: Men's 7-15, Women's 5-11
The Thermo Rogue 4 is the unicorn of winter hikers; these boots strike the often elusive balance between a great hiker and a solid winter boot. They won us over as hikers thanks to a tall lightweight ballistic mesh and Gore-Tex membrane that provided plenty of ankle support but also snugged to our feet like a sock, creating a comfy, blister-free fit right out of the box. Their hiking chops are boosted by meaty, Vibram Arctic Grip outsole soles with five millimeter, terraced lugs lined with tiny teeth that bite into packed snow on otherwise sloppy terrain. During snowy treks in zero-degree weather, the boots provided just the right amount of warmth thanks to 200 grams of Primaloft Gold Eco Series synthetic insulation and Solarcore Aerogel for the insole and over the toe. Category manager Jakob Schiller wore these boots on a late winter hike in New Mexico's Sangre de Cristo Mountains, where he tramped through 12 miles of rocky trail and post-hole snow. "When you're hiking mixed terrain that has dirt and snow, nothing beats these boots," he said.
Bottom Line: Burly winter boot protection without the bulk
Best for Easy Day Hikes: Oboz Andesite II Mid Insulated B-Dry ($210)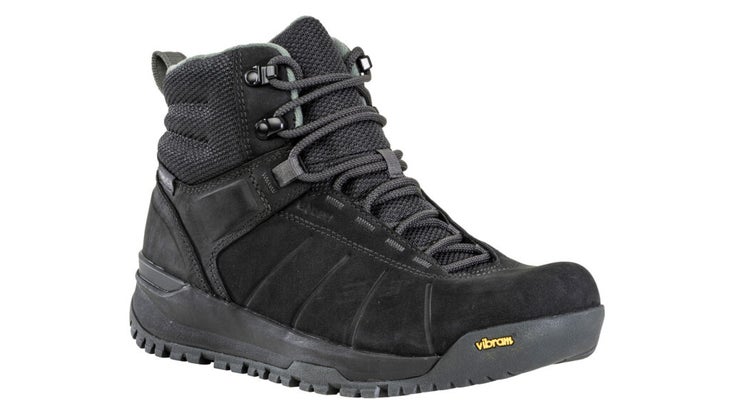 Pros: Versatile, springy, comfortable
Cons: Not enough support for long hikes
Sizes: Men's 8-14
Our top pick for chill, short treks in winter, the Andesite II is an ultra-comfy daily hiker that will keep your feet happy in a variety of cold and wet conditions. Albuquerque, New Mexico-based tester Kip Malone loved the mid-high design and nubuck leather uppers, which created just enough support and protection for shorter hikes on dry, rocky terrain and enough structure to handle snowshoes and traction devices. A B-Dry waterproof/breathable membrane kept wet snow from seeping through, and 200 grams of recycled synthetic insulation was enough to keep the cold at bay without turning the boots into a hot box during strenuous uphill efforts. Malone praised the boot's rebound, which comes primarily from a single-density EVA midsole that put "a noticeable spring in every step on packed or hard surfaces." While there's a TPU shank sandwiched in the sole for support, testers found that the boots were too flimsy to qualify as long-haul footwear or a solid backpacking choice. They fit well out of the box, however, and were roomy enough to allow for midweight winter socks without sizing up.
Bottom Line: A good all-arounder for weekend warriors.
Best for Technical Terrain: Salewa Ortles Light Mid PTX Boot ($300)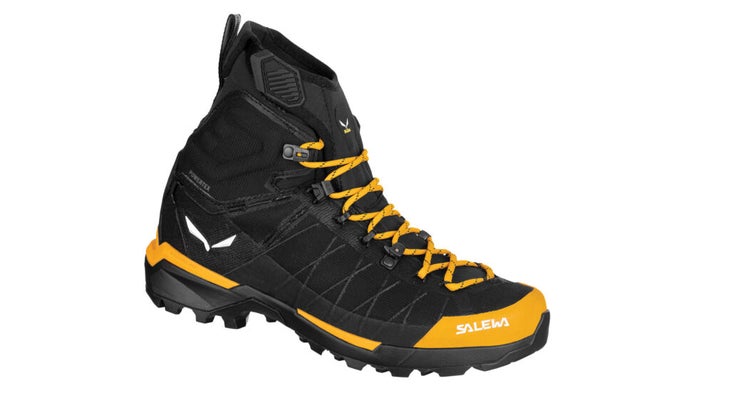 Pros: Rock-friendly outsole, rock plate, crampon compatibility
Cons: Expensive
Sizes: Men's 7-13, Women's 7-11
Vanlifer Max Halbach is a German native who grew up scrambling over exposed terrain in places like Austria's Wilder Kaiser and Scotland's Black Cuillin Ridge. That made him especially appreciative of the Ortles Light Mid PTX boot, which is designed as a fully-waterproof light hiker that can handle mixed technical terrain, including rock, snow, and ice. Its dexterity on steep rock is owed to a grippy Pomoca Alpine Light outsole that smeared and held fast on smooth rock, but also provided solid protection in chundery, loose rock. The uppers are made from a PFC-free, Cordura-like fabric that was tough as nails, helped keep the weight down (only 20 ounces for a men's size 9) and, in combination with extra padding around the ankle, provided Halbach with a snug fit. Burley bonuses like a midsole rock plate to prevent bruising and crampon-compatible heel welt vault this lightweight boot into light mountaineering territory. "These boots are overkill for the average hiker, but if you want to get after it, look here," says Halbach.
Bottom Line: Perfect for steep, technical hikes on mixed terrain
Best for Bushwacking: Meindl Bergell MFS Hiker ($320)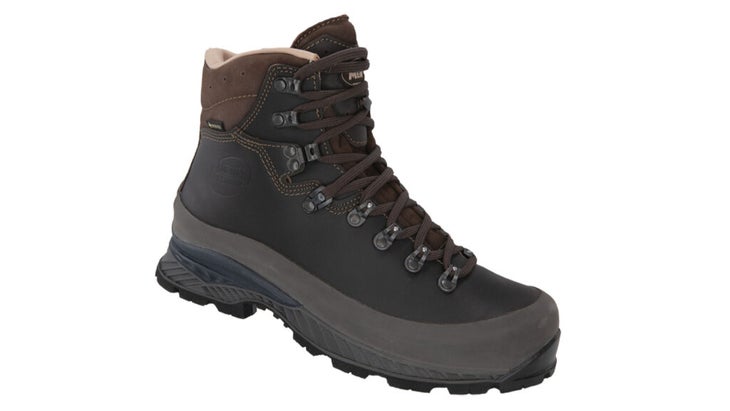 Pros: Ultra durable, supportive
Cons: Heavy
Sizes: Men's 7-12
In some winter scenarios, it's better to not have insulation in your boot. That's because insulated hikers can overheat when you're really huffing up a trail, leaving your feet clammy and cold. When category manager Jakob Schiller chased elk through the mountains of New Mexico and hiked in Jackson Hole, Wyoming this winter, he reached for the Bergell MFS's. With thick leather uppers lined with a Gore-Tex membrane and a fleece layer under the footbed, the boots kept all moisture at bay better than a typical insulated boot, and, when matched with a medium-thick wool sock, created plenty of warmth for cold days down to 10 degrees. The boots are heftier than others we tested, weighing in at three and a half pounds per pair, and took a minute to break in, owing to that thick leather build, but were also the most durable and reliable boots in test thanks to a meaty, multidirectional Vibram outsole and full rubber rand. "No matter where I put my foot—into a bog, on a rock in a scree field, on a grassy slope—I knew I would be safe. I wasn't going to lose traction or roll my ankle," says Schiller. Bonus: because the boots aren't lined, they can also pull double-duty as summer backpacking boots in mild conditions.
Bottom Line: A burly boot for heavy loads and tough terrain in milder climates
Best for Deep Snow: Columbia Expeditionist Shield ($140)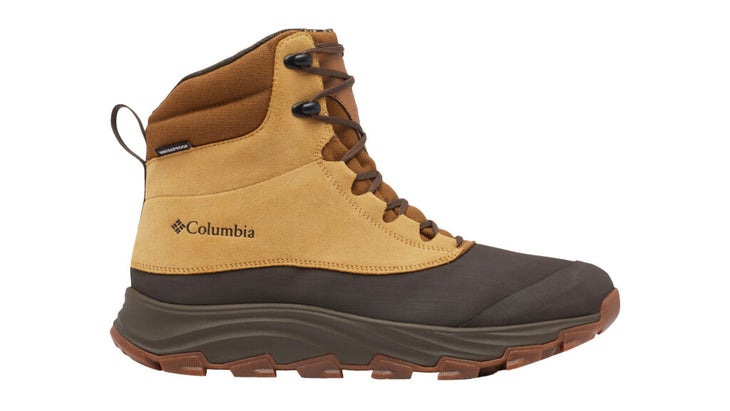 Pros: Fully waterproof, light for the level of insulation
Cons: Not built for long miles
Sizes: Men's 7 – 15
If you smashed together a duck boot, a deep-winter boot, and a regular hiker, you'd get the Expeditionist Shield. Columbia's arrow-shaped treads and outsole held tight to packed snow, felt solid on icy patches, and was just stiff enough to not leave tester Kip Malone's feet fatigued on dirt trails. Thanks to an entirely rubber bottom section, Malone found these boots were ideal for stomping through sloppy wet snow without fear of seepage. (There's a waterproof membrane lining the full boot as well.) The deep-winter chops come from 200 grams of synthetic insulation and a reflective liner, which, when matched with a wool sock, was warm enough for snowshoeing on bitter days when temps dipped well below freezing. Malone stood around in the snow without moving for 30 minutes and was pleasantly surprised to find that his feet were still plenty warm. The Expeditionist Shields aren't quite insulated enough for ice fishing in Minnesota, but they're far more nimble—perfect for hikes in the three to five mile range.
Bottom line: Armor for all but the coldest conditions and unavoidable slush
How to Buy
The first question to ask about buying Winter Hikers: Where and how will I use them? Do you live in Colorado and love to snowshoe, or are you down in Georgia and just in need of something waterproof and warmer than a normal boot? Will you be running and fast-packing in the boots, or carrying a heavy pack over rough terrain and sitting around a campfire? Narrowing down your use-case is absolutely necessary because winter hikers are more specific in their design than normal hikers—you don't want to get stuck with a boot that's too warm, heavy, or stiff. To help you make the right choice, here are the factors you'll want to consider.
Insulation
In our testing, most synthetic insulations are similar in terms of warmth. Pay less attention to the type of insulation and more to the amount. Hikers that will keep you warm in the snow but not overheat your foot often come with about 200 grams of insulation. Boots with more insulation are often designed for inactive use (apres, ice fishing, etc.) and not for hiking.
Traction
Just like winter tires that are designed to perform on snow and ice, some winter hikers come with winter soles designed to do the same. Vibram's Artic Grip outsole has a proprietary compound (they're very tight-lipped) that makes a noticeable difference in terms of traction on wet ice. And the lugs on Merrell's Thermo Rouge 4 have tiny teeth that bite into packed snow and kept us from falling on our faces.
Waterproofing
If you're serious about winter hiking, your boot should have a waterproof membrane. We've seen folks head out with leather boots treated with waterproofing spray or oil and they never perform as well as a tried-and-true Gore-Tex (or similar) membrane. We're sticklers about moisture, because wet, cold feet will mean the end of your hike—or worse.
Fit
Like all boots, winter hikers will tear your feet to pieces if they don't fit well. Even if you can't try on your preferred boots at a local store, go ahead and order them, wear them around your house for a couple days, and make sure your foot isn't screaming to get out. You'll want to pay attention to things like heel slippage (which causes blisters), toe space, overall width (do you feel better in a narrow boot or wider boot?), ankle support, and how easy they are to pull on and off.
How We Test
Number of testers: 8
Number of products tested: 13
Coldest temp experienced: -5
Highest elevation reached: 12,500 feet
To qualify for our test, this year's winter hikers needed to have the basics: strong hiking chops with added warmth for colder conditions. But that's just the beginning. We field-tested and analyzed waterproofing, traction, comfort, and stability—four critical factors in winter climates—in conjunction with the level of warmth retention a boot offered.
To put these boots through their paces, we set out to the coldest, snowiest places we could find, including Jackson Hole, Wyoming and Alta, Utah, both of which set annual records for snowfall in 2023. Testers ran the gamut from carefree van dwellers who were criss-crossing the country to winter athletes to moms and dads with just a few hours to burn off steam. During the test we clomped through fresh snow, tried our best to slip in icy parking lots, post-holed on late-winter hikes, and stood around in snowbanks to see how long it took for our feet to go numb. But most importantly, we put in miles. If a boot wasn't comfortable, supportive, and reliable, it didn't make our list.
Meet Our Lead Testers
Kip Malone is a grumpy old man. At least when it comes to footwear. At 58 he's moved past "giving things a shot" and straight to "it better work." He doesn't have time to deal with shoes that give him blisters, come with unnecessary features, or leave his feet cold when he's out trying to get miles in on the trails around the Sandia Mountains outside of Albuquerque, New Mexico. In other words, he's the perfect tester. Over the decade he's been testing for Outside, Malone estimates he has worn 200-plus pairs of boots.
Jakob Schiller is a former gear editor at Outside and now a columnist. He also lives in Albuquerque, New Mexico, but traveled the country this winter in search of all manner of snowy, icy conditions. He tested various boots in places including Jackson Hole, Wyoming, the Rockies outside of Denver, Colorado, trails around Flagstaff, Arizona, and in the mountains near Taos, New Mexico. He's not as grumpy as Malone, but does have four kids that help him to appreciate the little free time he does have.