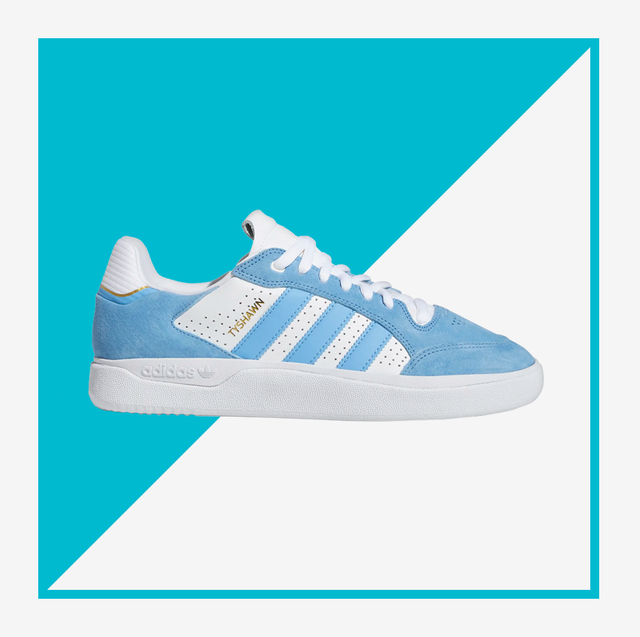 Courtesy
If you lived through—and, perhaps, regretfully participated in—the big and bulky skate shoes trend of the early aughts, we understand why you may have reservations about reading this any further. But the good news is that skate shoes have changed a good deal since we were all trying too hard to imitate our pop-punk heroes of that era.
And if you, like many of us, were merely following a shoe trend from the 2000s instead of being legitimately involved in skateboarding—an official Olympic sport as of 2020—we'd like to stress that skate shoes, as it turns out, actually serve a very specific purpose for actually talented individuals.
Read More: Best Golf Shoes for Men
So here's what to know: Flat soles are a crucial part of skate shoes, which allow riders to have greater control of their boards and to maximize their ability to balance themselves. The overall construction should also provide a decent amount of cushioning. When you're literally flinging yourself into the air, impact protection is key.
And sure, skate shoes aren't the first practical footwear to be coopted by those more interested in fashion than function, so if you're still into this style of shoe, go for it. With big sportswear brands all refining their takes on skate shoes, it's hard to resist these cooler, sleeker offerings. As for the pros, you know what separates the good from the great, so keep scrolling to shop our picks of the best men's skate shoes.
Read More: Best Men's Shoes
Advertisement – Continue Reading Below
Best Streamlined Skate Shoes
SB Nyjah Free 2 Skate Shoes
Due to its trim silhouette, the SB Nyjah Free 2 might not look like a typical skate shoe, but it's definitely built like one. Its design references Nike's classic Air Zoom Spiridon running shoes, with this second version switching out the rubber upper from the first line with mesh panels for extra breathability.
Read more: Best Online Clothing Stores for Men
Best 90s-Inspired Skate Shoes
Numeric Tiago Lemos 1010 Skate Shoes
Brazilian pro skater Tiago Lemos chose these New Balance beauts as the first skating shoes he'd like to back. On top of all the cool advancements—including the comfortable and reinforcing FuelCell foam midsole—the pair of skate shoes nail a modern interpretation of a 90s style.
Best Pro-Designed Skate Shoes
CONS Louie Lopez Pro Nubuck Leather Skate Shoes
Converse's foray into sportswear actually kicked off with basketball, but eventually the brand developed its CONS offshoot, which is specifically focused on skate shoes. Made with a rubber-backed nubuck upper and featuring a foam sockliner, it's obvious that a pro skateboarder designed this pair.
Best High-Top Skate Shoes
Sk8-Hi Skate Shoes
Despite the somewhat obvious "Off The Wall" slogan, Vans are arguably some of the most popular skate shoes worn by non-skaters. But for those who ride, this brand is legendary. This pair, constructed from suede and canvas uppers, is only the second model to be adorned with the iconic Vans Sidestripe. The re-enforced toe caps and padded collars guarantee the shoes are up to the task.
Best Low-Top Skate Shoes
Tyshawn Low Skate Shoes
A reinvented take on professional skateboarder Tyshawn Jones' Adidas skate shoes in a leather and suede construction sees the pair revised as low-tops. Together with the German brand's wear-resistant Adituff toe reinforcement, Adiprene sockliner and ultra-comfy memory foam lining, this one's fit for any and all sorts of tricks.
Marana Slip XLT Skate Shoes
Undoubtedly one of the most beloved skate shoe brands of the 2000s for skaters and non-skaters alike, Etnies has slimmed down its well-known Marana and gone full slip-on style. With its Michelin tread outsole, double-wrapped vulcanized foxing tape and durable rubber toe cap, it's still a skate shoe through and through.
Lakai has been a footwear company by skateboarders for skateboarders from the start. Founded in 1999, the brand has evolved to meet today's idea of what constitutes a skate shoe—from its cushy footbed and grippy outsoles, the Cambridge has all the goods packed in a leaner and meaner silhouette.
This suede number by éS proudly boasts the puffy tongue in all its 90s glory. The durable cupsole construction and perforated side panels will let you pull off any stunts with ease, even if that just means rocking a pair to satisfy a longing for that decade's aesthetic.
White sneakers have become a wardrobe mainstay, and with 90s fashion all the rage right now, a pair of skate shoes in the neutral tone will tick several boxes—regardless of whether you decide to take up the sport or not. Besides, an EVA footbed is always a win.
Read More: Best White Sneakers for Men
Wino Standard Skate Shoes
These Emerica skate shoes feature a triangle tread rubber outsole and cushioned EVA footbed, all set in a low-profile construction. Fantastic for riders, sure, but we'd wear these out on the daily, too.
This content is created and maintained by a third party, and imported onto this page to help users provide their email addresses. You may be able to find more information about this and similar content at piano.io
Advertisement – Continue Reading Below