<\/div><\/div>"],"filter":"nextExceptions":"img, blockquote, div","nextContainsExceptions":"img, blockquote, a.btn, a.o-button","renderIntial":true,"wordCount":350}">
We tested this year's men's winter workwear in the Alaskan mountains, Tennessee thorns and thistles, Delaware snowstorms, and on the equatorial waters of the Pacific. All of our testers were searching for that one-quiver piece of gear to cut redundancies from their work kits. We looked for apparel tough enough to endure full work days yet comfortable for evenings around a campfire or out on the deck. Here are the five pieces that rose above the rest.
The Winners at a Glance
Mountain Hardwear Jackson Ridge Pant
Keen Utility Reno Work Boot
5.11 Bastion Jacket
Montane Fireball XT Hoodie
Patagonia Hemp Tool Bag
The Reviews: The Best Men's Winter Workwear of 2024
Mountain Hardwear Jackson Ridge Pant ($120)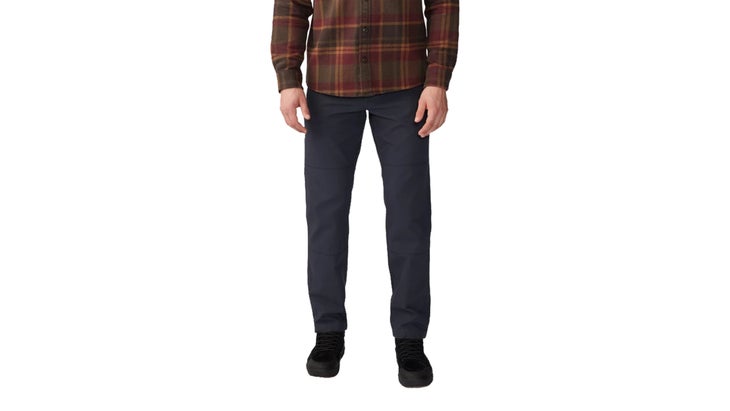 Sizing: 0-16
Our military engineer tester spent most of his testing days moving through the thick brush of Tennessee, and the Jackson Ridge pants bore a lot of the brunt. He cut and stacked brush and found that the canvas stood up to the hardwood thorns and branches without tearing. Mountain Hardwear tends to run a little small, and he couldn't layer long johns comfortably underneath them, but the 100 percent cotton denim was thick enough that he never worried about tears. The Jackson Ridge pants were put through the wringer, and he's still wearing them.
Keen Utility Reno Work Boot ($175)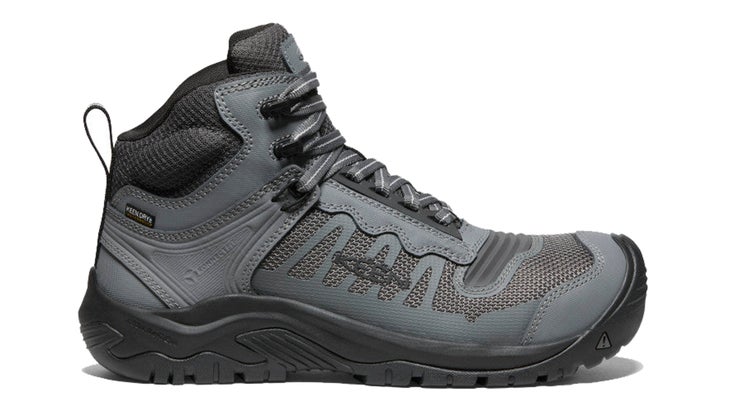 Sizing: 7-15 in medium and wide
One of our testers took these boots out daily while working on the deck of a ship close to the equator, meaning downpours were pretty much constant. Their lightweight build helped the sailor move nimbly around the ship's small spaces without worrying about crushing his toe during mooring or buoy deployment—staying safe under these conditions requires high agility, especially avoiding tripping over anything while the ship is swinging. These boots look much like many other waterproof boots, with a leather upper, a waterproof liner, and a rubber outsole, but the carbon fiber toe is lighter than steel, which made the boots feel less clunky. Our sailor said the boots fit well right away, with a short break-in period, and he's been using them daily for months.
5.11 Bastion Jacket ($230)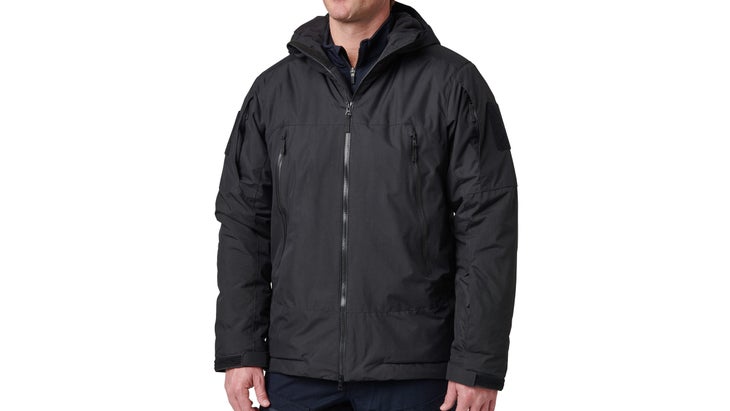 Sizing: S-3XL
The Bastion has everything our outdoor education instructor tester expects in a work jacket, including warmth, water resistance, and breathability. The outer hardshell is a heavy, 3.7-ounce ripstop with a water-repllent finish, holding in a thin yet waterproof hardshell that protects the Primaloft insulation. He taught ice-fishing to three groups of kids over two days in temperatures that didn't rise above ten degrees, and the jacket didn't once let in the cold. The pit zips and compression bag make the coat wearable in warmer weather and easy to bring anywhere. With five handy pockets, our tester always had emergency items like a balaclava or neck gaiter ready. Sometimes, his worksite was many miles from a road where the only way in was a long snowshoe, but this jacket always kept him comfortable.
Montane Fireball XT Hoodie ($355)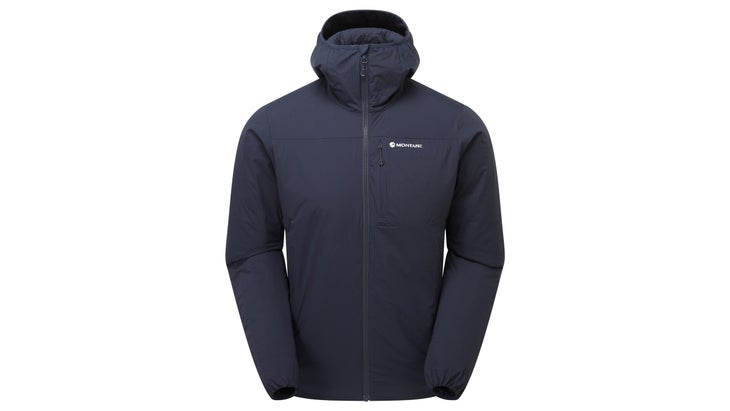 Sizing: Men's S-XXL
The Montane Fireball XT Hoodie is very durable: the nylon and poluretan shell resists snags and thorns that create small tears in most down jackets. After eight months of moving lumber around his yard, our tester has yet to see a rip. It's also easy to tear your clothes when moving intensely in a way your body usually doesn't, but not with the Fireball's articulated arms. Bonus: The slim, athletic-style fit looks sleek, so our tester can wear this to the office without looking like he just walked in from a lumber yard.
Patagonia Hemp Tool Bag ($129)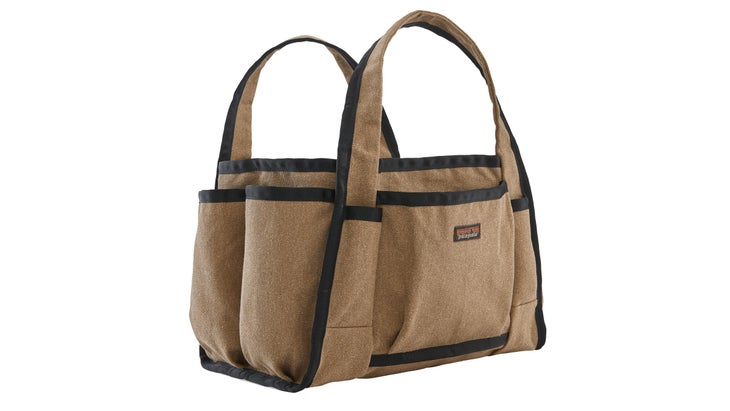 Weight: 1 lb 9 oz.
Forget the briefcase and quit worrying about any extra bulk with this simple yet effective canvas tote. The Patagonia Hemp Tool bag is large enough to hold a few laptops, notebooks, lunch, and gym clothes, and tough enough to haul 40 pounds of rock. Even with three different sizes of pockets (10 pockets total), it carried nicely and kept all of our tools organized easily. Our carpenter tester used it to haul all their daily essentials for a month, and the tool bag never tore, ripped, or lost its integrity.
How to Buy
Check for flexibility in the arms and legs—and extra material in high wear areas—if your job requires a specific range of motion or repetitive postures. Workwear tends to resist cutting and tearing while repelling stains and smells. That said, make sure the apparel you choose can deal with heavy abrasion—like building livestock fencing—or has a hydrophobic coating for working in wet or greasy environments by asking your local shop what the product you're considering is best for. Critically, double-check that anything you buy can accommodate your daily personal protective equipment, like a hardhat. Note: As small companies that develop products for a specific niche of work apparel, most of the brands we've suggested here tend to sell their products direct-to-consumer.
How We Test
Number of Testers: 6
The coldest temperature during testing: -30 degrees Fahrenheit
Worst weather: A cold, wet, and windy night. 30 degrees Fahrenheit, slush with darkness.
Worst conditions: Rain, heavy 15-20 ft. seas, moving platforms requiring constant balance
Testers across the United States tried about a hundred garments this year. The clothes were used in military training, Alaskan floods, on frozen lakes, and used to assemble a kid's jungle gym in the Northeast's rain. This year, our main tester moved from fieldwork to a new outdoor photography position that's half in an office. This crew of testers, an Alaskan builder, an outdoor education teacher in the Wrangells, a Philadelphia lawyer, an Army Special Operations engineer, and a research sailor who took the gear to the equator and back, helped sort out the most durable and best-looking threads for your next job.
Meet the Lead Tester
Charlie Ebbers lives and hunts in the Copper River Basin of Alaska with his dog Bo. He's a long-time contributor to Outside and he's currently working with his wife to build a log house and steel garage on two acres near the Copper River.