<\/div><\/div>"],"filter":"nextExceptions":"img, blockquote, div","nextContainsExceptions":"img, blockquote, a.btn, a.o-button","renderIntial":true,"wordCount":350}">
With trail runners leading the way as the most popular footwear on-trail, it would be understandable to think that the traditional hiking boot is on its way out. But this year's test suggests something different: Most of the 40 models we tested proved mightily that proper hiking boots and shoes make backpacking easier and more comfortable, protect our feet and ankles, and stick to roots, rocks, and dirt.
But the push to go fast does permeate the entire field. And that's a good thing. It means lighter weights, a nimbler feel, and smoother striding, no matter the style of boot. The very best men's hiking shoes and boots—the ones that made this list—will help you walk with less effort, leaving you more energy to go further and faster while savoring the journey along the way.
The Winners at a Glance
Best for Long Hikes: Adidas Terrex Free Hiker 2
Best Value: Hi-Tec Trail Destroyer
Best Day Hiking Boot: Oboz Katabatik
Best Overall: Asolo Tahoe Mid GTX
Best for Rough Trail: Tecnica Forge 2.0
Best Speed Hiking Boot: Salomon Cross Hike 2 Mid GTX
Best for Fast-Packing: Salewa Pedroc Pro Mid PTX Boot
Best Backpacking Boot: Merrell Rogue Hiker Mid GTX
Best Mountain to City Hiker: Danner Mountain 600 Leaf GTX
Best Alpine Boot: The North Face Summit Breithorn Futurelight
How We Test
Number of Testers: 16
Number of Products: 40
Number of Miles Hiked: 600-plus
Number of Blisters: 3—pretty good for the mileage
Mostly we just let our testers do what they do best: walk. We called in 40 different hiking boots and shoes and handed them out to 16 testers with instructions to put on some serious miles. They took short hikes and 30-mile backpacking trips, on trail and off. They scrambled up peaks and down canyons, logging more than 600 miles in total. As they trekked along, we asked them to consider everything from fit to grip, cushioning to stability. Because pack weight can influence all these variables, we had them hike with both light loads and heavy packs. And to understand how boots and shoes performed in different weather conditions and environments, we spread testers and samples across the continent, from coastal British Columbia to New England's windy summits.
Meet Our Lead Testers
Ryan Stuart
Ryan Stuart has been lacing up for more than 30 years. Growing up in Alberta, Canada, he started hiking as a teenager on the world class trails of Banff National Park, before moving on to the coastal hikes and lonely mountain trails of Vancouver Island, where he now lives. His hiking resume spans the world, from Australia to Ireland, northern Canada to the U.S. southwest.
Lindsay Elms
Lindsay Elms was running ultra races and knocking off Fastest Known Times long before they were trendy. Originally from New Zealand, he's lived on Vancouver Island for more than 30 years. He's one of only a few people to have climbed all of the Canadian island's 6,000-foot peaks.
Adam Jaber
When he's not dreaming up new marketing strategies for Colorado Ski & Bike, Adam Jaber is the host of the Out of Bounds podcast, an outdoor industry-focused radio show. Research for both jobs includes plenty of time in the snow and dirt.
The Reviews: The Best Men's Hiking Boots of 2023
Best for Long Hikes: Adidas Terrex Free Hiker 2 ($200)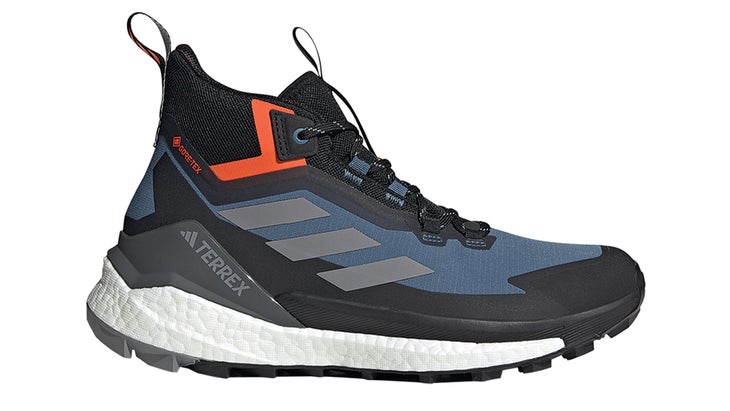 Weight: 14.1 oz.
Sizes: 7-13
Pros: Sock-like fit, very cushioned ride
Cons: Unstable in uneven terrain
From box to trail, the Free Hiker 2 is like no other hiking boot we tested this season. The style and color combinations split opinions between "refreshingly different" and "obnoxiously loud." The mix of a stretchy, knit upper (which is missing from the Gore-Tex version of this shoe) and extra thick foam midsole give it a cushy ride we rarely experience in a hiker. The seamless knit-and-mesh upper, made from recycled ocean plastic and polyester, pulls on like a sock, sealing the top of the boot above the ankle and stretching to secure the foot even before tightening the laces. The thick, rockered expanded TPU midsole is both squishy and energetic. "I felt like I was floating and being propelled into the next stride at the same time," said men's footwear category manager Ryan Stuart. After a 10-mile walk with plenty of time spent on a logging road, his legs felt surprisingly fresh. There's not a lot of protection, however: no rock plate or waterproof membrane, the heel counter comes up just half an inch and offers little stability, and only a thin rand armors the lower part of the upper. The boot felt stable enough to carry a 20-pound pack for long day hikes on smooth surfaces. But on bouldery and rooty trails or under heavier loads, the Free Hiker 2 felt imprecise and wobbly. Traction was more consistent—we never slipped in dry or muddy conditions. "It's damn comfortable to wear," summarized Stuart.
Bottom Line: The Adidas Terrex Free Hiker 2 is ideal for long day hikes on even trails.
Best Value: Hi-Tec Trail Destroyer Low ($50)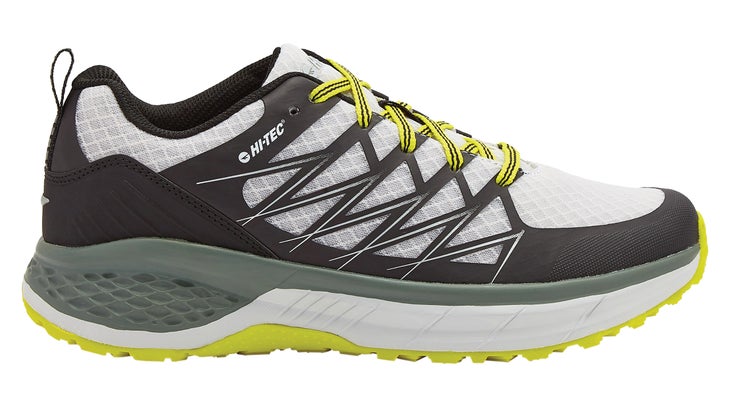 Weight: 8 oz.
Sizes: 8-13
Pros: Great value; good support
Cons: Durability concerns
Bargain hunters, here's your quarry. The Trail Destroyer offers the best value of all the hiking shoes we tested. "Definitely sacrificed some style, but the comfort and support was unreal for a shoe at that price point," said Upstate New York-based tester, Adam Sauerwein. Hi-Tec calls it a trail runner, but we found it worked best as a light hiker. Hi-Tec paired its low cut and mesh upper with an EVA foam footbed, a lightweight shank for stability, and a dual-density, cushioning and supportive EVA midsole —all the basics we look for in a day hiker. It excelled at short distances, light loads, and smooth paths. Hiking up to 10 miles with a daypack, they proved comfortable and capable. The shallow-lugged outsole gripped a variety of surfaces better than we expected, and the flat laces never came undone. And, while the mesh upper soaked through in wet grass, the breezy fabric beat the heat in summer temperatures. As Sauerwein teased, these are not the coolest-looking hikers, and durability and longevity are the cost of the enticing price. For the casual hiker, though, these are a great buy.
Bottom Line: The Hi-Tec Trail Destroyer is an inflation-buster for summer dog walks and day hikes.
Best Day Hikers: Oboz Katabatic Low ($140)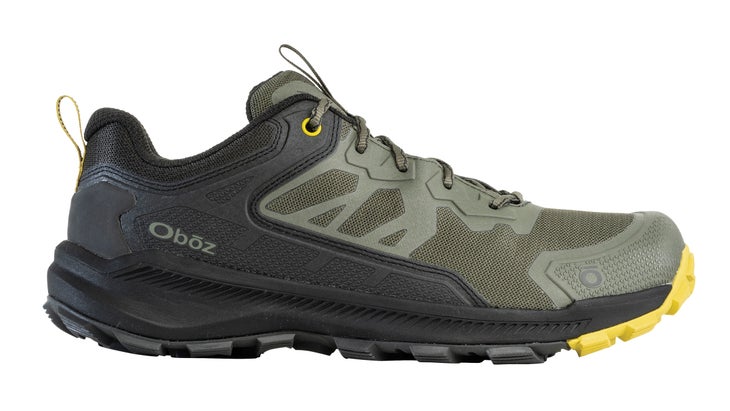 Weight: 12.7 oz.
Sizes: 7-15
Pros: Stable; excellent cushioning
Cons: Some break-in required
Comfort and stiffness are often in opposition when it comes to hiking boots, but not in the Katabatic. The combination of a supportive TPU heel cup and single-density EVA midsole created support without sacrificing a gentle ride. "I'm a very heavy-heeled hiker, and these were like walking with springs in my heels," reported Alabama-based tester, Seth Kromis, after hiking 10-miles in them with a day pack. A slightly rockered sole helps, absorbing some of the pounding and adding momentum into the next stride. Testers found that the mesh upper was plenty breathable for temperatures into the low 80s, while Brent Anderson, a bike mechanic from Cumberland, British Columbia, liked how nimble the shoes felt: In rooty and rocky terrain, solid grip and a tactile forefoot kept him moving fast. Surprisingly for a low cut hiker, it did require a few miles to break in the TPU bumper that protects the toe, but felt comfortable and easy-walking afterwards.
Bottom Line: A hiker mullet: trail runner feel in the front and the stability of a boot in the back
Best Overall: Asolo Tahoe Mid GTX ($200)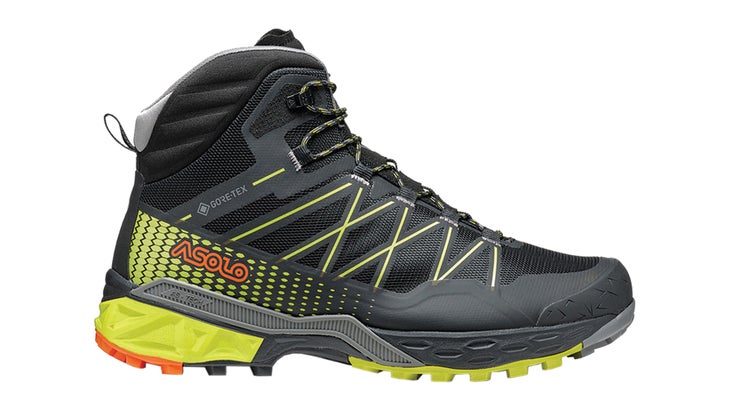 Weight: 17.6 oz.
Sizes: 8-13
Pros: Versatility; comfort
Cons: Thin laces
After 30 miles of speed-hiking in the Tahoe, prolific Courtenay, B.C.-based climber and runner Lindsay Elms is rethinking his strategy of only wearing trail runners. "The boot was extremely comfortable, even after wearing it all day," said Elms. The Gore-Tex-backed polyester upper was supple right out of the box and kept water out during a soaking day hike. The stiff midsole softens at the toe for a springy stride, particularly while going uphill. And the narrow outsole, which doesn't extend beyond the outline of the upper, was stable and nimble in rough and uneven trail conditions. The mid-height boot and high-density rubber and EVA midsole helped provide support, particularly when Elms wore a heavier pack. "I could move over uneven terrain with very little boot movement," he reported. Scooting up logging roads, jogging down mountain bike trails, or smearing on mountain ridge lines, the proprietary, wide-lugged outsole stuck. After 30 hard miles, the outsole shows some wear, but the rest of the boot looks mint. The next time he slows down enough to walk, said Elms, these will be on his feet.
Bottom Line: The Asolo Tahoe Mid GTX is a versatile boot for all kinds of hiking.
Best for Rough Trail: Tecnica Forge 2.0 GTX ($310)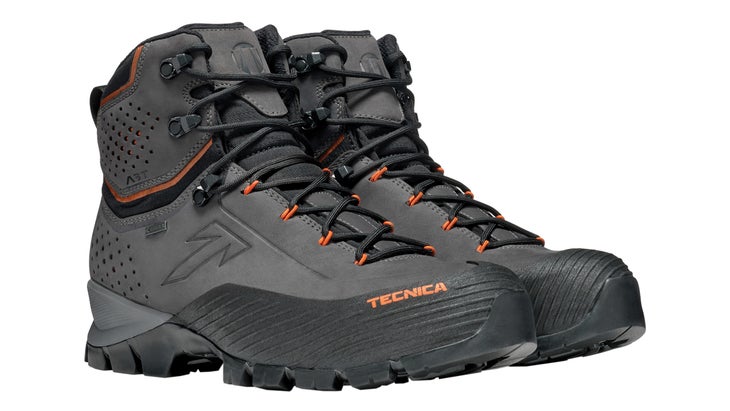 Weight: 22.2 oz.
Sizes: 7-14.5
Pros: Stable and supportive; versatile grip
Cons: No lace lock
What does a ski boot maker know about hiking? A good deal, apparently. Tecnica applied the same attention to detail on the Forge 2.0 as it does to its ski boots. The result is a fusion of old materials and new construction technology that testers enjoyed as much on multi-day expeditions as they did on steep and speedy day trips. Tecnica started with a 1.9-millimeter Nubuck leather upper backed with a full Gore-Tex bootie and a rubber rand around the front half of the shoe. Following miles of cobble beach walking on Nootka Island and scree and bushwhacking in the B.C. Coast Range, these boots are still pristine and kept out water during soaking rains. The Vibram outsole with multiple lug shapes and grip-zones stuck in a variety of trail conditions, including on exposed basalt steps to a Vancouver Island summit, where the approach shoe-like pattern at the toe came in handy. Through all the rough terrain, our ankles were supported without feeling restricted. Tecnica sandwiched the EVA midsole between a lasting board and a protective plate, which offers a nice balance of comfort and support. "They were stable off trail with a heavy pack, but didn't feel clunky walking on a logging road for two miles," said Ryan Stuart, Outside's men's hiking boot category manager. The one missed detail: a locking eyelet at mid-height would make adjusting the lace tension between the upper and lower parts of the boot easier.
Bottom Line: The Tecnica Forge 2.0 is ready for heavy loads or rugged terrain, but happy to roll down a trail, too.
Best for Speed Hiking: Salomon Cross Hike 2 Mid GTX ($190)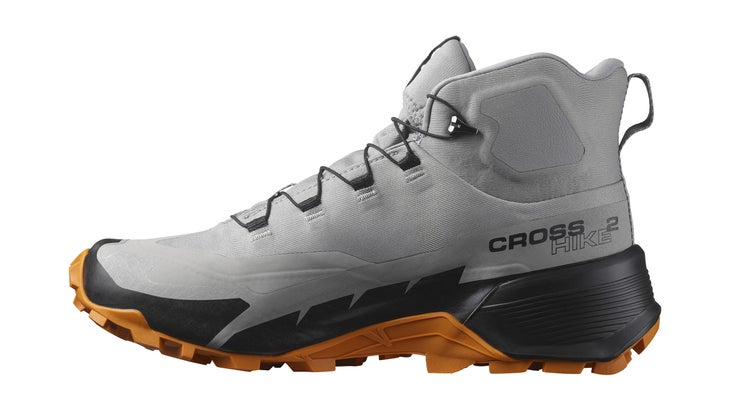 Weight: 14.5 oz
Sizes: 7-14
Pros: Nimble; great wet performance
Cons: Not supportive enough for backpacking
The Cross Hike looks like a trail runner on steroids, and that's exactly how it performed, crushing technical day hikes with a precise feel and excellent traction. "The grip is huge," reported Easthampton, Massachusetts-based tester Adam Jaber. In wet terrain and on steep dirt, the deep, sharp, and chunky Y-shaped lugs dug in, while the soft rubber held tenaciously to rock. On the way down, a line of lugs at the heel edge helped with braking. "It felt confidence-inspiring," Jaber said. Combined with a lightweight and a narrow sole width, he was dancing through technical terrain that would normally slow him down. And there was just enough cushioning and support to keep his legs fresh, too. The Gore-Tex membrane proved bomber in soggy conditions and comfortable in temperatures that ranged from the 50s through the 80s. A few dings? While it is a mid-height shoe, support was lacking once pack weight hit about 30 pounds. Also, watch the fit: some testers found that the Cross Hike runs a half size small. But for day hikers looking to go fast in unstable terrain, the Cross Hike is an impressive performer, particularly if you live in wetter parts of the country.
Bottom Line: The Salomon Cross Hike 2 Mid GTX is a good choice for speedy day trips in rough terrain and foul weather.
Best for Fast-Packing: Salewa Pedroc Pro Mid PTX Boot ($200)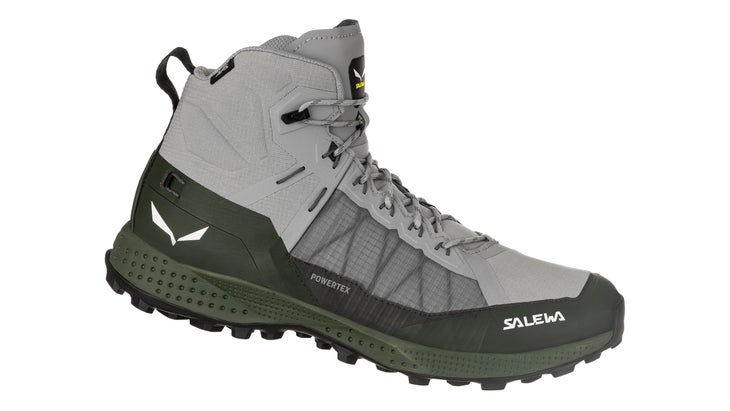 Weight: 13.8 oz
Sizes: 7-14
Pros: Comfortable; excellent grip
Cons: Boot top rubs
The Pedroc Pro offers speed and nimbleness in an impressively comfortable package. Whether straining his calves up the 2,000-foot vertical foot Boundary Creek Trail, or lugging a 100-pound load for a short distance to assess stability, tester Sam Weiner's feet were always happy in these boots. "I have wide feet, busted toes, and ankles that have been broken more times than a McDonald's ice cream machine, and these boots never gave me a hotspot or a blister," said the Stanley, Idaho-based biological technician for Idaho Fish and Game. The toe box is roomy. A removable heel cup and laces that integrate into the hard plastic eyelets around the ankle allowed Weiner to customize a snug fit. The EVA foam midsole absorbed some of the pounding on long day hikes, although the Pedroc performed best with moderate to light loads. And big, chunky lugs add impressive traction that grip sand, dirt, gravel, and mud. Salewa's proprietary Powertex waterproof-breathable membrane kept Weiner dry when he plunged right into an Idaho creek to get a better view of spawning Kokanee salmon and on hot, sweaty hikes. Through it all, the double-weave ripstop upper proved durable, if a little rough on bare skin, something Weiner said can be remedied by tall socks.
Bottom Line: The Salewa Pedroc Pro is best for fast and light missions, from day trips to light overnights.
Best for Backpacking: Merrell Rogue Hiker Mid GTX ($249)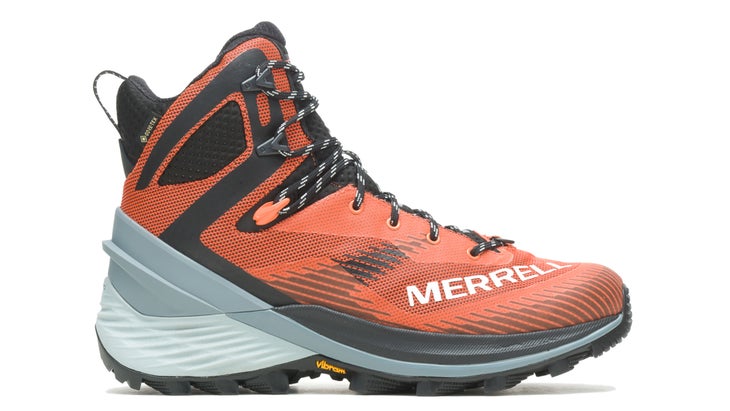 Weight: 18.7 oz.
Sizes: 7-15
Pros: Great traction; lightweight durability
Cons: Occasional issues with the tongue
The Rogue is a backpacking boot that moonlights as an approach shoe, winter boot, and a light hiker. A two-piece midsole, high-rising heel counter, full shank, and tall cut upper offer stability with heavy loads in uneven terrain: It felt rock-solid with 30 pounds on the back without the weight penalty of a chunkier boot. High-tenacity ballistic mesh nylon keeps the upper light, breathable, and tough. Merrell chose to wrap the entire package in a trail running last to give the boot more of a low-shoe feel. "It's a huge luxury to get the benefits of a robust boot—stability and protection—without paying a weight penalty," said Tim Peck, who tested them for months on some of New Hampshire's toughest hikes. Even with a Gore-Tex membrane, testers reported dry socks while hiking in 90-degree heat with 100-percent humidity. (On the other end of the extreme, the Rogue has catches for snowshoe bindings and gaiters). Peck's only complaint: the tongue occasionally twisted to the side and let debris into the boot. Otherwise, he reported, they made him feel faster, in large part thanks to the Vibram Megagrip outsole. On the wet slabs of Mount Osceola, the scree fields of Vose Spur, and the slippery roots of the Marlborough Trail, they "stuck to the ground better than any other shoe or boot I've ever worn," he said.
Bottom Line: The Merrell Rogue Hiker is a good choice if you mostly backpack, but want to wear the same boot on any two-footed adventure.
Best Mountain-to-City Hiker: Danner Mountain 600 Leaf GTX ($230)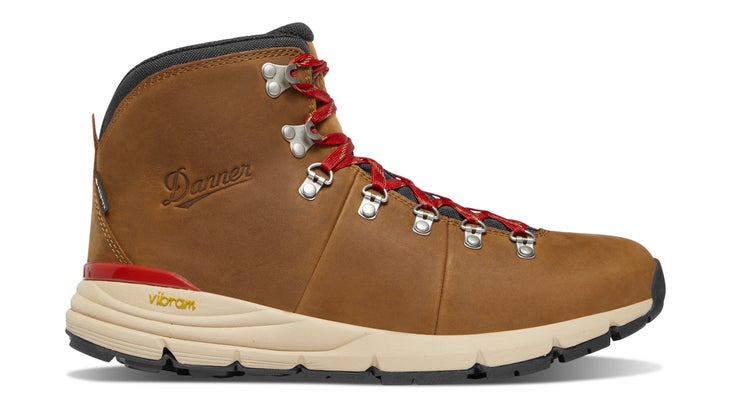 Weight: 17.6 oz.
Sizes: 7-15 (regular and wide)
Pros: Solid weather protection; handsome; sustainable materials
Cons: Not supportive enough for heavy loads
Danner took its popular Mountain 600 hiker and went on a major sustainability kick. The leather now comes from certified tanneries that follow strict sourcing and labor practices. Plus, the polyester lining is 100-percent recycled, the footbed is a mix of recycled rubber and bio-oil, and the Gore-Tex lining is 30-percent post-consumer material. The midsole-outsole package remains the same—Vibram SPE and Vibram Fuga, respectively. Both are long-lasting, and the Fuga can be resoled through Danner. Biggest win? The move to sustainability didn't hurt performance. Hiking in the arid hills of New Mexico or the soggy mountains of Vermont, Luke Whelan, a Santa Fe, New Mexico-based tester, loved them: "Incredibly comfortable and the perfect fit." Climbing Vermont's Mount Mansfield, his feet stayed dry through puddles, rain, and hail, and he never lost traction on granite slabs or mud. The mid-height cut and TPU heel frame added stability for boulder-hopping, but not enough for multi-day loads. They look great around town, too. "I wore these to the bar and they felt super stylish," said Whelan.
Bottom Line: The Danner Leaf is a classic-looking day hiker ready to ease your green conscience.
Best Alpine Boot: The North Face Summit Breithorn Futurelight ($280)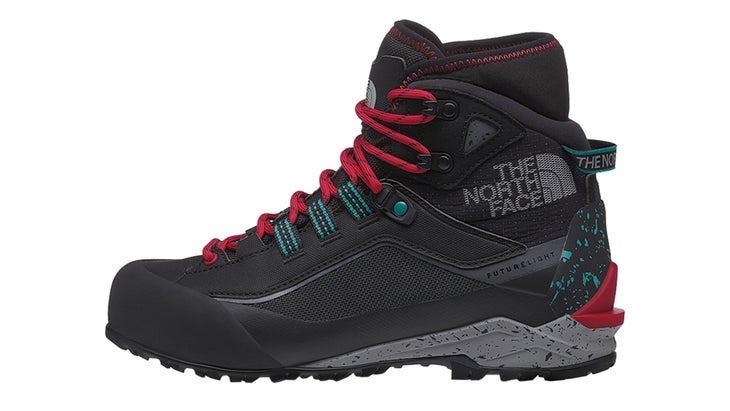 Weight: 19.5 ounces
Sizes: 7-14
Pros: Reliable weather-resistance; supportive, debris-deflecting collar
Cons: Poor grip in mud
The tougher the conditions, the more these sporty mountain boots excelled. The ripstop nylon upper, backed by TNF's proprietary membrane, felt comfortable right out of the box and kept Outside gear columnist Jakob Schiller's feet happy in a wide range of conditions and under loads up to 50 pounds. He tested them in dry, 80-degree heat on a few day hikes around Santa Fe and then in 10 inches of snow on a four day hunt in the mountains near Taos, New Mexico. "They breathed well during warmer hikes and kept my feet absolutely dry after trudging through the snow for three days straight," he reported. "They literally saved my feet on the hunt." Not surprising, considering the model name: These are mountaineering-ready boots with a crampon-compatible heel, a fiberglass-reinforced shank, and a lug pattern that bit into loose scree and slippery snow. Lacing to the forefoot and around the sides of the upper boot provides a precise fit. A rubber rand protects the lower boot from scuffs and punctures. And the Lycra top seals out trail debris. They didn't feel especially cushy, says Schiller, but "I didn't feel a ton of fatigue, either, even after long days."
Bottom Line: With best-in-test stability in rough footing, the North Face Summit Breithorn Futurelight is perfect for everything from light mountaineering to off-trail backpacking.
How to Buy Hiking Boots
Fit
The most important consideration for hiking boots is fit. They should feel snug (but not tight) everywhere except around the toes, where you want a little extra room to accommodate foot swelling and to keep piggies from hitting the end of the shoe on downhills. All footwear brands come with their own idiosyncrasies—finding the exact right fit will take trial and error. So it's best to try boots on before purchasing. Ideally, go to a brick-and-mortar retailer later in the day when your feet have swelled a little, bring your favorite hiking socks, and try on several pairs. When you get home, resist the urge to use your new boots right away, and wear them around the house for a few hours. This will give you an early sense of any issues while retaining the option of returning them.
Hiking Style
Next, think about the type of hiking you'll be doing. For light-and-fast hiking, a lower cut and softer, more flexible midsole is preferable. For heavy pack loads or mountainous terrain, an above-the-ankle boot and stiffer midsole may work better, along with shanks and heel counters, which add even more rigidity and support. Many boots and trail runners also come with a rock plate for protection from bruising on sharp trail protrusions.
Environment
Finally, focus on trail conditions and environment. For rainy or wet trails, a waterproof membrane will keep your feet dry. For a dedicated summer hiker or for hot and dry conditions, a mesh boot will breathe considerably better and dry out quickly. Turn the boot over and look at the outsole pattern. Most lug patterns offer versatile grip, but in general, wet trails benefit from a deeper and wider lug pattern, which digs into and sheds mud better. A sharp inside edge and lug-less smearing zone around the toe helps with scrambling on rock and slabs.
When it's time to upgrade your gear, don't let the old stuff go to waste–donate it for a good cause and divert it from the landfill. our partner, Gear Fix, will repair and resell your stuff for free! Just box up your retired items, print a free shipping label, and send them off. We'll donate 100 percent of the proceeds to The Outdoorist Oath.