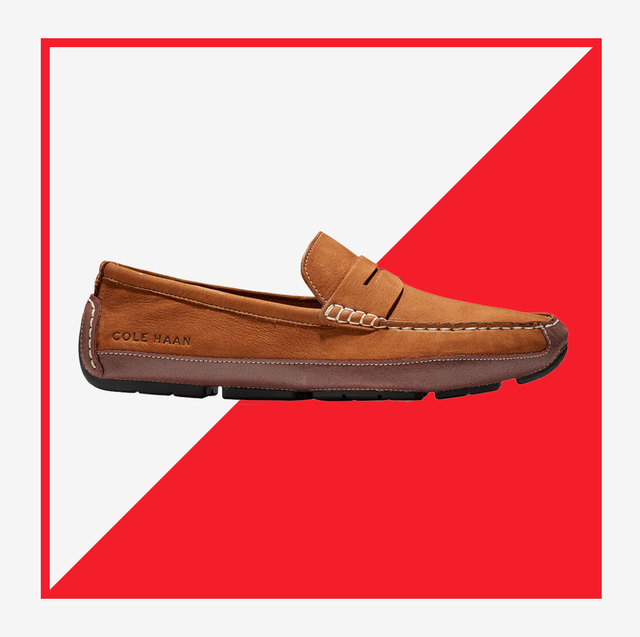 In case you're too embarrassed to ask, no, driving shoes are not only for people who literally sit behind the wheel of a moving vehicle. Like the arguably more ubiquitous boat shoe, and plenty of other fashionable wardrobe staples, these pieces have evolved beyond their initially intended design function.
Driving shoes—also sometimes referred to as driving moccasins—are simply a style of slip-on loafers with the addition of pebbled soles (often made of rubber) that stretch to the back of the heel, which for drivers especially, add extra grip to shoes. Plus, most of them have no laces to get in the way of putting pedal to the metal.
Read More: Best Men's Summer Shoes
Now, why would you want these kinds of loafers if you don't see yourself in the driver's seat anytime soon? Well, slip-resistant soles are always a win, even if you consider yourself a city dweller in the strictest sense. Then, they're easy to get in and out of, without foregoing even the slightest bit of comfort. Lastly, they're chic as heck, of course.
When you need something smarter than a slide that doesn't suffocate your feet in the heat, the versatile nature of driving loafers make them an excellent shoe style to add to your summer rotation. That said, scroll down to see our top picks for the best men's driving shoes.
Read More: Best Loafers for Men
Advertisement – Continue Reading Below
Best Everyday Driving Loafers
Kenton Suede Driving Moccasins
The slip-on quality of loafers together with the upped smartness factor are perhaps what make them one of the most beloved shoes out there. J.Crew doesn't mess around with this tried and tested formula, as can be seen with these suede driving shoes that deliver on all fronts.
Read More: Best Men's Slip-On Shoes and Sneakers
Best Designer Driving Loafers
Web Leather Drivers
The Italian luxury fashion house has played a major role in elevating loafers to must-have footwear. This pair of Gucci leather drivers boasts not one but two of the brand's well-known codes: the iconic red and green web strap as well as the double-G motif in a gorgeous gold.
Best Casual Driving Loafers
Shearling-Lined Driving Shoes
Don't be surprised to see Ugg on this list—the California shoe brand has come a long way since it found fame with its classic boots. Experts in comfort, Ugg's shearling-lined leather drivers are possibly literal heaven for your feet.
Best Eco-Friendly Driving Loafers
The Driving Loafer
Rothy's transforms plastic bottles gathered from landfills into textiles. The company then uses this signature thread to create eco-friendly products. The result? These sharp-looking drivers with dual-density insoles that are entirely machine washable.
Best Water-Friendly Driving Loafers
Braided Lace Loafer Drivers
The Norwegian start-up is renowned for reinventing rubber galoshes, but Swims has since developed into a fully-fledged apparel business with numerous footwear offerings. These rubber drivers boast a ventilation and drainage system, EVA insoles and anti-microbial properties.
Coach Coin Leather Driving Loafers
In a cute and clever reference to the OG design of the penny loafer, which typically features a coin slot over the upper, Coach's driving loafers display the leather goods company's own signature logo coin.
These penny loafer drivers with leather uppers are textile lined, making the cushioned footbed even comfier. Also, the contrasting topstitch detailing is elegantly executed.
New York-founded Kenneth Cole sure knows shoes, proven here with these velvety driving loafers that include a removable footbed that allows for extra width if needed. These beauties are finished off with some black bit hardware on the top.
The Ralph Lauren empire has built its aesthetic around living lavishly, so when it comes to the brand's loafers, you can expect them to embody exactly that. These burnished leather driving shoes with rawhide laces are as glossy as they come.
Idris Denim Suede Driving Loafers
What's better than a pair of silky soft suede driving shoes? Well, a pair of silky soft Italian suede driving shoes in a denim blue hue, we'd say. Add to the mix a white leather-lined insole and you have some top-notch loafers.
This content is created and maintained by a third party, and imported onto this page to help users provide their email addresses. You may be able to find more information about this and similar content at piano.io
Advertisement – Continue Reading Below