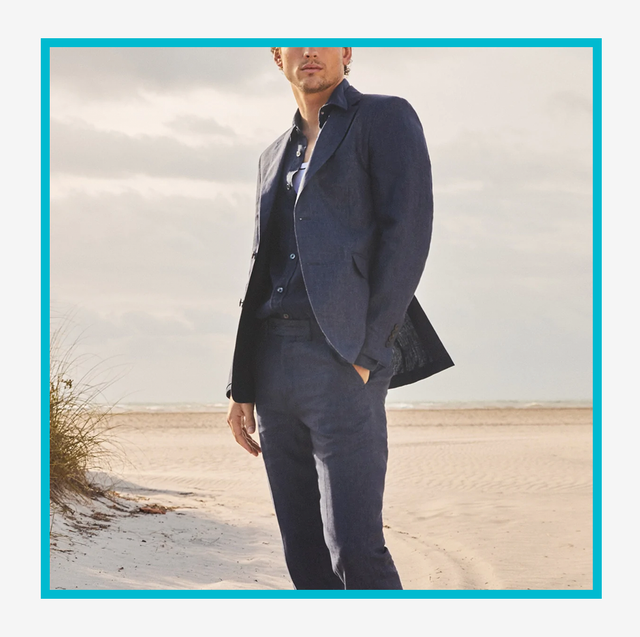 Courtesy of Retailer
Sure, being covered up during a scorcher is probably the last thing you want to do, but since some occasions do require that you follow a more formal dress code, there's simply no getting out of donning a suit when the event calls for it. The bright side? Wearing a suit in summer doesn't have to be a dreadful affair.
If you haven't yet, meet the linen suit. By its very nature, linen is lightweight and breezy, making it an ideal suiting fabric to turn to when temperatures are high. A suit in this material also has a more laidback look and feel, which not only matches the current tailoring moment in menswear, but it also seamlessly fits the mood that accompanies a summer celebration.
Read More: Best Men's Summer Suits
That said, if you're shopping for a new linen suit, keep in mind what type of festivity you'll be attending and whether wrinkles and creases—likely to result with any linen garment—could become a major problem. Instead, opt for a suit made from a cotton-linen blend, which will build more structure. You'll still get to reap the rewards of a more breathable suit when you add linen to the mix.
Whatever the reason for your suiting needs this season, we've gathered the best men's linen suits below, guaranteed to keep you looking and feeling fresh these summer months.
Read More: Best Suits for Men
Advertisement – Continue Reading Below
Best Everyday Linen Suit
Mercer Linen Blazer
Standard Pleated Linen Pants
This get-up fulfills our relaxed summer suiting dreams. Alex Mill knows how to transform its beloved customer favorites into more practical versions without compromising on any style. The textured look of this 100% linen suit adds plenty of character.
Read more: Best Blazers for Men
Best Cotton-Linen Suit
Garment-Dyed Cotton-Linen Chino Suit Jacket
Garment-Dyed Cotton-Linen Chino Suit Pants
If you're looking to add a tad more shape to your suit while still maintaining maximal airflow, J.Crew's got you sorted with this cotton-linen ensemble. The bottoms are purposefully cut wider in the thigh and knee area than the brand's Ludlow slim-fit suit pants.
Best Classic Linen Suit
Italian Linen Soft Sutton Suit Jacket In Navy
Italian Linen Soft Sutton Suit Trousers In Navy
Despite linen's reputation as a more casual fabric choice given its structural properties, Todd Snyder is able to craft an immaculate linen suit that looks as traditional as one made from more standard materials. Now that's a feat.
Best Slim-Fit Linen Suit
Slim-Fit Suit In A Melange Linen Blend
For die-hard devotees of slim fits, fear not. You don't have to let go of your preferred suit silhouette when temperatures go up. Hugo Boss has your back with a fine number that's mostly crafted from linen so you're prepped to beat the heat.
Read more: Best Wedding Suits for Men
Best Statement-Making Linen Suit
Jacobean Suit Jacket
Jacobean Suit Pants
Get ready to make a splash wherever you go this season in an absolutely unforgettable floral suit that's especially designed to allow for more movement in the shoulder area, which also allows for extra airiness.
Summer Linen Trousers
Cut from 100% light linen in a modern fit, this Club Monaco suit will do wonders to add versatility to your wardrobe. Whether you decide to dress it up or down, you can rest well knowing you won't find yourself drenched in sweat no matter the occasion.
Off-White Custom Made Linen Suit
Sporting an all-white outfit is tricky enough, but it's possible to get the look right if you go for a custom suit that's impeccably designed. Naturally, Suitsupply's off-white linen suit is that suit.
Sailsbury Green Linen Suit
Custom-made suiting still has a reputation for being on the pricier side. That's where Indochino aims to change the game. Throw on this custom linen suit at your next scheduled summer event and enjoy the compliments as they roll in, sweat-free.
Soft Slub Linen Suit Jacket
Slub Linen Suit Trousers
We can't blame you for being tired of yet another business barbecue or the umpteenth wedding of a distant relative this season. These events may be unavoidable, but we can recommend you wear this fine cream suit and instead pretend you're on vacation in the French Riviera.

Read more: Best Dress Shoes for Men
This content is created and maintained by a third party, and imported onto this page to help users provide their email addresses. You may be able to find more information about this and similar content at piano.io
Advertisement – Continue Reading Below