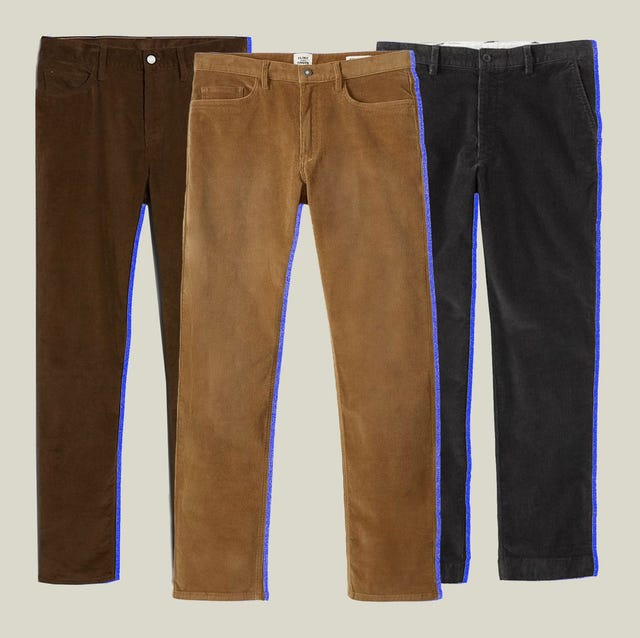 Courtesy
The cooler parts of the year might be the best to break in a brand new double-fried crispy pair of raw denim jeans, but why suffer? Instead, leave the crunchy bits to the dead leaves and dried trees and slip into something more comfortable. We're talking about a pair of velvety, ultra-soft corduroy pants.
Whether you want a pair for the durability, the rustic aesthetics or the touch, the feel of corduroy, now is the ideal time. We've put together the best options out there right now.
To learn more about our testing methodology and how we evaluate products, head here.
Advertisement – Continue Reading Below
Best Overall Corduroy Pants: Flint and Tinder 365 Corduroy Pant
Best Upgrade Corduroy Pants: Sid Mashburn Slim Straight 5-Pocket Pant
Best Affordable Corduroy Pants: L.L. Bean Stretch Country Corduroy Pants
Best Corduroy Pants to Wear with a Suit: Buck Mason Stretch Cord Ford Standard Pant
Best Pleated Corduroy Pants: Alex Mill Standard Pleated Pant
Best Drawstring Corduroy Pants: Wellen Corduroy Easy Pant
Best Corduroy Pants Under $100: Everlane The Straight Fit Corduroy Pant
Best Corduroy Pants for Summer: Outerknown Seventyseven Cord Utility Pants
Best Dressed-Up Corduroy Pants: Drake's Mid-Wale Corduroy Flat Front Trouser
Best Corduroy Traveler Pants: Banana Republic Slim Spring Corduroy Pant
Best Mall Buy Corduroy Pants: J.Crew 770 Straight-Fit Corduroy Pant
Best Everyday Corduroy Pants: Patagonia Organic Cotton Corduroy Jeans
Corduroy stems from ancient Egypt, in a small town near Cairo called Al-Fustat. Despite its signature ridged finish, corduroy was originally smooth. Then, it was a thick, sturdy fabric woven from a warp of linen and a weft of cotton. The result was a dense "pile" (like on a carpet), and in the intervening years since, this weave has yielded two types of commonly used materials: velvet and corduroy. As you probably know, the latter comes with a textured surface of long ridges, known as wales. As such there can be thick fat "wide wale" corduroy or more subtle, slimmer wale ones.
It's common to see 14- or 16-wale corduroy. But what does "wale" even mean? 14-wale corduroy means there are 14 ridges per inch. The fewer ridges, the more durable the fabric. The more wales, the finer the fabric.
When to Wear Corduroy Pants
They're ideal for nippy weather, thanks to the cords or "wales" woven into the fabric. Those are made by inserting yarns into the fabric from the backside. The yarns stand up through the right side of the fabric and are then shorn, resulting in hairy piles of cords (or velvet) on the surface. That does two things: the piles can trap heat better, making them great for cooler weather, and; it makes the fabric more durable.
No wonder it's often been seen in winter workwear garments like chore coats and heavy pants. These piles can trap heat, making them ideal for colder months. "But that's it," Todd Snyder Chief Product Officer Alejandro Rhett says, unless it's a pair of corduroy shorts — like vintage OP corduroy shorts.
Advertisement – Continue Reading Below