When it comes to modernized footwear, we've come to expect far more than our 20th-century compatriots. After all, with companies like Nike, Adidas, and Vans leading the charge for functional, purposeful, and stylish shoes, the development of genre-defining apparel has become a veritable rat race — full of innovative fabrics, textiles, and designs. Of all the interesting inclusions that manufacturers have made over the past decade, perhaps the most interesting addition has been that of durable, functional fabrics — many of which have seen an increasingly vast presence in technical outdoor offerings. Below, we'll outline a handful of the best waterproof sneakers that feature these advancements.
The Best Waterproof Sneakers
What are waterproof sneakers?
These days, the heightened call for sneakers that boast purposeful qualities have been met with resounding interest. The same companies that had established themselves at the head of the sneaker world have deviated from the path of cost-efficient, midrange platforms to bring consumers what they've asked for — innovative shoes that can stand up to a number of environmental inhibitors such as rain, dirt, and wind, without sacrificing style. These enhanced abilities often come at the hands of renowned fabrics like ripstop nylon and GORE-TEX, two industry-leading developments that have helped to redefine footwear.
how to choose a solid pair of waterproof sneakers
The most common rugged and waterproof sneakers include (but aren't limited to) hiking shoes, running shoes, and classic sneaker styles. Although these sneakers are made with utility in mind, the gorp-core trend has coopted outdoor gear and made it fashionable. So make sure you know what utility you'd like out of your new waterproof shoes (other than being waterproof) before grabbing a pair.
Vans Old Skool Gore-Tex Shoe
Pros
Heavy-duty sneakers
Classic silhouette
Cons
Runs about a half size large
The Best Skate Shoes: Vans has become wildly successful through its use of pop culture marketing, innovative (but somehow, unchanging) shoe styles, and presence within a vast majority of the action sports world. And the Old Skool Gore-Tex Shoe is another innovative design inspired by the brand's classic skate shoe, featuring a GORE-TEX upper and an overall beefier construction.
Nike ACG Mountain Fly 2 Low Trail Shoe
Pros
Great for any terrain
Durable
The Best Trail Running Shoes: Nike's extensive outdoor-oriented catalog is full of waterproof (and water-resistant) offerings, and the ACG Mountain Fly 2 Low Trail Shoe is another great outdoor offering. Designed for stability and traction on the trails, this shoe is extended near the toe and features tough rubber material so you can take on any terrain.
Seavees Mariners Boot
Pros
Great for the city
Comfortable insole
The Best High-Top Shoes: The SeaVees Mariners are, without a doubt, one of the most aesthetically pleasing pairs of water-resistant shoes we've ever seen, and thanks to their outstanding success during the initial launch, the company has revised them for a second release. The Mariners are a CVO boot hybrid that utilizes Ventile duck canvas, which means that your feet will remain comfortable, dry, and healthy, even if you're stuck in a sudden downpour. A gusseted tongue, sealed seam construction, and rubber foxing join forces to provide the wearer adequate protection from the elements, while a custom contoured footbed and herringbone-molded rubber outsole give you peace of mind while traversing slick surfaces. A soft, cotton canvas lining has also been implemented to ensure exceptional comfort and airflow, which can be a godsend on long distance treks, journeys, and commutes.
On Running Cloudwander Waterproof
Pros
Lightweight
Good for hiking as well
Cons
Dirt can get stuck in outsoles
The Best Running Shoes: No one makes running shoes quite like On Running does, and the Cloudwander Waterproof kicks things up a notch. These all-terrain runners are super lightweight and supportive, and they're made with 25% recycled content as well.
Nike Lunar Force 1 Men's Duckboot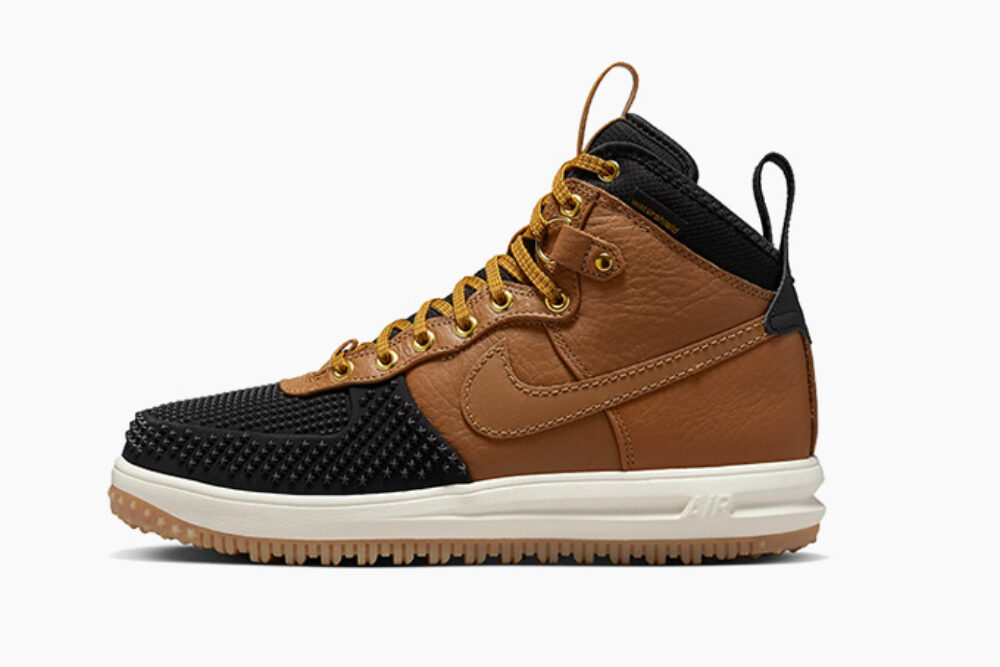 Pros
Unique design
Rugged comfort
Cons
Water-repellent and not waterproof
The Best Duck Boots: The Lunar Force 1 Men's Duckboot from Nike is the label's take on the classic silhouette from L.L. Bean. These shoes are a hybrid between the duck boot and the Air Force 1, featuring a water-repellant leather upper and a studded toe. They'll look great in the city and on the trail.
Adidas NMD_V3 GORE-TEX Shoes
Pros
Solid shoes for the city
GORE-TEX membrane on the upper
Cons
A bit narrow under the lace enclosure
The Best Shoes Overall: adidas prides itself on the creation of adaptive outdoor footwear, calling upon years of experience within competitive running, marathons, and sports to create its genre-defining line of shoes. And this history is found in the NMD_V3 GORE-TEX Shoes, along with some rugged additions to make them tough and supportive. The shoe's upper is lined with GORE-TEX so water and debris will be kept at bay, and the BOOST midsole is helpful especially if things pick up speed.
HOKA Kaha 2 Low GORE-TEX
Pros
Great for hiking
Consistent support during long days
Cons
A little small near the toe for some
The Best Walking Shoes: It's no surprise that HOKA is on this list, as they're known for high-quality shoes with unmatched support. That's why the Kaha 2 Low GORE-TEX sneakers are a great pick if you want some rugged shoes that can support long walks on any terrain.
Salomon XT-6 GORE-TEX
Pros
Stylish yet functional
Consistent comfort
The Best Shoes for the City: Salomon's XT-6 GORE-TEX sneakers are the perfect city companion as they're subtle, stylish, and weather-proof. The GORE-TEX membrane and enclosed mesh upper keep water and debris outside, while the durable cushioning maintains support throughout the day.
What's The Difference: Waterproof vs. Water-Resistant
The two terms get thrown around interchangeably, but the truth is that they're actually different. Dive deep into our guide of waterproof vs. water-resistant to learn more.