My friend Terry Brown, who has died of cancer aged 71, was a self-trained shoemaker and founder of the company Roosters, making handmade shoes and boots to a high standard.
Entirely self-taught, he began making shoes in the 1970s, and by the 80s was an influential member of the independent shoemaker community. He gave his company the name Roosters "because roosters herald the breaking of a new dawn".
A strong customer base was built up through regular stalls at fairs and music festivals, including Bromyard, Cambridge and Sidmouth folk festivals (he also noted that "roosters keep cropping up in folk song lyrics").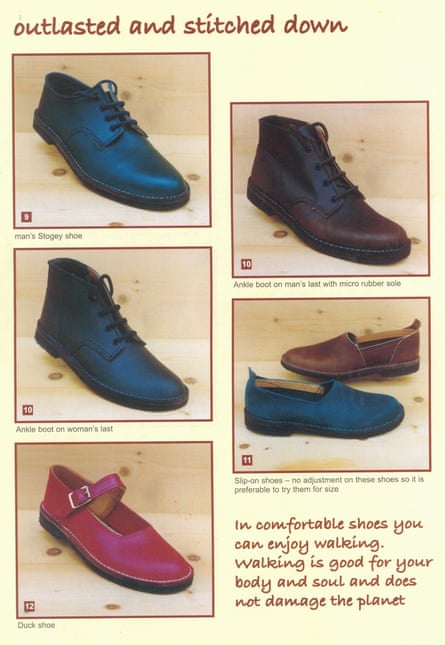 Born in Ponteland, Northumberland, Terry was the son of Winifred (nee Waid), a draughtswoman for Harland and Wolff shipbuilders, who was originally from Belfast, and Vernon Brown, a civil servant. He had an older sister, Averil.
After Walbottle grammar school, Terry took a degree course in geography and geology at Cambridgeshire College of Arts and Technology, where we shared a house in the area. After graduating in 1973 he moved to Yorkshire, pioneering shared-living in various farmhouses with as much self-sufficiency as possible.
In the early 90s he moved out of shared houses to live in Heslington, and established his workshop at Buttercrambe. His customers included many people with feet that did not fit commercially made footwear. It was typical of Terry's approach to life that he never had an online presence and continued to sell all his shoes through direct orders, festivals and fairs.
Terry trod lightly on the earth, demonstrating a strong humility in all he did. He lived a frugal and austere life dedicated to growing fruit and vegetables, making bread and shoes, enjoying dancing and music, and the success of the Irish Rugby Union team. He created a home that reflected his values – handmade furniture, a small, eclectic selection of well-read books and a wood-burning stove to provide a warm hearth.
He loved walking and explored many parts of France, Romania, the Picos de Europa and different paths across the Pyrenees. Later he followed various routes on the Camino de Santiago. Terry never flew, always undertaking his journeys by land, at a slow pace, and enjoying the many people he met along the way. In a time when we talk about our carbon footprint it would be hard to find anyone who had such a gentle impact on the world.
Averil died in 2016. Thereafter, Terry dedicated his life to caring for his mother until she died in July 2022.