Until recently, a man in a cardigan might typically have signalled "retiree". But now the cosiest of knitwear items has been given a makeover.
Fashion-friendly brands such as The Elder Statesman, Ami Paris and Studio Nicholson are pushing the cardigan. Marks & Spencer reports that sales of cardigans are performing well for spring – up 90% on 2022, possibly due to the "inbetween" weather. A green "preppy" style is particularly popular. More styles will be launched by the retailer this autumn.
If the quarter-zip jumper is a masculine status symbol worn by the likes of David Beckham, the Arsenal manager Mikel Arteta and those working in the City, the cardigan is increasingly about soft power.
The Netflix series Beef provides a study in the soft power cardigan – thanks to the character George Nakai, played by Joseph Lee. If, early in the series, he appears to be a kind and gentle soul, he flexes his power as the plot unravels. The cardigans he wears – ostensibly the ultimate in non-threatening knitwear – allow him to hide in plain sight.
They have gained a cult following in fashion. A recent GQ article with the headline "George from Beef is terrible but his cardigans are not" praised choices from brands including Needles, Dries van Noten and John Elliott.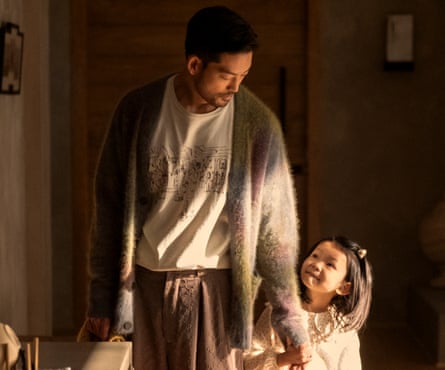 Lee's Nakai isn't the only example of the soft power cardigan on TV. In the latest episode of Succession, Roman Roy wears a cardigan to look unthreatening on a business trip to Norway, when he is anything but.
Away from TV, celebrities have been adopting the cardigan including Brad Pitt and the Creed star Michael B Jordan. Crucially, these are not the quiet luxury takes on the item as worn by the Roys and their ilk. Pitt wore a multicoloured zipped-up cardigan that had a folksy feel, while Jordan recently favoured a pink V-neck style with a low-cut vest.
Pedro Pascal – star of the Last of Us and the internet's current crush – has anointed the soft power cardigan. He wore a cropped version on the red carpet, and an oversized flecked one for an appearance on Radio 1. It slots into his appeal perfectly, as described by The Face magazine: "[he's] relatable, despite the fact [he's] been launched into celeb super-stardom with the force of dynamite".
Gary Armstrong, the stylist and editor of CircleZeroEight, has long worn cardigans. He has noticed the take-up of the item recently and says it fits into the kind of statement young men want to make with their clothes now. "It is quite similar to the guys who have started to adopt pearl necklaces. It's like, 'I'm so in touch with my own masculinity that I'm not threatened in wearing like a floral cardigan.'"
Thom Scherdel, the buying manager for mens ready-to-wear at Browns, has noticed more cardigans from more trend-led designers. "With multi-generational appeal, cardigans have always been a smarter alternative to casual knitwear," he says. "However, recently, we've seen the style adapted by brands that have more directional style aesthetic and who have reimagined the classic shape."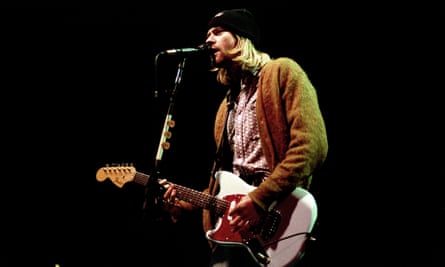 Armstrong says the current vogue for men in cardigans was preceded by the grunge era – with Kurt Cobain a cardigan icon (the Nirvana frontman's cardigan was sold at auction in 2019 for $334,000 [£267,000]). He applauds more men taking up the item. "A cardigan is a bit of a crossover thing – you could make it look smart if you're wearing it to the office," he says. "Also, it's nice to be warm."