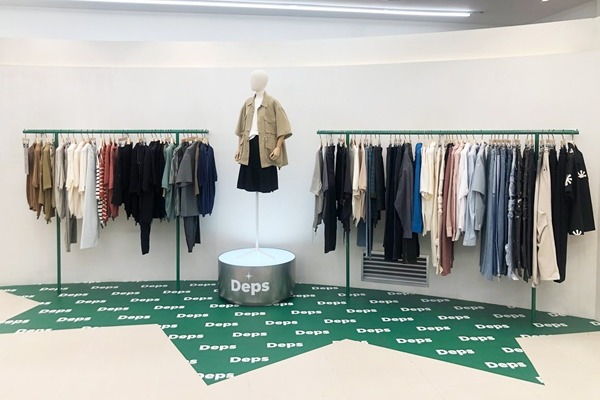 Deps, a men's fashion platform launched by South Korean fashion brand incubator Hago L&F, is accelerating its market offensive through the opening of an offline store.
Hago L&F on Monday opened Deps Zone at Hago House, its new select shop at Lotte World Mall in Seoul. This is part of its sales growth strategy by displaying the clothes of Deps brands to men in their 20s and 30s, the main customer base.
Deps Zone sells brands like Lord John Gray and DNSR. The opening of Hago House is the company's opportunity to expand its offline brand distribution network.
Musinsa, a first-generation company in men's fashion platform, is the market leader. The annual growth of the sector's scale has led to the continued emergence of fashion platforms targeting male consumers.
One of them is Deps, which started service in June. Hago L&F launched what it called a "trendy contemporary platform" with everything from new to fan brands given few men's fashion platforms with expertise despite steady market growth.
Deps targets male consumers interested in fashion with developed tastes. Its lineup is built around contemporary and minimalist brands such as Surgery, Le 917 Homme and Fottners. 
"We noted the rapid growth of the men's fashion market and the increase in the number of male customers who prefer unique fashion," a Hago L&F source said.
Write to Ji-Yoon Yang at [email protected]