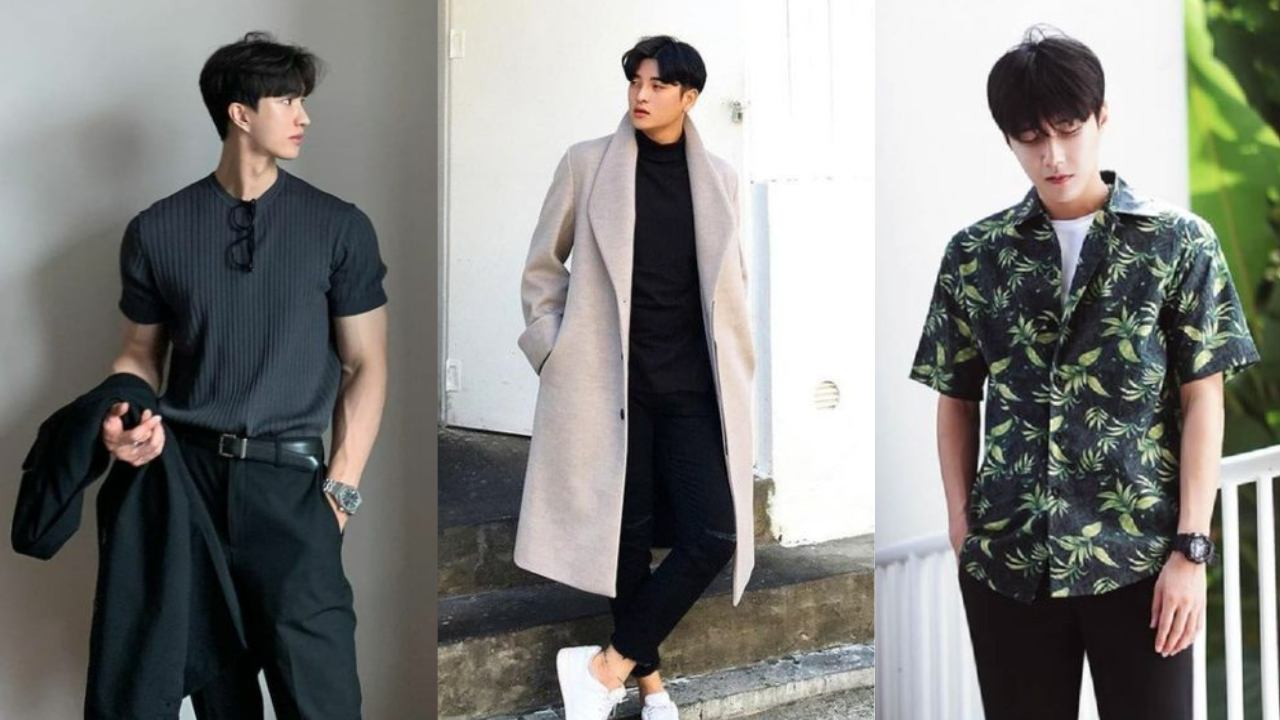 Korean Men Fashion. Pic Credit: Pinterest
For every person and every nation, getting dressed for the day implies something different. Not everyone believes that fashion, especially for males, applies to everyone. However, we can encounter Korean men who know how to dress sharply and are informed about fashion wherever in the world.
South Korea's fashion industry has a dynamic culture that is constantly impacted by street style. Everyone in Korea is subject to fashion, including males who dress stylishly in both business and casual settings, much like Korean women. Korean attire has historically served as a means of expressing individuality and goes beyond simply being stylish.
Achieving this look requires layering and putting together outfits with big clothing. This highlights your broad shoulders and gives you a charming boyish appearance. A pair of combat boots will give height and an aggressive style to the ensemble.
Not that everyone wears the same, but every person has their own sense of style. Similar to women's fashion, Korean men can accessorise their outfits or express their personal style by wearing a variety of clothing accessories. With that in mind, here are 7 trendy outfits and pieces men can invest in to look more chic and uber-cool.
1) Invest in some good tops
Tops have served as a way for us to set the tone for our clothes depending on the occasion. The same is true with Korean guys; their shirts display their individuality and sometimes even the style of their attire. One can wear long polo shirts, graphic T-shirts, or even button-down shirts to accentuate their look.
2) Buy different kinds of jackets
For specific styles or reasons, Korean men have a wider selection of jackets to choose from. The jacket has long been an element of menswear in Korean fashion, serving as a fashion statement or a window into the wearer's personal style. To complement your clothes, there are many different jackets available, such as coats, statement jackets, bomber jackets, and puffer jackets.
3) Keep your denim closer
Like other nations, Korea has a large market for denim apparel. However, Koreans dress in denim in a variety of fashion and styles. Their use of torn and skinny jeans, cargo and baggy pants, and other denim fashions are inspired by Korean streetwear that is starting to gain popularity and is worn by K-pop stars.
4) Athleisures are the new rage
No one in South Korea does athleisure as well as Koreans do, particularly males. Like athleisure, Korean fashion frequently incorporates pieces of clothes that contrast or complement one another. To balance themselves, Korean guys frequently wear high-end apparel alongside casual, activewear. It makes a completely new style comfortable for us to wear whenever.
5) Outfits with big logos
The bolder and louder logos in Korea are a result of a trend that began with the country's streetwear. Wearing one brand at a time and keeping the rest of our wardrobe to a minimum are the two principles for wearing logos. There are social and economic class associations with logos.
6) Go Monochrome
The monotone look will be an option if you wish to look stylish and carefree in what you wear. For the monochrome look, pick a colour and either wear it as a solid with a statement accessory or piece of clothing or mix up the tones of that colour. The colours will break and draw attention to specific pieces of our apparel when you wear an enhanced item of clothing or a striking pattern within the same colour tone. Earth tones or darker colour shades are frequently used in monochromatic artwork. Play with colour and choose patterns that appeal to you.
7) Seal the deal with Accessories
Without accessories, men's fashion in Korea would be incomplete. They can express themselves more through their apparel by using accessories like hats, shoes, and earrings to complete their look or to mark their individuality.
Found this article helpful? Let us know @ZoomTv!