When men are young, we try out brighter colors portraying our youth. But as we age, the colors begin to dull, and we tend to drift toward safer neutrals like blue, gray, brown, and the always exciting black and white. Now, don't get us wrong, we love a great blue that is rich and striking or a dark outfit that gives us the evening black-tie look. But when your entire wardrobe looks dull and lifeless, it is time to liven it up with a color palette that draws attention, brings out your inner playfulness, and stands out from the crowd.
That can be challenging for a middle-aged man who has spent his entire life subduing his appearance with dark neutrals. But help is on the way; we got a chance to sit down with Max Israel, founder of Y.Chroma, a menswear brand out of Lisbon that is endeavoring to help men release their inner light with the kind of color that they've been missing out on their entire lives. Let him help you figure out the best way to liven up your closet and life.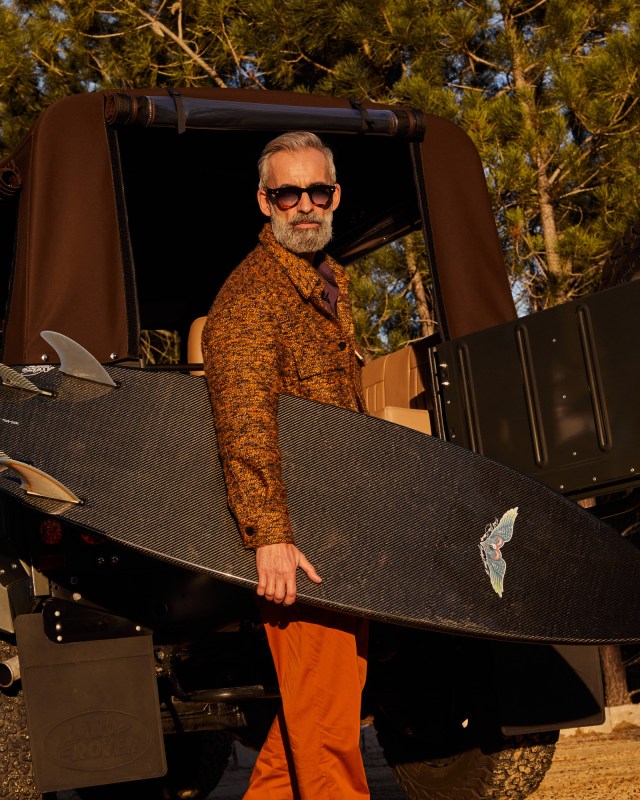 Color is about rejuvenation and reinvention
We can feel beaten down by the world by the time we reach our forties. No matter how successful you are in whatever pursuits you have in life, you can become tired and burnt out. What we need is a shot in the arm, a blast to our soul to break us out of a slump and help us get back to the business of chasing our dreams. That is what color can do for us. No, wearing orange pants won't make you more successful. But they will make you feel alive, which can affect your life in a way that can't be quantified.
"One of the neat things about the people I get to deal with every day," Israel said, "is that they have a fundamental interest in reinvention. Rejuvenation and reinvention."
These are the men he has in mind when he makes his clothing. "The people that wake up one day and say, 'I hate everything. I feel like I am wearing a 'forgetability uniform," they are at a pivotal life moment where they are fundamentally reshaping things," he explained. "There comes a time in every man's life when he feels a shift. What is that old saying? 'A man lives two lives; the second begins when he realizes he only lives one.'" Once you have decided it is time for a change, color is the way to reshape your wardrobe and feel like your second life is beginning.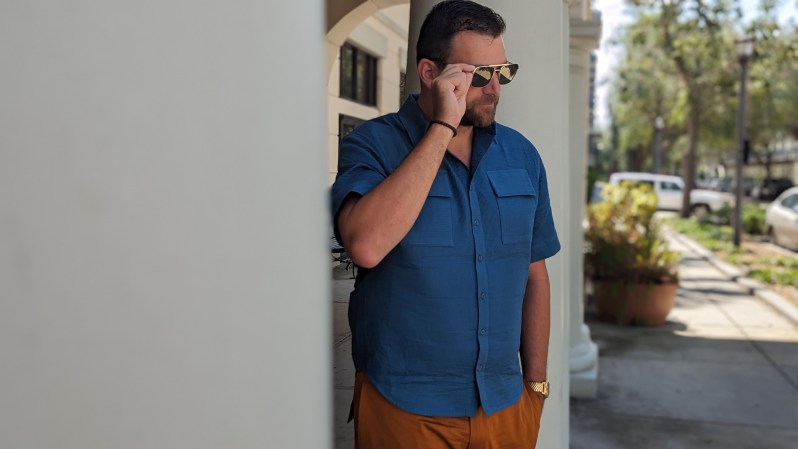 The world doesn't need another men's fashion brand
Throw a rock in any direction, and you will hit seven fashion brands that promise you a better life if only you bought their clothes. Many of them are going to feel the same, they are going to act the same, and they are going to look the same. The truth that many of them don't want you to know is…they are the same. They follow the same trends, the same business model. But Israel has a different outlook, and it isn't about fashion; it is about using color to reinvigorate you.
"It is not about fashion. The world doesn't need another men's fashion brand; it just doesn't. What it needs is a system," Israel said.
Y.Chroma uses a system that creates a color palette and builds an entire wardrobe for you that works together. But there is a reason for this beyond wanting to use more color — Israel pointed to a story we all have in common — feeling inexplicably lost in the crowd.
"Many men have this moment where they wake up, they're in line at Starbucks, and they look, and every other guy is dressed the same. They feel like a number," he said.
The idea when using color is to break the societal pressure to conform and stand out—the refusal to sit down and shut up, embracing the standing up and being heard.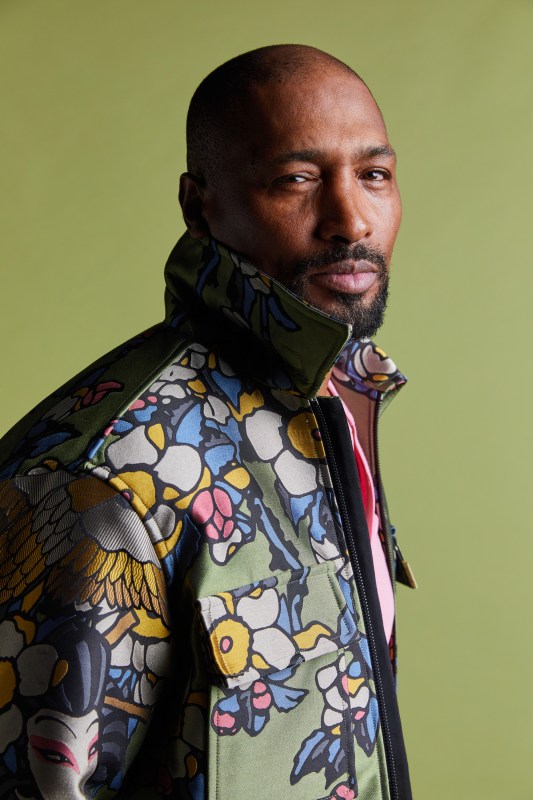 As men, we bury many things society doesn't want us to discuss. We approach stress and struggle with "I'll figure it out." We approach grief and heartache with "I'll be okay." There is a pain that comes with learning to open up. That pain is the integral part missing from learning how to use color to express who you are and let the man you bury shine. If you embrace the pain you bury, color can be an excellent tool to reignite your light. If you continue to bury it, the color can fall flat and feel overwhelming.
"Color can be a vicious circle or a virtuous circle," Israel said. "You get to decide which one."
The first step to reinventing yourself and using color is to shrug off the fears of what other people think and embrace who you want to be. Putting the navy, black, and gray pants back on the hanger and reaching for something with more color is the first step to getting into the virtuous circle.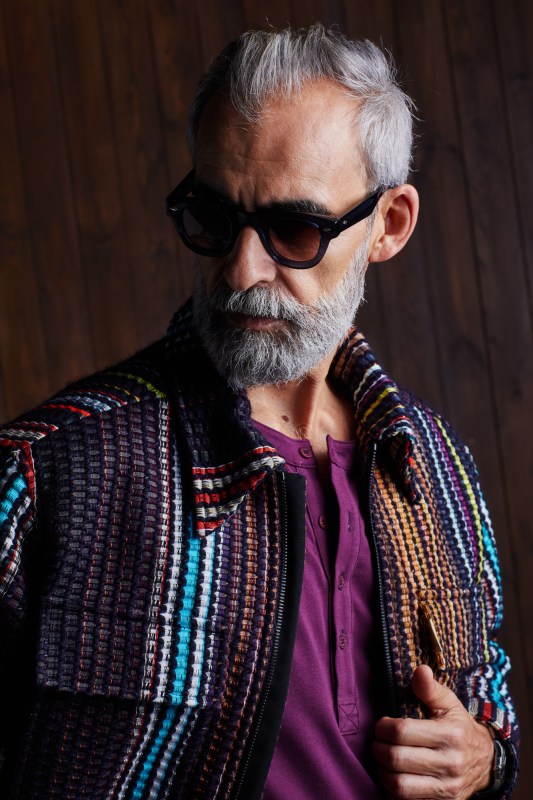 Power color for your post-suit reboot
Suits may not be completely obsolete, but they are moving to a much less integral part of your daily life. Companies began embracing the more business casual environment on returning to the office post-pandemic, meaning there is a culture shift. Suits were about a power aesthetic, showing your class, authority, and status. Color is the new way to portray that message. But not just any color — an engaging, sharp, rich, and appropriate power color. Not just any color will do; it has to have thought and a system behind it.
"It needs a couple of other things, or you look like a clown or a child," Israel added. "You need the right color approach, and it really has to happen with a certain quality of garment, or you look like you're just going to the circus." A level of thought goes into the beginning stages and planning when shopping for color. But if you shop smart, you can buy items that work together, and no matter what you grab, even if you close your eyes and pick something, it will work cohesively to make a great-looking outfit that maintains the power look without suppressing the new version of you.
How to add color to your wardrobe
Embracing color can be overwhelming, especially when you have hit your middle-aged years, or as Israel puts it, closing the door on the first act of your three-act life. But there are ways you can make it easier and more fun.
You can start slow by incorporating colorful but high-quality garments one at a time, ensuring that you choose a color that works well with what you already have.
If you are starting slow, denim will be your best friend at the start. Wearing jeans will allow you to let one color speak before going on to the more advanced practice of mixing colors together.
If you are a guy who wears a lot of blue, orange is a significant first step. Or you can go to Y.Chroma and find their Ready Wardrobes, color palettes specially curated to work together. Just find the one for you and start your new color journey tomorrow.
Go back to art class in high school and learn the color wheel. Start by pairing analogous colors (those that are next to each other on the color wheel and share the same hue), like colors in the green family like emerald and forest, for a subtle color palette and progress to complementary colors (those that sit opposite the color wheel) like yellow and purple that make for bold color choices.
Shake off the fear of what others think and start embracing your favorite colors. Add them to your wardrobe and let them give you the confidence to own them.
Finally, refuse to fade away. Embrace that inner love of bright colors and limit your use of black, white, gray, and brown.
Editors' Recommendations