More often than not, wearing pants in the summer can feel like a flat-out chore, and it seems as though no one is brave enough to admit it. While slipping into your favorite pair of jeans or chinos every morning might feel like second nature, having to deal with either option's lack of breathability at this time of year is far from ideal. With all that in mind, your go-to pair of summer bottoms should be knit from lightweight, easy-going linen. And we've scoured the market to help you find the most comfortable, breathable, and fashionable linen pants to help keep you cool this summer, so have a look below at our best linen pants guide and give your shorts a break for the time being.
Best Linen Pants Breakdown
What are linen pants good for?
When it boils down to it, wearing linen pants is enjoyable for all the same reasons that dozing on linen sheets is preferable during the warmer months. The material is ultra-breathable, loosely woven, highly absorbent, and cool to the touch. And while your idea of linen pants may not stretch further than your typical relaxed-fit pair of beach pants with a drawstring waist, these days, it's easy to covertly wear linen pants in just about any style imaginable. 
What to look for
Material: You're looking for something with a majority linen blend, but there are plenty of options with added cotton and/or synthetic in the material blend, if that's what you prefer. Cotton may help reduce wrinkling, but it's not quite as breathable as linen, so it's a trade-off.
Waist: The amount of comfort you want and where you plan to wear your pants will determine what waist style is best for you. For formal/professional pants, traditional trousers with a zipper fly (and sometimes an internal drawstring) are ideal, but there are some non-traditional options that look just as good. And if you're just hanging out or hitting the beach, then a drawstring and/or elastic waist is generally more comfortable.
Fit: If you plan on lounging around for the most part, then a relaxed fit is a good choice. But if you're looking for some more covert/formal options, a regular fit is probably best.
Uniqlo Linen-Blend Relaxed Pants
The Budget Pick: Like anything you buy from UNIQLO, this is a dependable starter option. Their Relaxed Linen Blend Pant features a standard tapered silhouette that makes them easy to wear with virtually any outfit, be it formal or casual. Although this particular pair features a predominantly cotton composition, the linen and spandex elements are clear, thanks to their breathability and stretchiness.
Material: 63% cotton, 35% linen, and 2% spandex
Waist: Internal drawstring
Fit: Relaxed (but not too relaxed)
Taylor Stitch The Easy Pant
Pros
Made with organic cotton
Garment washed
The Best Pants Overall: Like most pieces from Taylor Stitch, The Easy Pant is sustainably made using a touch of organic cotton, alongside linen and sumptuous spun silk. The garment-washed bottoms serve as an upscale take on the brand's popular Après pant, but is delivered in a brand-new silhouette and touched with a herringbone finish for an old-school look. All in all, this is a perfect bridge between formalwear and casual attire.
Material: 52% linen, 24% spun silk, and 24% organic cotton
Waist: Internal drawcord and an elastic back waistband
Fit: Regular
Alex Crane Cham Pants
Pros
Corozo buttons
Dyed with GOTS-certified pigments
The Sustainable Pick: If you love sleeping on striped linen sheets, then these are about to become your favorite pair of pants. Alex Crane's Cham Pants are composed of sustainably-grown French linen and dyed using organic pigments, so you're doing the planet a favor by picking these up. On top of that, you can rest assured that the pants are made in quality working conditions, as each pair's origin is fully accessible to customers.
Material: 100% sustainably-grown French linen
Waist: Trousers with a zipper fly
Fit: Regular
Billy Reid Cotton Linen 5-Pocket
Pros
Made in Portugal
Leather patch stamped with Billy Reid's hometown
Cons
Some may not like the slim fit
The Best Pants for Storage: This pair from Billy Reid is another great choice if you want to maintain the traditional look of your favorite jeans. The Alabama clothier's Cotton Linen 5 Pocket Pants are crafted from a cotton and linen blend and have a slim, near-tailored fit that makes them perfect for any occasion. While the garment-dyed bottoms are available in four different colors, the pictured Quarry style is our favorite thanks to its versatility — at the end of the day, everything goes well with gray.
Material: 78% cotton and 22% linen
Waist: Trousers with a zipper fly
Fit: Regular
Todd Snyder Italian Beach Pant
Pros
Linen sourced from Italy
Four pockets
The Best Italian Fabric Pants: While Todd Snyder's catalog is not limited to this single pair of linen pants, it is easily one of the most versatile pairs you can find. The Italian Beach Pant is made entirely of Italian linen and comes available in five summer-ready shades. This Italian fabric hails from a family-run mill in the Alps, which crafts some of the most esteemed cotton fabric weaves. It's also been garment-dyed to add to the soft, easy-going look and feel.
Material: 100% linen
Waist: Drawstring
Fit: Relaxed
James Perse Lightweight Linen Pant
Pros
Garment dyed
Elastic waistband
Cons
Color may rub off if they're not washed correctly
The Best Lightweight Pants: Shed all the unwanted weight from your usual pair of pants thanks to this timelessly-stylish option from James Perse. The boutique brand's Lightweight Linen Pant is crafted entirely from linen, deeming it one of the most unsaturated options on our guide, let alone the market. The garment-dyed pants are finished off with an elasticized waistband and a bevy of pockets, too, so they are as functional as they are stylish.
Material: 100% linen
Waist: Drawstring
Fit: Relaxed
Wythe New York Flat Front Cotton Linen Twill Chino
Pros
Versatile style
Washed and softened
The Best Chinos: It's easy to overlook any pair that abides by tradition, but Wythe New York's option separates itself from the rest thanks to one unique element: they are inspired by WWII-era fatigues. The durable linen chinos are made of a signature skin-twill fabric from the Big Apple-based clothier, resulting in a lived-in fit, then washed and softened for an equally well-aged look.
Material: Cotton and linen
Waist: Trousers with a zipper fly
Fit: Regular
NN07 Karl 1196 Linen Trouser
Pros
Versatile style
Soft and light
Cons
Some may prefer drawstrings
The Best French Linen Pants: From TENCEL-crafted jackets to lyocell long sleeves, there are countless pieces from NN.07 built for the summer — this is another example. These French linen pants have a soft and lightweight feel to them, along with a mid-rise. The well-designed choice from the Danish brand has a regular fit with tapered legs and is rounded out with corozo buttons and side seam pockets.
Material: 100% linen
Waist: Trousers with a zipper fly
Fit: Regular
Orlebar Brown Griffon Linen Trousers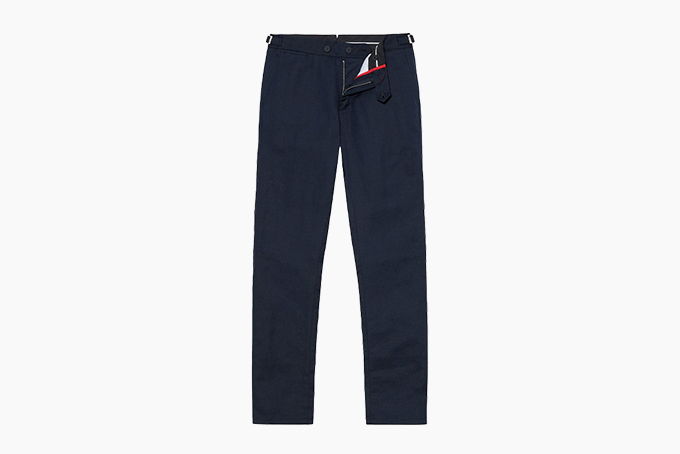 Pros
Made in Portugal
Five pockets
The Best Formal Pants: When it comes to high-end summer essentials, Orlebar Brown is a brand you should never overlook. The eco-cognizant clothier's Griffon Straight-Leg Linen Trousers live up to their name entirely, serving as a standard-fitting pair of bottoms that are sure to look great whether you're sitting shoreside or going out for a mid-day lunch. For enhanced adjustability, its waistline is rounded out with a set of tabs to help you find the perfect fit.
Material: 100% linen
Waist: Trousers with a zipper fly
Fit: Regular
The Best Espadrilles for Effortless Comfort
A pair of summer-friendly shoes would pair nicely with your new pants. That's why you should check out our best espadrilles guide.