Remember the time when men were afraid to wear pink? Well, now in 2023, men aren't shying away from experimenting with trending colours, prints or patterns. Designers too aren't hesitating to include exciting, flamboyant and trending prints in their menswear collections.
.@T_IWATA_EX_3JSB at #LVMenFW23. The House Ambassador and actor attended the recent #LouisVuitton presentation at the Cour Carrée du Louvre in Paris. See more from the fashion show at https://t.co/JSYYinpxxA pic.twitter.com/uVzpziBrDw

— Louis Vuitton (@LouisVuitton) January 20, 2023
Prints are everywhere. Literally. You can easily spot them on Cuban-collared shirts, sweaters, sweater vests and trousers as well as on accessories such as scarves, bow ties, pocket squares and ties. Inspiration for these prints also comes from natural artworks that combine with regular shades to make a statement piece.
How can men style trending prints?
For styling prints, you need to learn to mix and match. Don't be afraid to mix different prints and patterns in your outfit. For example, if you wish to go bold, you can wear a printed shirt with printed pants or a printed blazer with a solid-coloured shirt. Just be sure to choose prints that complement each other and have a similar colour scheme. Secondly, you need to maintain a balance of prints and colours to avoid looking like a clown. Balance out the bold prints with solid-coloured pieces. For instance, wear a printed shirt with solid-coloured pants or a printed jacket with simple coloured trousers.
Here's another important tip – Include accessories! Experiment with accessories as much as you can, especially if you're not ready to fully embrace prints. Lastly, the size of the prints matters more than anything else. In fact, the size of a print can make or break your entire look. Smaller and more subtle prints tend to be more versatile and can be worn in a wider range of settings. Alternatively, larger prints can be more eye-catching and make for a bold statement.
No matter what print you choose, it is important to make sure that the pieces you wear fit well. Ill-fitting clothes can be a distraction even if the print is stylish. So be sure to choose attire that is the right size and flatters your body type.
(Hero and feature image credit: Courtesy Instagram/ Versace)
Jump To / Table of Contents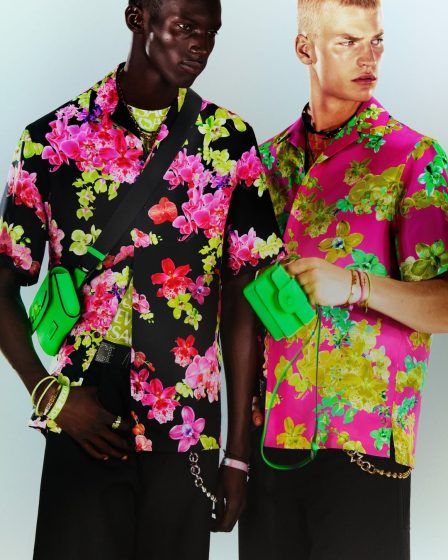 Florals might not be the most groundbreaking print out there but they are currently having a massive moment in menswear. Over time, they have become increasingly popular and designers and fast fashion brands alike have started including them in their collections, offering a range of styles, colours and patterns to choose from.
So, ditch your plain t-shirts and shirts and instead opt for floral printed shirts for a daytime or weekend look. A floral shirt is a great way to add a pop of colour and pattern to your ensemble. It can be worn tucked inside your pants or shorts for a casual look or paired with a blazer and trousers for a more formal ensemble. Another unique way of adding florals to your outfit is by wearing floral-printed trousers that make for a great statement piece. These trousers can be paired with a solid-coloured shirt or jacket to balance out the entire look. If you're not quite ready to fully embrace a floral print, you can try incorporating it into your outfit through accessories such as a scarf, tie or pocket square.
(Image credits: Courtesy Versace)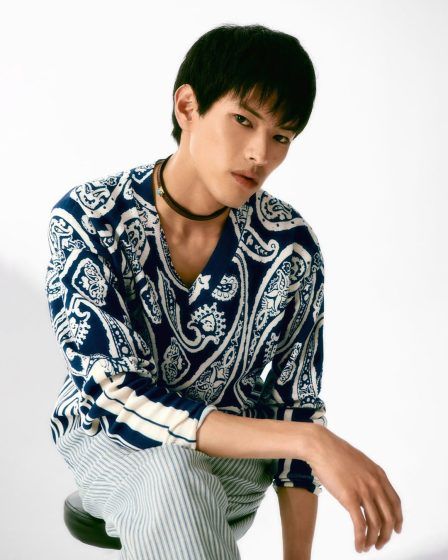 Paisley is a popular decorative print that features a curved teardrop-shaped design with a curved, swirling stem. Typically found in clothing, home decor and accessories, it was first associated with the textile industry in the town of Paisley in Scotland, hence giving it its name. Since then, it has become popular around the world and can be seen in shirts, dresses, skirts, scarves and coats.
In menswear, you will see this print every now and then splashed across shirts, accessories and trousers. Unlike florals, these prints are bold in general, so the key here is to balance out your look. If you're wearing a bold paisley print shirt or trousers, keep the rest of your outfit simple and neutral (pair it with minimal accessories). This print can add a touch of bohemian or retro style to any outfit, and since it is quite versatile, it can be incorporated into both casual and formal outfits.
(Image credits: Courtesy Etro)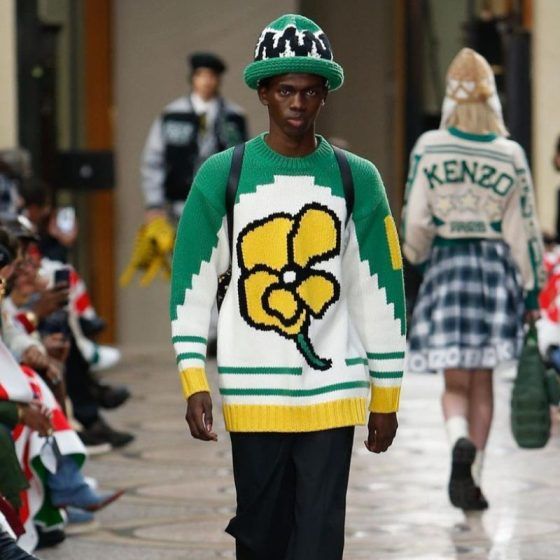 A graphic print usually refers to bold and abstract designs, usually geometric in nature. Unlike traditional floral or paisley prints, these prints often use bright colours and bold lines to create a striking visual effect. Some popular examples of graphic prints include polka dots, geometric shapes and abstract designs. When wearing graphic prints, it is important to keep the rest of the outfit simple, as the print should be the focal point. Additionally, be mindful of the colours and patterns used in the graphics, as they can have a significant impact on the overall look of the outfit.
(Image credits: Courtesy KENZO)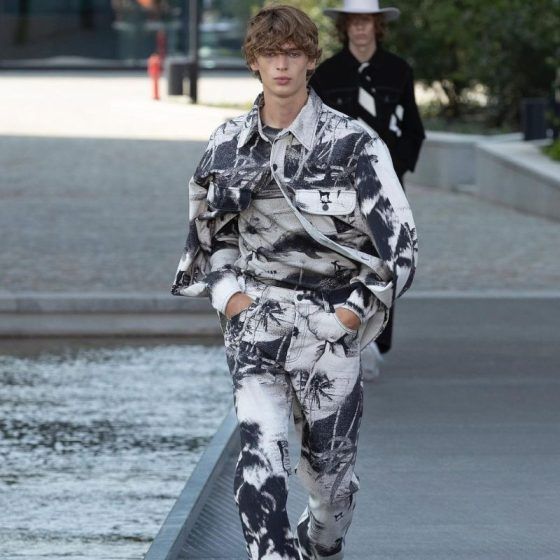 Like the florals, tie-dye prints are some of the oldest in fashion. Quite popular in the '60s and '70s, this print has managed a resurgence in popularity in recent years and is now used in a variety of styles, from bohemian and hippie-inspired to modern and minimalist. When wearing tie-dye prints, it is best to keep the rest of the outfit simple, as the dye pattern can be quite eye-catching. Neutral colours like white or black can balance out the boldness of the tie-dye print, while showy accessories can complement the unique print. You can also go for classic cuts, such as a crewneck t-shirt or buttoned-up shirt, to keep the look sophisticated and easygoing.
(Image credits: Courtesy MSGM)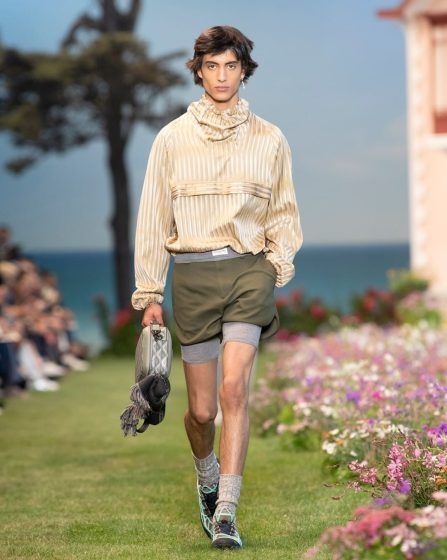 If you are new to prints, stripes are your way to go. They are one of the most basic prints that men have experimented with without even noticing it. For example, your regular formal wear includes shirts and trousers with stripes. Many ties also feature stripes as a staple print. Now, it is time to focus on this omnipresent print and make the best out of it.
Start by choosing the correct type of stripes. As there are many different types of stripes, including thick, thin, horizontal, vertical and diagonal, you should consider the shape of your body and choose a stripe pattern that flatters your look. Also, opt for classic colours, such as navy, white and black, as they are always in style.
(Image credits: Courtesy Dior)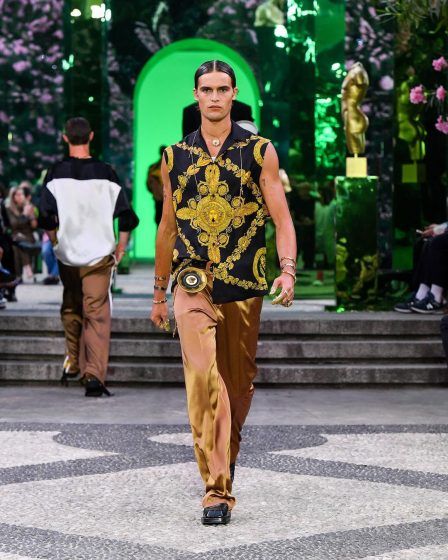 Baroque is a statement print that screams maximalism. Synonymous with Versace, baroque prints have been a core aesthetic of the brand and have appeared in every collection for years. This print is eye-catching and can be paired with solid-coloured clothing to balance out the look. When wearing a baroque print, it is best to keep the rest of the outfit simple and neutral, allowing the print to be the focal point. If you're just starting to experiment with bold prints, you can incorporate a baroque print in your wardrobe by choosing a shirt or jacket in a subtle (as subtle as a baroque print can possibly be) print that features delicate motifs. You can also use baroque-printed ties, pocket squares or cufflinks as an accent to add a touch of luxury to your outfit.
(Image credits: Courtesy Versace)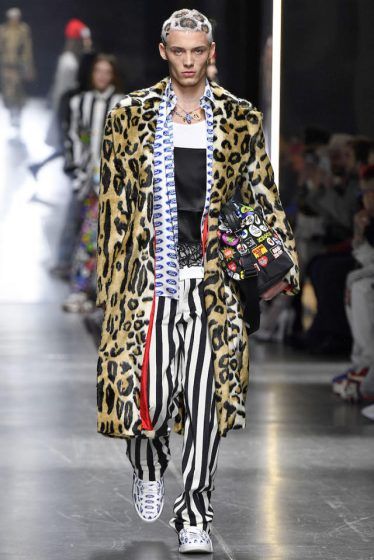 Yet another bold choice, animal prints are also quite popular. These are usually recognisable by showcasing the markings of the skin of a particular animal. Case in point, the most famous animal prints include snake, tiger, leopard, cheetah and zebra prints. These prints can add a touch of flamboyance and confident flair to your look. When opting for animal prints, it's advisable to be a bit subtle with the rest of your outfit. Prints in earthy colours, such as a black and white zebra print or a beige and brown leopard print, are quite versatile and can be easily paired with other colours.
(Image credits: Courtesy Dsquared2)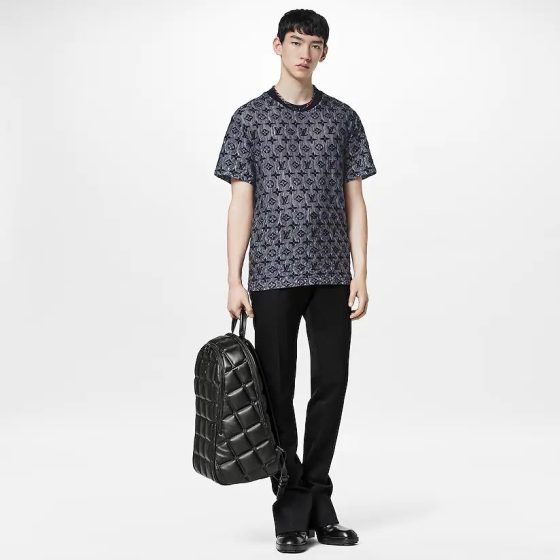 Monogram prints, also known as logomania, are associated with a brand's logos or symbols. A timeless and classical design, these prints boast luxury and are easy to style. You can start by going for simple monogram prints like small initials on the pocket of a shirt or on a tie. Designers also offer monogram prints in sweaters, jumpers, trench coats and co-ord sets. These styles can be worn on their own as too much interference with monograms might result in your outfit going a bit overboard. You can also choose to pair a logo-printed sweatshirt with black denim jeans and sneakers for a fashion-forward look. Another way to include this print is by adding monogram-printed accessories such as ties, cufflinks, wallets and belts to your look.
(Image credits: Courtesy Louis Vuitton)
Frequently Asked Questions (FAQs)
Question: Which prints are trending in 2023?
Answer: Prints such as tie-dye, floral, paisley, monogram and others are trending in 2023.
Question: Is tie-dye print still trending?
Answer: Yes, tie-dye prints are still quite popular.
Question: Which prints can be worn in summer?
Answer: In summers, men can opt for breezy prints. These include floral prints, tropical prints and stripes.