The pompadour hairstyle has stood the test of time for men. To provide context,  our contributor, Tiffany Young, Certified Trichologist, Founder – ThinHairThick, a hair product brand, says, "It is generally viewed as a retro men's style whereas bouffant hair is the female trend." The signature style features long hair elegantly swept back and upward, framed by shorter or slicked sides. Typically, the tallest section of hair sits prominently in front of the hairline, showcasing its impressive volume and gradually decreasing in size towards the back. 
A nod to royalty, the pompadour haircut was once exclusively worn by women and was named after one of King Louis XV's mistresses. However, it was the King of Rock and Roll, Elvis Presley, who brought it to mainstream popularity among men. If you are aching to flaunt a sleek pompadour, but feel confused about which style is the best for you, we've got you covered with our list of 50 pompadour hairstyles. Scroll down to explore!
50 Must-Try Pompadour Hairstyles for Men to Embrace Their Inner King
There are countless versions of the modern pompadour hair that can be customized to fit any occasion, personal style, preference, or hair texture. Considering these factors, it's important to select the perfect pompadour hairstyle that best suits your unique needs. Our contributor Tiffany Young further notes that, "Wax based styling products will help give hair lift and defy gravity while hairspray will lock the style in place for several hours."
1. Pompadour Fade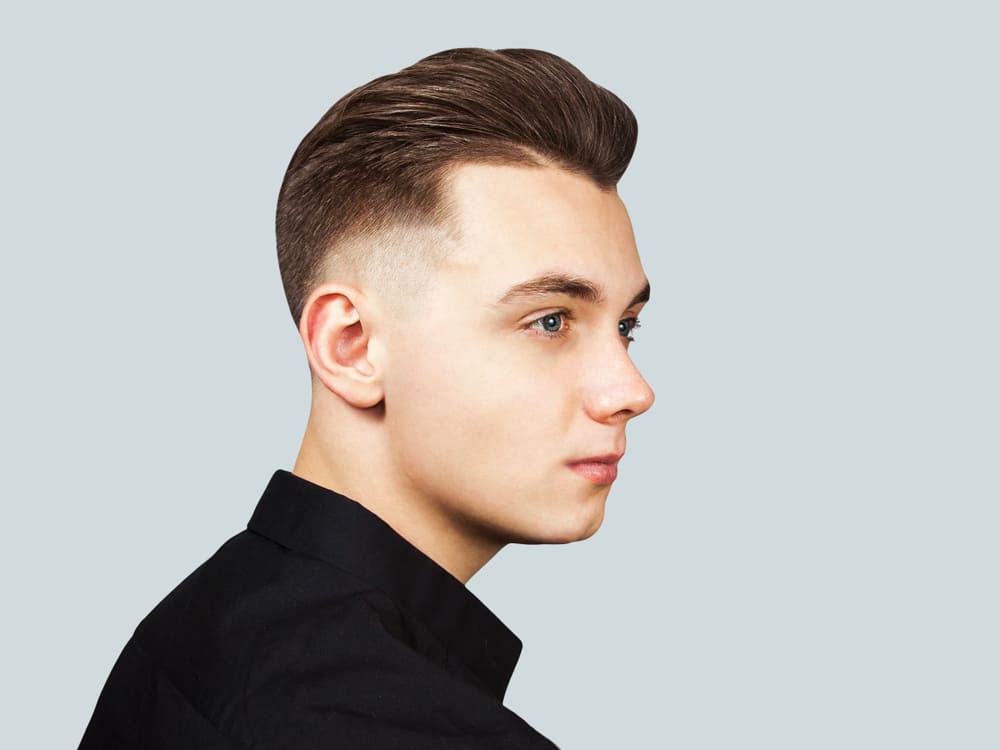 The pompadour fade style has been a staple in many men's haircuts, owing to its versatility and clean-cut look. The pompadour gives a sleek and sophisticated feel to any messy hairstyle and is the perfect blend of classic and modern design. The tapered edges complement all hair types, and the short length above the ears creates a fuller and more voluminous look. 
2. The Brad Pitt Pompadour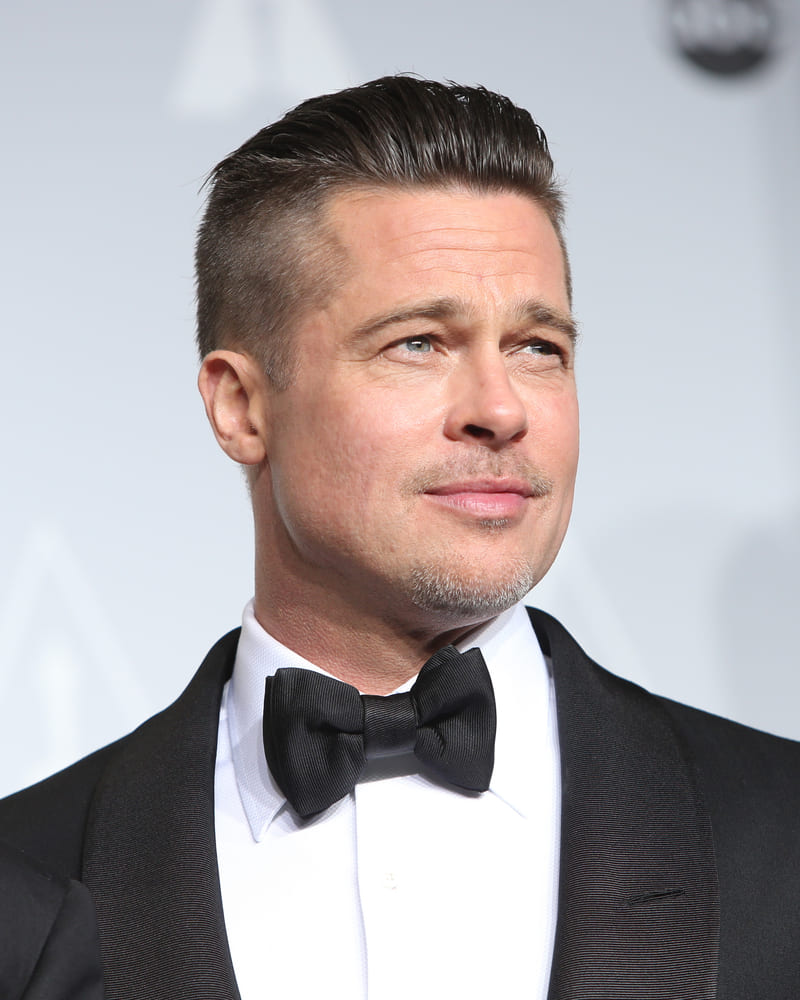 Adored by fans worldwide, Brad Pitt's mastery over the pompadour hairstyle is second to none. With impeccable finesse and the use of pomade wax, his elegance is unmatched. Whether you're heading to a classy soirée or a high-profile corporate function, give this dapper 'do a shot and get ready to ooze sophistication.
3. Quiff Pompadour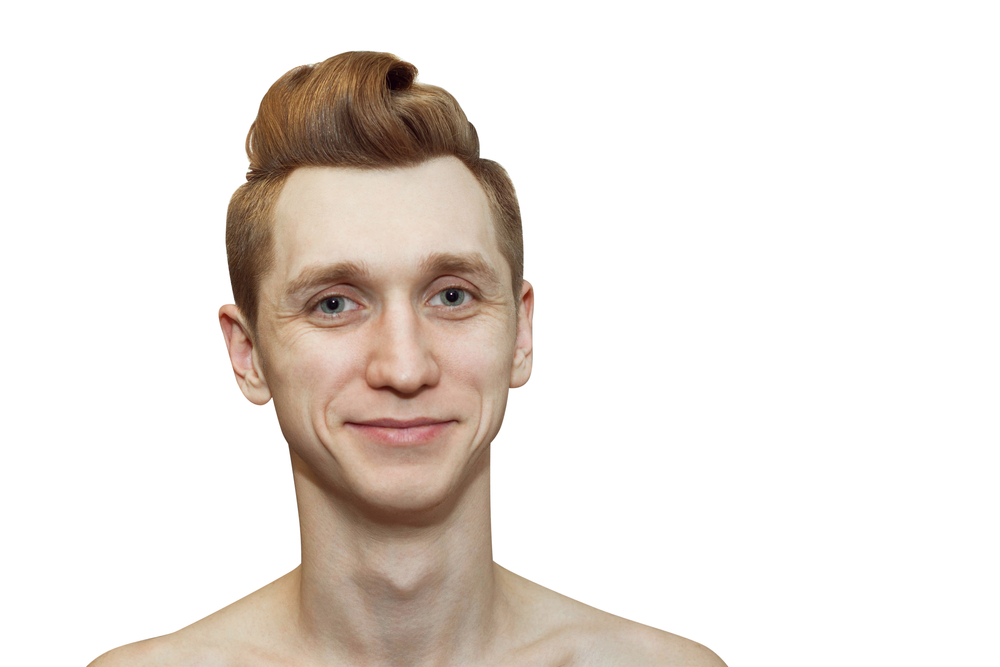 A fusion of the classic pompadour and quiff, this cut packs a punch of volume at the crown. Not only does it elevate any look, but it also allows for versatility with a customizable quiff – go big or keep it sleek and chic. A crisp, tidy quiff exudes power and strength, standing in contrast to a tousled counterpart that exudes softness. Beauty and strength in one slick style.
4. Mini Pompadour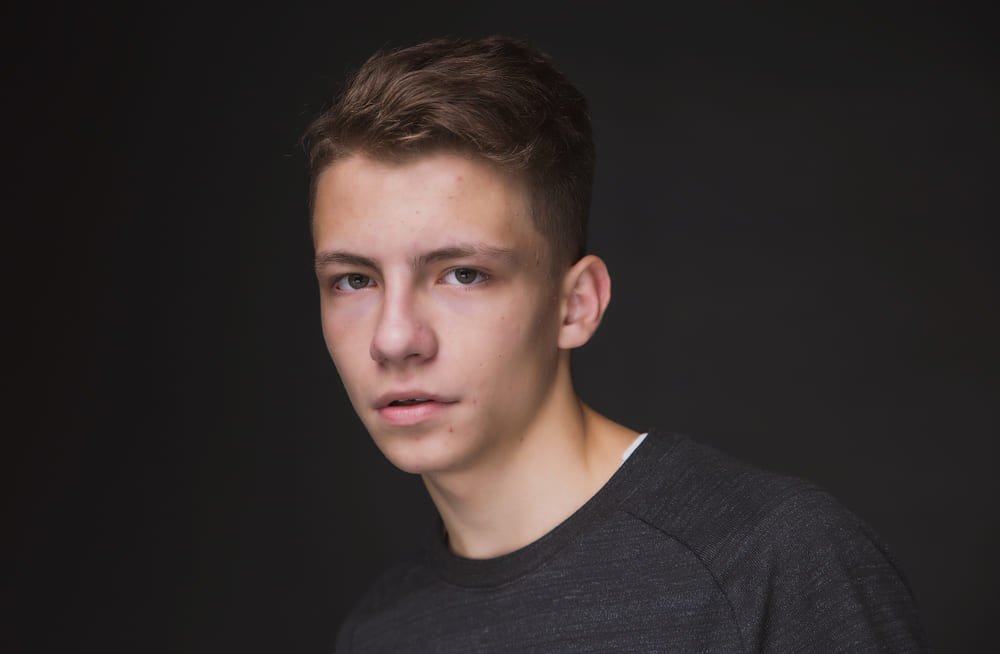 The dapper mini pompadour, known for its subtle pompadour fade, is the perfect hairdo for gents with short locks who yearn for a classic pompadour but cannot pull it off. Embrace the mini pompadour, and patiently wait for your tresses to sprout. And while it may not draw as much attention as its bigger counterpart, it is undeniably stylish for the contemporary man.
5. The Bruno Mars Pompadour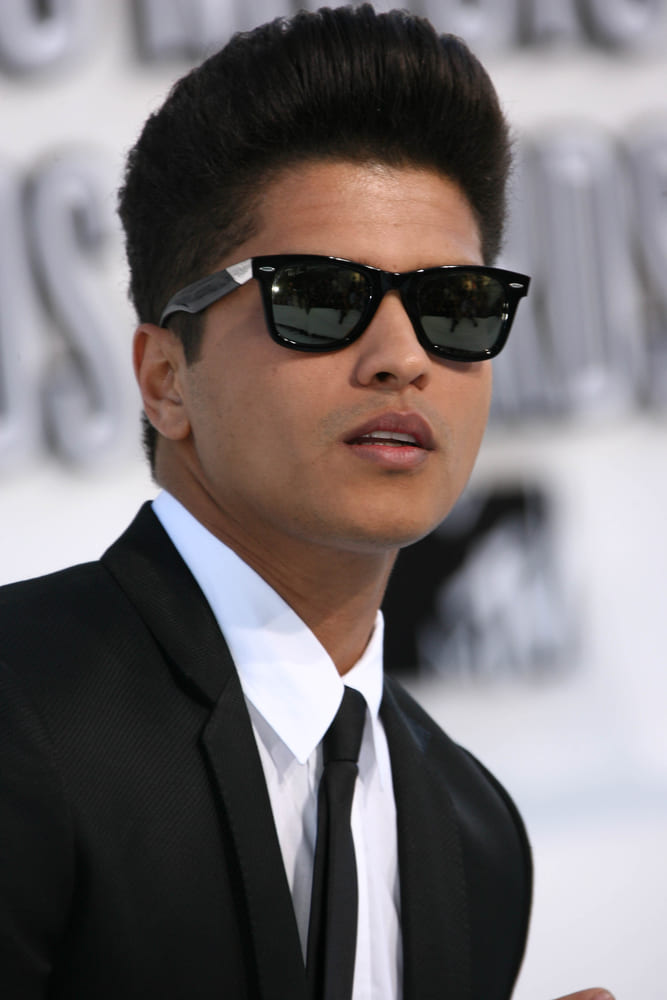 In the realm of chic men's pompadour hairstyles, the one made famous by Bruno Mars is undeniably noteworthy. This particular variation features thick, expertly combed hair atop the head with neatly trimmed sides and a slick waxed finish. What's particularly striking about this style is its versatility. Whether you're attending a formal business meeting or letting loose at a lively soirée, this pompadour has got you covered. 
6. Short Pompadour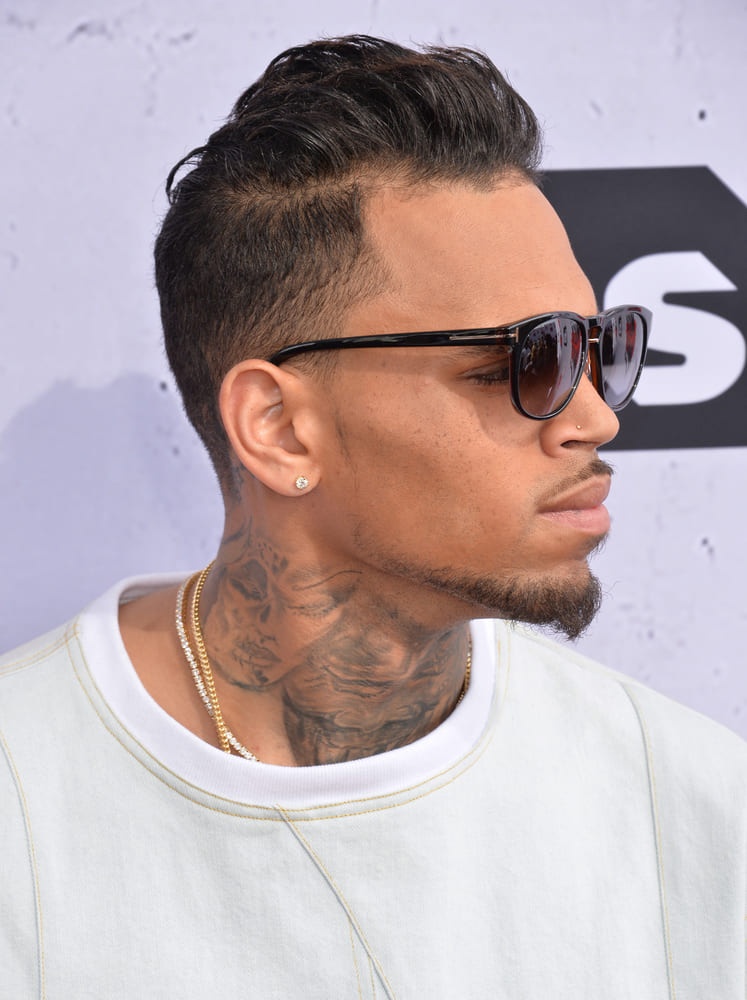 Chris Brown has effortlessly rocked the short pompadour look, and we're totally smitten! This style is all about the faded vibes on the sides, combined with a boho-inspired vibe for an edgy, sassy, and oh-so-trendy appearance. 
7. Classic Pompadour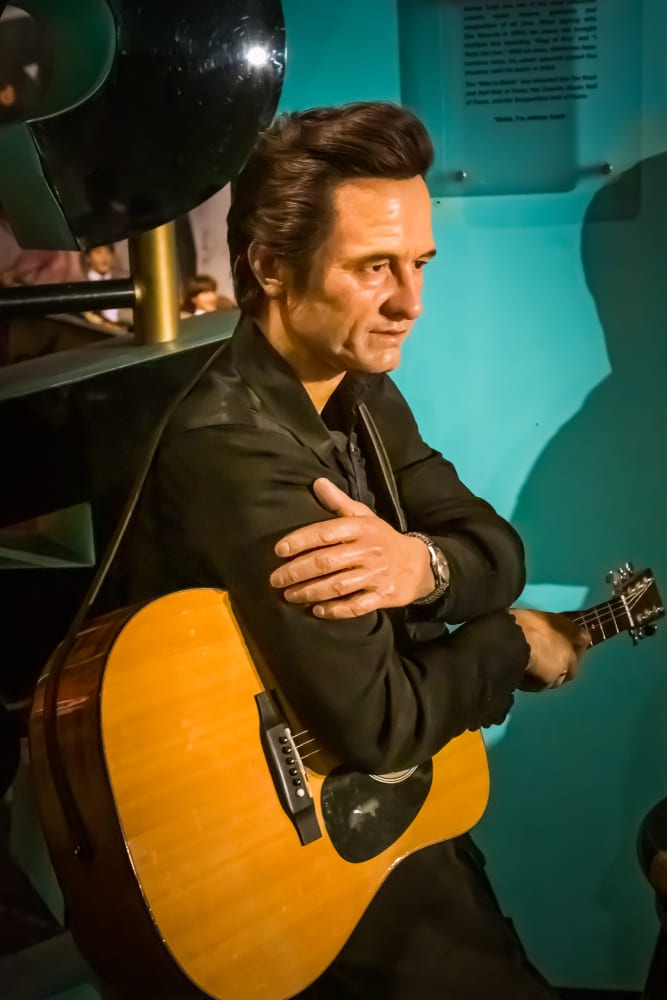 If Johnny Cash isn't a name that rings a bell, you should get familiar with him ASAP. His pompadour is one of the most iconic looks in pompadour history. In the 1950s and 1960s, Cash rocked this classic hairstyle like no other, and we have to admit, it's timeless. The puffy front and slicked-back neat ends give it a vintage vibe that's hard to replicate. 
8. Tousled Pompadour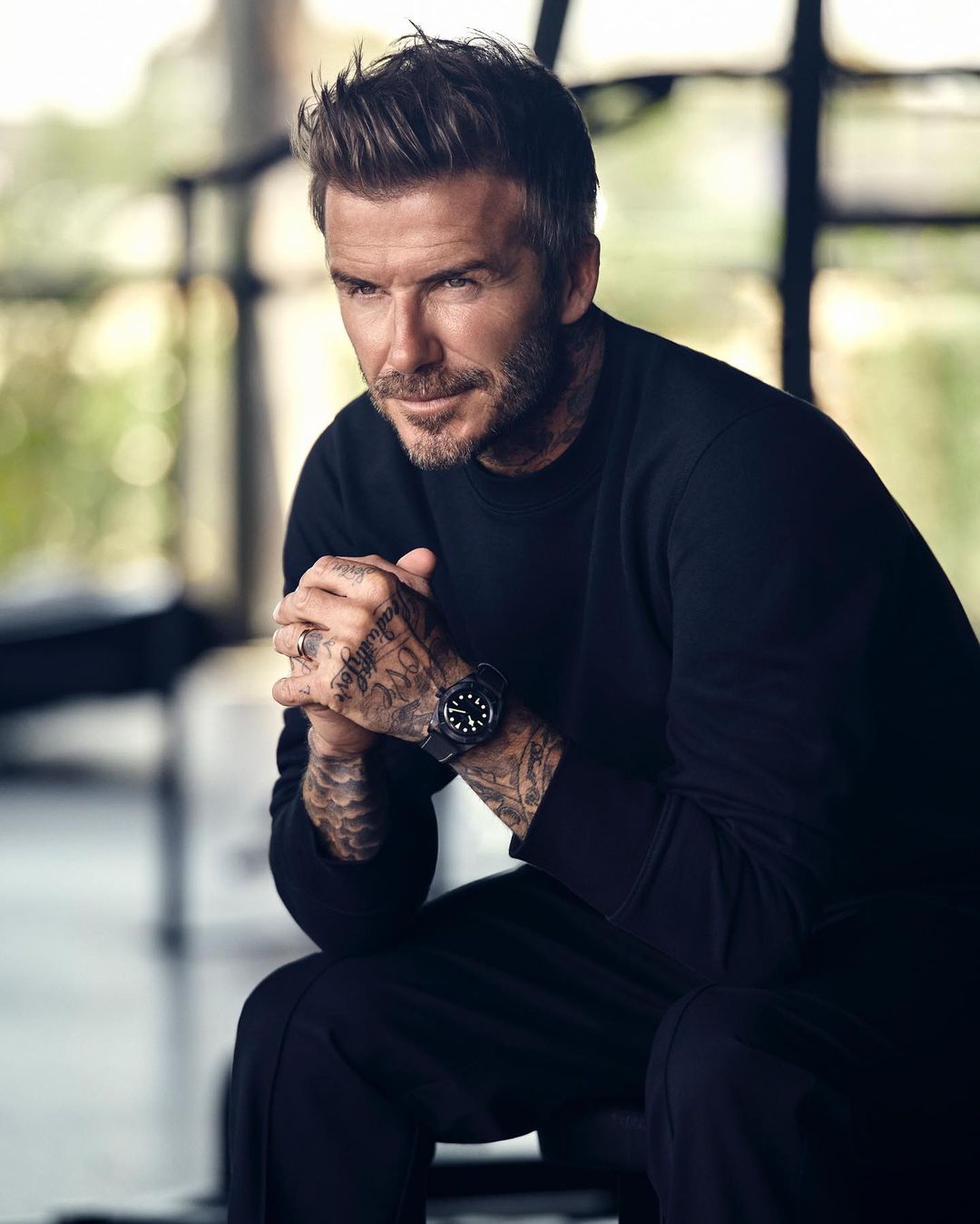 When it comes to keeping up with the latest trends, David Beckham never disappoints. His latest style, a tousled pompadour, had fans going wild with admiration. There's just something irresistible about that perfectly-messy-meets-sleek-and-stylish look that he effortlessly pulls off. Any man can channel this fresh and daring style by combining a well-crafted pompadour with carefully trimmed sides. For an extra touch of edginess, try pairing it with a rugged beard — your fashion game will be on another level.
9. Straight Pompadour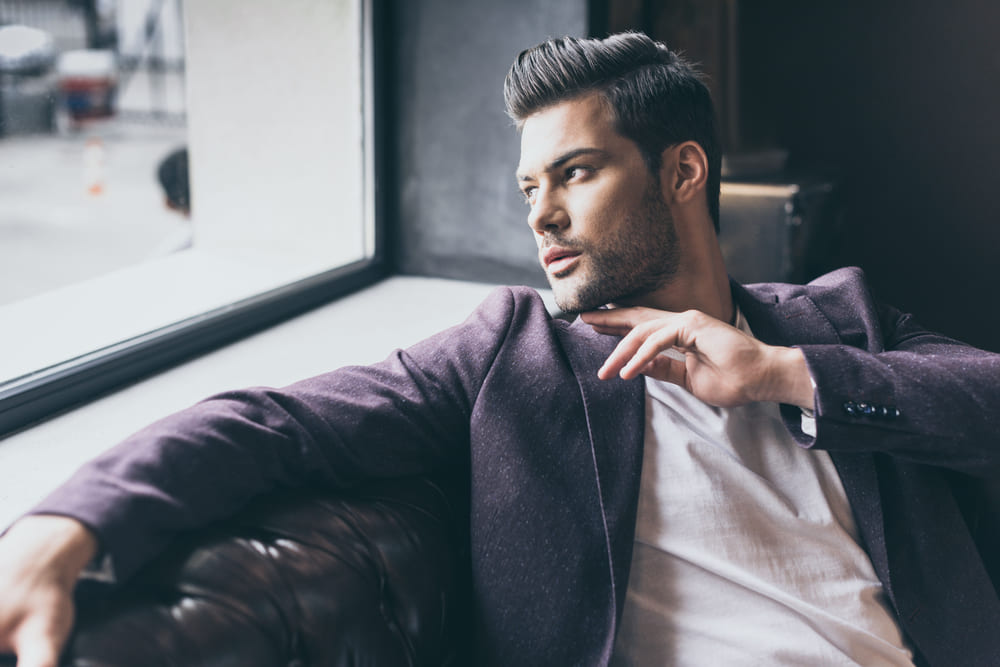 Achieve a clean and classic look with the sharpness of a straight pompadour. While wavy hair can still rock this style, it is the straight strands that truly bring out the best in this cut. So if you don't have those beachy locks, don't hesitate to give this a shot! The final result boasts professionalism and immaculateness that can level up any look.
10. Modern Pompadour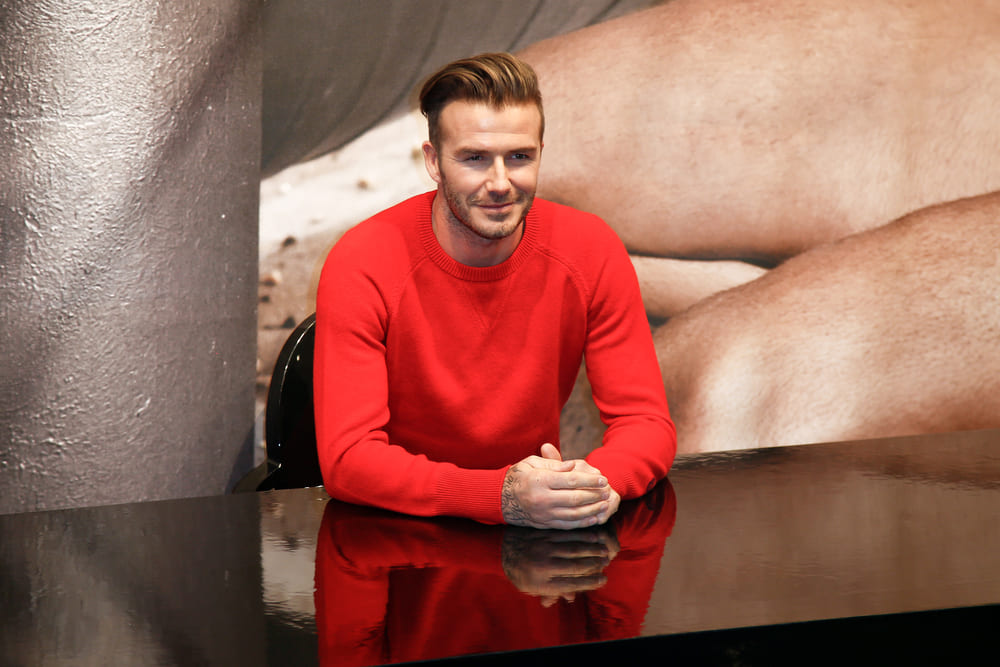 The classic pompadour is now infused with a modern flair for a 21st-century take that exudes sophistication and boldness. The new iteration boasts a refined definition, providing a sleek and edgy look that can elongate the face, especially for those with a rounder facial shape. With the confidence to sport this stylish update, anyone can achieve a stunning appearance that embodies the essence of a modern pompadour.
11. Single-Length Pompadour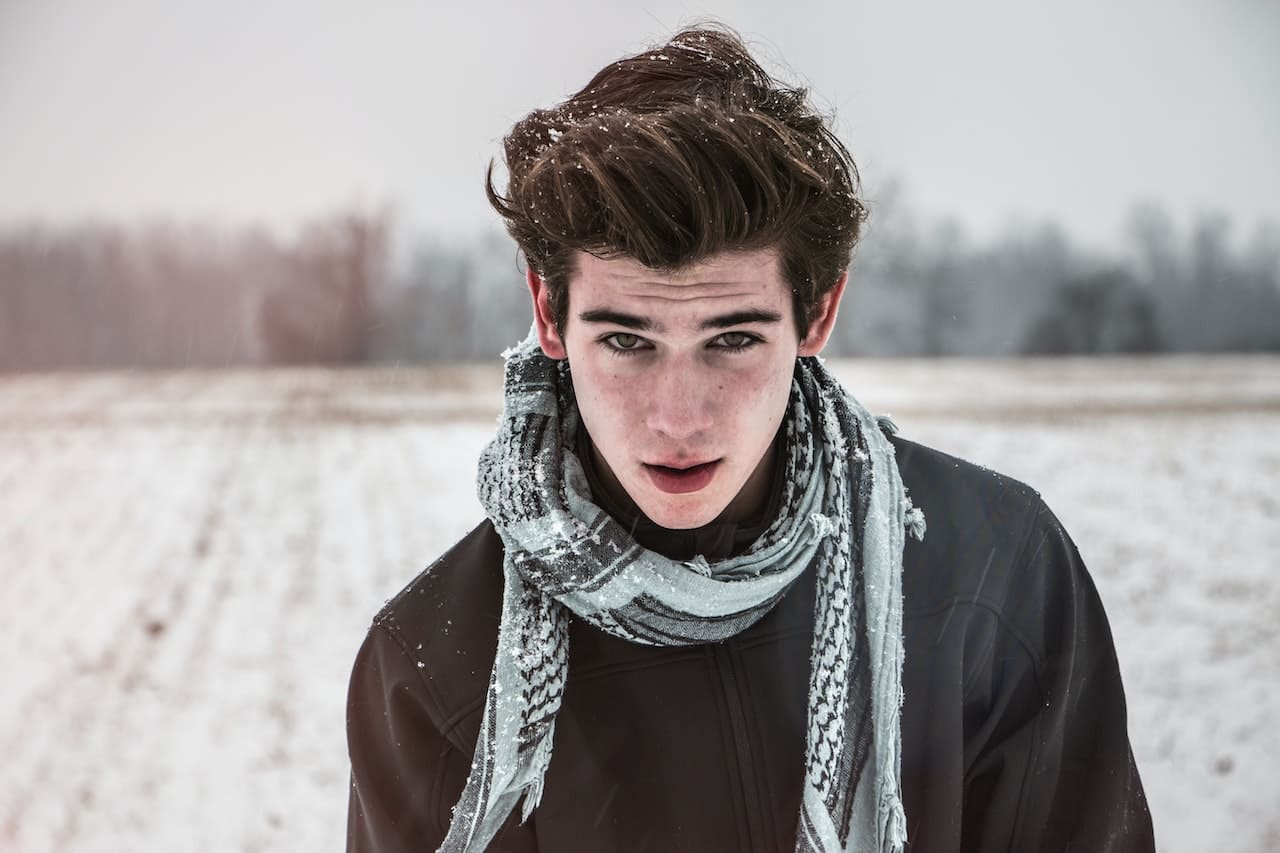 In this era, undercuts are dominating men's pompadour styles. Nonetheless, some remain loyal to the traditional look of longer side hair. An alternative to this is the single-length pompadour, which evokes a timeless feel as there are no apparent distinctions between the length of the sides and top hair. This particular look exudes an undeniable polished shine, despite being less towering in height. Moreover, the side sections of the hair may also be utilized to achieve a voluminous pompadour. As a bonus, the addition of a side part can enhance the overall appeal of this style.
12. Pompadour with Beard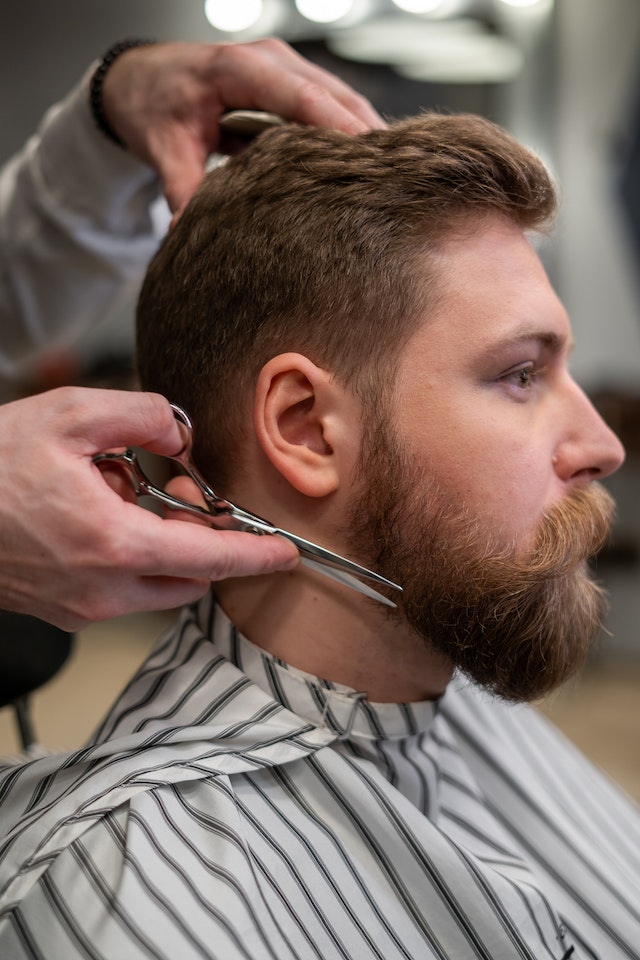 The pompadour and beard combination is an undeniably killer look that's sure to draw attention. But, make no mistake, achieving this look is no easy feat. Your beard must match the size and shape of your pompadour perfectly, or else the outcome may appear quite peculiar. Don't forget the importance of routine maintenance and meticulous trimming to maintain its alluring appearance.
13. Full Volume Pompadour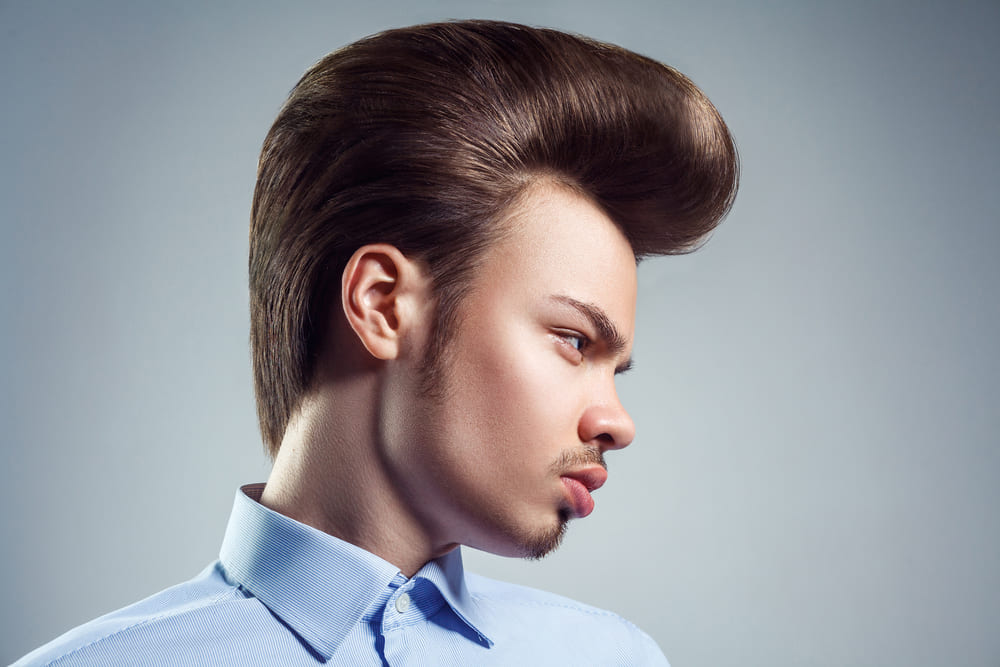 This avant-garde style amplifies the original concept by elongating and broadening the pompadour to maximize its volume and impact. Anyone can rock this daring look, but those with luxuriant locks will truly reap the benefits. To achieve the ultimate pompadour, simply shave the sides and style with a blow dryer and the appropriate products for stunning, show-stopping results.
14. Asian Pompadour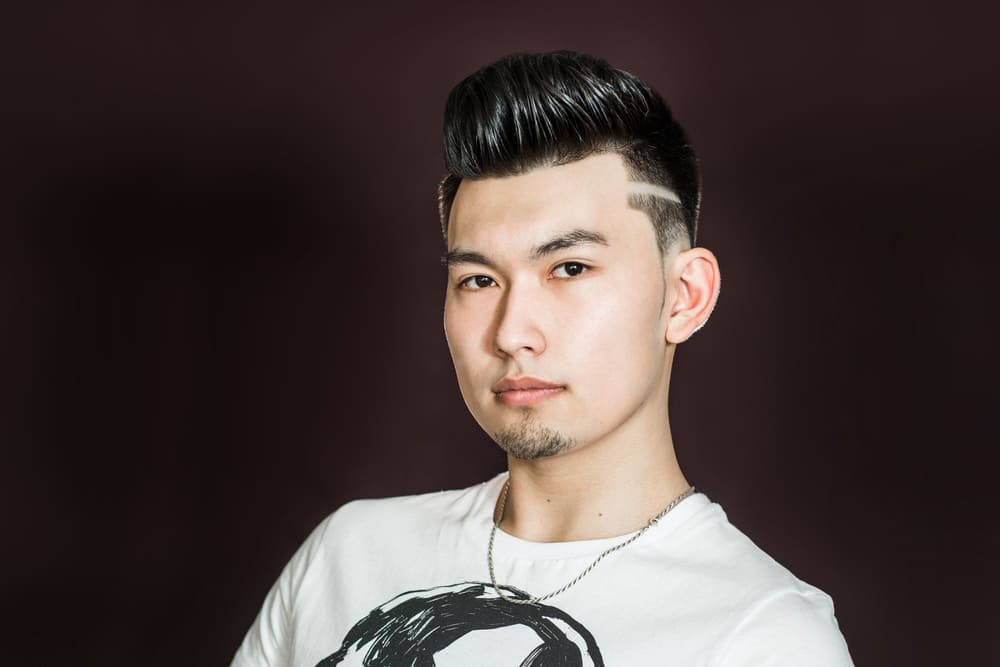 The Asian pompadour haircut highlights the sleek and dark nature of Asian hair, which is ideal for crafting a magnificent pompadour. Achieving this style is a breeze when the hair has substantial volume. However, thin hair can still attain this look with the help of diverse hair products that can help to amplify the volume. 
15. Textured Pompadour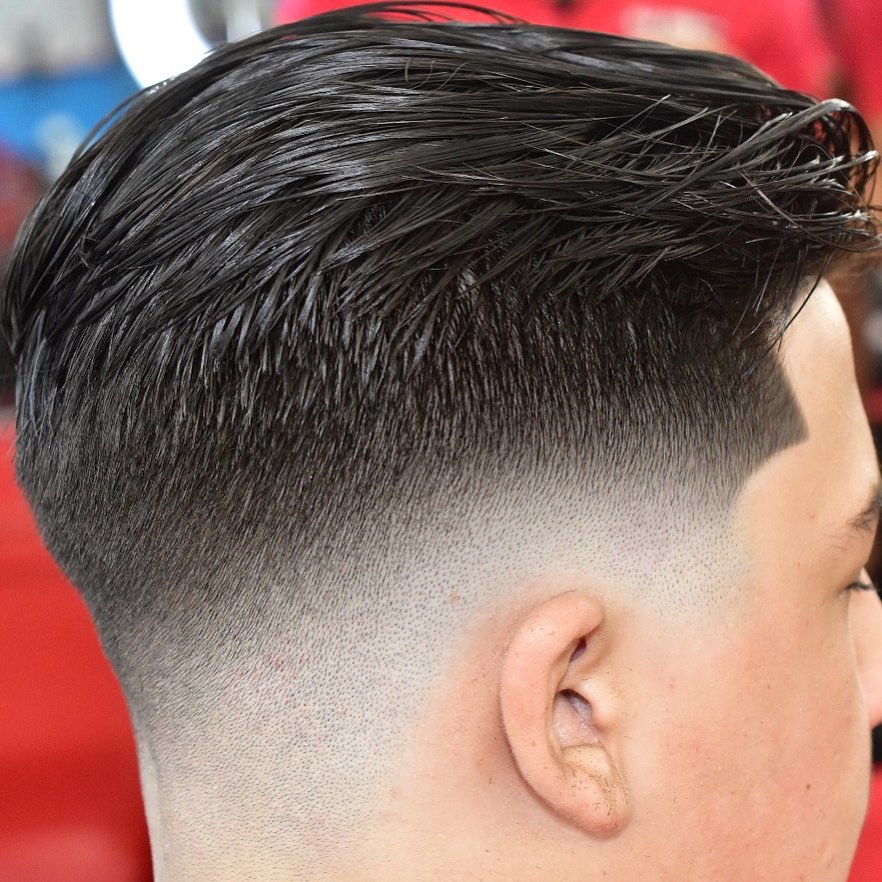 This rendition of the pompadour takes a unique twist, incorporating a trendy pompadour undercut in a sleek manner. The added texture gives dimension and a sense of firmness to the style. The beauty of this look is that the texturization can easily be achieved without much effort, but if your hair is pin-straight, you may face some challenges trying to recreate the style. Therefore, we recommend utilizing a texturizer to help in the creation of this chic look.
16. The Elvis Presley Pompadour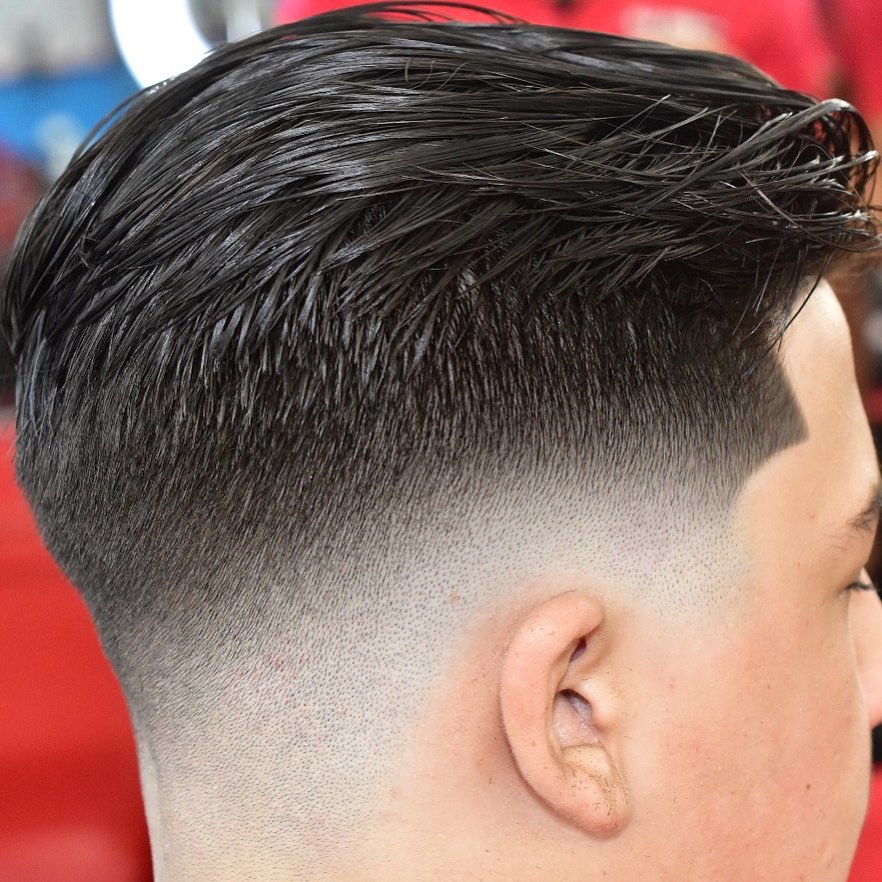 The roots of the iconic pompadour trace back to the 1700s, yet it remained largely unnoticed until the advent of rock culture in the 1950s, embodied by the legendary Elvis Presley himself. And so, the pompadour surged into the limelight. In those days of yore, the pompadour was all about slickness and utter straightness. But as we approach the modern age, it's all about creating volume and texture. Achieving the perfect look entails using various hair products to sculpt and smoothen the pompadour.
17. Slicked Back Pompadour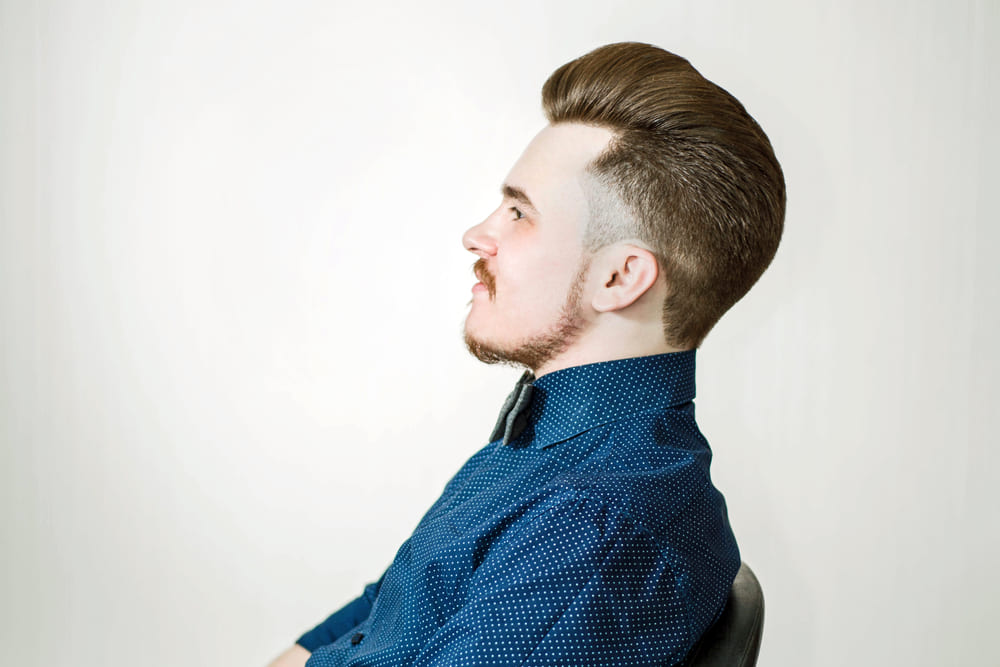 For those who flaunt sleek and refined tresses, the slicked-back pompadour is your mane must-have. With its polished finish and old-world flair, this style trumps its textured counterparts. Achieving this coveted look calls for some extra prepping, like working in some wax or hair gel, or a well-placed blow-dry session. Take the leap and add some timeless pizzazz to your strands!
18. Pompadour with Shine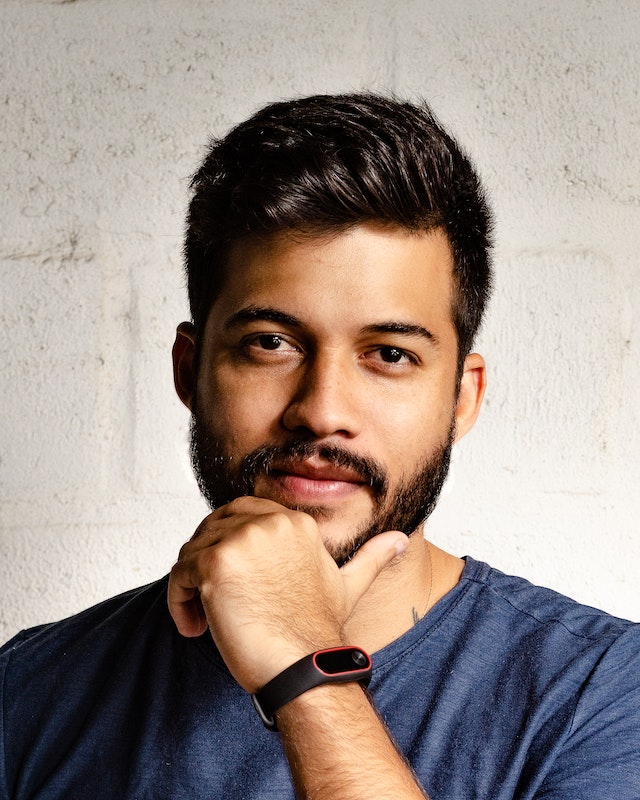 Achieving the perfect pompadour hairstyle requires more than just a stylish cut — it's all about that dazzling shine. And achieving a natural-looking, glossy finish is easier than you might think. First, you'll want to blow dry your locks into place. Next, grab some high-quality pomade to mold your hair into the iconic shape. But what really takes your look to the next level is adding a shining spray to enhance that coveted sheen. Follow these steps, and you'll be the envy of every stylish gentleman around.
19. Disconnected Pompadour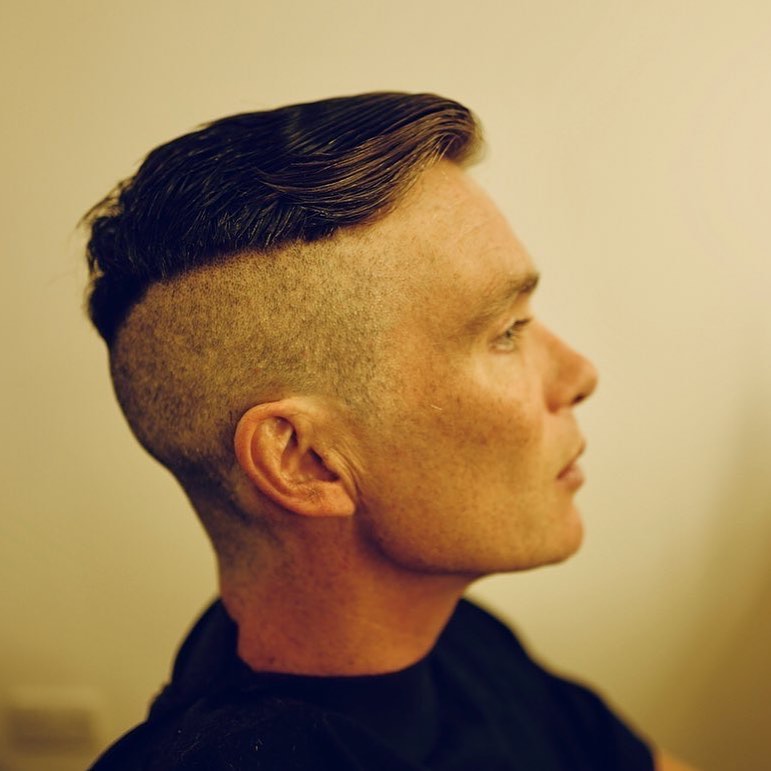 Get ready to transform your hair game with the Thomas Shelby-approved pompadour! This sleek and modern hairstyle is the perfect way to inject some excitement into your look. With a bold disconnected undercut combined with a dapper pompadour, it's a style that screams 21st-century sophistication. Get ready to turn heads with this attention-grabbing, ultra-cool hairdo!
20. Textured Relaxed Pompadour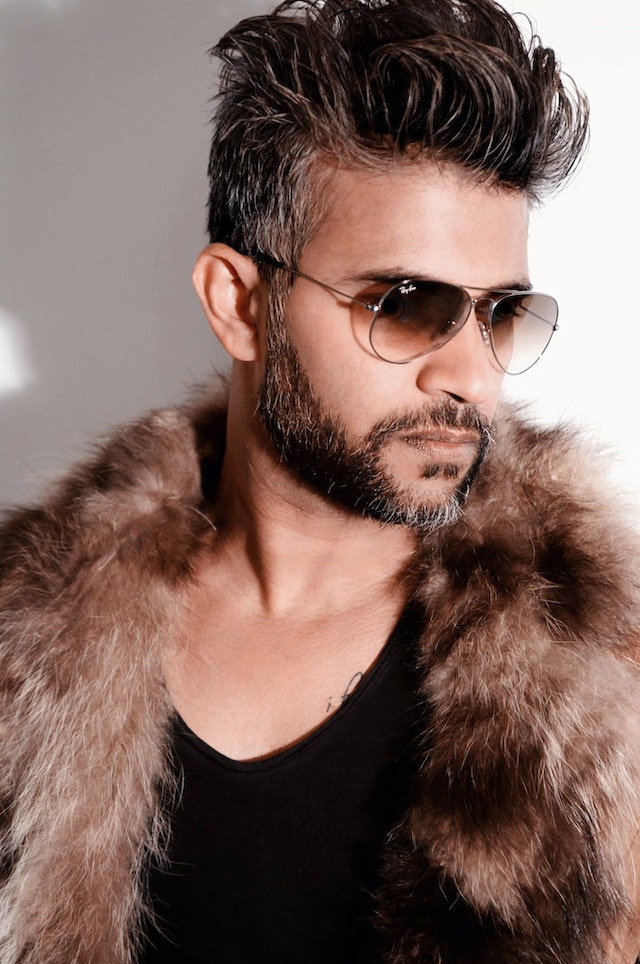 This men's haircut known as the relaxed pompadour is just the thing. It combines the classic pompadour with a cool and laid-back finish that's sure to impress. Best suited for those with thick and wavy hair, if your locks don't fit the bill, fear not — various products can help achieve the desired look. 
21. Wavy Pompadour
Switch up your hairstyle game with a wavy pompadour for a youthful and lively look. Unlike its classic counterpart, this version will leave you feeling elated and carefree, perfect for anyone with a fashion-forward mindset who doesn't take themselves too seriously. Not to mention, this trendy style is a breeze to recreate and maintain. 
22. Undercut Pompadour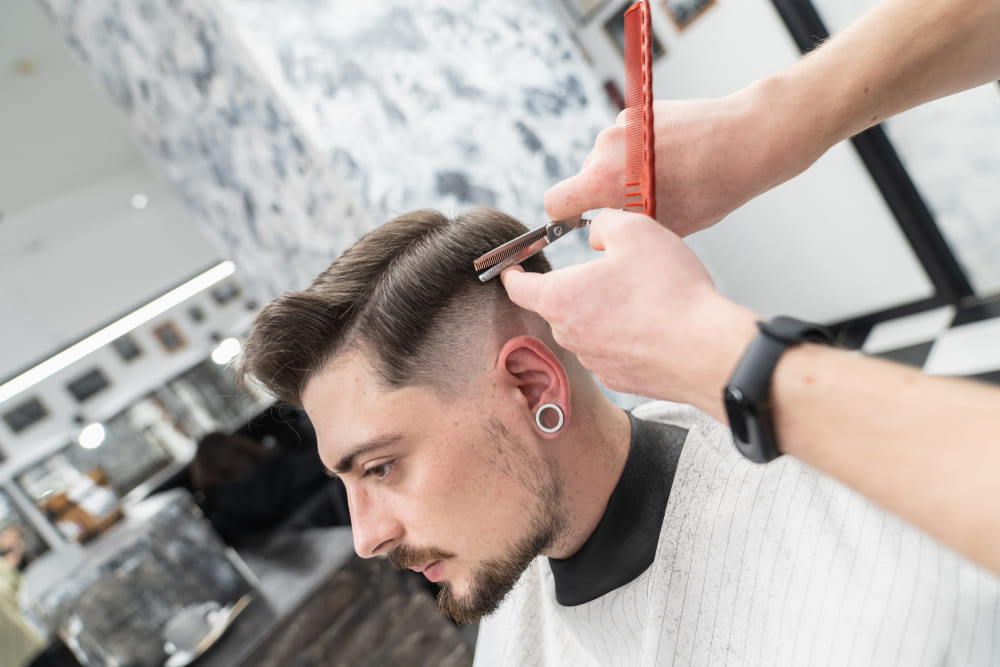 If you're up for experimenting with your hair, you must give this pompadour hairstyle a shot! This particular version of the classic style features an undercut, which creates a more impactful look than a faded cut. The top of the head becomes the focal point, with volume taking center stage and giving it an effortlessly strong and stylish feel. 
23. Curly Pompadour
Although traditionally associated with straight hair, the iconic pompadour look is achievable even for those with curly locks. With the right combination of texture, volume, and expert cutting techniques, a curly pompadour can look equally stunning and showcase the precision and style that makes this classic look so desirable. For an added edge, consider pairing your pompadour with an undercut or short sides for an eye-catching, modern twist.
24. Clean Pompadour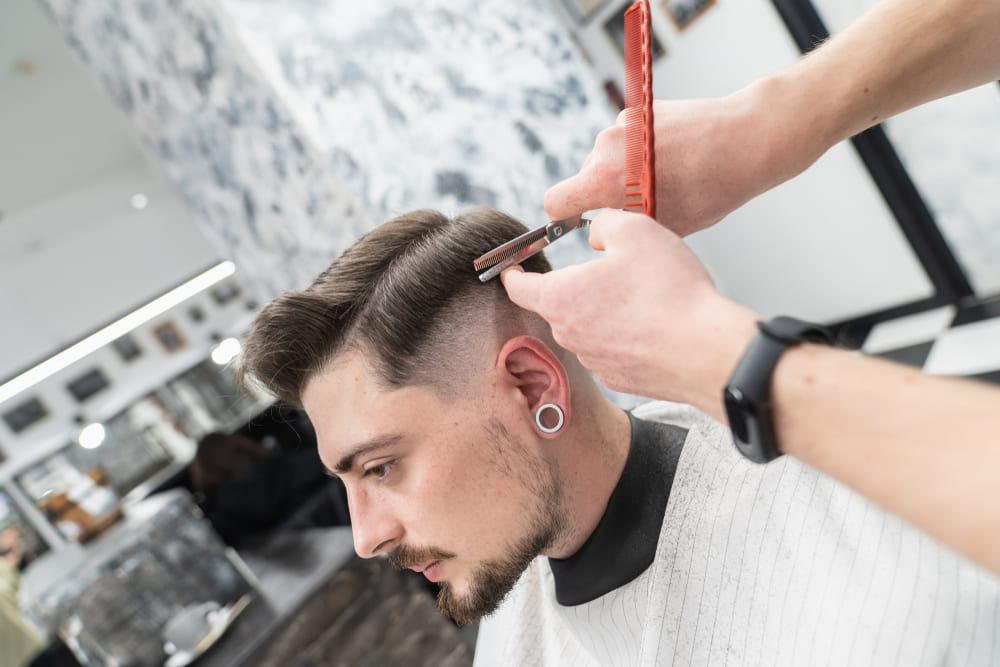 If you're looking to spice up your classic hairstyle, a pompadour may be the way to go! This sleek haircut is perfect for short locks and can be rocked in nearly any scenario. To achieve a contemporary edge, focus on styling from the part line. For an extra polished finish, don't forget to add some wet hair gel. Embrace your suave side with this fantastic hairdo!
25. Short Pompadour with High Fade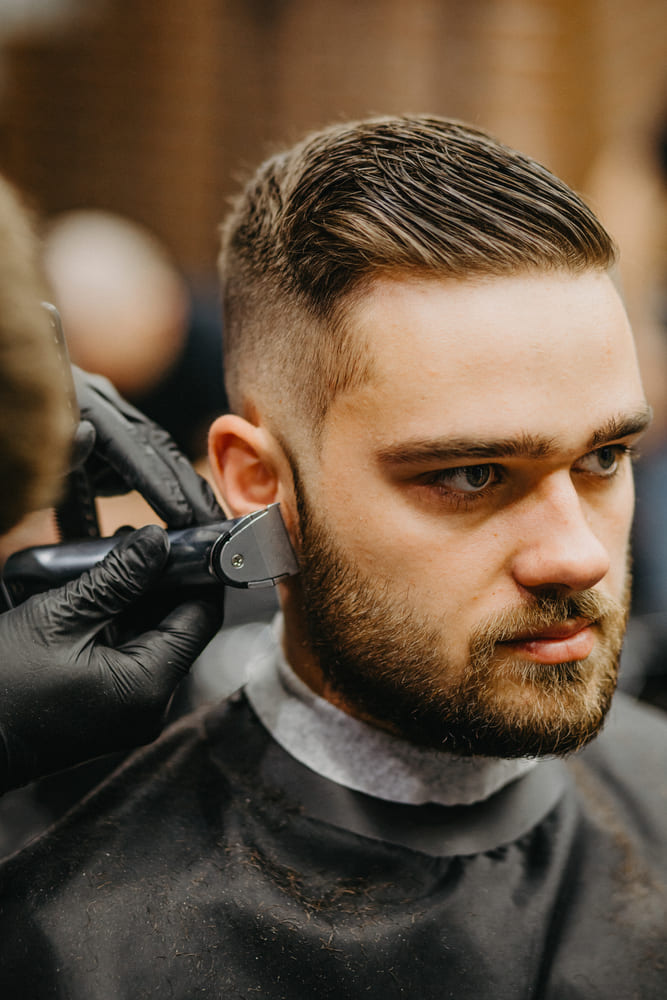 With this perfect pompadour, you'll have a military-esque appearance that screams stylishness. However, ensure that the proportions are in check. Too much fade can lead to a lengthy face, whereas a high fade matched with a short pompadour is simply splendid. Elevate the style game by making use of pomade hair products.
26. Side Part Pompadour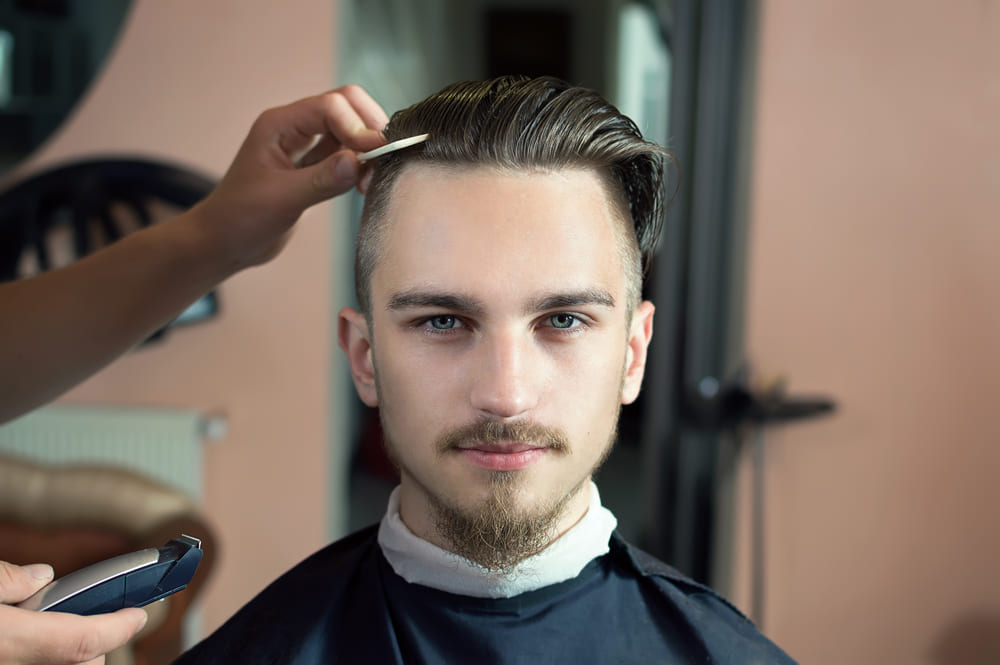 The innovative take on the pompadour hairstyle switches things up by shifting the emphasis from the back to the side. Instead of relying solely on the backside to create volume, the part line on the side becomes the foundation for the hair. This unique technique yields stunning results that exude sophistication and elegance. 
27. Pompadour with Mid Fade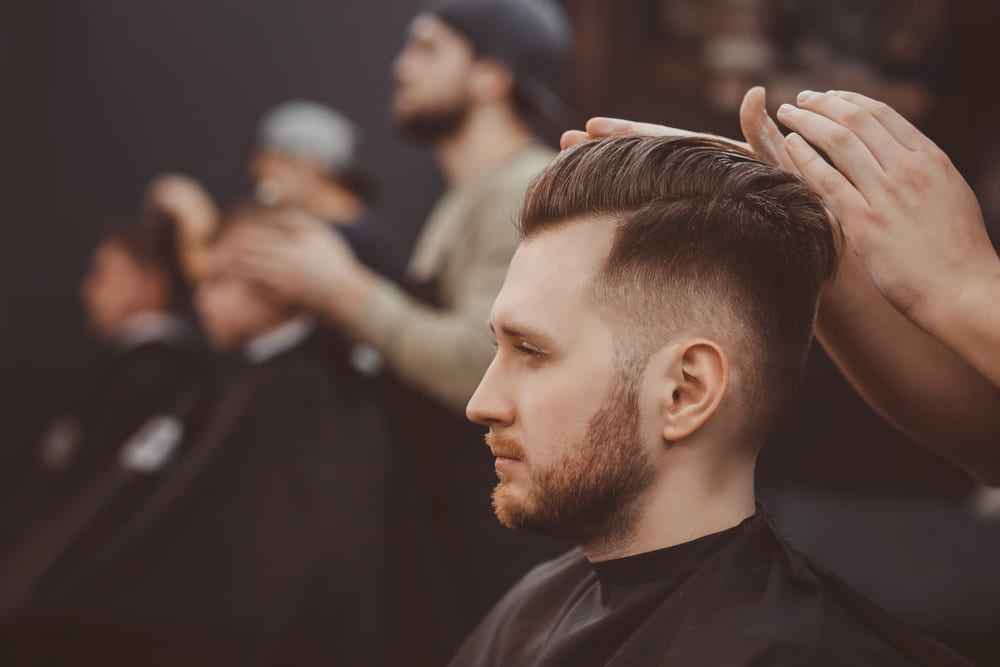 A fresh spin on the classic pompadour hairstyle is achieved by incorporating a mid-fade into the mix. The result is nothing short of exhilarating. The longer hair that runs down the middle of the head stands in sharp contrast to the shorter hair that surrounds it, lending an incredibly distinct shape and size to the overall appearance. The final outcome is a sharp and edgy look that exudes an abundance of style and confidence. And if you're feeling particularly bold, adding some hair pomade to the equation is sure to take your look to the next level.
28. Pompadour with Blonde Hair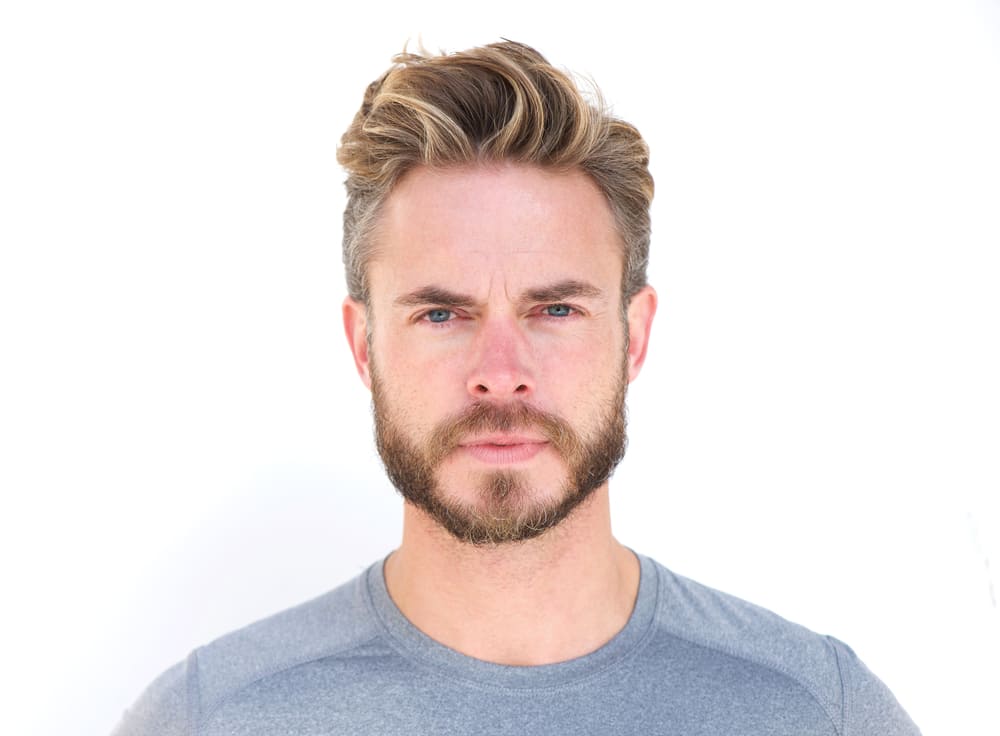 Beyond rocking a pompadour hairstyle, there are endless possibilities to experiment with your hair. Don't limit yourself to just one look, explore variations in size, texture, and even color to take your pompadour to new heights of elegance. Elevate your styling game with hair pomade to add a touch of sophistication to your overall aesthetic. 
29. Short And Curly Pompadour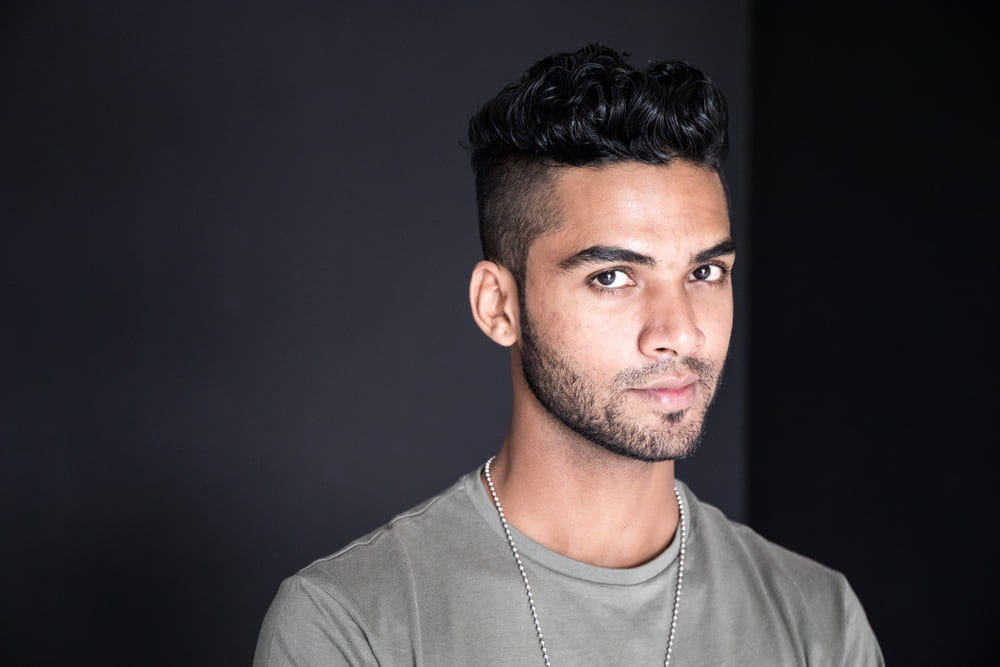 To achieve this stunning look, all you need is a wide-tooth comb and perhaps a touch of pomade to take your style up a notch. If you want even more voluminous curls, simply blow dry the roots of your hair. Say goodbye to boring hair days and hello to the fabulous short and curly pompadour!
30. Pompadour with Extra Volume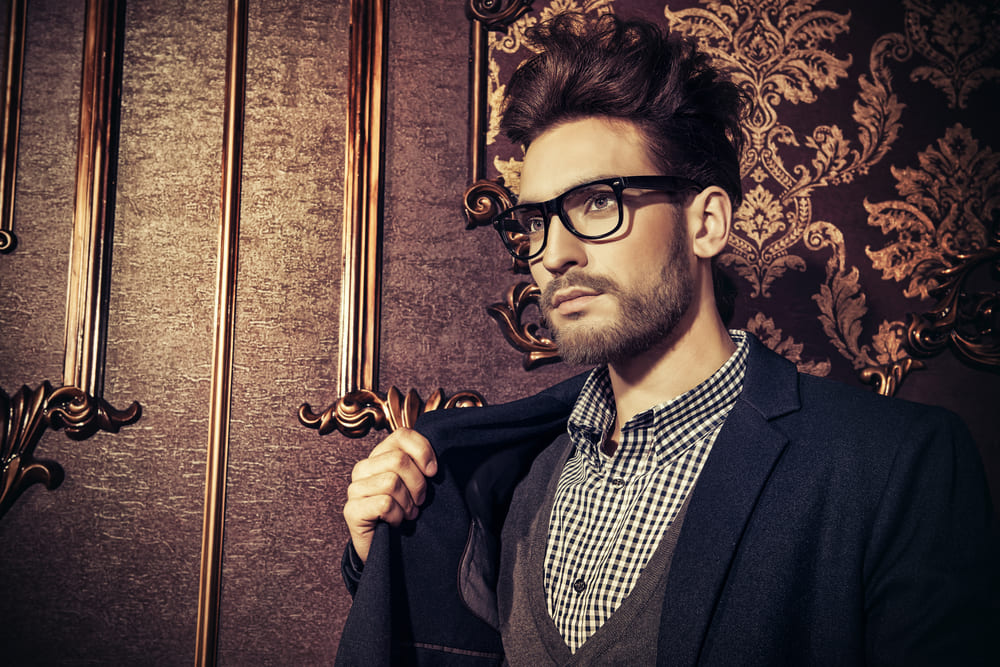 To truly elevate the pompadour hairstyle for men, an emphasis on creating exceptional volume is essential. While this cut is already undeniably stylish, it has the potential to reach new heights with added hair volume. Achieving this look requires a combination of various products, such as volumizing sprays, pomades, and more. And the best part? Once the transformation is complete, you can revel in the outcome of a stunning and voluminous pompadour.
31. Side Pompadour Fade
With a sleek and tapered undercut, this haircut is expertly styled to achieve maximum volume and height at the crown of your head, effortlessly cascading to one side. The length on top provides the perfect foundation for the classic pompadour style, while the added movement and flow add a modern touch that makes this look truly one-of-a-kind.
32. Combed over Pompadour with Hard Part
Hairstyles that feature a side part are a popular choice among those who prefer a more traditional look. One unique take on this classic style is the side part pomp, which beautifully merges the clean lines of a comb over fade with the boldness of a pompadour's height. This stunning hairstyle effortlessly blends the timeless and the modern, giving the wearer an edgy, sophisticated look that turns heads and demands attention. 
33. Long Pompadour
This hairstyle exudes confidence, style, and sophistication. It is a timeless classic that has made a comeback in the modern world of fashion. It is characterized by the signature voluminous quiff at the front and long, slicked-back locks at the back. It is a perfect blend of vintage and contemporary styles.
34. Tapered Pompadour
The tapered pompadour is the ultimate modern man's hairstyle. This iconic look is a stylish blend of classic pompadour with modern, tapered sides, creating a polished and refined aesthetic that works well with any outfit. It is ideal for men who want a sophisticated and professional look without sacrificing style and flair.
35. Mountain High Pompadour
Starting from the faded sides of the skin, the hair stays closely trimmed until the very end until BAM — an imposing peak erupts, unapologetically daring and undeniably brave. It's a cut that's absolutely audacious.
36. Tapered Curly Pompadour
Just because you don't have naturally straight hair doesn't mean you have to miss out on the pomp hairstyle. You don't even need to straighten your locks! A curly-haired pompadour can be just as daring and captivating. Don't forget to accentuate the look by having the sides and back tapered.
37. High Fade Pompadour with Flat Top
For those seeking a contemporary take on the classic pompadour, look no further than the fade cut. However, if you crave something unexpected, try a flat top with a high fade. Want to take it up a notch? A flat undercut pompadour fade will add a daring touch to your look.
38. Textured Top Pompadour 
The alluring textured top pompadour paired with short sides and a lengthy top is a look that is bound to turn heads. What sets this hairstyle apart is its versatility, effortlessly transforming from casual to formal with any hair texture. For a polished finish, balance out the playful vibe with a high skin fade to ensure a sophisticated and put-together appearance.
39. Mohawk Pompadour
Rocking a Mohawk haircut with a pompadour fade isn't for the faint-hearted. The devil is in the details and precision is paramount when it comes to nailing this look. The sheer dedication and commitment to maintaining the style with the right hair products can be an uphill task. But, if you manage to keep up, the payoff is out of this world.
40. Low Fade Pompadour
Undoubtedly, a pompadour is a stylish and attention-grabbing hairstyle. However, due to its voluminous appearance, it may appear excessive. But don't be too quick to dismiss it. To tone down the intensity of your pompadour, you can pair it with a low fade. This not only softens the look of your hairstyle by removing some hair from the sides and back, but it also creates a balanced and harmonious effect. 
41. Contoured Pompadour 
Transform your pompadour into an ultimate edgy statement by refining it with a sleek line-up tracing along your forehead, temples, and cheekbones. Accompanying the look is the slick high taper fade on the sides and back that brings an extra dose of cool.
42. Gentleman's Pompadour 
You need not constantly switch up a classic pompadour. This ageless hairdo exudes unrivaled magnificence in its natural state. It's the benchmark of distinguished men who crave a hint of vintage and a dose of refinement in their appearance.
43. Textured Auburn Pompadour 
The alluring and uncommon shade of auburn hair catches one's eye effortlessly. By sporting a textured pompadour hairstyle, you can effortlessly amplify its individuality. However, if you crave an extra touch of distinction, why not let your facial hair grow out? This savvy move will grant you the badge of a fashion-forward gentleman.
44. Blonde Highlighted Pompadour 
If you are searching for a way to amplify your pompadour and make it more daring, consider incorporating some striking highlights into your look. These highlights will work in tandem with light and shadow to help your pompadour stand out and look more prominent than ever before. Not to mention, dark roots add a sense of depth and dimension, taking your style to new heights.
45. Japanese Pompadour
Asian hair takes the crown when it comes to the perfect pompadour. The thickness and darkness of this hair type make the pompadour exude a natural charm and sophistication. It's an effortlessly stylish look that'll never go unnoticed.
46. Big Pompadour
If you desire a hairdo that truly commands attention, then opting for a pronounced pompadour haircut is the way to go. Nonetheless, to take things up a notch, you should strive for an extra large pomp at the front. This will definitely make heads turn your way.
47. Middle Part Pompadour
Just like the classic male hairstyles that have withstood the test of time, the pompadour boasts an impressive range of possibilities when it comes to customization. One particularly striking variation involves parting the hair down the center, resulting in a sleek and polished look that never fails to impress. 
48. Boys Pompadour
Pompadour haircuts for men boast universal charm and timelessness. This makes them an ideal choice for men of all ages, including the young ones. Therefore, go ahead and let your kid rock this iconic style with confidence.
49. Low-Maintenance Disconnected Pompadour
Elevate your hair game with a timeless pompadour-updo featuring a suave drop skin fade. Trust a seasoned barber/stylist who can seamlessly sculpt and define your hair to perfection, all while offering the ideal products and boosting volume to suit your unique style.
50. 50's Retro Pompadour 
The 50's retro pompadour is a hairstyle that harkens back to a time of slicked-back style and old-school charm. It's a classic look that screams sophistication and refinement, but with a playful twist that adds a touch of rebel coolness. The hairstyle is characterized by a high, sweeping pompadour at the front of the head, while the sides and back are slicked down and trimmed close to the scalp. It is the perfect pompadour hairstyle for a formal occasion, a night out on the town, or simply adding some timeless charm to your everyday look.
Conclusion 
The pompadour hairstyle has truly stood the test of time and continues to evolve into more creative and daring styles for men. With these 50 cool options to choose from, you can confidently elevate your style game and stand out from the crowd. Whether it's a classic or a modern twist, the pompadour can suit any face shape, hair texture, and personal style. So go ahead and try out one of these stylish pompadour looks and discover how it can enhance your overall appearance.
Contributor: Tiffany Young, Certified Trichologist, Founder – ThinHairThick
ALSO READ: 25 Spiky Haircuts for Men for a Modern And Charming Look
Fashionable 62 Cornrow Hairstyles for Men: Revamp Your Style