Are there hairstyles for men with big foreheads? There are numerous options of hairstyles for men with large foreheads. Whether you opt for a daring and stylish look or a more typical and complex style, many opportunities will match your facial features and improve your overall look. So, what are the best haircuts for men with large foreheads?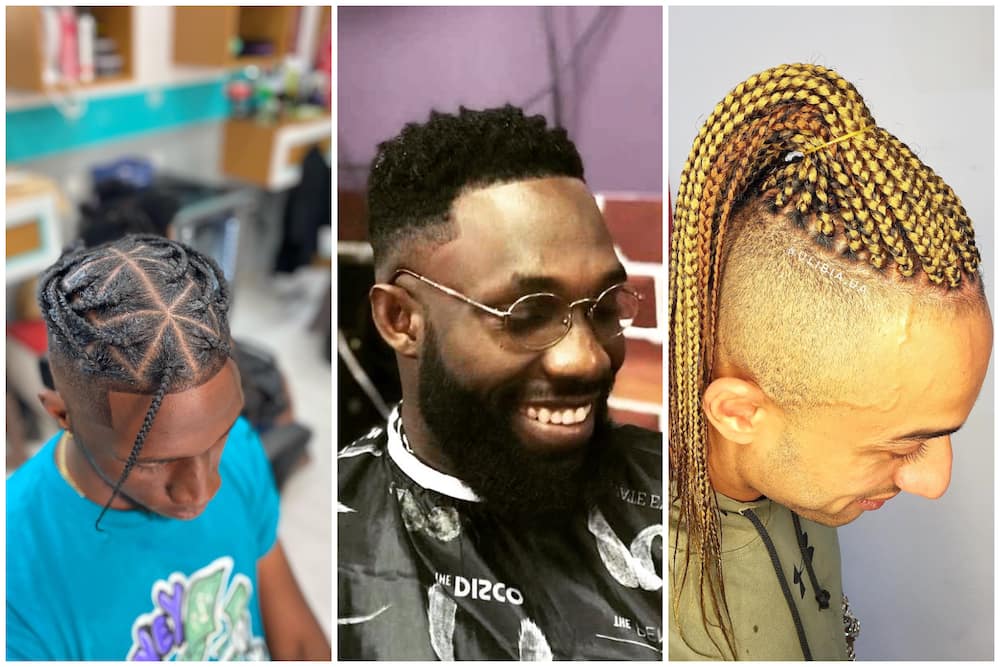 Some individuals have low hairlines that hardly recede, while others have large foreheads and decreasing hairlines. Males have a forehead that is 2.8 inches or 7.1 cm broad, while females have a forehead that is 2.4 inches or 6 cm big. In general, a large forehead is considerably larger than these measurements.
20 hairstyles for men with big foreheads
Men may struggle to conceal minor head flaws, but they can only do so with these men hairstyles for big foreheads. The hairstyles will protect their social life, hide their uneven hairline, and conceal their brow! So there's no need to be self-conscious about your shape; get a great haircut and enjoy the perfect look.
1. Twist outs and freestyle design
The burst fade is one of the refreshing cuts for black men who want to emphasise the texture of their locks. Undoubtedly, the combination of tight curls and remarkable hair design is mind-blowing. This look can also be modified to accommodate various hair textures and lengths. You could use longer locks on top to create an even stronger contrast betwixt the twist-outs and the faded sides.
2. Ponytail dreadlocks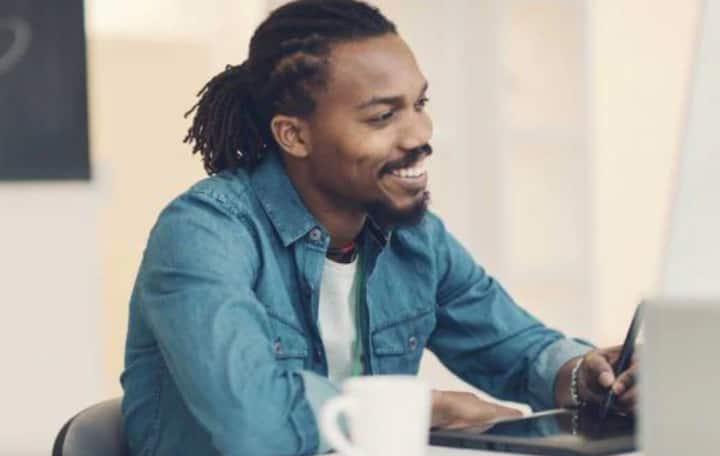 Dreadlocks have become increasingly popular in recent years. The style immediately gives you a pleasant vibe, and as long you keep up with your locks' growth, they will constantly appear pulled together. You may wear long dreads downwards, in a man bun, or in a loosened ponytail. Whichever suits you best!
3. Temple fade with twists
A temple fades with twists is one of the best haircuts for men with large foreheads and one of the most stylish looks you can pull off. If you want to rock the style, find a skilled barber to style your top hair and your temple fade. Wear this look with your leisurely gym clothes and your best suit.
4. Buzz cut
If you seek a short, simple, low-maintenance look, go for a buzz cut. It is one of the hairstyles that suit big foreheads. It shaves off most of your mane, leaving you with acutely trimmed tresses in the front and a fade on the sides to define your hairline. The lovely style is ideal for men experiencing hair loss or baldness.
5. Blowout fade
The blowout fade is a standard haircut for men with big foreheads comparable to a typical blowout. The hair is pulled back and up into a pompadour design. A blowout fade shaves the side in an advanced fade, placing more emphasis on the top hair rather than the forehead.
6. Clean shave
When it comes to balding men's hairstyles, a clean shave is likely the best option. This style is trendy among men with big foreheads because it entirely shaves the hairline. Furthermore, the hairline and the brow blend, causing your hairline to seem minor.
7. Clean cut tight top
A clean-cut tight top is one of the best hairstyles for black men with big foreheads. It is the kind of fade haircut that black men find most elegant and comfortable among short black hairstyles. It gives the head a spotless look, given that the hair on the sides and back is buzzed short. For men who opt for some haircut concepts, add a shaped line to complete the look.
8. Twists with faded sides
Do you have shaggy hair and want to change its appearance? To refresh the look, you can quickly change your shaggy hair into a short, long-top hairstyle. You'll need to trim the sides and back of your head precisely and keep your top hair short.
9. Undercut fade thin dreads
If you've decided to wear your dreads in a trendy men's bun but are concerned that it will interfere with your masculinity, pair it with an authentic representation of men's power regarding looks: a beard. Furthermore, choosing a thin strip of facial hair or a full coarse beard makes no difference.
10. Cornrows
Cornrow braids inspire this look and will help your natural haircut stand out. Your hair must be at least one inch long to achieve the best results so your barber can plait it. You'll also need a moisturiser with styling attributes, like holding spray or pomade and a sponge. Choose an undercut fade on the sides and back of your head to maintain the focus on the top.
11. Long textured afro
A lengthy textured afro is an excellent option to keep and show off your sleek African textured locks. The haircut involves slightly reducing the back of your head. To achieve the ideal afro shape, hairs on the sides and top of your head must have the same length.
12. Stylish twists
You'll need a lot of length in your afro hair to achieve these stylish twists. The top part has been separated to allow for growth. The sides and back must be faded to the skin and maintained tight to emphasise the twists at the crown. Spray improvements must be employed to establish a clean line on the beards and hairlines.
13. Side-swept bangs
This haircut is perfect for men with extended brows and straight tresses. With this design, the long upper hair tapers to the sides and back, with a side-swept fringe that grazes the eyes and conceals most of the forehead. To accomplish a personalised look with it, brush the strands sideways and allow them to fall naturally in front.
14. Messy spikes
A messy spike is one of the best haircuts for big foreheads and thin hair. When it pertains to rocking tips, there are no age restrictions. Men with thin hair can style their sides and back in carefully cut ends while brushing down their properly trimmed sides and back. To make a mohawk silhouette, pull the strands to the centre top.
15. Carefree curls
It is one of the best hairstyles for men with big foreheads and curly hair. Messy is today's formal! The most effective way to showcase your curls is to let them naturally flex in all directions. The undercut across the sides draws focus to the messy top, framed by an angular fringe that falls forward on the face.
16. Slick side part
Slick side part design is one of the best haircuts for Asians with big foreheads. No surprise that Asian men wear their hair slicked back. The haircut accentuates your masculine facial characteristics while giving you an elegant and sophisticated look. To enhance the appearance, incorporate a side part to add a definition.
17. Asian Mullet
The mullet haircut is one of the most popular Korean hairstyles for big foreheads. Honestly, it's not like the mullet you're used to, making it distinctive and appealing. If you want to add a fresh and younger vibe to your overall look, this cut is what you've been looking for!
18. Asymmetrical
Asymmetrical hairstyles for black men with goatee beards are an uncommon hairstyle and facial hair mixture. The hairstyle combines buzzed sides with lengthy locks on top to create a distinctive and edgy appearance. The goatee beard, usually perfectly cut and shaped, contributes to this hairstyle's general bold and sharp look.
19. Clean black fade with 360 waves
The most fashionable black men's hairdos are timeless designs with small personal touches such as a nape fade, temple, shaved design, lineup, and more. If you want a textured yet seamless look, turn your tresses into 360-degree waves.
20. Man bun
Man buns will especially fit those who wear lengthy locks in an informal, breezy, yet sophisticated style. There are numerous styles of man buns, but this one is the most basic. Get your hair into a secure ponytail, encase it near the base, and pin the ends. Combine a skin fade with a lineup to lend the hairstyle a modern edge.
Above are some of the best hairstyles for men with big foreheads. Males have a forehead that is alleged to be 2.8 inches. You can approximate this with your hand. You have a great brow if your brow is higher than four fingers. However, this is an estimation, and a precise measurement can be obtained by applying a ruler or measuring tape.
Tuko.co.ke recently published a great list of Abuja hairstyle ideas. Abuja braids have been popular for many years and are not going away soon. They can be styled in various ways, including twists, box braids, and cornrows.
Abuja braids take their name from Nigeria's capital city. They are easily distinguished from the other braids due to their silky, soft texture, which resembles human hair. These braids are low-maintenance and come in a variety of lengths and shades.
Subscribe to watch new videos
Source: TUKO.co.ke