Attitudes towards men's haircuts have been evolving for decades, and today the best haircuts for men are no longer solely defined by how practical or smart they are. Men can express themselves through their hair and clothes in ways that would have been socially frowned upon 20 or 30 years ago, which gives anyone looking to express themselves a little more license to experiment.
No, the man bun isn't solely the preserve of the poncho-clad hippy and if you don't agree then billionaire entrepreneur Mike Cannon-Brookes might like to have a word. In the same way that suits are no longer the only acceptable uniform for captains of industry, hairstyles are more varied and relaxed than ever before.
A carefully crafted and stylish haircut speaks volumes about your personal brand, almost as much as your wardrobe. But knowing what makes for a good haircut is essential before even beginning to weigh up which stylist to trust with your mop.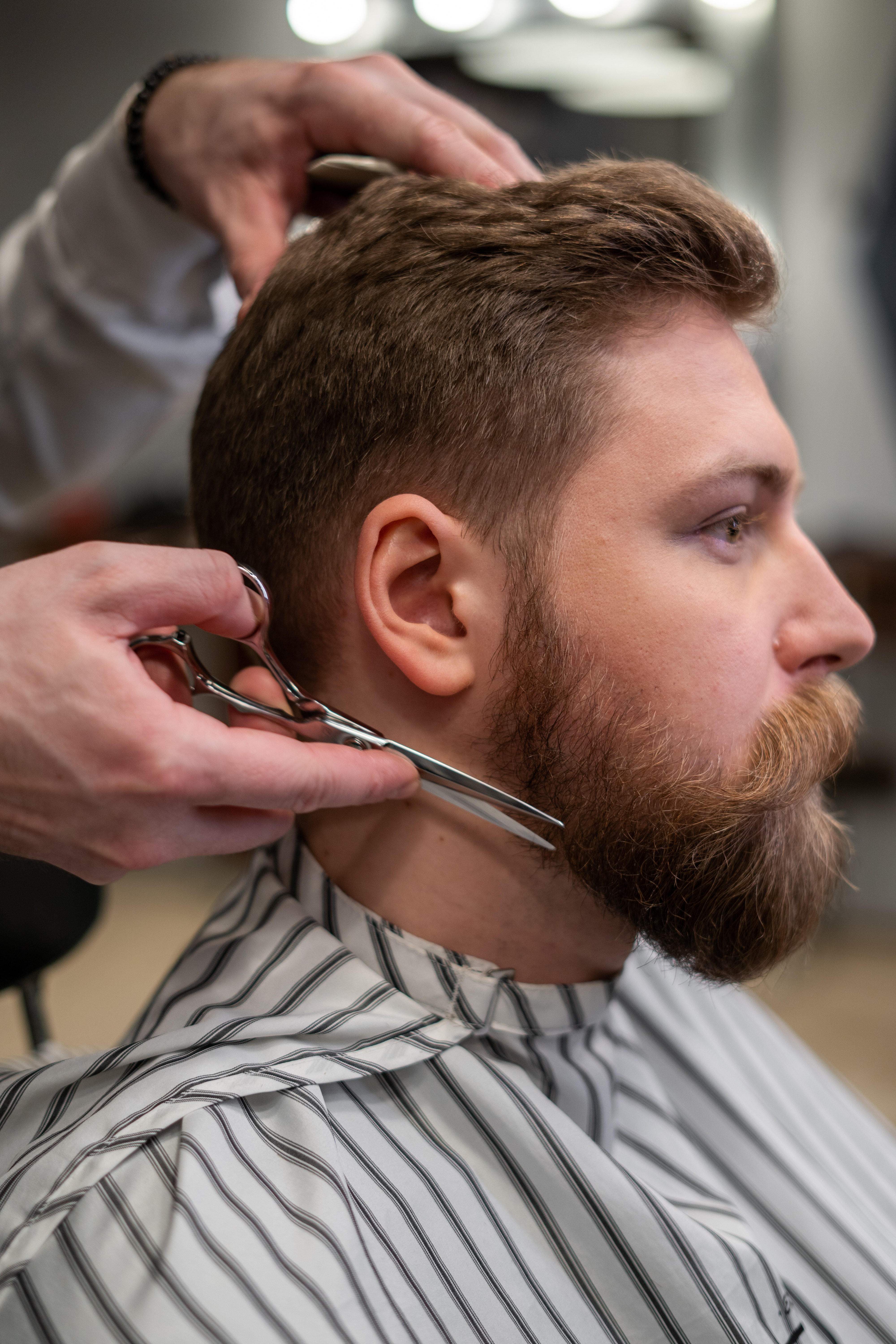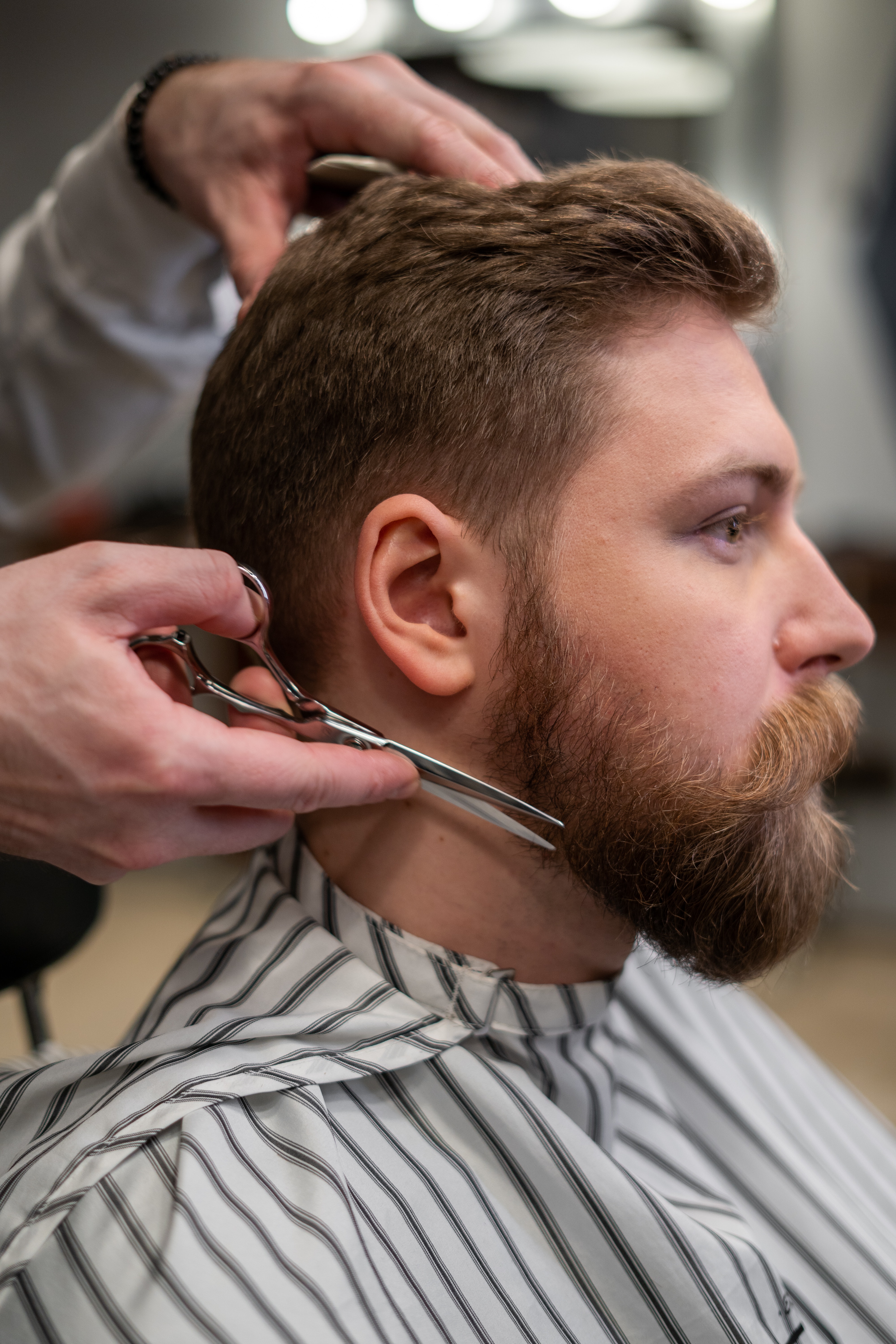 RELATED: 33 Best Long Hairstyles For Men
A good haircut typically has the following features:
It compliments your face shape,
It matches the wearer's willingness to care for it,
It has a certain amount of styling flexibility.
The best men's haircuts are a dynamic bunch and cutting style combinations are the name of the game. Overall, the trend of 2023 is about impact. Be you, be confident, and make the style yours.
Choosing The Right Cut For Your Face Shape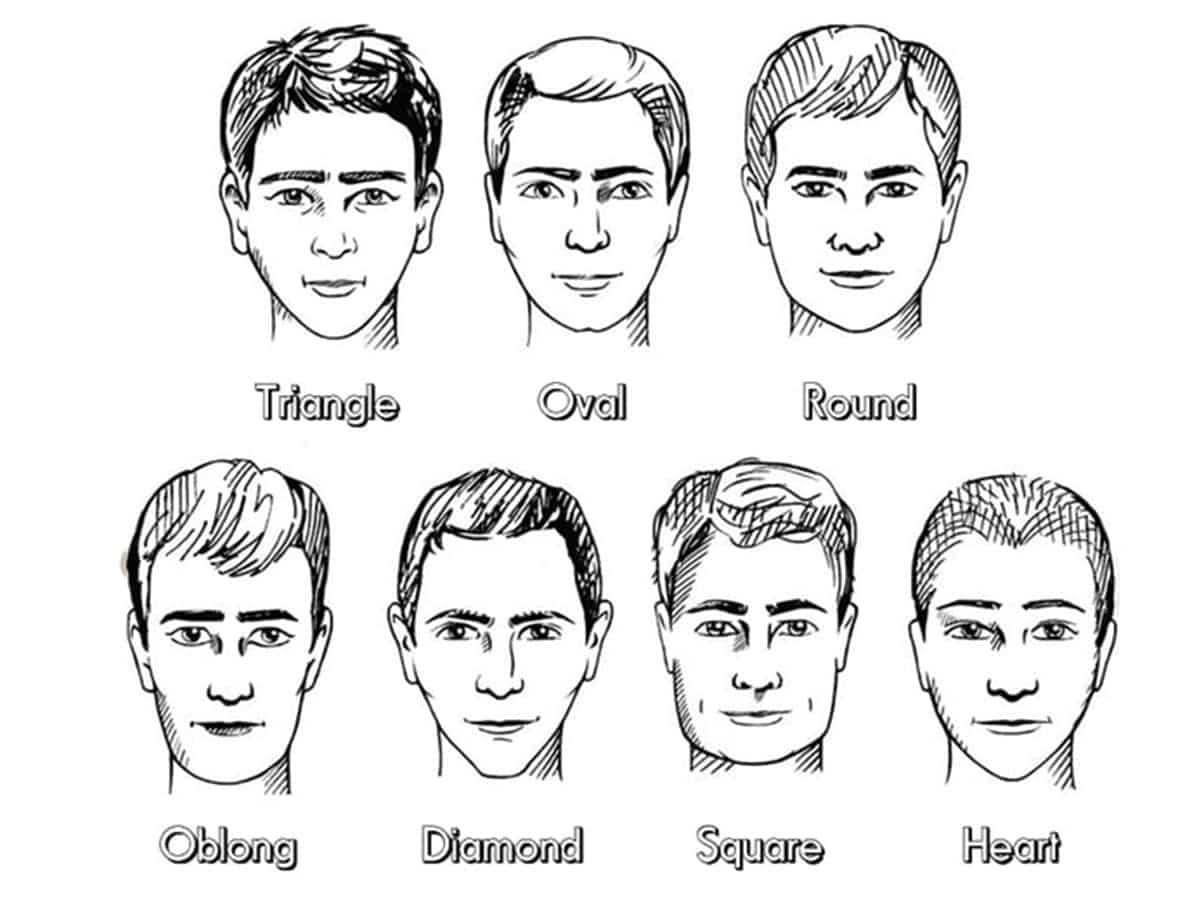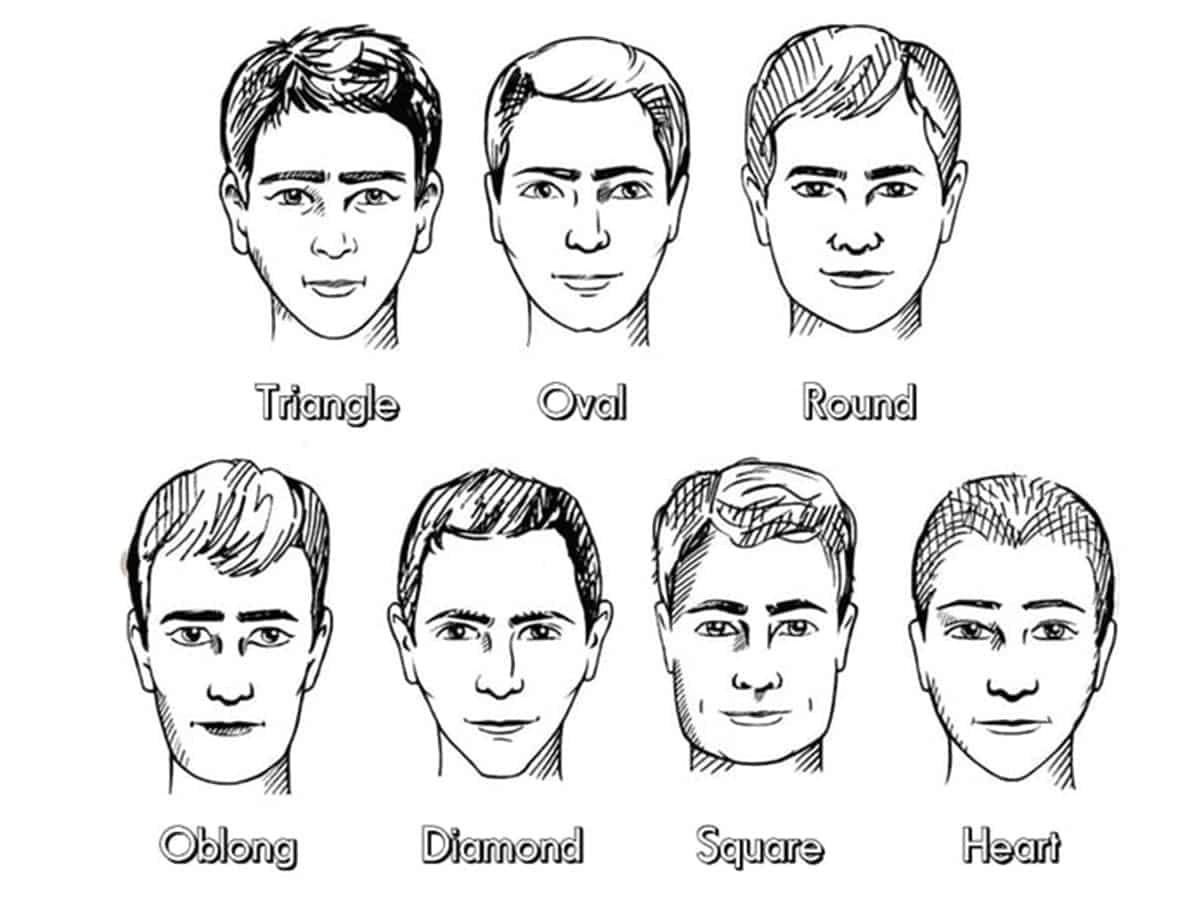 Triangle
What works: The quiff haircut adds fullness to the forehead and balances the elongated jawline, while the crew and messy fringe are great for those with thick hair.
What doesn't: Buzz cuts generally only work when you opt for a longer stubble length, so definitely choose the longer buzz.
Square
What works: Any of the classic men's haircuts work here. Think buzz cuts, crew cuts, brushed back undercut, Ivy League, and pompadour with fade. Opt for a side part. Consider a tussle of hair to add height.
What doesn't: Avoid styles with a lot of volume on the sides, but do aim for layers of hair on top. 
Oval
What works: The quiff, the slick-back, the faux hawk and the man bun all work.
What doesn't: Buzz cuts can soften features and avoid styles that elongate the face.
Diamond
What works: While buzz cuts are a great choice, you might need to reconsider if your ears are on the larger side. The classic side part, a faux hawk with a beard, curly fringe, messy fringe and quiffs with fade are all good choices.
What doesn't: Steer clear of haircuts with short sides that emphasise the narrowness of your forehead.
Rectangular
What works: A square-box cut can work well and is suitable for all hair types.
What doesn't: Don't choose a style that has a lot of length on top as this will elongate your head.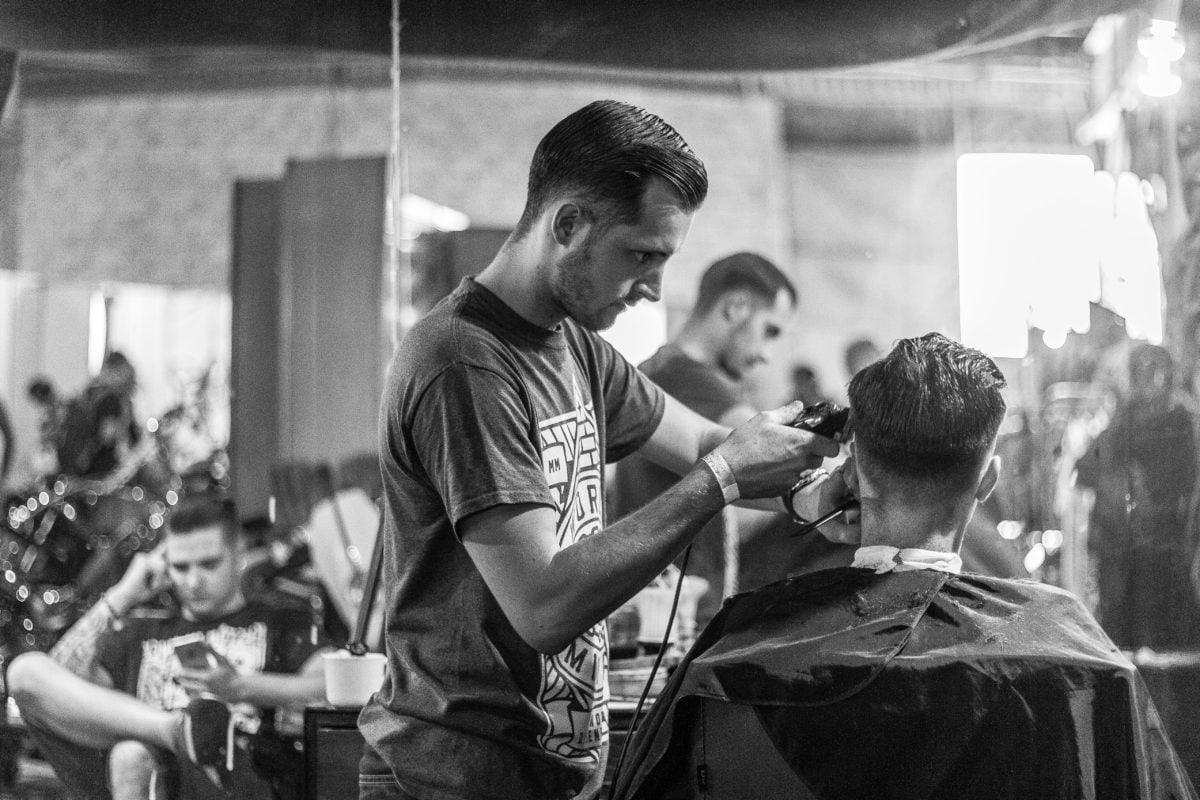 Heart
What works: Lengthy fringes, the classic undercut, layers with texture, trendy spikes and the classic slick back.
What doesn't: Avoid the buzz cut as it can make your forehead seem larger than it is, creating a baby-like look in the process.
Round
What works: A slicked-back style with tapered sides, the textured crop, an undercut, a side part and a pompadour.
What doesn't: Buzz cuts don't really work here, because they don't have enough structure to give your face any angles.
Hairstyle Tips And Tricks
1. Equipment Care
Finding and looking after our hair equipment – everything from combs and brushes to shavers – often needs just as much consideration as our hairstyles.
Research the right type of brush for your hair type and read consumer reviews. Clean your combs, brushes and shavers regularly, removing old hair and remnants of product.
2. Hair Care
Have your hair trimmed regularly and ensure you get rid of that stray neck hair. Be wary of the sun on your scalp if you prefer buzz cuts or are starting to bald and invest in a decent sunscreen.
Always seek expert advice if your scalp flakes or itches repeatedly. Don't forget to use a quality conditioner to rehydrate after washing.
3. Products
Good-quality products do exactly what you want them to do, without harming your hair. Ask a barber or cutter you trust, look on the internet, and read consumer reviews. Finally, be prepared to experiment a little to find the products that leave your hair feeling healthy. Finally, be prepared to experiment a little to find the products that leave your hair feeling healthy. We recommend trying REIN shampoo and conditioner for fuller, softer hair.
4. Common Mistakes
From washing hair too often to using too much product, mistakes can damage your hair and hamper your styling goals. Blokes are sometimes prone to making mistakes with their hair, but thankfully, the difference between a good haircut and a bad haircut is only a few weeks.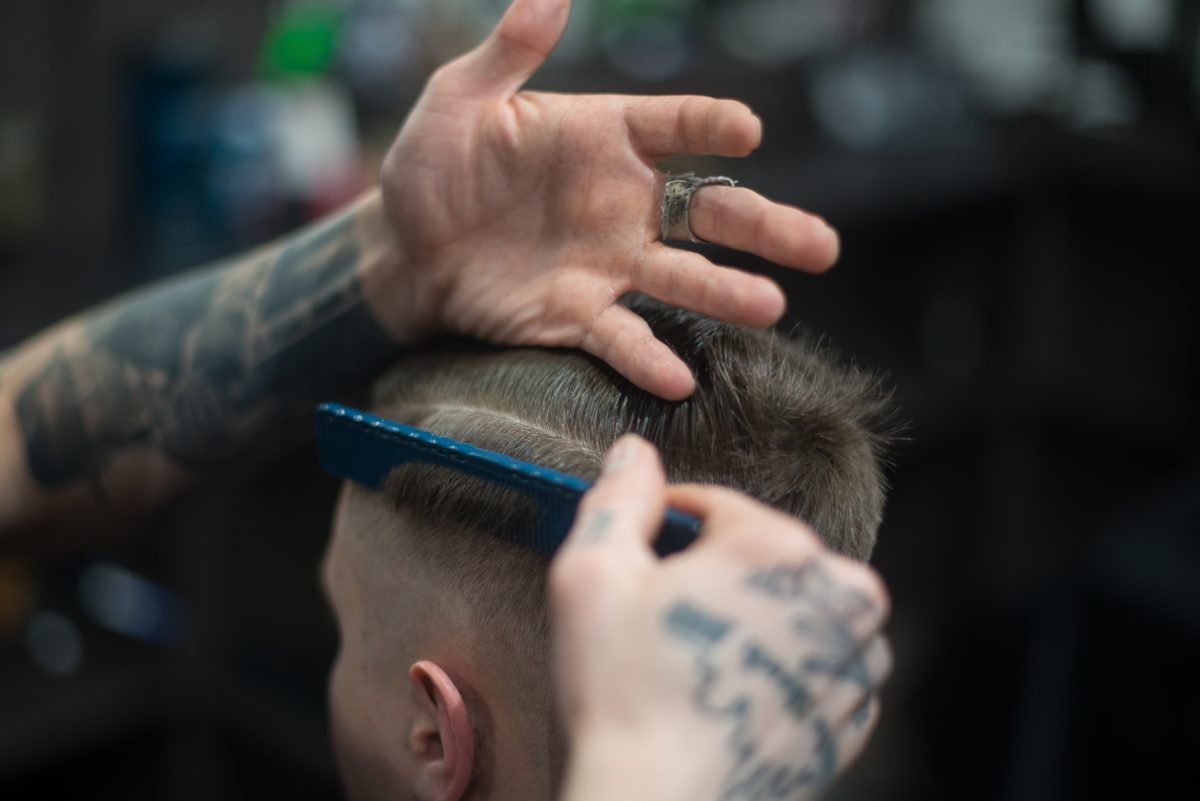 19 Best Haircuts For Men
1. Crew Cut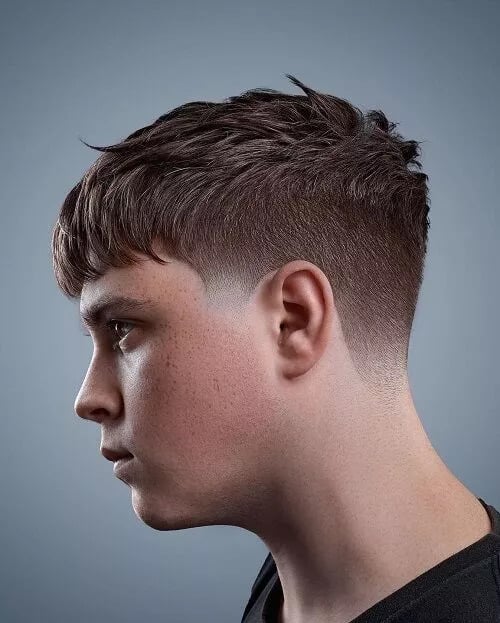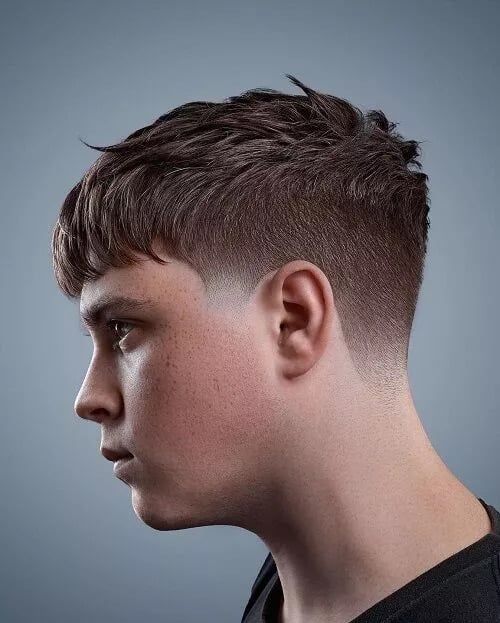 The crew cut is a classic and ultra-dependable hairstyle that combines short hair on the back and sides with a little more length on top. Asking for the classic "short back and sides" generally ends up in a crew cut.
The crew works with straight, wavy and thick hair and is extremely popular because it requires minimal attention. You'll still need regular trims and attention to the taper fade haircut zones, however. The crew also suits multiple face shapes including the classic diamond. Adding a high fade to the style creates a more oval face appearance which works for those with square face shapes also.
One possible variation would be to incorporate a loosely defined side part, then use a product to either sweep the front of the hair up a little or leave a group of short spikes to feature over your forehead.
The crew cut is a functional, minimalist style that evolved out of military use. As a result, this is a no-fuss style that requires minimal styling time and suits all age groups, and nearly all hair types. If you have super fine or thinning hair though, you might want to try the crew cut's cousin, the buzz cut. While men with thicker hair might want to experiment with some of the more intricate styles we discuss further down the list.
To add a little more flair to the crew cut, you could try including silver tips or experimenting with hair colour.
---
2. Shag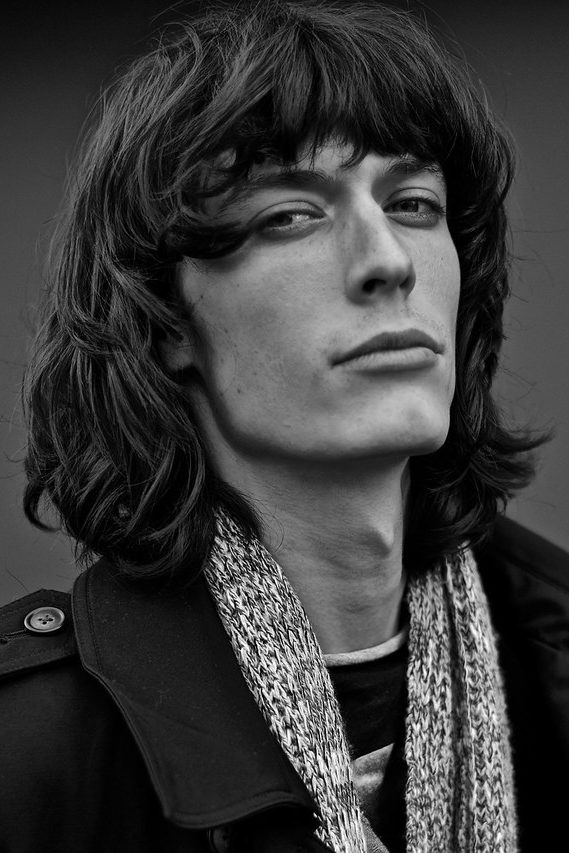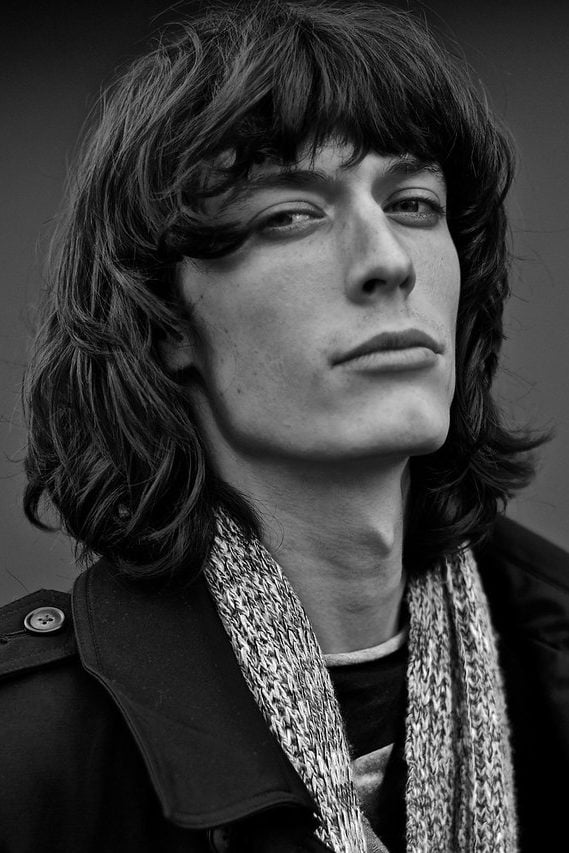 The shag has multiple layers and is often chosen by those with curly or wavy hair or those wanting a wavy men's hairstyle. Feathering is added to the top and sides and while the top retains volume, the hair thins out towards its ends or is fringed.
The shag has a certain "wash-and-go" flexibility that adds to its appeal. Give yourself 10 minutes of styling from wet. This is a cut that suits all face types and, when cut well in layers, can add significant movement and volume.
If you choose to style further, you can opt for a shaggy undercut and perhaps add some stubble to ramp up the masculine charm. If you want to maintain a curly bounce, don't overwash and make sure you use a quality conditioner.
If you have very thick and shaggy hair, a hair styling product such as a pomade or clay can help maintain the precise style look you're going for. While the shag tends to be most popular with those under 30, men from all generations can rock this haircut.
It goes best with thick hair, medium-length hair, wavy or curly hair, shoulder-length hair, naturally textured hair and hair with a curly fringe. The shag probably won't suit men with very fine or thinning hair, over-processed hair, or with bald patches.
---
3. Buzz Cut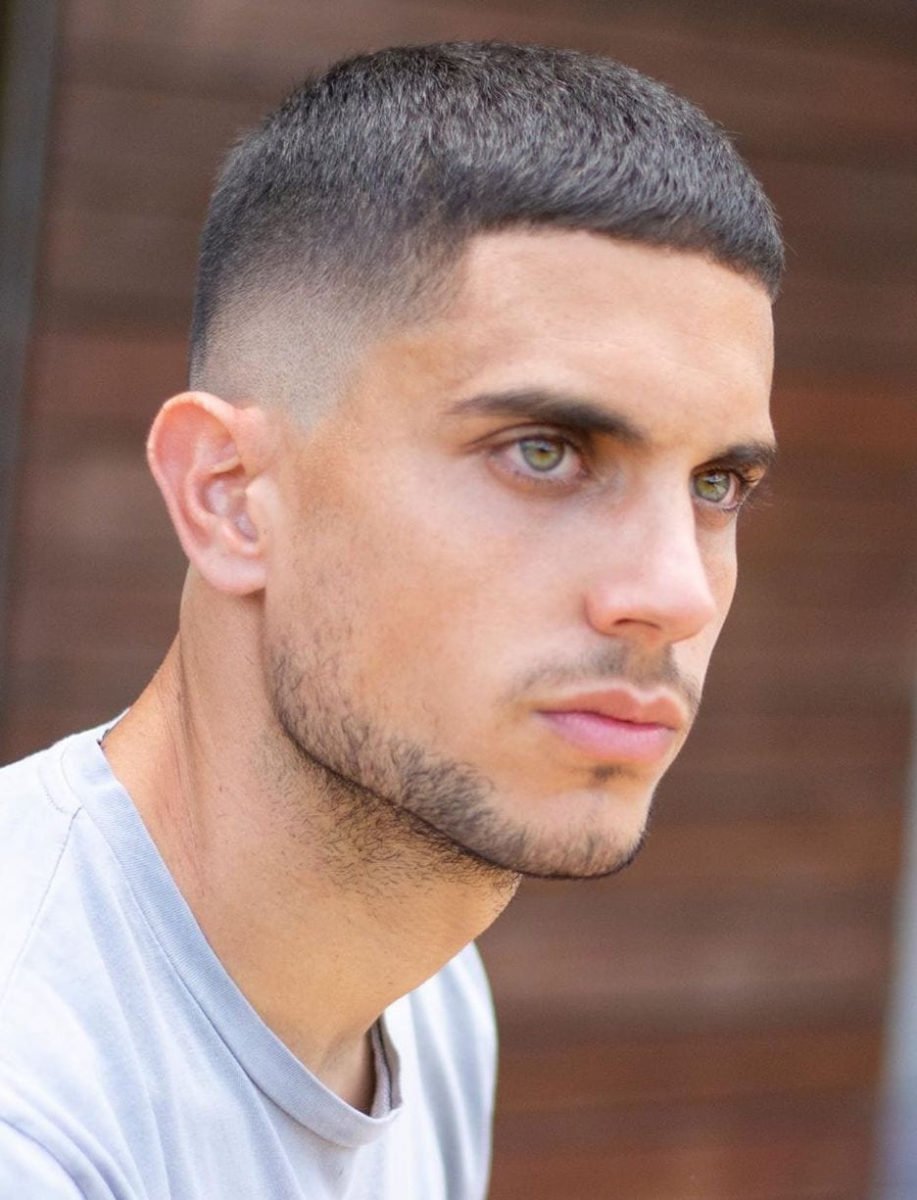 It's hard not to think "military" when talking about buzz cuts, but this remains a classic haircut for men.
The shortest of the short men haircuts, there are an amazing number of possible variations. To get the very best buzz cut, knowing the four basic clipper cuts and the hair length each provides is invaluable.
No. 1 is 3.175 mm and you do see the scalp through this low cut.
No. 2 is 6.35 mm and here the scalp is essentially hidden depending on how thin the hair is.
No. 3  is 9.525 mm and has been sported by the likes of Brad Pitt and Chris Evans.
No. 4 is 12.7 mm and has been worn by Tom Cruise.
The haircut is popular because it's carefree and doesn't need any styling product unless you want to go for a dewy look, in which case all you need to do is a dab of hair gel. The longer styles open the door to spiking as well as hair tip colouration.
Buzz cut variations include triple zero, low fade, low skin fade, line-up, induction buzz cut, mid fade haircut and high and tight. The buzz goes best with rectangular, square and diamond face shapes.
It's important to remember, however, that cuts closer to the skin mean you're going to have to pay closer attention to UV protection while also moisturising the scalp. Red or flaky scalps are never a good look.
This style suits most age groups, although you may want to avoid it during winter if you live in one of Australia's colder cities (we're looking at you Melbourne). The buzz cut is a godsend for those with fine or thin hair. It also goes well with pretty much any other hair type – medium, hair, and thick hair – since it's all going to be sheared off anyway. Those with very curly hair that want a short textured haircut might be better off going for a crew.
---
4. Pompadour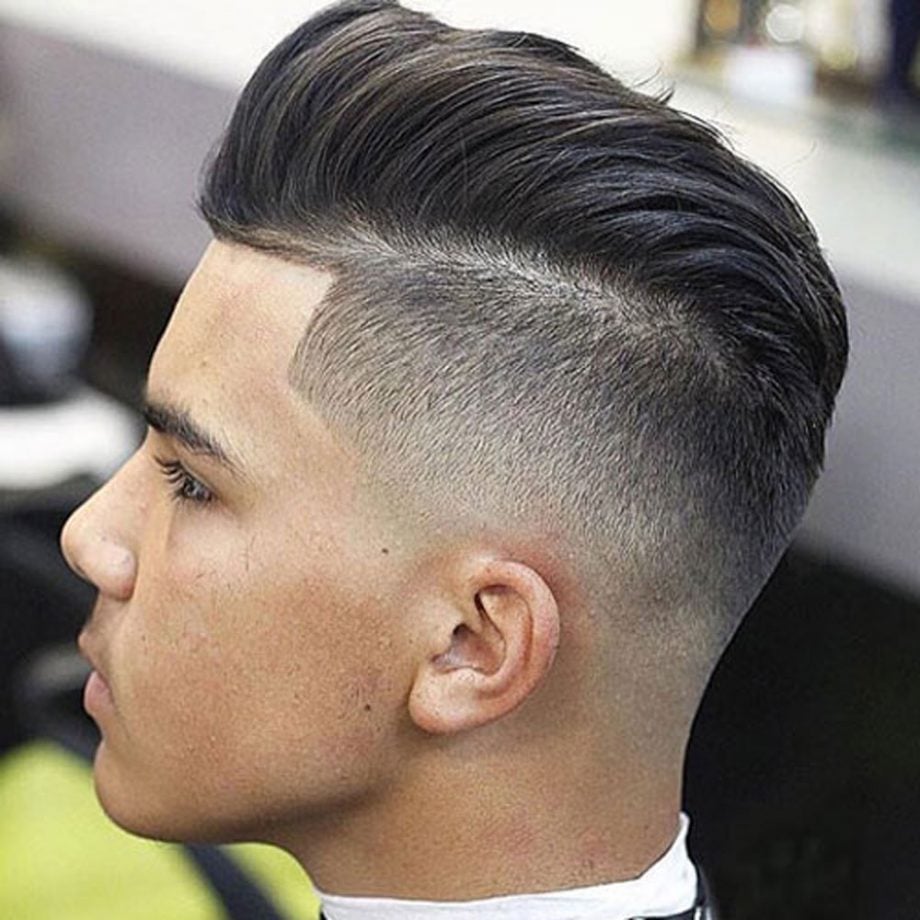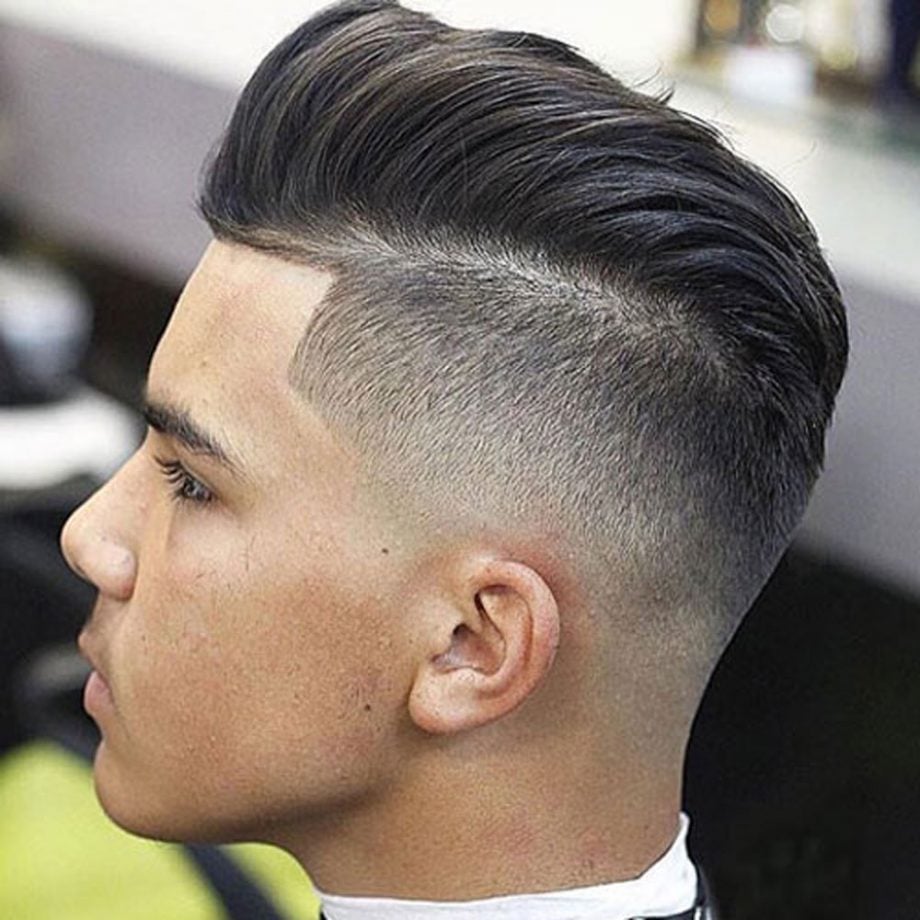 Named after the famous (or infamous) Madame de Pompadour who first wore the style, this cut sweeps the hair back and off the face and adds height and body to the hair.
The upswept hair can be strictly controlled and shaped or allowed to loosen a little. A similar style worn by Elvis Presley was once named by Time Magazine as one of the top styles of the century.
The side and back of the head can receive a taper fade, or a crew or buzz cut, for a more dramatic look. The upswept hair typically needs styling wax to be kept in place. The style's complexity means it needs a fair amount of care and attention.  Because the pompadour elongates the face it's a style best suited to square, round or oval face shapes.
The pompadour has many variations. The side part pompadour is a popular variation as it focuses care primarily on the top of the head. The loose pompadour with shaved sides, the pompadour fade and the disconnected pompadour are other options.
You need around 7.5-10cm of uncut hair for this style to work. Talk to your stylist about your face shape, whether you wear glasses, and if you intend to grow a beard. This style can suit all age groups. However, it works best with thick hair, hair with a natural wave or gentle curl, healthy medium-length hair, and longer hair. Men with fine or thin hair may not be able to pull it off too well.
---
5. Butch Cut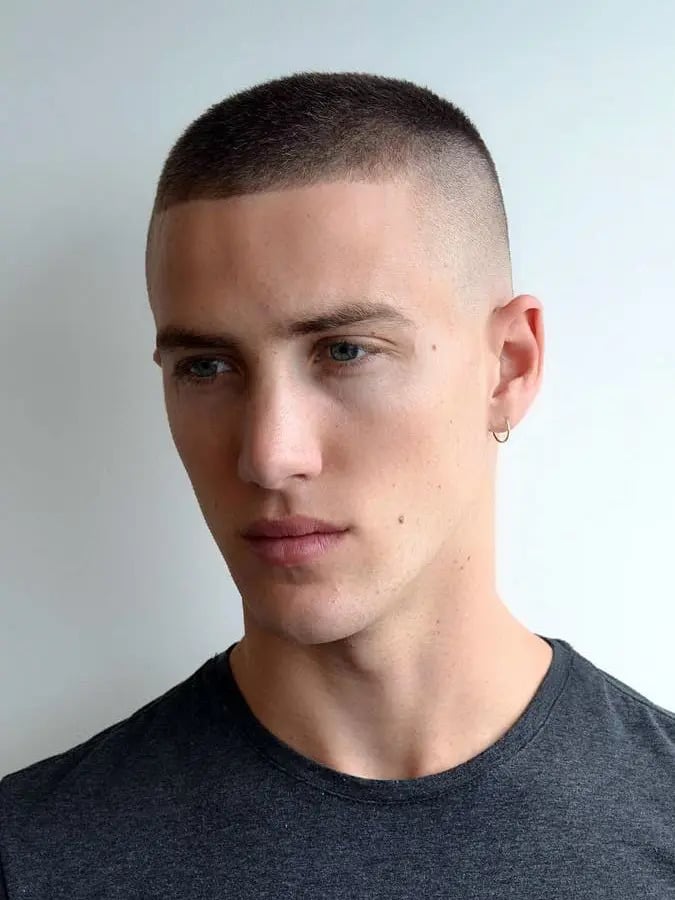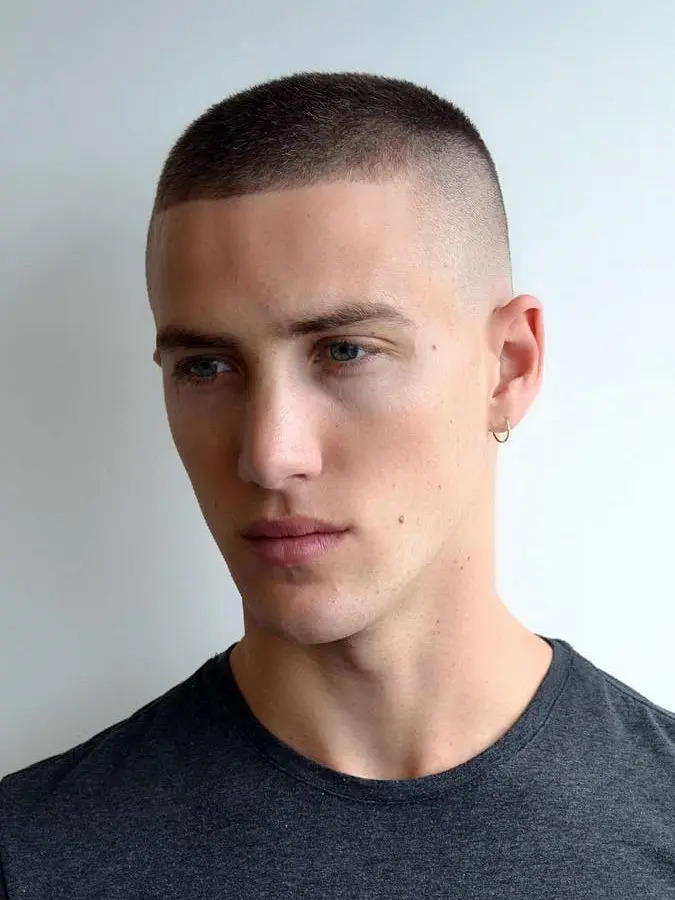 Part of the broader buzz cut family, this short haircut can be hard to distinguish from a buzz cut unless you have a good eye. In the butch cut, the hair is the same length over the entire head.
This styling makes the butch cut one of the easiest to achieve and, given that it's fairly hard to go wrong, there's room for some DIY with the right set-up. If you do end up heading to the barber for this one, just be sure that your cutter is on the same wavelength as you, as the cut goes by different names.
Like all close-cropped styles, the butch doesn't need a lot of time to style, although you can apply specific buzz wax to give the hair a healthy shine. It goes best with oval, square, and rectangular face types. Butch cut variations are limited to hair length, with any number from 3 to 5 working for this style. If you've never had this cut before but are up to speed on clipper lengths, then the number 4 is a great place to start. 
This style suits all age groups as it is one of the ultimate "clean" looks. It goes well with all hair types, although men with significant bald patches might want to avoid this one.
---
6. Undercut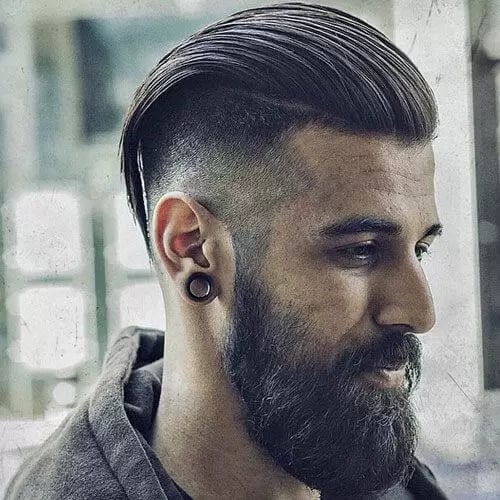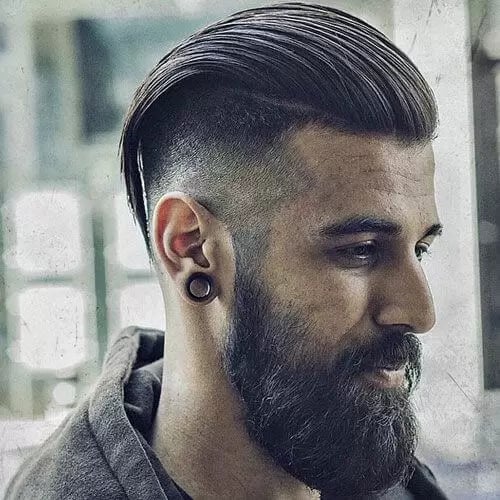 This classic men's haircut is achieved by using clippers to buzz the sides and the back. The art of the cut is not to take the shave too high, otherwise, you run the risk of ending up with a disconnected variation. 
The undercut can be a demanding cut to style depending on hair length. Whichever styling products you use, it's essential to wash out the product at least once a week and give your hair – particularly top hair – a good nourishing treatment. The style suits a round face best as the clipped sides make the top hair a feature, elongating the face. 
The disconnected undercut is defined by the long top hair appearing "disconnected" from the short back and sides. The top hair can be spiked to sit up and out over the undercut and thus create an almost military look. The curly undercut gives men with that hair type the chance to remove volume and weight.
This hair suits most men, but if you do have hair that is thin or patchy you might also want to steer clear of this one.
---
7. Quiff With Side Part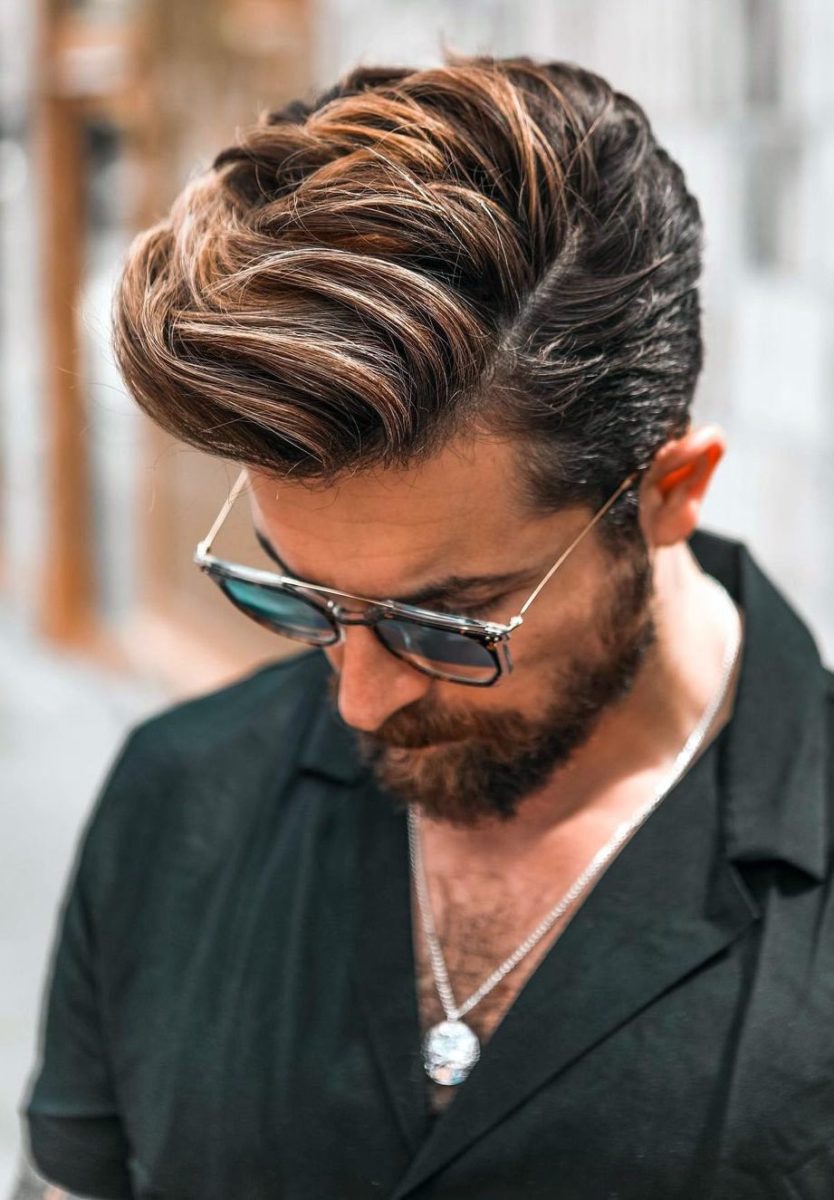 A haircut for all seasons, this style has numerous potential cut and styling variations. The top hair quiff is brushed up and back and suggests old-school celebrity suave.
The quiff has enjoyed some level of popularity since the 1950s and continues to offer wearers a high degree of flexibility through the cut length and product use. That being said, this is more of a statement style and will require a certain degree of upkeep.
Apply product – pomade is an excellent choice as it provides firm hold – and brush the hair forward before sweeping up and to the side. Allow 15-20 minutes to create and adjust the style until it's perfect.  Remember to wash your hair at least once a week to clean and rehydrate. 
This style best suits round, square, and oval faces. While ideal for men over 30, a younger demographic can rock the look with an undercut. It is best for thick, straight, and wavy hair. Men with Afros, springy, tightly curled hair may want to give this one a miss though.
---
8. The Peaky Blinder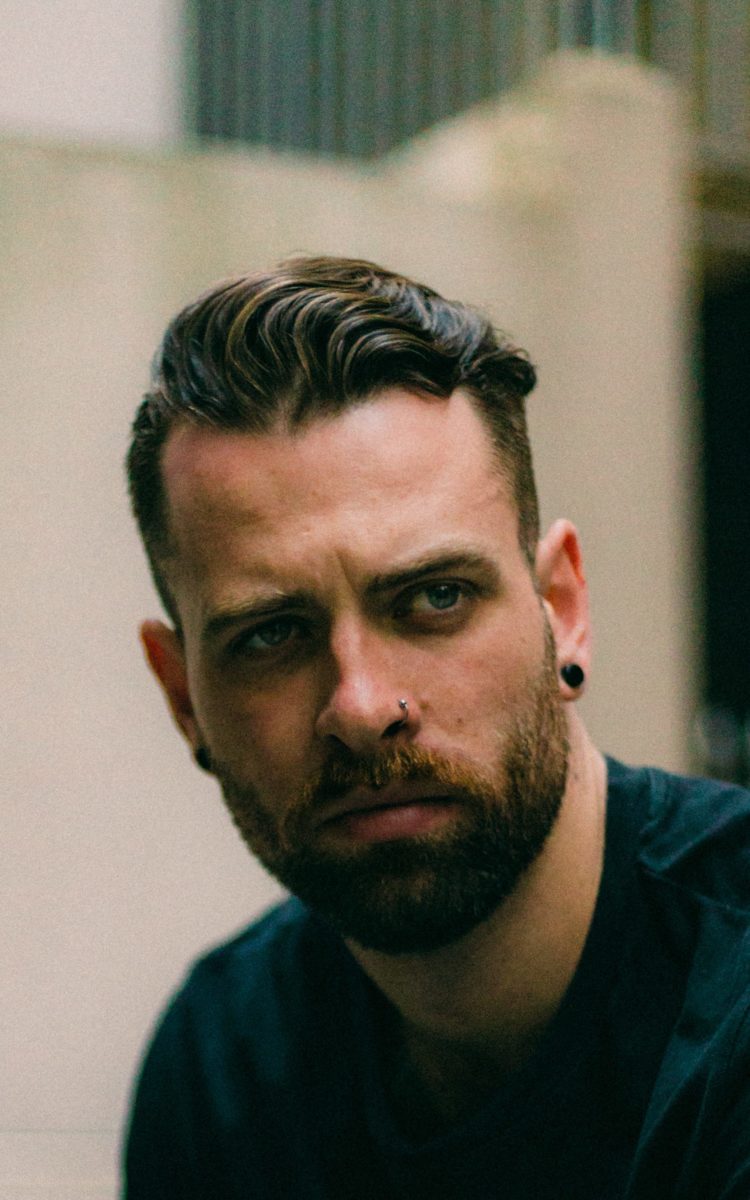 Every once in a while a show comes along that strongly influences fashion. Peaky Blinders is a classic example of this, inspiring a revival of early 20th Century styles.
The Peaky Blinder is marked by a long top with a tousled front and shaved sides. The combination between length, structured messiness and clean sides, means you can expect to spend some time getting this look right. It's a style that looks great on round faces as the clipped sides help give the appearance of an elongated face. 
As with nearly all men's long hairstyles, this one is also best suited for men with thick hair, while those with thin or curly hair may want to stay clear of this one. It also tends to suit men between the ages of 20 to 50.
Because this is a replica style, context-related variations are essentially limited to how the character wore their hair. However, you can add a spin to this look by using gel to create a fauxhawk or a quiff.
---
9. Modern Comb-Over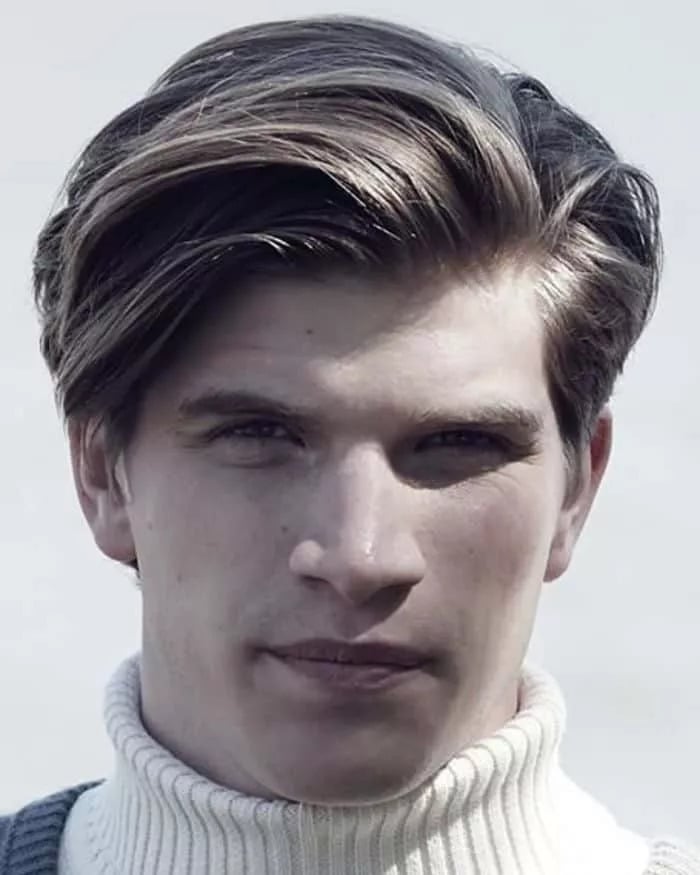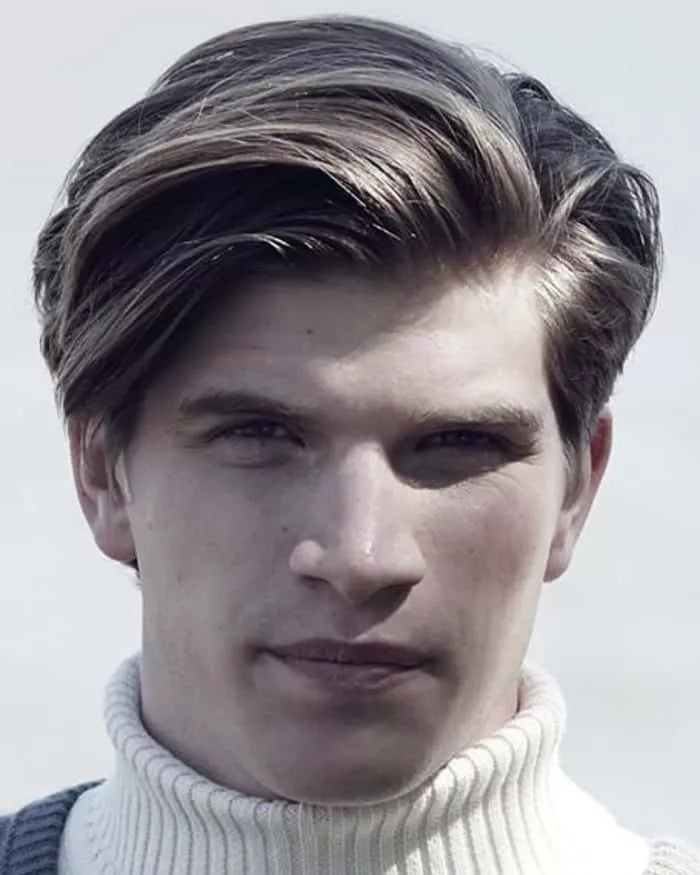 A classic, evergreen haircut that separates the men from the boys, the comb-over is a go-to style for men with thinning hair that still has enough length to create coverage and volume with the product.
Despite its obvious advantages for men in their 40s and 50s, the comb-over is also readily adaptable for a younger male demographic with thick hair. Those with a little self-styling knowledge and access to quality products can experiment to create their own twists.
The modern comb-over is one of the quicker styles to prepare and can be done in a few minutes. It is also perfect for round and square face shapes. There are short and long hair variations, variations using fade and design techniques, as well as the comb-over pompadour.
The style is best for men in their 30s to late-40s who are happy to spend time maintaining it. It is ideal for straight or wavy hair as well as fine or thick hair. Men with bald patches across the front or those with tight and springy hair may be better off trying a different style.
---
10. Medium Length Wavy Hair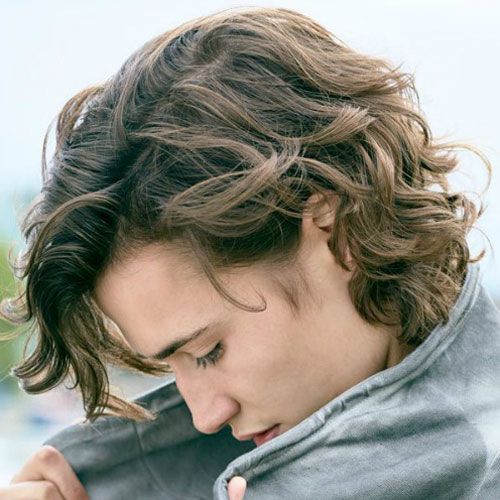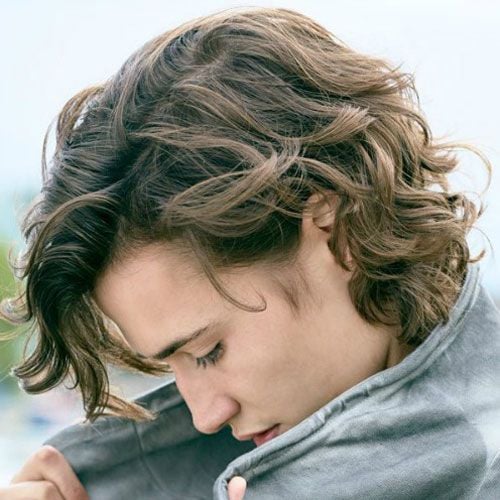 One of the great features of this popular cut is that hair product allows you to move from relaxed and informal, to sophisticated and clean-cut on the same day. Apply styling mousse to hold the waves and, if you want even more volume, you can ruffle your hair before allowing it to air dry, which protects the hair. Deep conditioning once a week is invaluable for hair health.
A good cutter is invaluable when creating this style because, although length is important, a level of textured layering is key for certain hair types.
If you have straight hair, spend around 5-10 minutes using a product to add waves and bounce. However, additional time may be needed to tweak it throughout the day. You'll also typically need to invest more time in maintenance in keeping the style well-maintained and healthy, otherwise, it can end up looking lank and dirty.
This cut suits the diamond face shape perfectly, reducing the width of the head and balancing the sharp chin. It also suits most age groups. Thick hair and wavy hair love this style, while men with very fine and thin hair might want to look at other options.
---
11. Parted Long Hair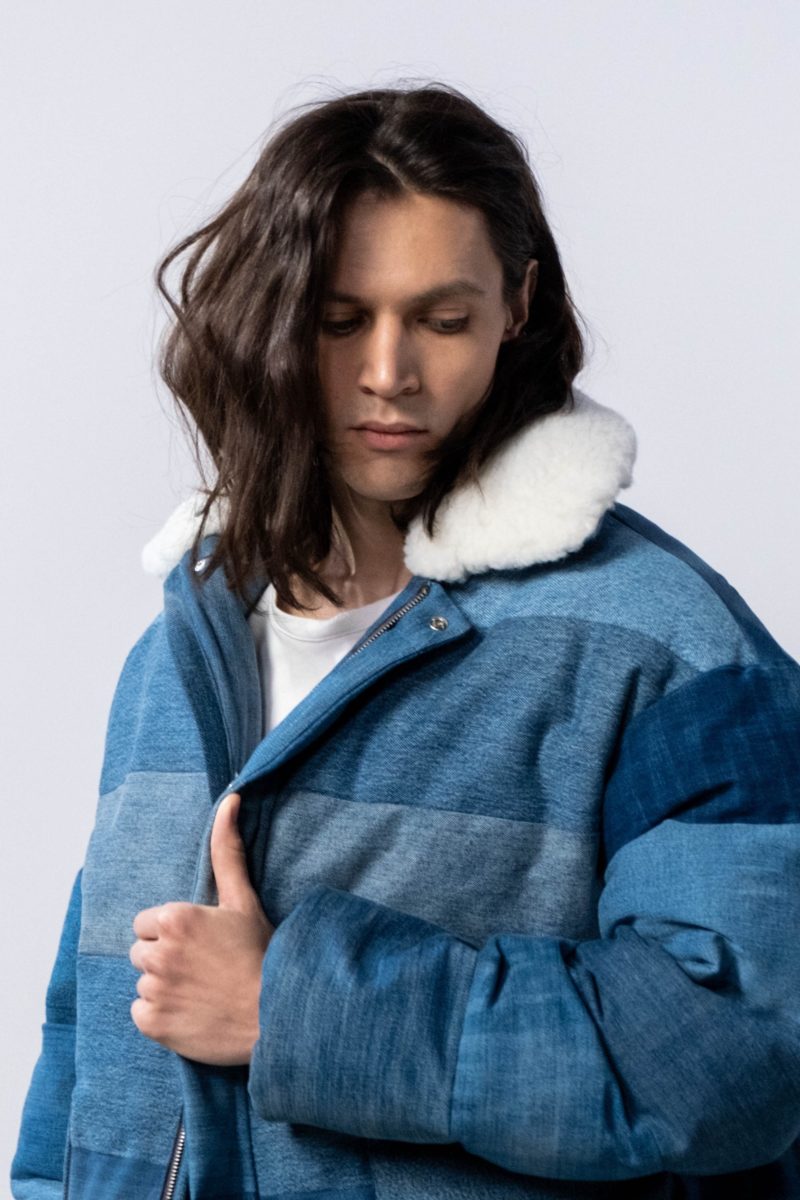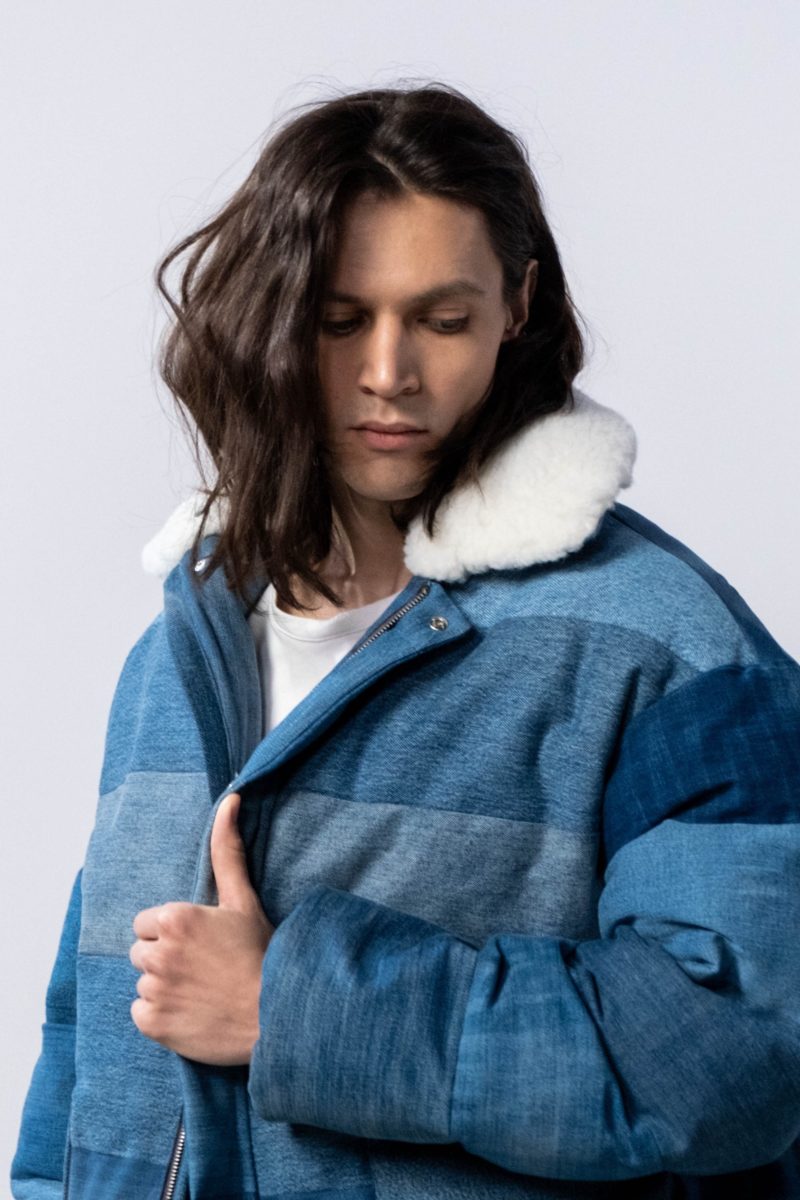 This style can help structure long hair and, while relatively simple, offers several different parting options to suit your face style. For example, those blessed with more symmetrical faces can rock a centre part, while those with softer features should lean into a side part.
It is best suited to square, diamond or triangle-shaped faces. Those with oval or round faces can complement it with facial hair to add more balance. If you have a rectangular face, some shorter layers around the face falling to the cheekbones or jawline will shorten the length of your face.
At various stages, celebrities such as Johnny Depp, Brad Pitt, Keanu Reeves, Jared Leto and Hugh Jackman have worn this long-hair look. Keanu Reeves still does. This style can take as little or as much time as you want, depending on the statement you're looking to make. 
To add variation, you can experiment with design braiding or by adding blond, white, platinum or silver streaks against dark hair. Just make sure that your cut takes your everyday lifestyle into account and does not leave you with hair hanging over your face that you may find annoying at work.
This is a hairstyle that is best suited for younger men in their 20s to 30s. Those with thick or wavy hair are going to find it easiest to rock this look, while those with thin and fine hair or who are balding are going to struggle.
---
12. The Man Bun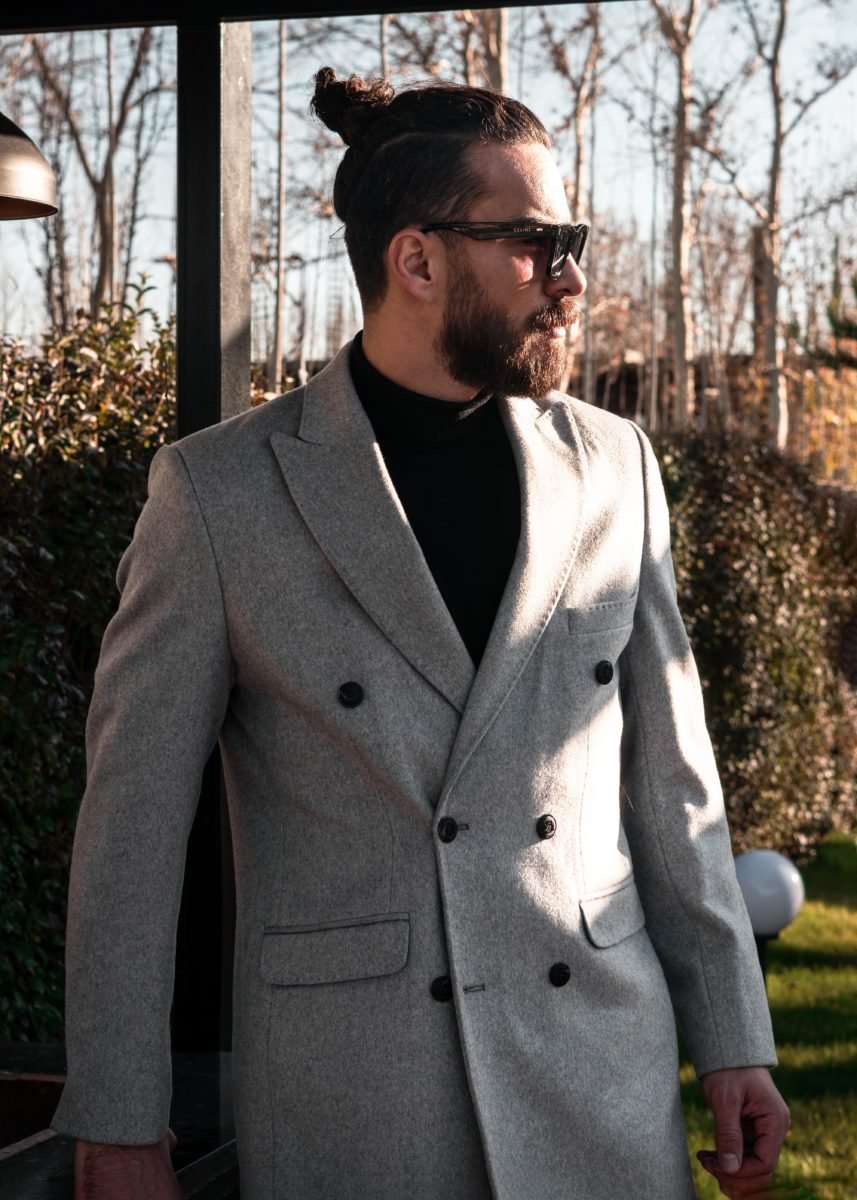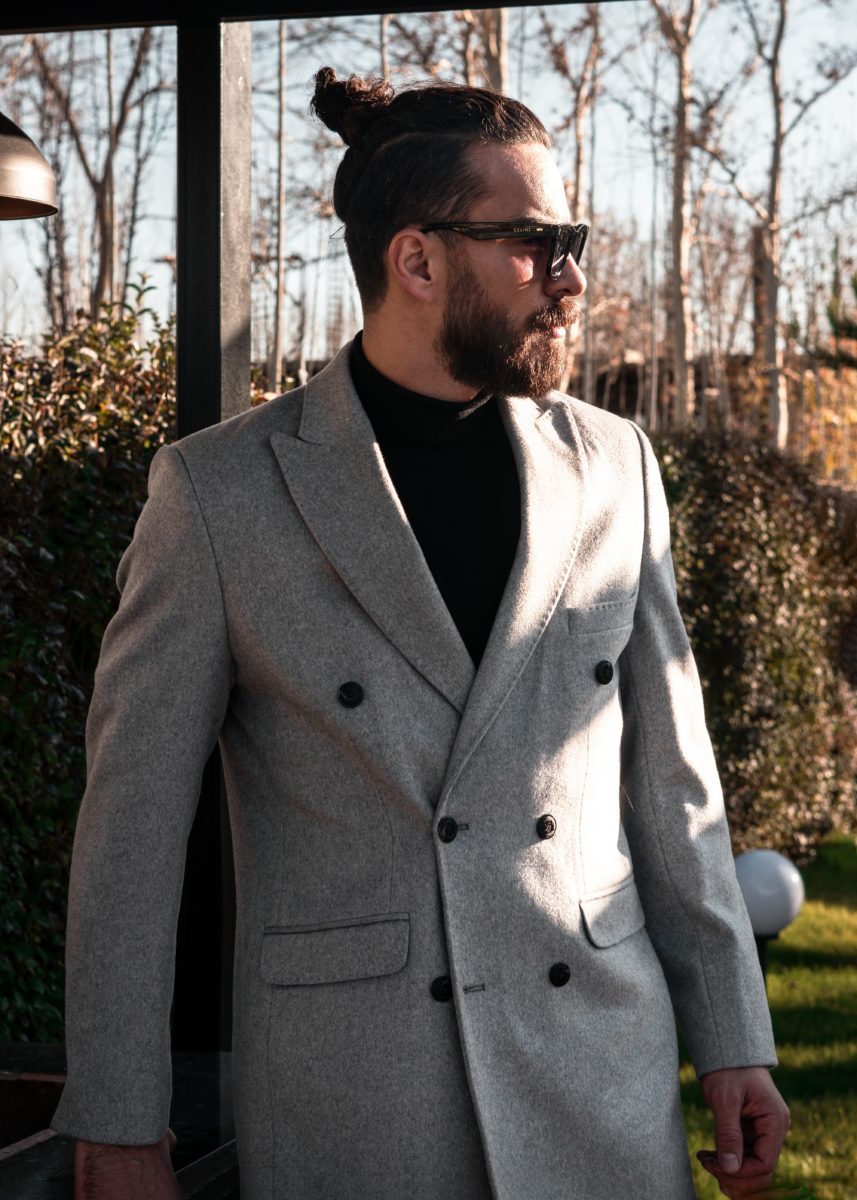 This style is a popular one for men looking for the best of both worlds – long hair that you can also forget about. The man bun offers men the chance to tie back long hair that they're not interested in styling. 
The style, while having lost some of its popularity in recent years, is still one of the few that is both fashionable and practical. Its styling is fairly straightforward and quick – just comb your hair and tie it up into a bun. Be warned that keeping long hair looking healthy will need a certain amount of care.
The style suits oval, triangle, and square face shapes the most. While it doesn't really suit rectangular shapes, because it lengthens the face, you could try placing the bun at the back of the head to minimise this lengthening effect.
The position of the bun can be altered from the back of the head to the crown to add variations to the style. You could also experiment with including one or more braids. Since facial hair accompanies this longer hairstyle more often than not, think about the balance between your hair and the shape and texture of your beard to get the look just right.
While the man bun is rarely seen in the under-20s crowd, most age groups can wear it well as long as they can reach the desired length. It is important to recognise that men with thicker hair have an obvious advantage when it comes to this style. If your hair is on the thinner end of the spectrum take that into consideration.
---
13. Modern Slicked Men's Haircut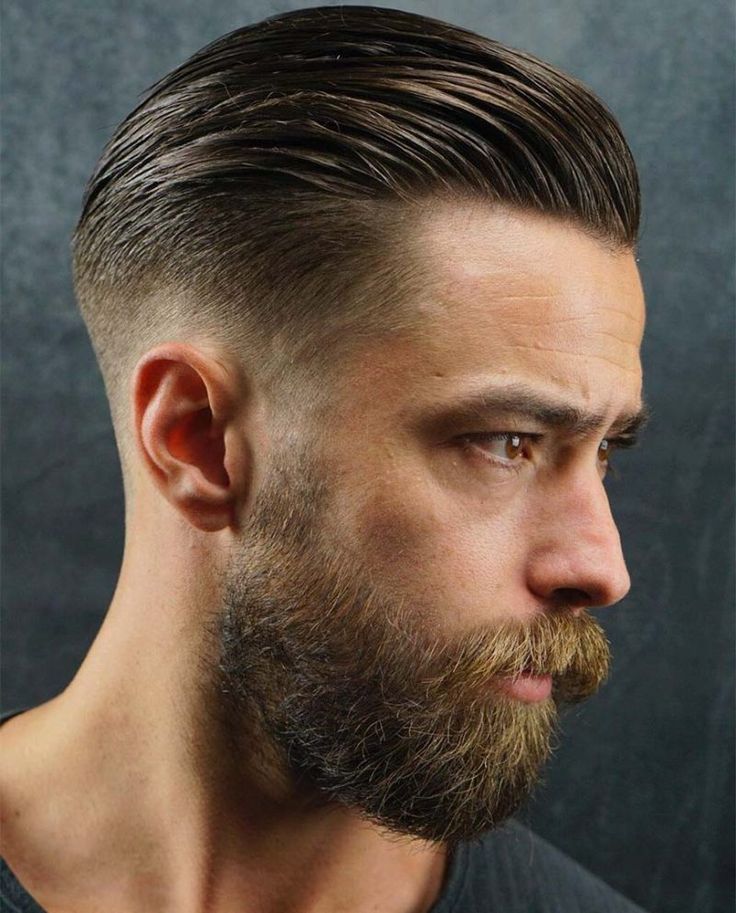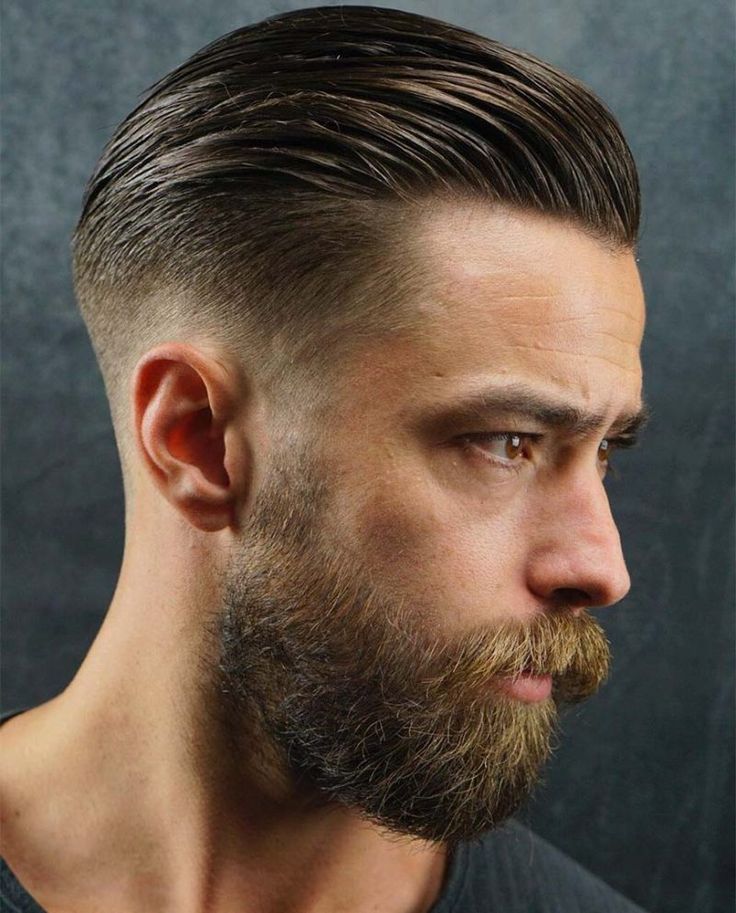 A contemporary twist of the classic slicked-back look, this style often comes with shorter sides. Getting it right means knowing which products to pick for the job. The modern slick is an incredibly versatile look, offering men with other haircuts the option to change lanes for the day without committing full-time to it.
This style needs time, so allow 30 minutes from damp to ready for absolute perfection. The hair is brushed back and blown dry with a hairdryer to give a natural flow and movement. A matte pomade gives hold and added volume.
To add variation to this style try harking back to the classic slick back style of the Jazz age. You can also opt for crew or buzz sides, or even a mohawk. There's potential for hair tip colour variations, too. Make sure to deep clean your head and scalp once a week. If you use pomade throughout the week, aim for a hair rest day when possible.
The slick back looks best on an oval, triangle or square face shape. Long, thick, and medium hair and hair with a wave or curl are best suited for this style. Very long, thin and fine hair may not be able to hold the style and offer the required coverage.
---
14. Braids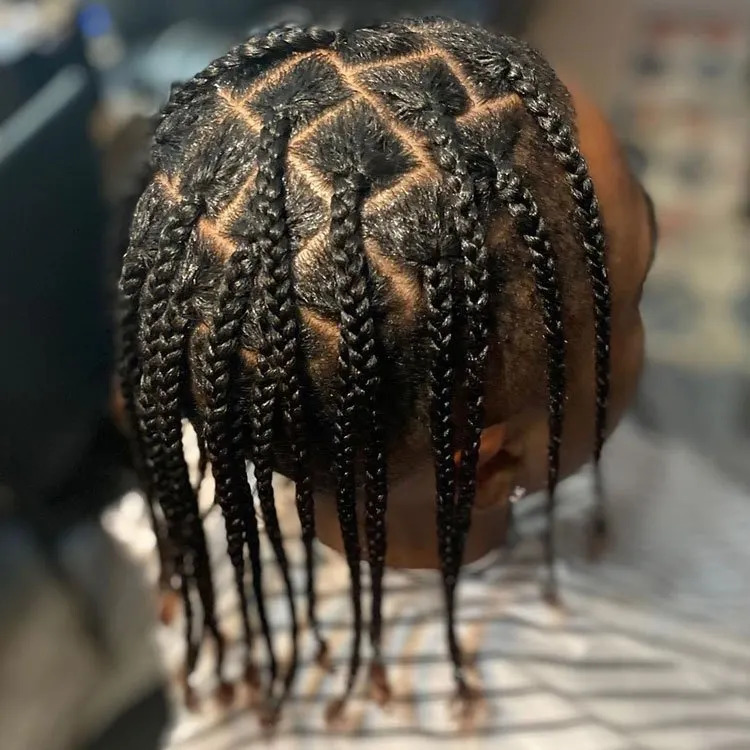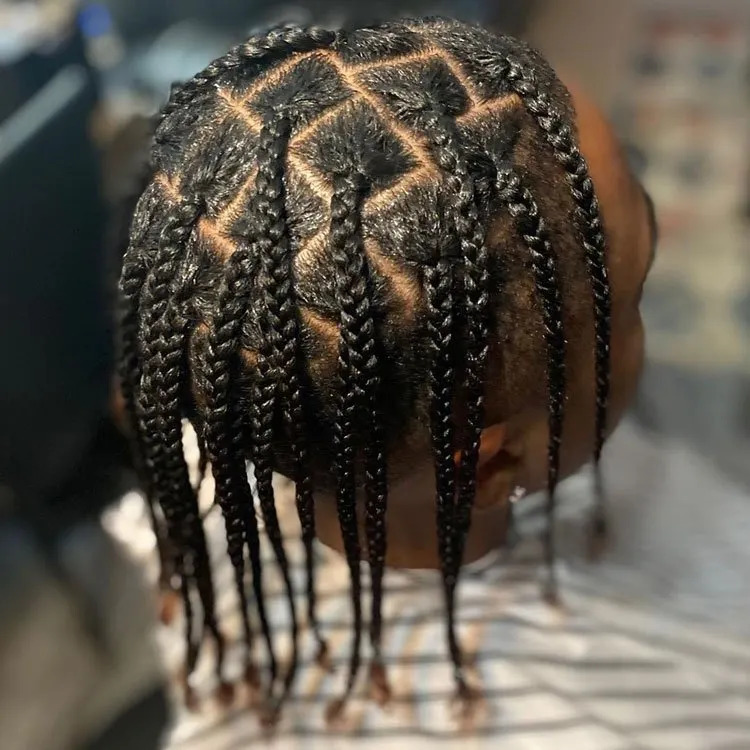 Braiding dates back thousands of years and has been considered a social art throughout history. Traditionally a preserve of African and African-American cultures, the hairstyle has crossed cultural barriers and has been sported by the likes of David Beckham and Jared Leto.
This hairstyle isn't for the faint of heart, however, and requires a willingness to challenge trends.  Depending on the complexity of the braiding and the length of the hair, this style can take several hours to complete. Make sure to moisturise daily and protect the hair when sleeping by using a silk pillowcase or a silk headscarf.
Wash the scalp every 7-10 days to clear build-up and squeeze the water out with an absorbent cloth. This style is only for those with a great deal of patience. To add variation, experiment with box braids (individual plaits – a little like pigtails – set in small squared-off sections across and around the head), twin braids, Viking style, zig-zag, and asymmetrical braids. 
This style is best suited for men with a round face, but as for hair types, it can work with both thick and fine hair.
---
15. Ivy League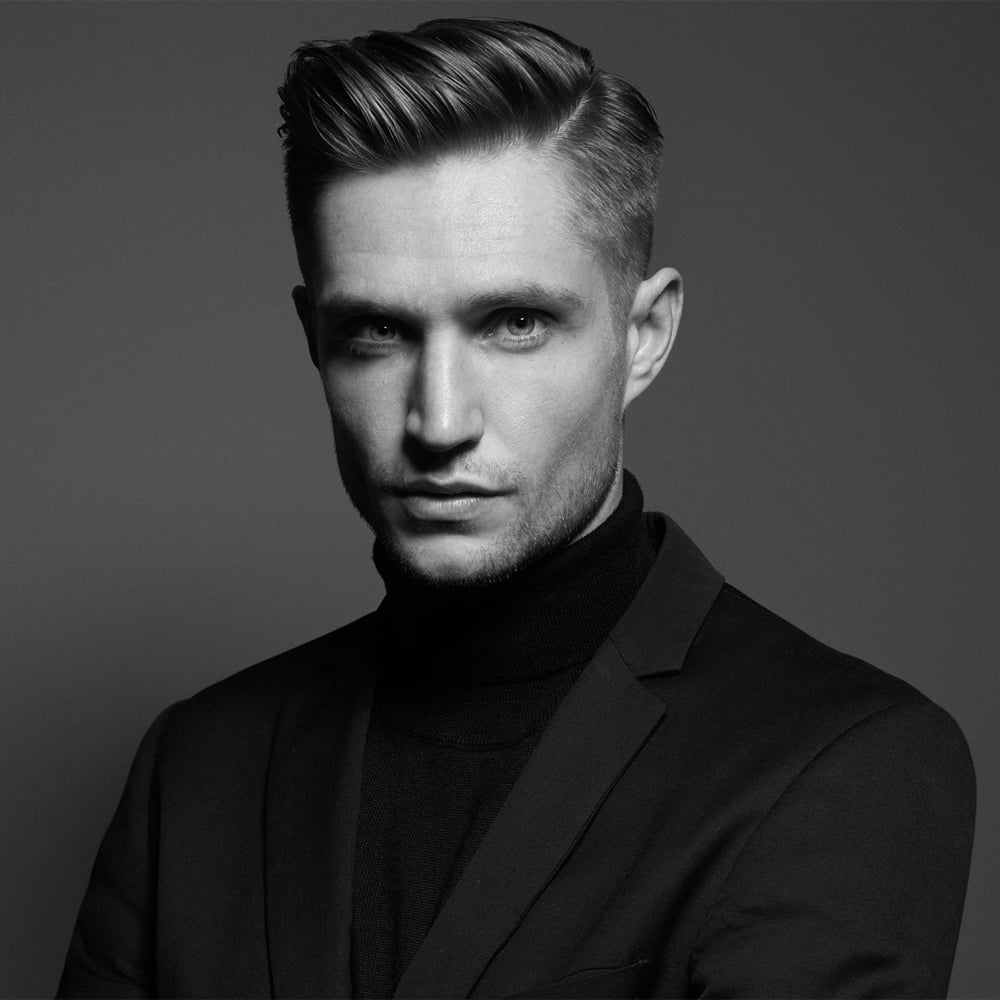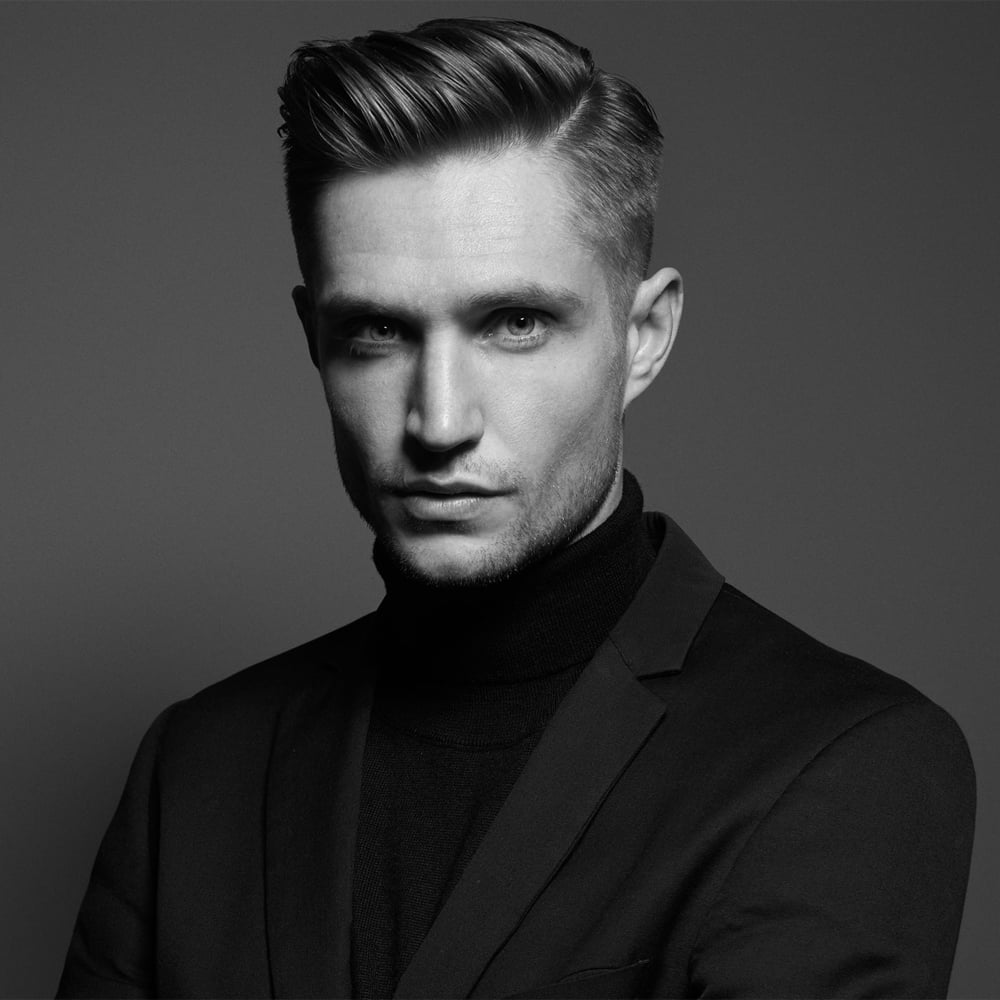 This style combines a classic crew cut with a side part and side hair that gradually tapers from the top to the bottom. The Ivy League is a popular style because it is also easy to vary.
While some may think of it as the archetypal "boy next door" cut, it's still possible to find an edge and a sense of individuality with it. To mix it up, try experimenting with shorter cuts, texture cuts, undercuts, and a fade. All it takes to get this look ready is a little product and 5 minutes of your time when your hair is damp. Pomade, gel and mousse all work for this cut.
The Ivy League works well for those with defined facial features such as high cheekbones and a strong jawline. Round and oval faces can also sport this look. The look suits all age groups and most hair types including thinning, and receding hair.
---
16. Modern Mullet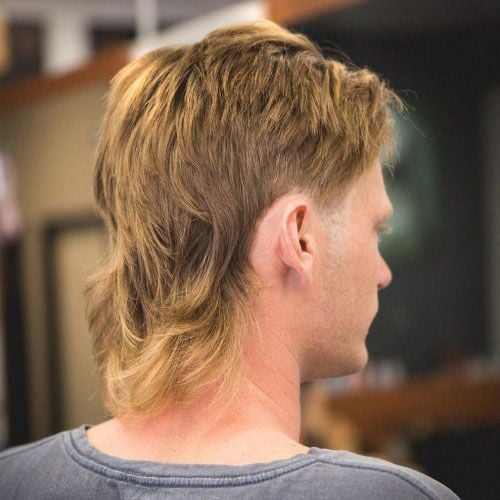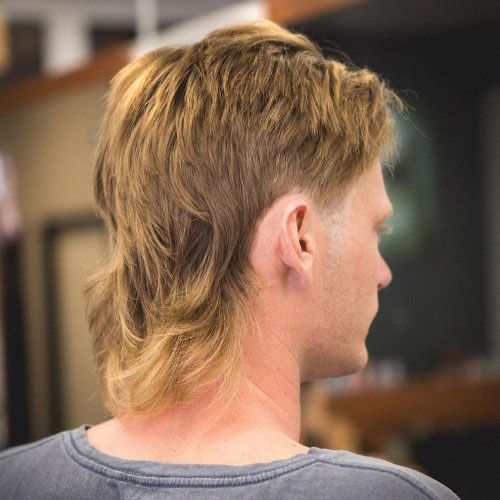 The mullet, characterised by its shorter hair at the front and sides and longer at the back, has enjoyed a revival since it first rose to pop culture dominance in the '80s. The AFL has seen a surge of interest in modern twists on the retro haircut we've seen in recent years.
Fair warning, though, this style needs a decent amount of time and care to keep it looking sharp. Not only do you need to regularly shave the sides, along the lines of a buzz cut, but you'll also need to wash and moisturise the longer sections.
The length of time required to style it will vary in line with how meticulous you are with your care regime, but this could easily stretch into several hours each week of upkeep and styling. For best results, add stubble, a short beard, or even a moustache. Long, bushy beards generally aren't the best choice as they risk overly elongating the face.
Variations can include an undercut, mullet fade and French crop.  This is a cut that suits diamond face shapes the best and is typically worn by kids through to adults, though rarely among those over 60. While thick, shoulder-length medium hair works best for mullets, the bald-on-top mullets prove it's possible (if not exactly easy) to own this style no matter what.
---
17. Mohawk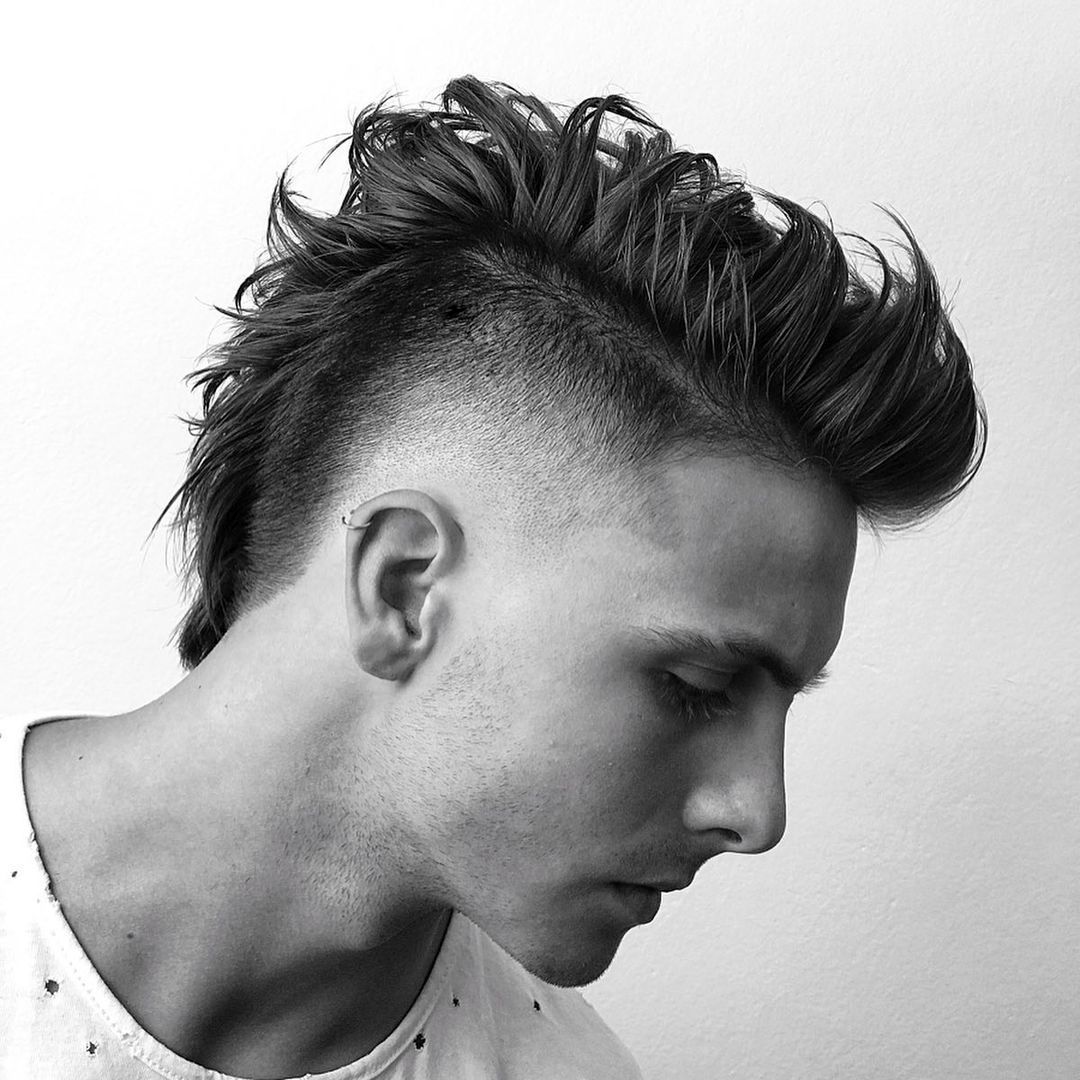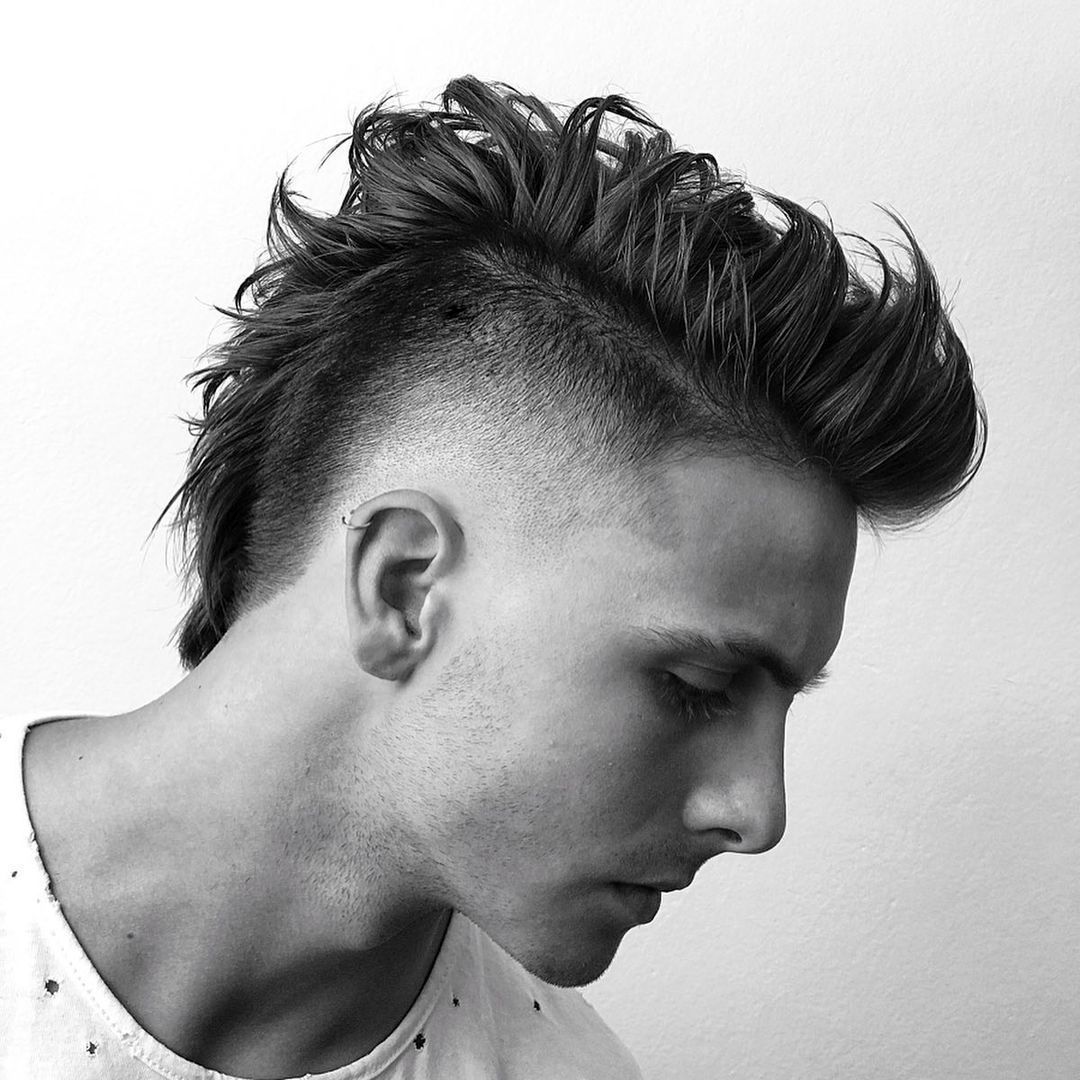 Ready to stand out and have everyone look at you instantly? If so, then this is the haircut for you. While this is easily one of the most daring haircuts for men, it isn't the easiest to pull off in day-to-day life. If you work in an office, for example, it might be tough explaining this to your boss.
All the mohawk needs are 5 minutes of attention after a wash and condition and you're ready to rumble. You can also pair it with a long beard for an authentic warrior look.  While the cut suits men with square-shaped faces, this is a hairstyle that takes a little more thought than most to get right. Check your face from the side and then from the back. Will the cut look great from those perspectives? Make your decision based on the answers you come up with.
Mohawk variations include the fauxhawk which involves shaving the back and sides and shaping the centre hair with product. Add a braid for unique styling. This cut is suitable for most ages. Older men, however, will look more striking if their face is angular or if they have a serious beard going on.
Thick and medium hair, straight hair, and hair with a gentle wave or curls are best suited for the mohawk. Men with fine, limp hair can pull it off too, provided they are willing to use a lot of product. 
---
18. Textured Crop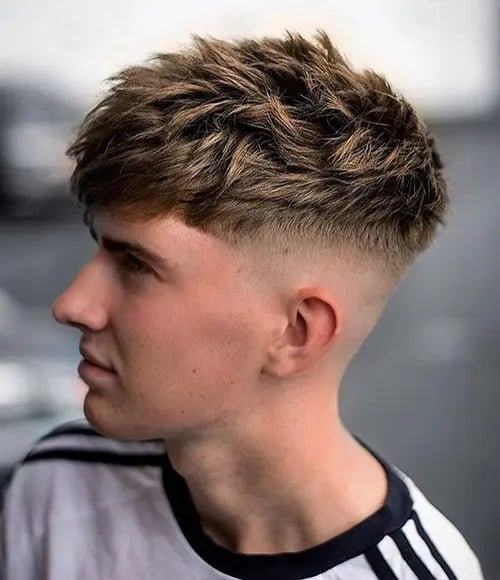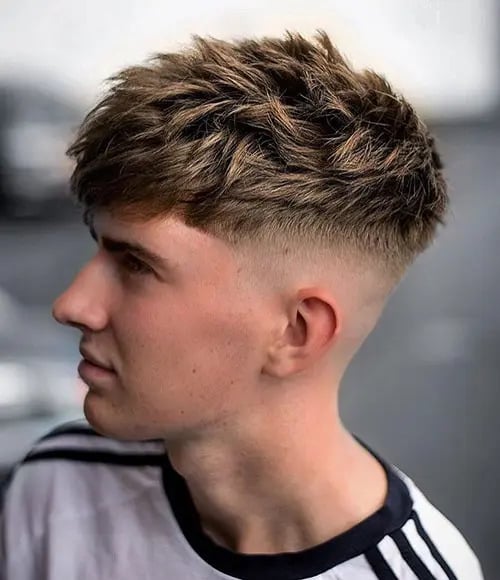 Another style you see regularly and one that is often used by over 30 professionals that want something neat and casual. The cut is simple and undemanding. Because the hair on top only needs a comb and some product through it, the amount of styling time is minimal.
For those seeking a little more variety, they can opt for a fade on the back and sides. This does, however, add to the maintenance work.
The textured crop is perfect for round faces, while stubble complements it. Other face shapes can suit it, though we'd recommend steering clear if you have a diamond face shape as this tends to need volume on top to balance the face structure (even with a beard).
The style suits thick, medium, and fine hair. If you have dry hair, finger-tip rub a little moisturising product through the top and front hair, ruffle gently and let air dry.
Variations of this style include plain and highlight crops. You can even add fades and designs as well. With that said, going down the design route is like overkill given the cut's selling point is its simplicity. The textured crop suits men of all age groups. But if your hair is thinning you may not have the necessary volume for this style.
---
19. Messy Tousled Hair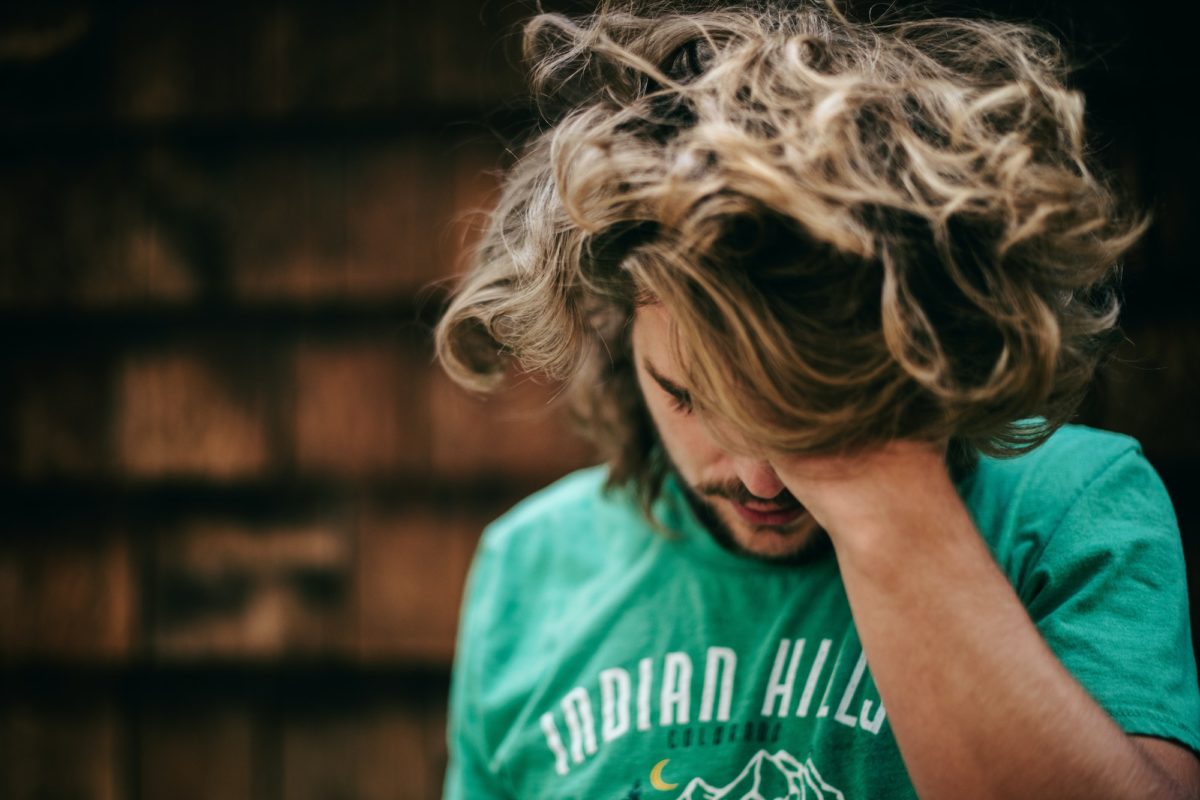 A style you can't miss and one you'll see daily if you're out and about. Somewhere between rampant and self-contained, this style offers the wearer greater styling flexibility. This is a look that goes well with shorter facial hairstyles and is the go-to cut for those looking for a less disciplined or polished style.
This hairstyle needs particular care, especially for those out in the sun and the surf regularly. This means a deep clean once a week and deep conditioning twice a week. Dry hair can benefit from having some Argan oil rubbed through it.
This style suits pretty much any face shape, as there's greater flexibility in where to add volume. It's also a style that looks well on men of any age group. While this style is defined by messiness meaning variations are limited, undercuts and fades can up the drama.
Thick and medium wavy and curly hair are the most suitable hair types for this style. This is a very accepting style and even if your hair is on the shorter side you can add that tousle and work the style.
---
Honourable Mention:
Bowl Cut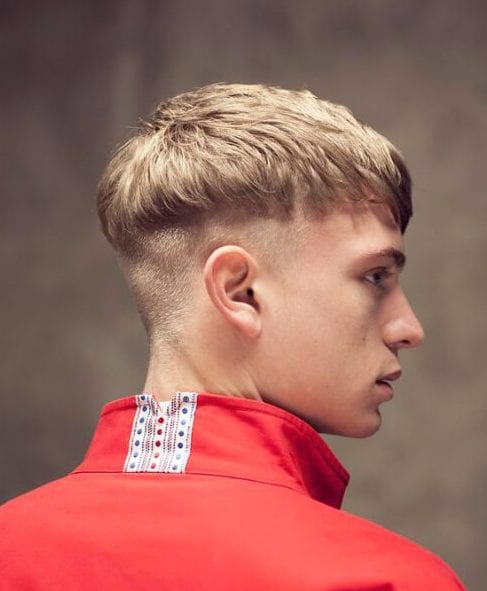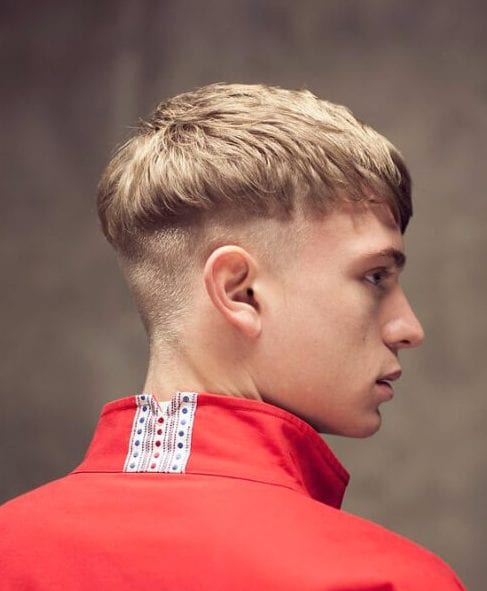 The bowl cut deserves a special mention for both its longevity and the prominence of those who have worn it. While Moe Howard championed it, the likes of Paul Macartney, Jim Carrey, and Ed Sheeran have also sported it. 
As striking as the cut may seem today, there's more to it than just its ability to turn heads. The sheer number of variations makes this style one to consider seriously, particularly when a product is used to create abstract volumes. 
The quality of the cut will determine styling time, particularly if you have thick hair and can just let it fall. You will have to keep your hair trimmed to maintain its shape, removing stray hairs that stand out. You'll also need to commit to weekly deep conditioning treatments. Pomade or gels can be used on curly hair or if you want to add spikes.
The bowl cut best suits round face shapes as it elongates rectangular faces. This style also has a very limited age demographic, with men in their 20s more willing to embrace modern variations. It's usually not a style men over 35 tend to sport. True aficionados of the bowl cut opt for a limited sideburn, but long sideburns and undercut variations can shake up plain styling.
This is a very versatile cut and most hair types can get away with this style. If your hair is too thin, you can ask for a variation that covers problem areas. Ultimately, finding the hairstyle that suits you best means you'll have to do some research and ask your barber for some advice.
---
Once you understand the principles of matching face shape with hairstyle, take stock of those around you. Consider their styles and what works, what doesn't and the fashion statements these styles make.
Men's hair is experiencing a new renaissance. Any reservations some may have had about ditching more conservative and classic hairstyles were lifted during the lockdowns. As people renewed their connection with their stylists, those new freedoms have led to a burst of creativity and adventurous styling.
Whether you have thicker hair, wavy hair, long, short or curly hair, a great barber can make you look fabulous if you're willing to seek their advice. If you need more inspiration, then have a look at our guide to the best short hairstyles for men.
---
Best Haircuts for Men – Frequently Asked Questions
How do you maintain your haircut?
Use a great stylist who works with hair texture and who is an expert in both stylish and practical men's haircuts.
Once you've settled on a style you're keen on, ask a top-notch barber to provide advice on maintenance and product needs.
You'll need a trim every two months (depending on how quickly hair grows) and ensure your hair is moisturised regularly.
How do you style your haircut?
This depends on mood, the event, your clothing choices as well as your hair texture and hairstyle.
For example, a man bun with a light touch of product, matched with a business suit and an open-neck shirt is suitable for anything from business meetings to luxury dining.
A short hairstyle that takes advantage of naturally curly hair may need some holding power if you're taking that open-top sports car for a drive.
Check out our article on the best hair products for men if you need a little advice or inspiration.
Are Fade Haircuts Unprofessional?
Absolutely not. The precision artistry of a professional fade cut stands out, with each fade style offering something different to the wearer.
There are a wide variety of fade haircut styles to keep you looking sharp, including the bald fade, the french crop, the taper fade, and the high skin fade.
What is the most popular men's haircut in 2023?
This was the year of short haircuts and the relaxed buzz cut exemplifies this. A standout style, the relaxed buzz cut offers a softer approach, with less fading. The relaxed buzz cut also pairs well with some of the best beard styles out there, as long as you remember to request suitable fading for both.
What is the easiest men's haircut to maintain?
This is hands down, the crew cut. It's easy to think that the buzz cut should be the easiest, given how short it is. But that shortness means you'll need regular upkeep (think fortnightly visits to the barber) or you'll end up looking raggedy.
 A crew cut, however, only typically needs trimming every two months. Once again, if cut well, the style should require little additional attention other than using quality hair products to wash and moisturise.