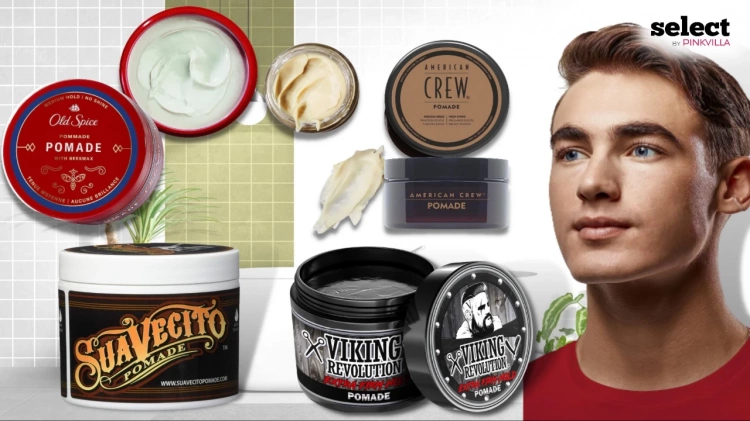 The products curated for this article are independently chosen by the
editorial team. If you make a purchase through the links mentioned below, we may receive a commission. Check out our product
research & curation process
Irrespective of whether you like the classic James Bond clean-cut look or the Elvis Presley signature pompadour, the best pomades for men can help you achieve those and every other hairstyle with ease. Drawing from our experience, unlike wax, sprays, and gels, a pomade will not dry out your hair or make them stiff. So don't worry about looking like a porcupine after using this product, as it provides a more flexible hold and is comparatively hydrating and gentle.
Pomades come in different forms, such as water and oil-based. They also impart varying finishes from natural matte to glossy sheen and, of course, everything in between. And depending on your hair density, texture, and requirement, you can choose a low, medium, or high-hold pomade. By now, you would be feeling overwhelmed, so let us take it step-by-step. First, let us go over the top 15 pomades and the wonderful things they can do to your hair.
15 Best Pomades for Men for Every Day Hairstyling
The Suavecito Pomade Original Hold is one of the most popular medium hold pomades for men. Having shown brilliant results on most hair types, you can use this product to create endless hairstyles like pompadour, slick back, etc. The users of this product especially love the water-soluble base, which means you can spruce up your hairstyle anytime during the day. It also imparts a medium shine and makes your hair appear thicker without stiffness or flaking. Furthermore, the creamy gel-like consistency makes it a cakewalk to comb the product into the hair.
Pros
Non-greasy
Not very sticky
Good quantity
Long-lasting results
Easy to use and wash off
Cons
Slightly overpowering scent
Available at a price point in between the drugstore and high-end range, the American Crew pomade delivers a medium hold with a high shine. This water-based formula helps to control highly textured hair so you can create your favorite hairstyle every day. Plus, the lightweight formulation makes it very easy to use this gel. And, with ingredients like hydrogenated castor oil, lanolin wax, safflower seed oil, glycerin, etc., it infuses moisture into the hair. Based on our first hand experience, it does not make the hair crusty or crunchy and can be restyled with water during the course of the day.
Pros
Imparts shine
Mild fragrance
Non-drying
Long-lasting results
Being a prominent men's brand, Old Spice continues its nostalgic scent legacy with its men's pomade. Delivering a medium hold, this pomade works on various types and textures of hair. If you deal with frizzy or curly hair, it will help you achieve a natural groomed look. Moreover, made for those who prefer a "no-shine finish", this pomade can be used on both wet and damp hair for styling purposes. Besides, the beeswax enables long-lasting results while retaining moisture in the hair and not making it crunchy. To be noted, if you like clean-cut barbershop-quality results, this pomade is for you!
Pros
Volumizing
Matte finish
Non-sticky
Glides easily
Whether your hair texture is straight, wavy, curly, or coily, the Baxter Clay pomade will enable you to separate and define your locks, and create different hairstyles with ease. While it boasts a firm yet pliable hold, it will not weigh down your hair. It is also made up of kaolin and bentonite clay. These ingredients leave behind a natural, non-shiny, and non-greasy appearance. The beeswax further ensures a long-lasting strong hold, and the fennel oil in the formula helps maintain a healthy scalp. Note that it is slightly hard to wash out, but if that is a good or not-so-good feature, it is for you to decide!
Pros
Mild scent
Matte finish
Excellent hold
Little amount goes a long way
Staying true to its name, the Viking Revolution Extra Firm Hold pomade is what you need for those creative hairdos to rock at a play, party, or concert. Ideal for thick, unruly hair, this high hold pomade contains castor oil that is believed to promote hair growth. It also sets quickly and does not flake out. And if you have a thick, long beard, don't worry! This pomade will help you keep every strand in place all day long. Adding to that, let us take a moment to appreciate its packaging — it screams a rowdy, determined, modern man!
Pros
Non-greasy
Mild to no scent
Long-lasting results
Easy to wash out
The Hip Peas Hair Balm is among the best pomades for babies, toddlers, children, and adults with thin hair. It is a low-hold high-shine pomade made with natural ingredients. This styling wax also has a plant-based formula with ingredients, such as aloe leaf, lavender, comfrey, and blueberry. Plus, it is free from harmful toxins, such as parabens and sulfates. Adding to that, it is lightweight and has a mild pleasant scent. To note more, if you support brands that make effective and environmentally conscious products, this one will be our recommendation. 
Pros
Vegan
Cruelty-free
Water-soluble
Hypoallergenic
PTPA seal of approval
Inspired by 1950s barber shops, the Uppercut Deluxe matte pomade boasts a strong to medium hold without stiffness. Plus, developed to deliver a natural matte finish, it is perfect for both, a traditional debonair and contemporary stylish man. The creamy consistency further makes it pleasant and easy to spread, and you can use it on both damp and dry hair, provided it is clean and freshly washed. You can also use this pomade on curly, wavy, and straight hair of any length to achieve salon-like results at home. Based on our observations, it is one of the best men's hair pomades for everyday use.
Pros
Silicone-free
Lightweight
Water-soluble
Works on fine hair
The perfect fit for curly, straight, and relaxed hair, the Cantu Hair Dressing pomade leaves your hair smelling like a tropical vacation. The formulation is creamy and thick, which helps to smooth frizz, tame flyaways, and define twists while softening the hair strands. It is also enriched with shea butter, an ingredient known for its hydration and moisture retention powers (1). Addedly, while working as a styling cream, it tackles dehydrated hair without clogging the hair follicles. This is indeed a good pomade for both men and women for everyday use. You can apply it over dry, damp, or wet hair with ease. 
Pros
Affordable
Alcohol-free
Mineral oil-free
Cruelty-free
Moisturizing formula
Say goodbye to unruly hair with the Axe Classic pomade. This is a cult favorite owing to its reasonable price and high performance. It will help you in creating a variety of structured styles, especially if you have short to mid-length hair. Besides, you can expect a medium hold and shiny finish after using this top men's pomade. Furthermore, a small amount goes a long way, and the box will last you a decent time. We also like that it does not make the hair stiff, crunchy, or flaky but provides good control over the styling and restyling process. 
Pros
No residues
Doesn't clump
Pleasant scent
Works on thick hair
Flaunting clean and elegant packaging that we are absolutely in love with, the CRVFT gel pomade delivers all-day hold without the crunch. This water-based pomade is a clear gel that keeps the hair looking fresh and polished and you can remove it easily at the end of the day. Long, short, curly, wavy, thick, thin, or straight – this high quality pomade works on all hair types and leaves behind a fresh aqua musk scent. Lastly, it is best for clean-cut looks, so if you are a 9 to 5 professional, this pomade should definitely be in your stash!
Pros
Non-drying
Natural finish
Long-lasting hold
Pleasant masculine scent
Styling dry hair will no longer be a task, thanks to the Smooth Viking pomade. Casual, formal, classic, slick, or messy, you can create endless hairdos with this non-greasy pomade. It imparts a medium hold and high-shine finish, adding volume and texture to the hair. This pomade further contains hydrogenated castor oil that moisturizes the scalp and strands, making the hair smooth and manageable. The steareth-20 in the formula also aids with hydration and adds shine. All in all, it is easy to apply, effortless to remove, and keeps your hair smelling fresh all day. 
Pros
Non-sticky
Long-wearing
Sulfate-free
Paraben-free
The Cremo Shine is a high-hold, high-shine pomade. It is ideal for longer and thicker hair, especially curls. If you suffer from frizzy and unruly hair, this gel will work like magic to give you salon-like smooth hair. Adding to that, while the results are long-lasting, you may want to use a little more product to set the hair. Besides, at this price point, it is one of the best men's pomades owing to its superior performance. Additionally, it comes in different variants if you prefer a matte finish, thickening effect, etc.
Pros
Non-sticky
Non-drying
Easily washable
Unmatchable shine
Add texture and volume to your hair without that old-school "glue" effect with the Brickell Styling clay pomade. This gel offers a high hold that lasts a decent number of hours. The finish is also matte to soft-shine, depending on how much product you use. This pomade is composed of certified organic ingredients that are free from parabens and other toxins. Besides, the product includes bentonite clay for frizz control, and argan oil that helps to condition the hair and make it softer and smoother. The hydrolyzed protein, on the other hand, encourages strength and growth while nourishing the scalp. 
Pros
Pliable hold
No residues
For all hair types
Easy to wash out
Tea Tree grooming pomade brings out the benefits of old-school grooming with a modern kick. This heavy pomade for men adds sheen and offers a flexible hold, ideal for molding hair and defining waves or curls. It also contains flexible resins and vegetable-based conditioners that soften the hair. Plus, the burst of cool mint, tea tree, and citrus refreshes, on the other hand, ensures your hair smells fresh all day long. To be noted, you can use this in conjunction with other hair products of the same range to combat various problems like frizz, dryness, etc. 
Pros
Paraben-free
Gluten-free
Tames frizz
Non-greasy
Rounding off our list with a bang, we have the Badger hair pomade, a hydrating, and softening hair styling product. This all-natural hair pomade is free from harmful toxins and artificial ingredients like parabens, GMOs, synthetic chemicals, etc. It is composed of a simple blend of botanical ingredients, such as babassu seed oil, beeswax, shea butter, sunflower seed oil, etc. These nourishing components help impart great shine to the hair while delivering a light to medium hold. To note more, this formula will especially suit extremely damaged, dry, and frizzy hair, as the oils will work to tame frizz and flyaways while adding moisture and life to your strands. 
Pros
Gluten-free
Cruelty-free
Clean formula
Easy to restyle
And that completes the list of the 15 best pomades for men. Most of these are easy on the pocket and last a long time. So don't shy away from investing in them if you want perfect-looking hair everyday. The next section covers important considerations while choosing the right pomade for your hair type.
How to Choose the Best Pomade for Men?
Pomades are a better and more nuanced version of a gel. Therefore, it is ideal for regular, everyday use. Especially reached out for its flexible hold, pomades do not flatter the hair or make it hard. You can still restyle your hair and maneuver around using a little water after using a pomade. Plus, they come in a variety of finishes and strengths, suitable for different hair types. Now, without further ado, let us see how to choose the best pomade for men based on our personal expectations. 
Product Formulation
Men's pomades are generally and widely available in two forms – oil-based and water-based. There is no best one of the two (it depends on many factors), but the latter is a newer invention and better in most parameters. 
Oil-based pomades are your traditional pomades that contain petroleum, paraffin, mineral oil, etc. They are water-resistant and harder to remove. Choose this when you have a long event to attend and need that extra long-lasting hold. They are also ideal for thick and coarse hair that is harder to style. 
Water-based pomades generally boast a gel consistency that is easier to work with and provides more pliability. To identify them, look for 'water' or 'aqua' as the main ingredient on the label. They are usually non-flaky and non-irritating with cleaner formulas that can be washed off effortlessly at the end of the day.
Hair Type And Length
Just like you use face moisturizers based on your skin type, choose a pomade based on your hair type for the best results. Those with curly hair can use oil-based, high-hold formulations that will define those bouncy locks while taming frizz. On the other hand, those with wavy hair can style them with medium-hold pomades that are lightweight and don't weigh down the hair. Same for straight hair folks, go for water-based non-greasy formulations that provide flexibility to maneuver around. You can ask your stylist or barber for the type of pomade they use on your freshly cut hair for styling and get one with the same or similar composition.  
Further, if you have short hair, look for pomades that can add some texture and volume. They should be easy to work with and offer a long-lasting hold. If you have long hair that is frizzy and textured, use smoothening water-based pomades for that hydration and moisture lock while styling the hair. 
The Hairstyle You Want
Your pomade purchasing decision can also be determined based on the hairdo you want to create and flaunt. Thus, a glossier finish pomade will be ideal for a hairstyle, such as a slick back. For a pompadour, while you may choose either of the finishes, the holding power of your pomade should be excellent. 
Conclusion
Apart from these considerations, of course, you want to use a pomade that does not have harmful ingredients, at least not on a daily basis. These could dry out your scalp and cause itchiness. Then there is also the ease of application and removal. As mentioned earlier, pomades are simpler to work with in comparison to wax or gels. Especially the water-based pomades, as they glide smoothly and work well on both damp and dry hair. Therefore, when choosing the best pomade for men, look at the hair type (of the user), hold (of the pomade), and high quality (of the final result!)
Author BIO
With a keen eye for detail and a passion for hairstyling, Alvira is a certified Hair Expert who brings the latest tre More
FAQ's
Is pomade healthy for the hair?
Yes, pomades will not harm your hair, especially the ones composed of clean ingredients. Since they are easily washable and do not make the hair crunchy, they are a good styling product.
What is better, wax, gel, or pomade?
Well, it depends on your purpose. For a stronger hold, choose a gel or a wax. For a medium hold with a better, natural texture, go for a pomade. In general, it's better to use a pomade for day-to-day styling.
What is a pomade best for?
Pomades help to style the hair without making it stiff or crunchy, like hair sprays or gels. You can choose between a shiny and matte finish as well. They give you the flexibility to mold and restyle your hair.
Is it OK to use a pomade every day?
Yes, you can. But to be on the safer side, use a chemical-free pomade and apply it to the roots, avoiding the scalp.
Do you put pomade on wet or dry hair?
Barring some products, most pomades can be used on both damp and dry hair. Some can be used on wet hair as well. It's best to follow the instructions on your product for the best results.
Why Trust select
Alvira is a hair care expert as well as a budding journalist. She is obsessed with everything to do with getting a healthy mane. Understanding that heat can equally do damage to the hair, she has curated this list of the best pomades for men. 
Our product experts study the specifications of every product we suggest and try them out to bring what's proven to be worthy of your money, time, and energy. We also have subject matter experts from various fields like Fashion, Skincare, Haircare, Home Decor, and Health & Fitness onboard to make sure our suggestions are credible and trustworthy. You can trust select to be your faithful shopping guide for all the right reasons!