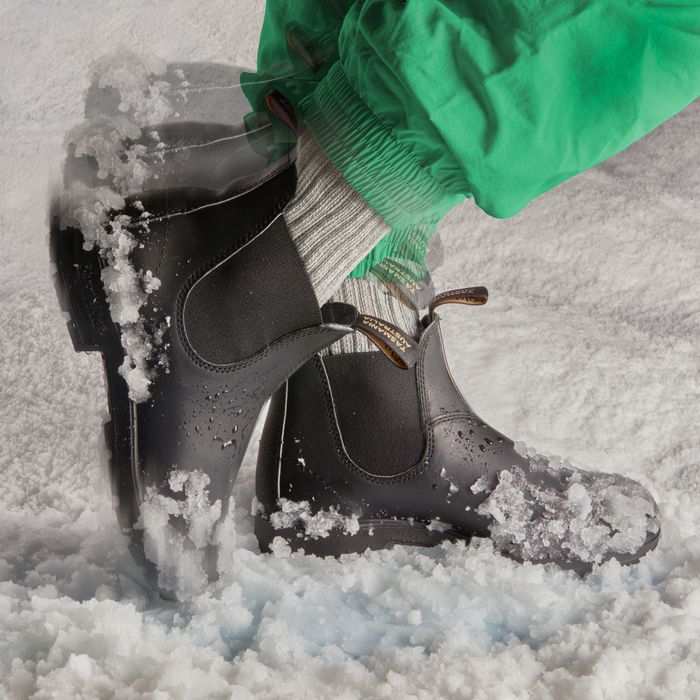 A faithful pair of boots is essential in the colder months — alongside some thick wool socks. Here, I've rounded up the best winter boots for men, from rugged Aussie work boots to moccasin-toed Red Wings to snowstormproof Sorels. To hone this list, I consulted with fellow Strategist staffers and stylish folks who live in chilly climes about their go-to winter shoes, and I wrote about the boots I've tested across multiple winters spent living in New England, the Southwest, and in the Northeast. Additionally, I spoke with a couple of technical footwear designers, who advised on the best features to look for and what to avoid to keep your feet as warm and dry as possible. You'll find recommendations here for puddleproof winter boots that can be worn every day as well as insulated snow boots that can hold their own against more extreme weather conditions. I've also included a pair of insulated rain boots approved by an Alaskan park ranger alongside two pairs of winter hiking boots for hitting the trails off-season.
The gold standard for waterproof shoes and clothing is Gore-Tex, a finely woven waterproof membrane that locks out moisture while remaining breathable. But the majority of winter boots are simply treated with a durable-water-repellent (DWR) coating that can be perfectly adequate for milder climates. "If you live in Portland and it's pouring 200 days a year, DWR is going to do nothing," explains footwear designer and lecturer Igor Burt. "But if you live in California, you shouldn't be buying Gore-Tex shoes." For extra puddle protection, Burt suggests looking for boots made from leather (a material that is a "breathable natural protectant from water") with minimal seams and stitching. "The more stitches on the outside of the boot, the less waterproof it is," he advises. A vulcanized rubber outsole will give an additional rainbootlike effect.
"If you have multiple boots and you're going to use only one boot when temperatures are below freezing, look for insulation," advises Burt. "You should be able to feel it with your fingers on the inside of the boot. If it's the same material inside and outside, you know there's no insulation." He points out that if you're spending less time in extreme conditions, there's an easy hack for warming up a winter boot — and preventing blisters in the process: "Build insulation yourself in the form of moisture-wicking wool socks. You can choose when you want to use it and customize according to conditions."
If you're encountering ice and snow, traction is even more important than waterproofing. "The reason you slip is because the top layer of ice melts and you have a layer of water between your shoe and the ice," explains footwear and product designer Mark Britton. In order to increase flexibility and control in such conditions, he recommends laced boots, which will have a tighter, more customized fit. Grip is also key, Burt says: "Walking on ice, you can't get a shoe that has no studs or no lugs on the bottom. You're going to be slipping all over the place." Sometimes no amount of grippy lugs or studs will save you from slipping on icy surfaces. For those conditions, we recommend checking out our guide to winter traction cleats.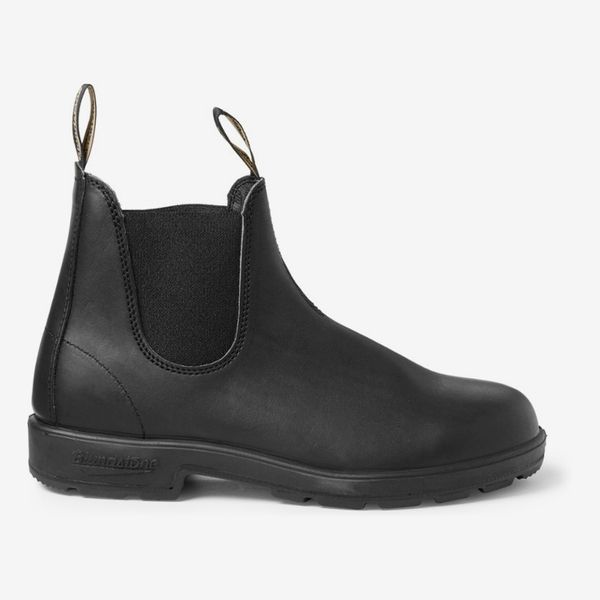 Waterproofing: Water-resistant leather | Insulation: None | Traction: Pull tabs, elastic gusset, lugged rubber sole
For non-extreme winter conditions — puddly commutes, wet park walks, and the occasional snow day — it's hard to go past a pair of classic Blundstones. Our top pick for both men and women, these boots are a longtime Strategist favorite for a reason: They're comfortable, reasonably waterproof (being made of leather, with minimal seams), and neutral enough to style with almost any outfit. They work well across seasons, develop an attractive patina over time, and get comfier with wear. They seem to mold to most people's feet with ease. "A Chelsea boot is actually difficult to get right," says Britton. "The fit has to be spot on because there's no lacing — so I give Blundstones extra kudos." I like that my Blundstones are as comfortable when I'm wearing thick wool socks as when I'm wearing thinner, everyday tube socks. (If you know you'll be walking in freezing temperatures more often than not, the brand offers an insulated version of the same style.) I've worn my Blundstones for six winters, but I also use them in the spring and fall as rain boots. To keep your Blundstones shipshape, winterize them with this $2 plumber's wax.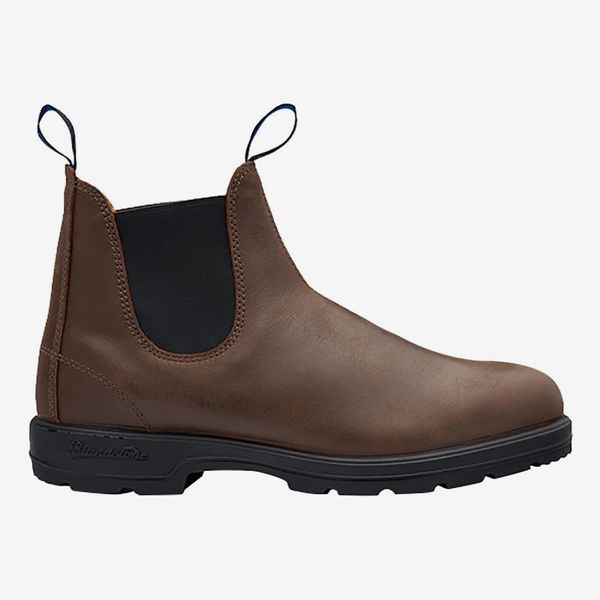 Waterproofing: Water-resistant leather | Insulation: Yes | Traction: Pull tabs, elastic gusset, lugged rubber sole
Blundstone also offers an insulated version of its trademark boot that'll decrease your wool-sock budget. Like a good pair of winter gloves, these boots are lined with both shearling and Thinsulate, and they're just as waterproof, comfortable, and outfit-neutral as their nonthermal cousins — albeit with slightly chunkier "all-terrain" Vibram outsoles.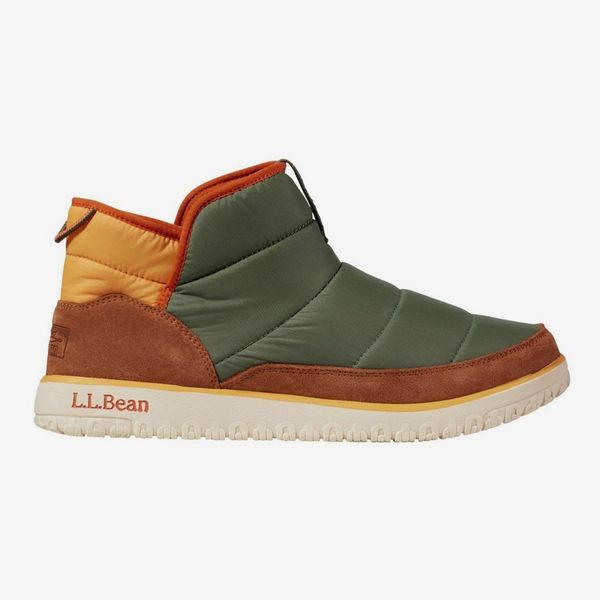 Waterproofing: None | Insulation: Yes | Traction: Pull tabs, lugged rubber sole
Mike Rogge, the editor of Mountain Gazette, prefers spending his winters in ski boots but says these quilted boots are the best option for cold-weather chores, après-parties, and beyond. "These are the perfect run outside to take the trash out, go get in the car, take the dog for a quick pee break boots," he says. "They are warm, keep my feet dry, and above all easy to slip on and slip off." The Mountain Classics don't have any waterproofing, so they're best suited for drier, colder settings and not slush or rain.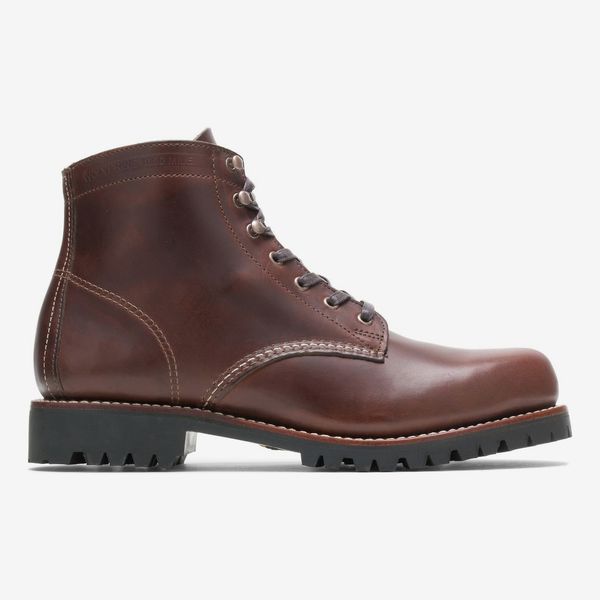 Waterproofing: Water-resistant leather | Insulation: None | Traction: Laces, lugged rubber sole
I've been wearing these vintage-looking USA-made boots for three winters now, and they have aged beautifully. (I wear a discontinued Wolverine model, the Arctic Boot, which has a Gore-Tex lining, but the brand's newer Rugged Boot is similar to the Arctic Boot.) The lugged Vibram outsole keeps my footing steady on iced-over sidewalks and slippery concrete. The leather will develop an attractive patina over time, and that rubber heel means these boots can be dressed up for more formal winter occasions.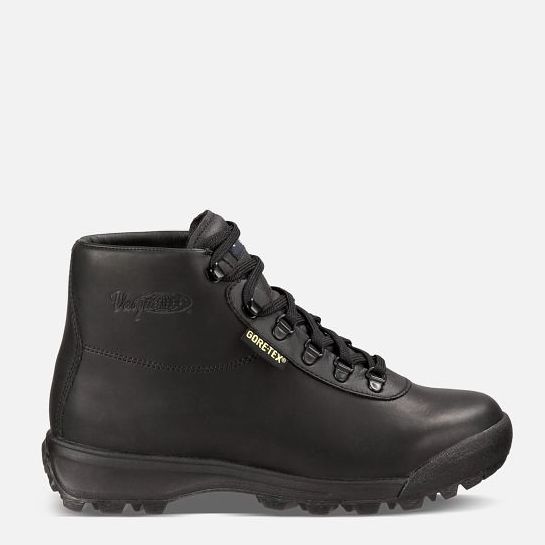 Waterproofing: Waterproof membrane | Insulation: None | Traction: Laces, lugged rubber sole
These discreet but utilitarian winter boots come recommended to us by Strategist advice columnist Chris Black, who swears by them for both form and function. He cites their simple, classic design as well as the fact that they're fully waterproof thanks to a Gore-Tex membrane. "For the price, you really can't beat them," he adds, advising that the boots can be styled with baggy Levi's 501s and a North Face Nuptse for a full winter fit.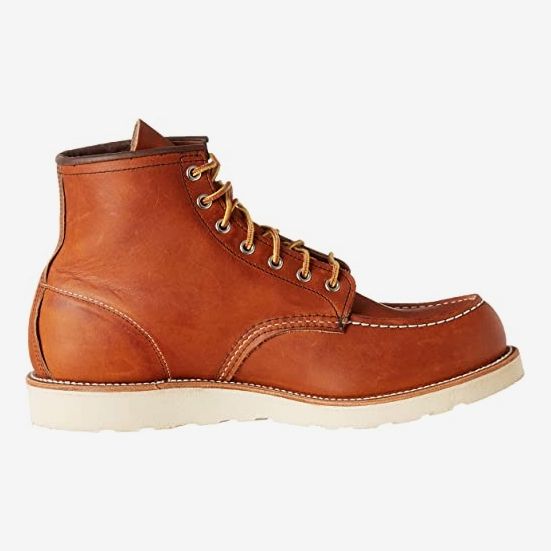 Waterproofing: Water-resistant leather | Insulation: None | Traction: Laces, rubber tread, no lugs
Former Strategist senior editor Anthony Rotunno and former Strategist writer David Notis both stand by their moc-toed Red Wings for even the most blizzardlike conditions. "To me, they look more like your standard winter boot: less fashion, more function (but still stylish enough)," says Rotunno. "Plus the exterior is leather, not suede, which is a bit more suitable for plodding through the occasional foot of snow that one or two winter storms blanket the city in each winter." The boots don't feature insulation or Gore-Tex, which means they're light enough to work across seasons. (Their sturdy leather construction should still keep your feet dry in shallow puddles.) And though expensive, these boots are designed to be resoled every few years, which means they can literally last forever.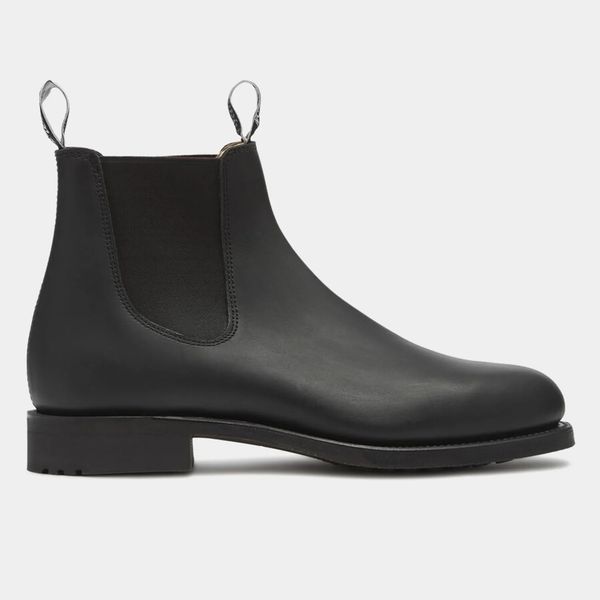 Waterproofing: Water-resistant leather | Insulation: None | Traction: Pull tabs, elastic gusset
Black says that these more upscale Australian boots are like "office-ready Blundstones." Made with a single piece of leather and hard-wearing Goodyear-welted soles, he notes that they are "just dressy enough without being dainty" and are a worthy wardrobe investment for anyone who needs to look the part in a stylish workplace setting.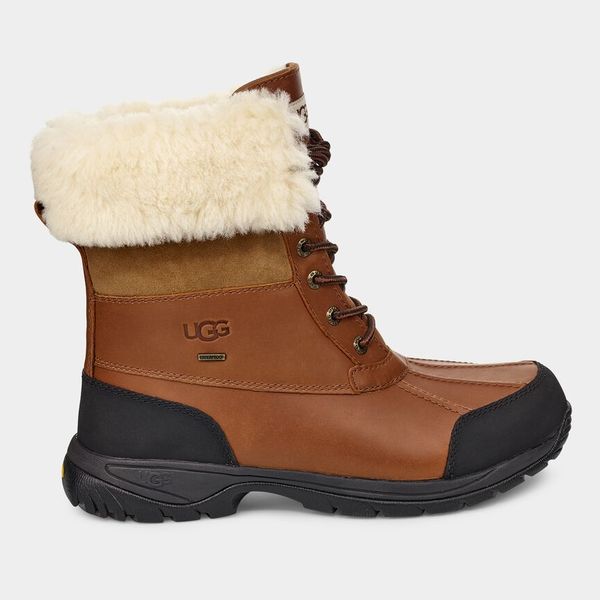 Waterproofing: Waterproof membrane | Insulation: Yes | Traction: Laces, lugged rubber sole
Britton cites UGG's hardy hiker-style winter boots as being durable, warm, and waterproof. Made from leather, with a high shaft that'll keep the snow out, this pair offers tight lacing for maximum traction and lugs for gripping on to snow and ice. Instead of Gore-Tex, the boots use a similar technology developed by UGG called DryTech, which creates a highly effective waterproof-bootie effect. They also feature a cozy sheepskin lining for comfort and warmth. A worthy investment if you're spending months at a time in snow.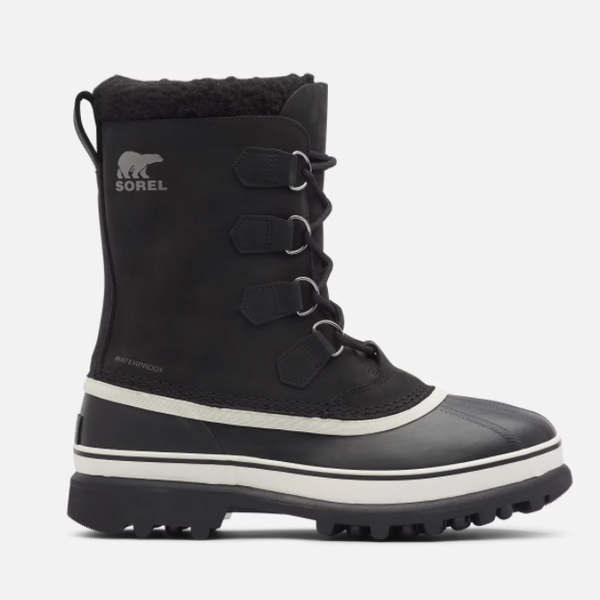 Waterproofing: Water-resistant leather shaft, waterproof rubber outsole | Insulation: Yes | Traction: Laces, lugged rubber sole
Our experts also praised the Sorel Caribou, which footwear designer Igor Burt calls "one of the standards" for winter boots against which others should be measured, because it's "a vulcanized boot with an interior lining, meaning it's waterproof." A little cheaper than the Adirondack (and missing its slipperlike sheepskin lining), the Caribou is similarly designed for heavy snow, with sealed seams and removable insulation as well as faux fur cuffs around the calf to keep ice and water out.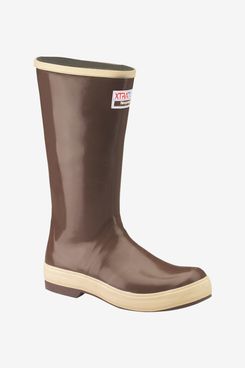 Waterproofing: Waterproof, vulcanized rubber | Insulation: Yes | Traction: Rubber tread, no lugs
When considering heavy-duty insulated rain boots, we turned to Ben Shryock, chief ranger of the Alaska State Parks Kodiak region. He told us that Xtratufs are his only choice and daily go-to: "They are the most comfortable and durable rubber boots I've found. You can find them for sale in almost any coastal Alaskan town." Shryock's insulated 15-inch Xtratufs do a great job of keeping his feet both warm and dry, but he says that if you do happen to step in some water that goes over the 15-inch mark, they'll air out fast — "much faster than leather boots." Being too warm for extended indoor or summer wear, he'll usually trade them out for the uninsulated regular Xtratufs in April.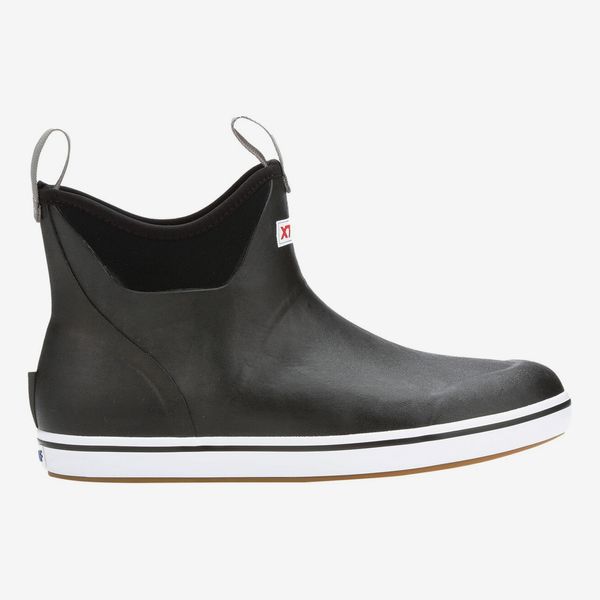 Waterproofing: Waterproof, vulcanized rubber | Insulation: Yes | Traction: Rubber tread, no lugs
If you're dealing with downpours more than snow storms, we also love these slightly less hard-core Xtratufs, which come recommended by Maine-based fashion photographer Bea Helman. She and her husband both wear them every single day ("rain or no rain") and say they're perfect for both mud and snow. Beloved by deckhands, these ankle boots have slip-resistant soles as well as pull tabs that make them easy to get on and take off. Christopher Nicolson, who works as a coastal fisherman in Bristol Bay, Alaska, says "pretty much all Alaskans still wear Xtratuf boots," especially folks who work on boats and in the seafood industry. To battle that sweaty rain-boot feeling, they have an antimicrobial liner that helps regulate foot temperature. Nicolson says Xtratuf boots aren't the most breathable due to their rubber construction, so he recommends these insulating liners, which he likens to "moccasins inside your boots."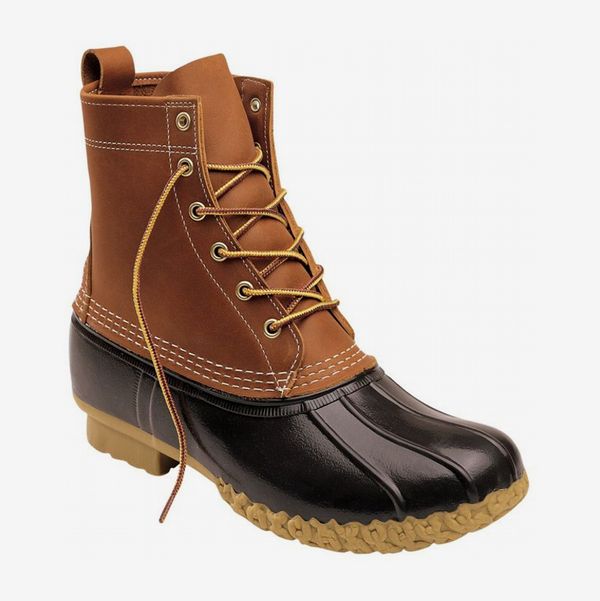 Waterproofing: Water-resistant leather upper, waterproof rubber outsole | Insulation: None | Traction: Laces, rubber tread, no lugs
Former Strategist writer David Notis says these are the boots to break out "if it's really snowy or rainy or slushy or whatever else." They're very waterproof and very durable: It took five years for his pair to need resoling. And "that's one of the reasons I wanted these in the first place," he adds. "You can keep repairing them." He recommends buying an unlined pair of boots for more flexibility ("I like that I can also wear them in the fall or spring when it rains"). And come winter, break out a pair of heavy wool socks — we're big fans of Darn Tough — if it's really cold.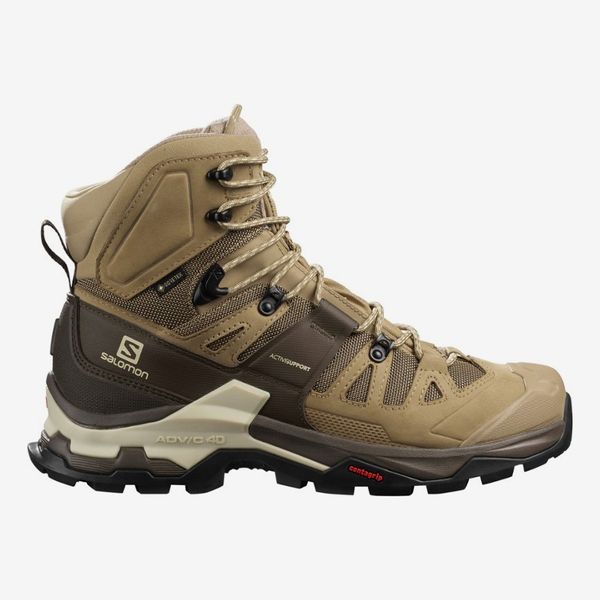 Waterproofing: Gore-Tex membrane | Insulation: None | Traction: Laces, lugged rubber sole
"It's not necessarily always true that everyone's going to need insulated hiking boots in the winter," Scott Wilkinson, communications director at the Pacific Crest Trail Association, tells us. "So much of that depends on temperature, weather conditions, whether it's wet or dry, and the individual — some people's feet are always freezing and they're going to need more insulation." Budget-wise, you're better off investing in a quality waterproof boot that can be used in all seasons, like these Gore-Tex Salomons that Wilkinson uses in both winter and summer. (The Quest 4 GTX is also our top men's hiking-boot recommendation.) Despite being waterproof, these boots will never feel stiff, being designed to flex with your foot in the same way that trail runners might — but unlike trail runners, they feature high cuffs to keep water, debris, and even snow, out of your socks.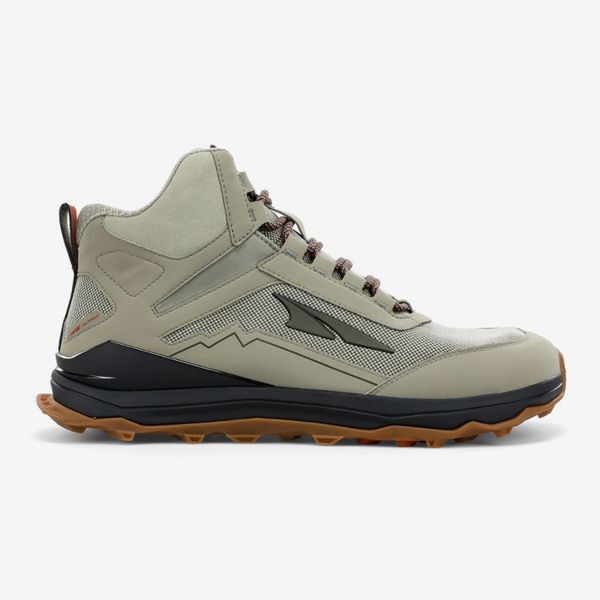 Waterproofing: Breathable mesh upper | Insulation: None | Traction: Laces, lugged rubber sole
We included the crowd-favorite Altra Lone Peaks in our roundup of the best men's hiking boots. They have a distinct zero-drop profile (meaning the height from the heel of the shoe to the toe is flat) and aren't built with Gore-Tex or a waterproof membrane. Instead, the mesh is airy — a plus if you'll be in a drier climate where heavy rain and snow are infrequent. (Altra also makes an all-weather version of the Lone Peaks, which have a waterproof-breathable membrane.) Strategist contributing writer James Lynch wears his Lone Peaks for both hiking and winter running: "With these shoes, I have the running bona fides I've come to love from Altra, but with the warmth, flexibility, waterproofing, and extra traction that winter demands, whether I'm running five miles or just trying to make it from my truck to the grocery store," he writes. "Along with running, hiking, shoveling the driveway, and doing errands, I've also worn these boots for snowshoeing."
• Chris Black, Strategist columnist
• Mark Britton, footwear and product designer
• Igor Burt, footwear designer, apparel designer, and lecturer
• Mike Rogge, editor of Mountain Gazette
• James Lynch, Strategist contributor
• David Notis, former Strategist writer
• Anthony Rotunno, former Strategist senior editor
• Ben Shryock, chief ranger of the Alaska State Parks Kodiak region
• Scott Wilkinson, communications director of the Pacific Crest Trail Association
With additional reporting by Katherine Gillespie.
The Strategist is designed to surface the most useful, expert recommendations for things to buy across the vast e-commerce landscape. Some of our latest conquests include the best men's wardrobe basics, white T-shirts for men, jeans for men, white sneakers for men, Chelsea boots, and flattering clothes for men. We update links when possible, but note that deals can expire and all prices are subject to change.
Every editorial product is independently selected. If you buy something through our links, New York may earn an affiliate commission.