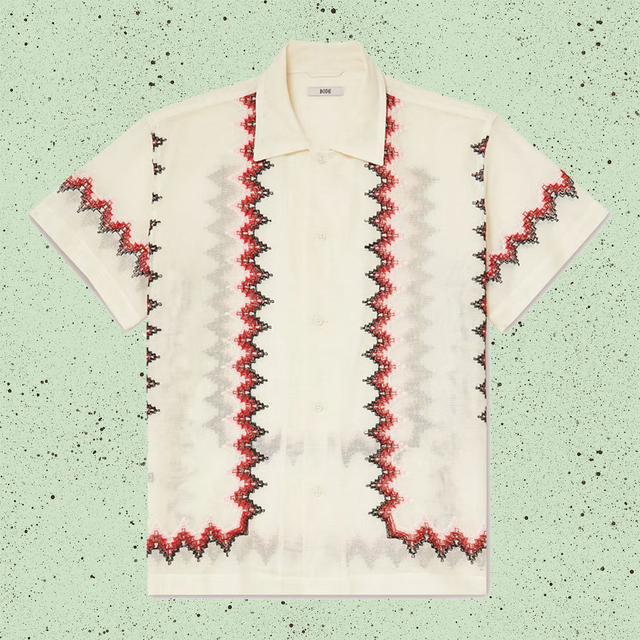 Courtesy
When the sun's ablaze, a short-sleeve shirt is man's best friend. Capable of smartening up shorts and dressing down office trousers, the classic silhouette – originally popularised by tennis players a century ago – is a sensible selection for all sorts of outdoorsy affairs, from obligatory family cookouts to after-work Negronis on inner-city rooftops. It is, dare we say (prepare to cringe), a summer wardrobe essential.
Alas, not every short-sleeve shirt is a dead cert winner. In fact, some are ripe with the villainous potential to give rise to the dreaded ick. Short-sleeves to avoid at all costs include: inordinately quirky floral options; picnic blanket-patterned picks (unless you're electing for Jacquemus); any button-up that even faintly resembles Dwight Schrute's uniform of choice; and, last but certainly not least, the BCAA lad special, the ultra muscle fit shirt – a garb complete with sleeves tight enough to cut off the wearer's blood circulation.
To ensure you're venturing down the right path, zeroing in on elbow-exposers that will only augment your style credibility, we've collated a list of the best short-sleeve shirts for your consideration. Expect, boujee ones, budget ones, bold ones and blue ones. And, of course, Bode ones. One can never own too much Bode.
Advertisement – Continue Reading Below
1
Tombolo Short-Sleeve Shirt
Jay-Z's worn one; Russell Westbrook, too. Now it's your turn to stunt in a shirt designed by cult Brooklyn brand Tombolo. Ideally, this terrycloth opus that we feel obliged to describe as 'zesty'.
2
Endless Joy Short-Sleeve Shirt
Like all Endless Joy pieces, this macabre masterpiece is decorated with original artwork by co-founder Stevie Anderson. Now that's one hell of a USP.
3
Smr Days Short-Sleeve Shirt
Yeah, sure, we said that picnic blanket-patterned shirts with a dearth of Provencal flair are a no-go. But pieces that resemble your mother's tea towel collection – well they're of much interest. In case you're wondering, the finest kitchen textile-esque shirts come from laid-back luxury label Smr Days.
4
Carhartt WIP Short-Sleeve Shirt
Patterned shirts needn't be brash to make a statement – a point proven by this very sci-fi-inspired short-sleeve shirt brought to life by workwear vendor Carhartt WIP.
5
Arket Short-Sleeve Shirt
By some miracle, Arket has made the humble navy short-sleeve feel fresh again. How? By using bouclé, the à la mode textile associated with ex-Bottega skipper Daniel Lee.
6
Wales Bonner Short-Sleeve Shirt
Wales Bonner
brownsfashion.com
£450.00
Wales Bonner strikes again, this time with the short-sleeve shirt of the summer. In collaboration with London-based boutique Browns, the British designer has fabricated a unisex short-sleeve shirt with a botanical pattern.
Oas shirts are always a big fat yes. At present, our favourite offering from the Swedish resortwear label is this Sixties vibes short sleeve shirt reminiscent of Aegean sunsets.
Go straight from your 9-to-5 to meet bae at the open-air cinema (tonight it's Dirty Dancing. It's always, for some reason, Dirty Dancing) in this contemporary classic number from Cos, exclusively available on the brand's webstore in blue (pictured) and green.
9
Bode Short-Sleeve Shirt
Each short-sleeve shirt branded with the coveted Bode label is chockablock with character. And most – such as this cotton-mesh camp collar shirt – are characterised by embroidered bohemian patterns evocative of mid-century California.
10
Manière De Voir Short-Sleeve Shirt
Well-priced, lightweight and sure to suit people of all shapes and sizes, this short-sleeve seersucker shirt is an unproblematic king. Where's it from? Glad you asked. Manchester's Manière De Voir.
11
All Saints Short-Sleeve Shirt
AllSaints
johnlewis.com
£95.00
Never take All Saints for granted. The retailer, a moody pillar of shopping centres nationwide, makes apparel that will forever remain modish. Take this snakeskin short-sleeve shirt, for example.
12
Diesel Short-Sleeve Shirt
We're all for Glenn Marten's Diesel revival, especially when it looks like this dark denim short-sleeve shirt – a straightforward piece with unlimited potential.
This content is created and maintained by a third party, and imported onto this page to help users provide their email addresses. You may be able to find more information about this and similar content at piano.io
Advertisement – Continue Reading Below