They're practical, they're smart and they're always the safest option. It's no wonder short haircuts for men have been the slickest and easiest choice for gents throughout history.
Whether you're a man who prefers a sharp image or one who simply relishes the functionality of not having hair anywhere near your face, there are a number of short haircuts in 2023 that can get the job done, and get it done in style.
Men with short hair often get stuck in a bit of a rut when frequenting their local barber. The convenience of getting the same cut every time is an attractive one, especially given there's never much to take off in the first place. Though there's also something to be said about the efficiency of donning a short haircut, requires very little maintenance and, as a result, saves you plenty of time when it comes to grooming.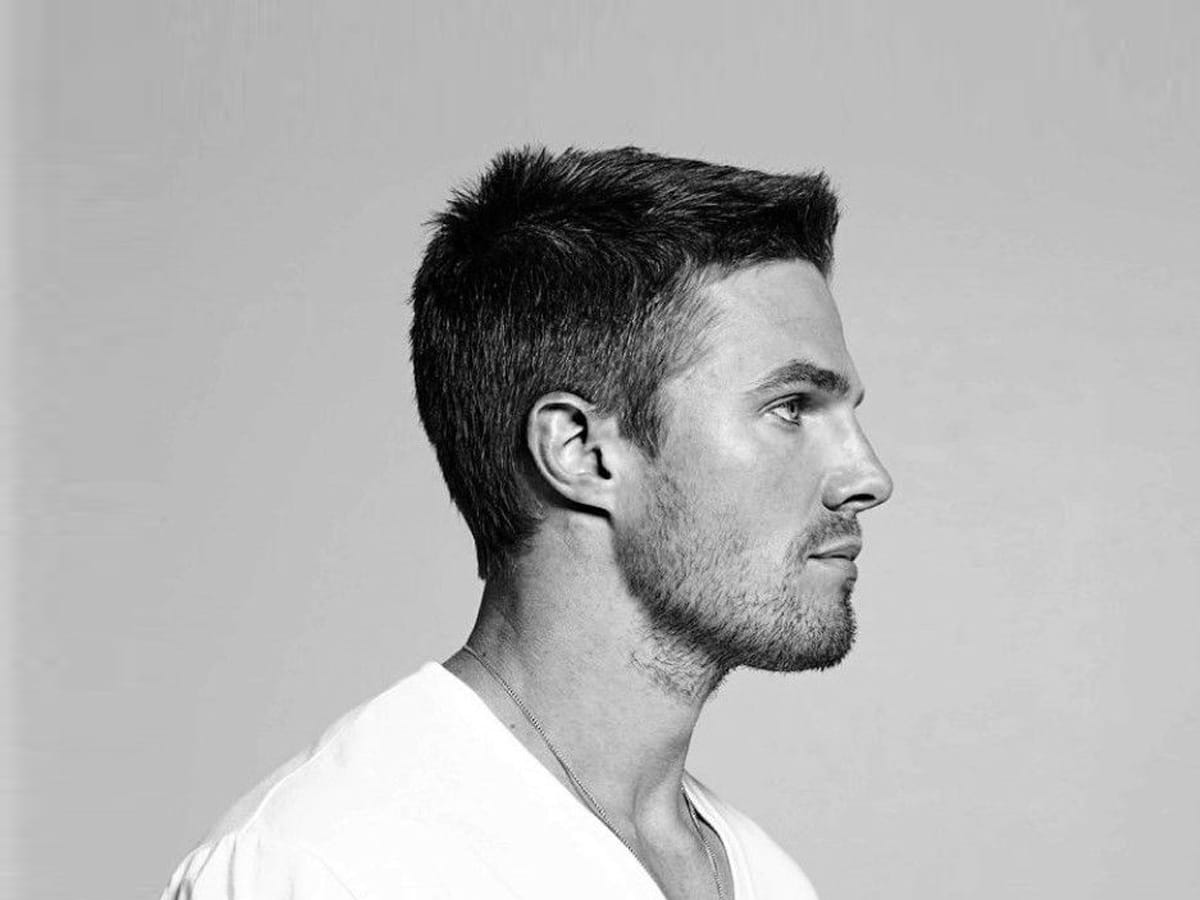 RELATED: The Best Beard Trimmers For Men In 2023
So we've selected 11 of the best short haircuts for men that are trending (or should be trending) right now. If you still want to keep it short and sharp but in a unique way, check out the styles below, ranging from primo cuts for thinning hair to ones more appropriate for thick hair. By the end of this list, you may even want to get rid of that longer hair for good.
Short hair does not mean you're short of options. From the classic quiff to the comb-over fade, taper fade to round-cut, textured crop or side part, there are more options to the style than you might imagine. Even the bowl cut is making a comeback! Don't knock it 'till you try it.
From the classic clean crew cut to messier styles, the right short haircut can make or break your overall appearance. Play it right and it could even make it look like you have thick hair – well, thicker than usual, which is very valuable for men with thinning hair. So read on for the best ways to style short hair, whether that's making the most of a buzz cut, using a taper fade or high fade, or a bold drop fade.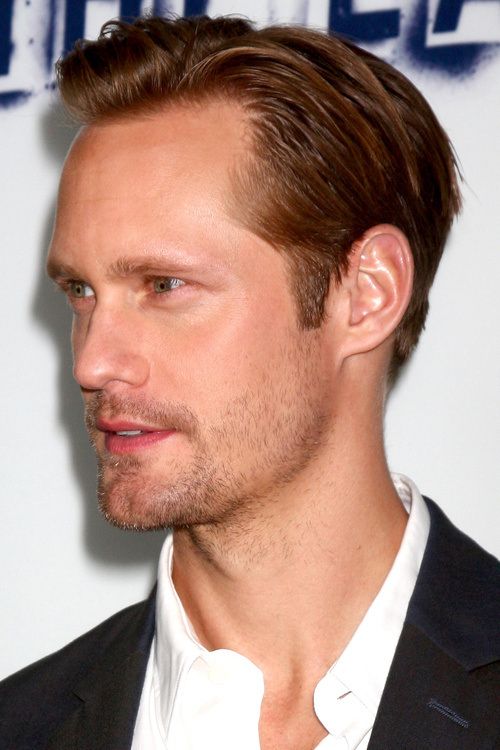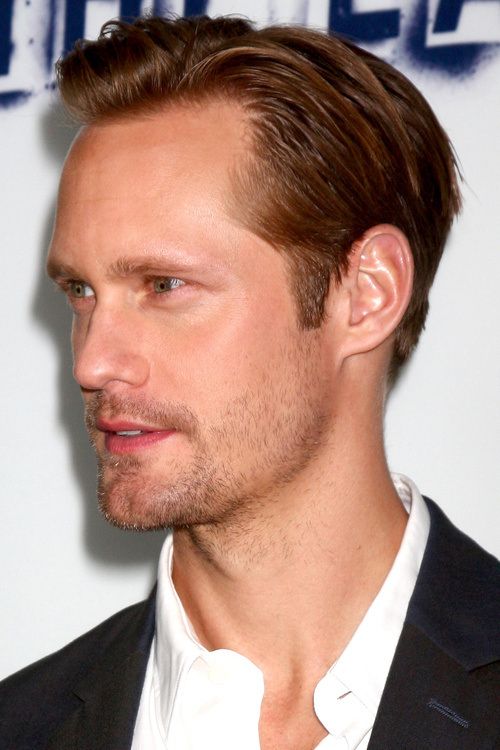 Before we get into it, let's have a quick chat about the best short haircuts for men with thinning hair. If you're at the age where your receding hairline is starting to become a bit of a bother, then this is obviously going to be the biggest concern for you. It's clear losing hair can have a significantly detrimental effect on a man's confidence levels, so it's perfectly understandable if you want to find the best ways to hide those obvious patches.
The answer is a bit of a boring one – it depends on you and the hair profile sitting on top of your mug. Everyone will lose hair at a different rate and in different places, so a list like this could only give you general advice. Remember, what short haircut suits you best will depend on a variety of factors, including your face shape and your natural hair texture.
You'll want to avoid the pompadour hair cut, you just won't be able to pull it off if you have a receding hairline or thinning hair at the front. In fact, any short haircut that pulls the hair backwards won't work on you, instead, you'll want a tight, fade cut on the sides, with a focus on blending the hair up into any thinning areas. This can help camouflage any lighter areas and make thinning look a bit more graceful rather than stick out with textured hair.
Sure, it's understandable you'd want brushed-back hair, but there are certainly other practical ways to style your hair to consider before you commit to that kind of cut. As always, the best way is to take action and consult with hair specialists to try and put together an effective routine.
11 Best Short Haircuts For Men
Classic Crew Cut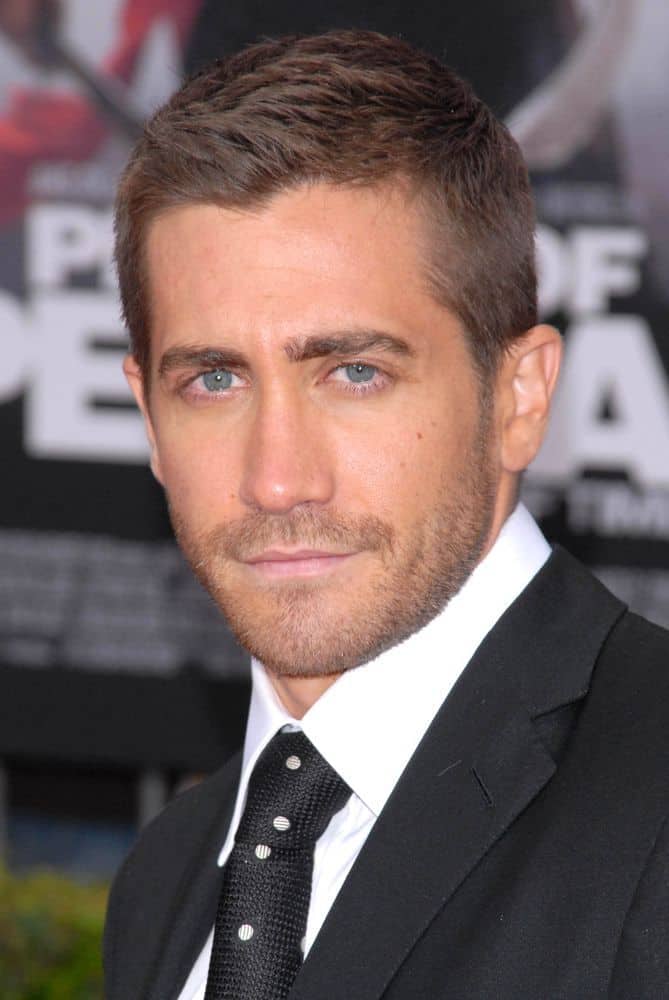 A surefire, no-fuss staple, the classic crew cut is a popular short hairstyle for good reason, resisting the uniformity of a boring buzz cut and working better to adapt to your specific style of short hair and your face shape. But we know you can do better than this, so keep scrolling for better and more exciting short haircuts for men.
---
Low Fade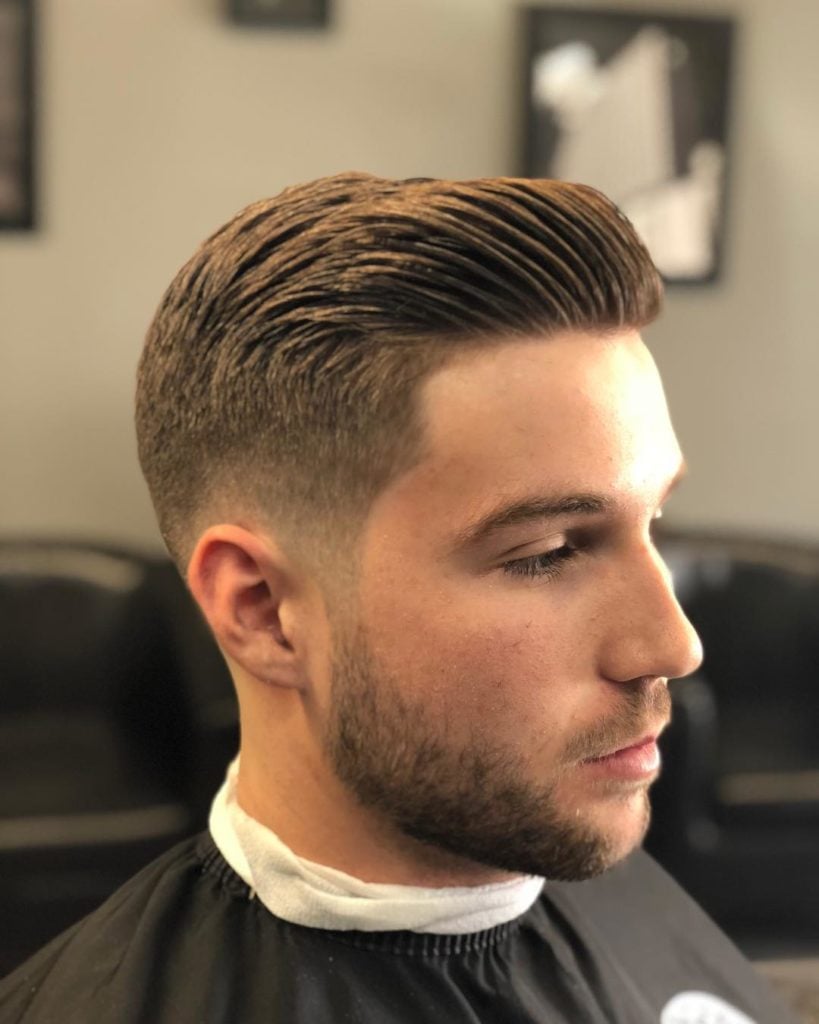 Tightening the sides to show the skin and ears with a low fade cut is a great way to sharpen your overall look. Medium and high skin fade haircuts are also possible, and a fair bit of combed length on top is essential.
If you're stuck on the decision, note that a low fade just tapers hair down the shortest around the hairline, a mid fade instead goes shorter a few inches higher, and a high fade typically follows an imaginary line from the corner of the forehead around the head. A high skin fade is more popular amongst men with thick hair. on the top, and generally works best with curly or wavy hair.
RELATED: Top Men's Skincare Brands To Build An Age-Defying Routine
---
Short Comb-Over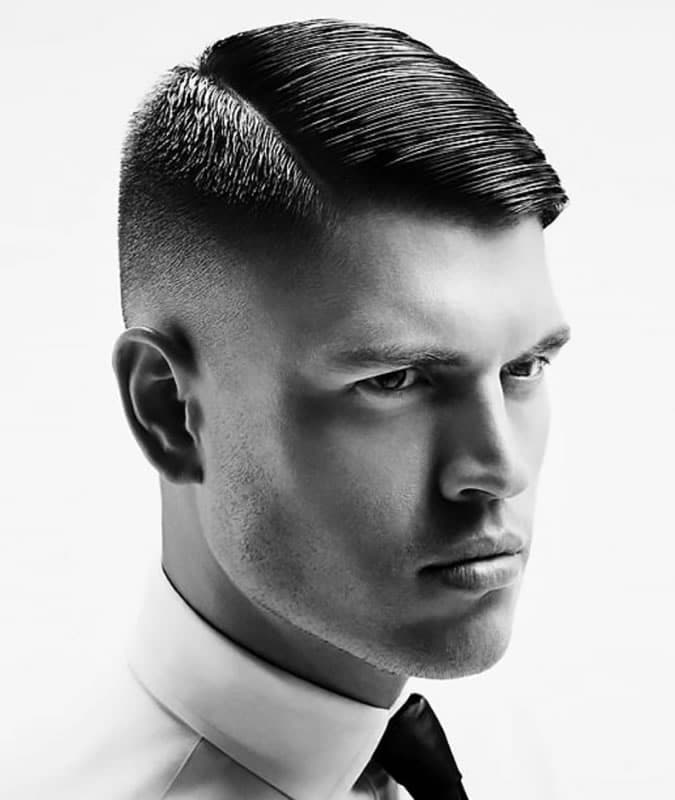 Slick and stylish, this classic short comb-over hairstyle is perfect for those who regularly don a suit for the 9 to 5. This requires consistent styling to make it look good, however. It's obviously a good choice for men who want to hide thin or fine hair but won't work wonders if you've got a more advanced case of male pattern baldness. If hair loss is an issue for you, you might want to look at some other short haircuts for men that may better camouflage those patches.
---
Textured Crop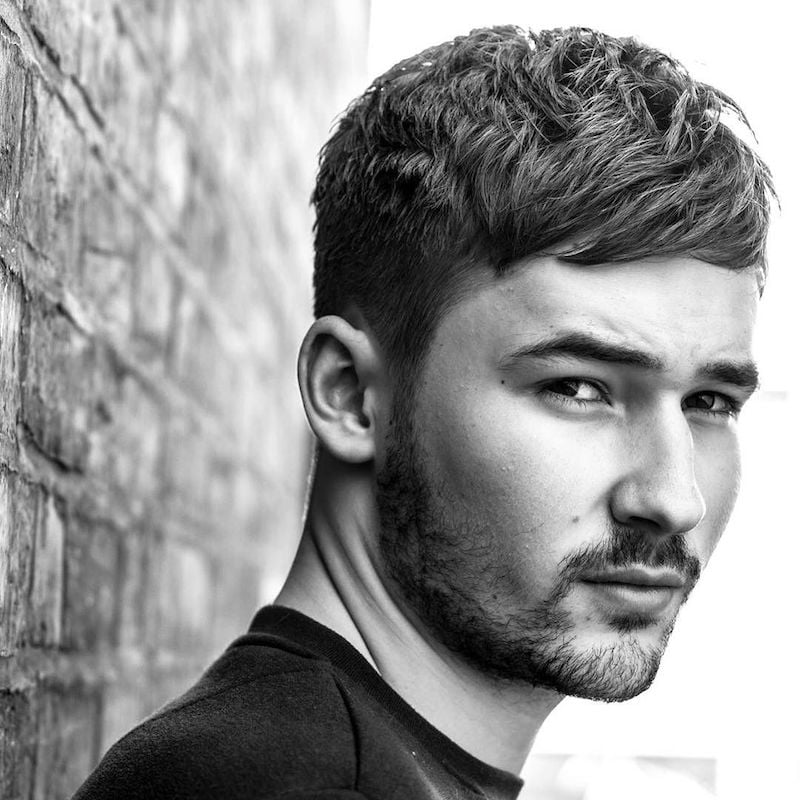 An effortless way to capture the laid-back surfer, curly hair look while still keeping it clean around the edges. Perfect for those who prefer a 'straight out of bed' look.
Of course, that means you'd need to have texture to play around with. Men who have a few patches would need to be careful when trying to achieve this kind of look, which would only really work if you find a way to camouflage those recessions. It looks much better than the short spiky hair which some blokes are trying to bring back from the 90s boy band era.
---
Short, side-part style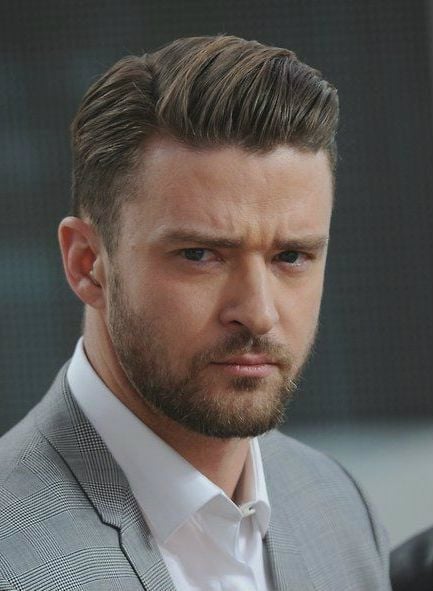 Introducing a side part to your look is an easy way to give the hairstyle some structure. This particular short hairstyle is a natural part, but a shaved part is an option and is especially charming if you've got the volume.
RELATED: The Best Barber Shops In Melbourne
---
Silver Pompadour with a Taper Fade Haircut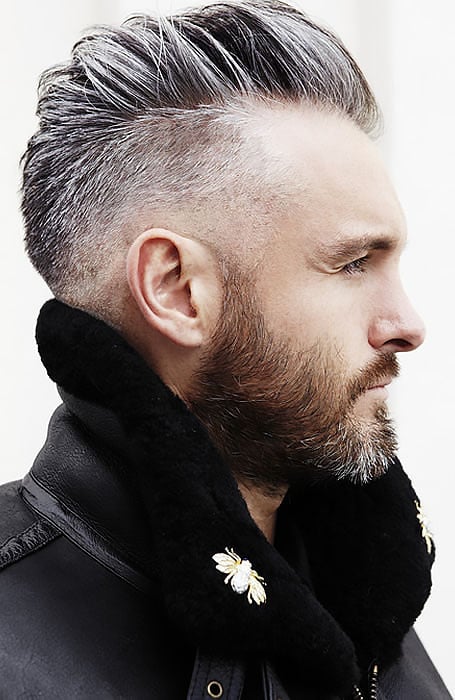 Silver foxes rejoice – you've got the hair, so you may as well use it to its full potential. Enter the silver pompadour with a tapered fade – the perfect balance of young and mature. This one is perfect for ageing men who still have a bit of volume to play around with.
---
Short Textured Blowout with Tapered Sides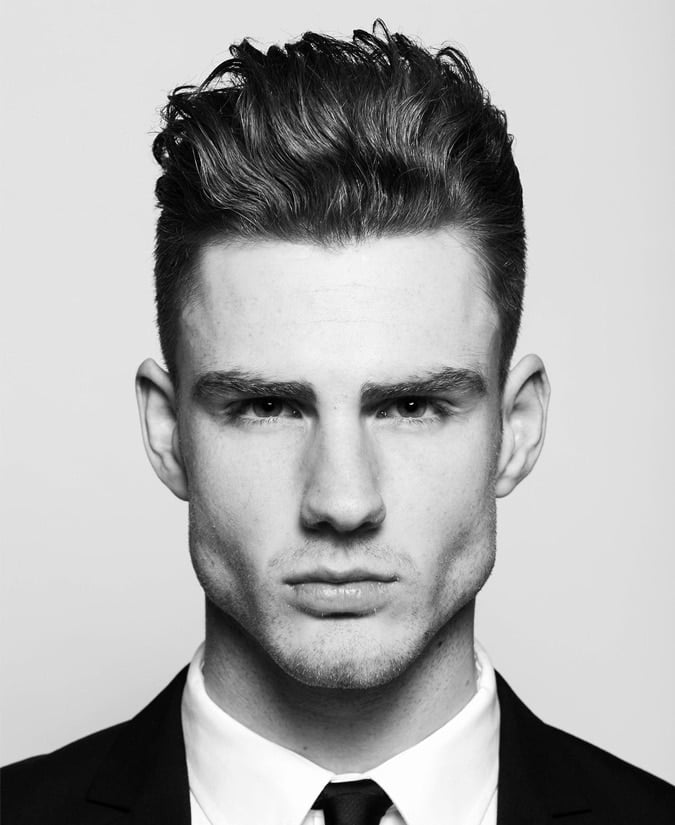 A blowout perfectly suited for those with thick or weighty hair. A casual run-through of the fingers with some product should do the trick, tapered sides are essential, especially if you're playing around with blending facial hair with your short haircut.
---
Classic Combed Back Style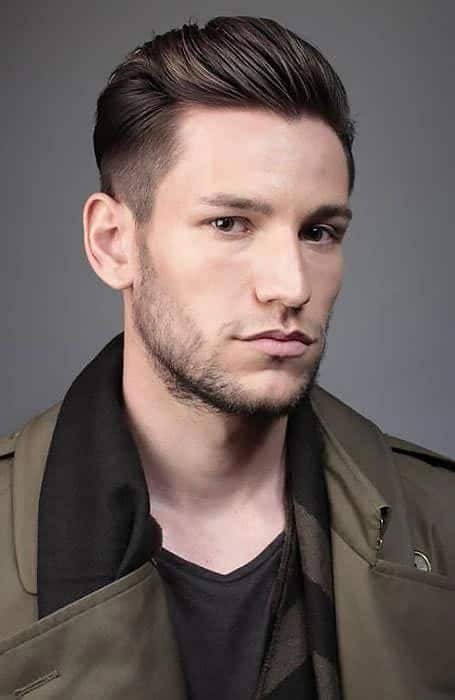 While volume is necessary for this classic combed back style, it's a much more sedate take on a pompadour-style haircut and a fairly simple short style to execute and maintain each morning.
---
Modern Pompadour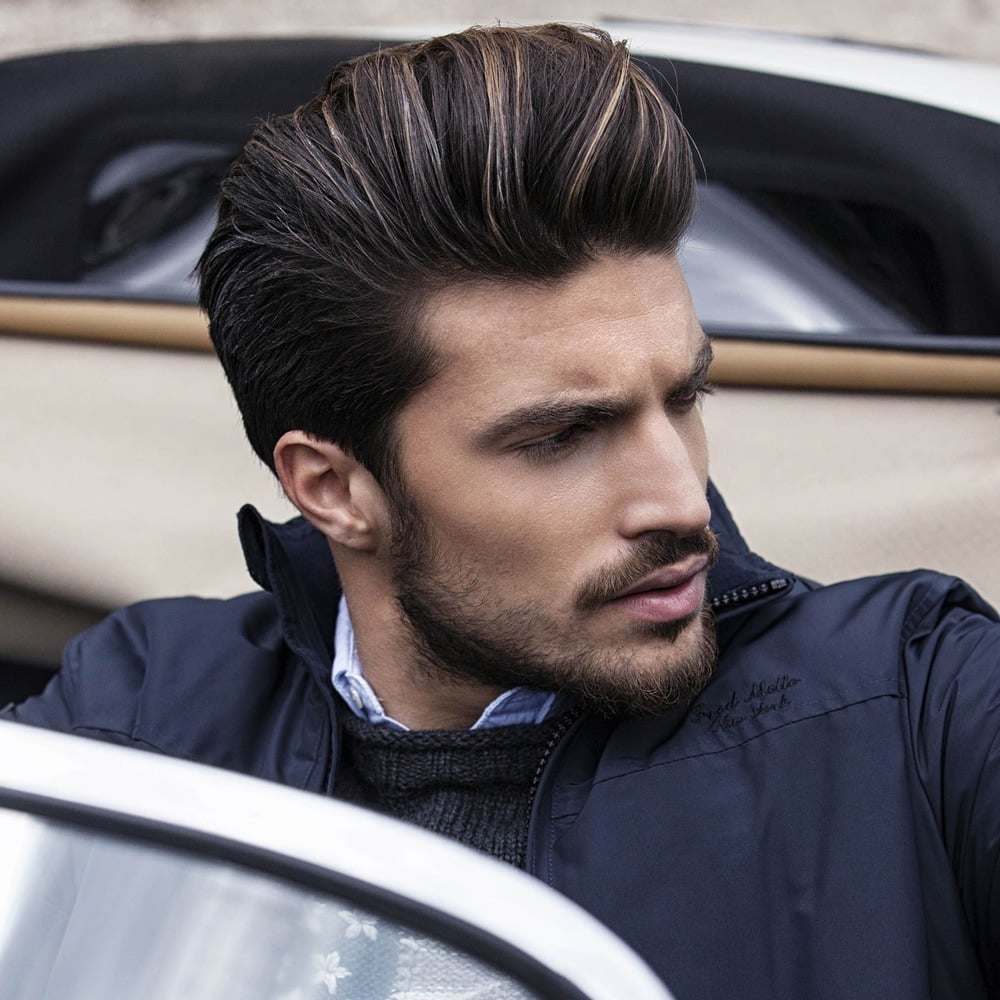 Speaking of, the modern pompadour takes its inspiration from the classic Elvis-esque cuts of the 1950s, but with the opportunity for both texture and the use of softer products. As we mentioned, not necessarily the best cut if you're thinning out up top.
---
Messy French Crop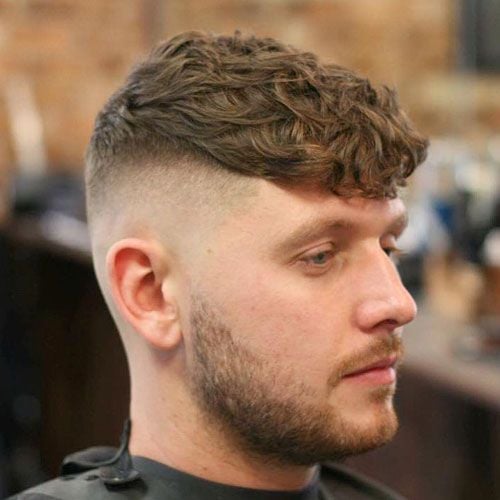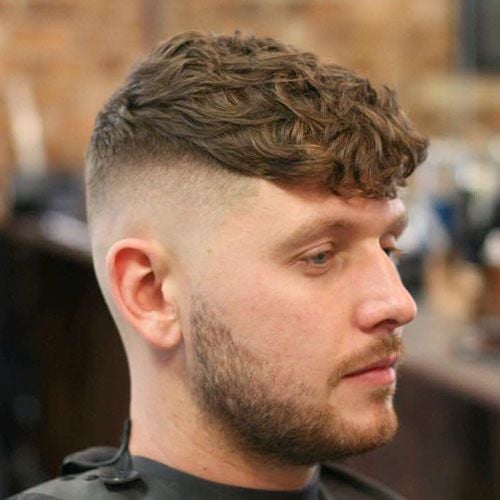 You want something a bit more detailed than the classic French crop, which is defined by a long top, a blunt fringe, and typically very short backs and sides. A messy French crop is much more appealing for blokes and more adaptable. It's basically the classic French crop, but instead, it is styled, usually with wax, to create shapes and angles that contrast rather than blend. This gives off a more youthful and laid-back vibe but isn't as appropriate for men who receding hairlines who may not have that texture to play with.
The classic French crop is better for thinning hair as it blends the top of the hair with a layered fringe to essentially push your hairline forward and give the appearance of more volume.
RELATED: The Best Barber Shops In Sydney
---
Wavy Ivy League Cut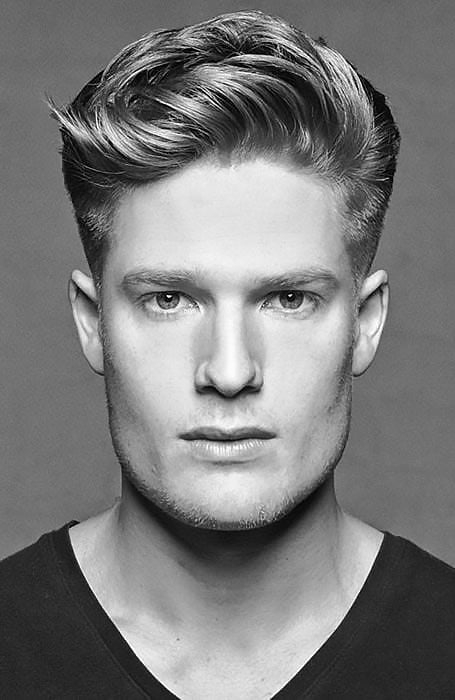 Perfect for prim and proper gents who like their wavy short locks on top to be matched with sharp sides. Works well with angular jawlines and square faces.
---
Best Short Haircuts For Men – Frequently Asked Questions
What is the best short haircut for men in 2023? 
The best short haircut for men in 2023 will typically depend on the shape of your face, however, the classic crew cut, low fade and the short, side-part style are all great places to start if you're not sure.
Is a short haircut for men in trend? 
Yes, the short haircut for men is a grooming trend that never goes out of style.
What is the shortest ever haircut for men?
Aside from a completely shaved head, one of the shortest-ever haircut for men would be the tight military-style buzz cut that can look great on gentlemen in 2023.
Are short hairstyles advisable for men? 
Absolutely short hairstyles are advisable for men, especially those working in a professional office context where a classic look is encouraged.
How can I style short hair easily? 
Often short hair doesn't require too much styling, which is why it's so great to wear. Low maintenance is generally a good thing if you don't have much time in the mornings, with the occasional use of styling products a great way to mix things up.
What does short hair on men symbolise? 
Short hair on men has symbolised many things throughout the centuries, but today it is generally regarded as indicating a man who cares about his appearance and has a regular grooming routine.
Is short hair more attractive than long hair? 
Beauty is always in the eye of the beholder, which is why both long hair and short hair can be attractive on most men.
Now, check out our tried and tested hair products for men.