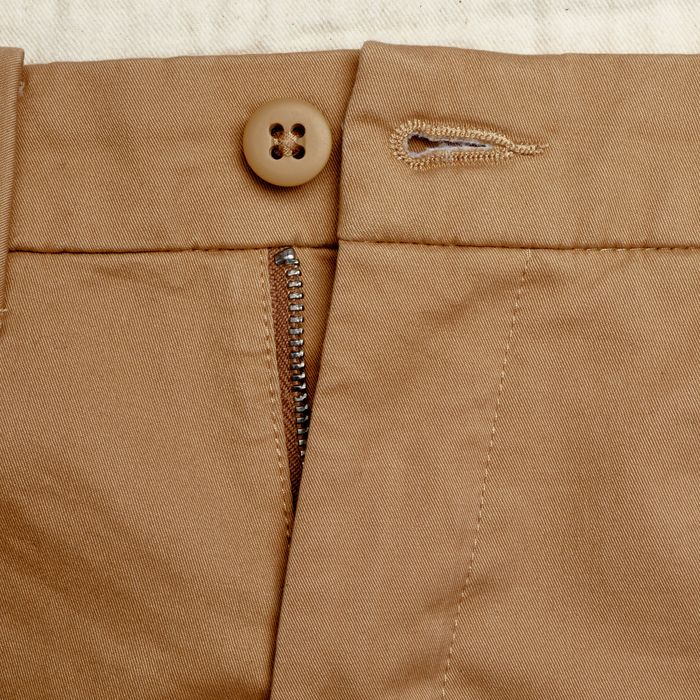 If styled well, chinos can be a critical part of any man's wardrobe, falling somewhere between denim and dress pants on the casual-to-formal spectrum. Despite their cemented place in every basic business-casual wardrobe, chinos actually have an interesting history. Similar to American denim's roots in workwear, chinos started out as military trousers made from twill cotton during the Spanish–American War. The pants later evolved into a mainstream piece of clothing and later became a preppy staple throughout the 1950s and '60s.
Today, you'll be hard-pressed to find a menswear brand that doesn't have its own version — in addition to OG options like Dockers, everyone from Uniqlo to Supreme sells chinos. And although many people use the terms "khakis" and "chinos" interchangeably, khaki is a color, while chino is the style. Chinos are actually available in a wide range of hues, from khaki to navy to gray to green (and beyond). To find the very best ones, we asked stylish guys to share their favorites.
One important factor we looked at when searching for the best chinos was size inclusivity — a wide range of available waist sizes and inseam lengths. Some brands allow you to select your waist and inseam measurements independently, while others only let you select your waist measurement and pair it with a fixed inseam length. (Inseams for most styles of men's pants fall between 30 and 34 inches on average.) To find your ideal measurements, in addition to measuring your body, try measuring the waist and inseam on a pair of pants that you already love and using those measurements as your starting point.
There are three dominant cuts of chinos: straight fit, slim fit, and relaxed fit. The straight fit, where the legs are cut straight down with a consistent measurement from the hips to the bottom of the pants, is a classic and one of the most popular options. It will accommodate a variety of body types and will endure even as trends come and go. A slim-fit cut will be snugger in the butt and thighs while also tapering toward the bottom of the legs. And relaxed-fit chinos are designed to be looser in the butt, thighs, and even in the legs, with a wider drape.
Pleats are a familiar style detail on chinos, and they often allow for more room in hip and thigh areas. However, pleats don't determine the overall cut of the pants — you can still have pleats in a pair of trousers that have a slimmer or tapered cut in the legs. For each of our chino picks below, we've noted whether the pants have pleats or a flat front.
Chinos are traditionally made from 100 percent cotton with a twill weave that is meant to be sturdy and long-lasting. They tend to be softer and more lightweight than jeans, making them a good warm-weather alternative to denim. As with jeans, modern chinos are sometimes made with synthetic materials like elastane to add a bit of stretch for comfort and maneuverability. Giovanni Dorin, lead of sports and entertainment media partnerships at TikTok, told us that for him, less than stellar-quality fabric is a dealbreaker; he says the marker of a great pair of chinos is fabric "that allows them to easily drape versus seeming stiff or bunched up."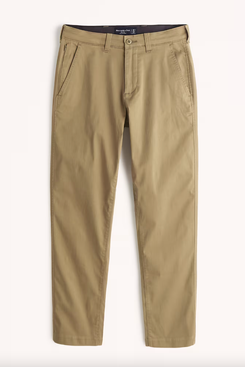 Sizing: Waist sizes 26–38, inseam sizes 28–36 | Cut: Straight fit | Pleats vs. flat front: Flat front | Fabric: 60% Cotton, 38% Lyocell, 2% Elastane 
As a "Northeastern preppy American kid," WM Brown founding editor Matt Hranek has lived in chinos his entire life. He says he's tried "every incarnation — expensive and otherwise" and finally found his perfect pair at the resurgent teen (and tween) favorite Abercrombie and Fitch. But Hranek promises these are not your cologne-soaked Abercrombie chinos from yesteryear: "The new designer they brought in to make the brand a little less 'shirtless men and perfume' has a long history in menswear," he tells us, adding that Abercrombie's chinos now feature "great construction and perfect sizing." Because they have a little stretch, Hranek says they feel "like pajamas" but assures us the twill cotton fabric is sturdy — "kind of bulletproof" are his exact words — "and definitely carbonara-spill-proof." Hranek is partial to the classic straight fit, which he owns in "every shade of tan." (Abercrombie's chinos are also available in skinny, super-skinny, and athletic-skinny cuts, and in a variety of neutral colors.)
Editor's note: Hranek originally recommend Abercrombie's straight-fit stretch chinos, which have been discontinued. The brand's new everyday chinos are nearly identical except for the addition of Lyocell to the fabric — a semi-synthetic fiber that is hypoallergenic and doesn't cling.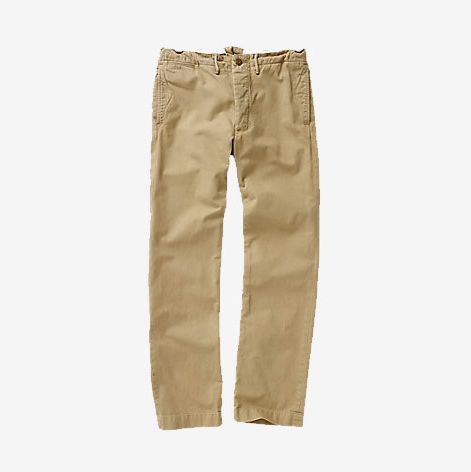 Photo: retailer
Sizing: Waist sizes 26–42, inseam sizes 30–34 | Cut: Straight fit | Pleats vs. flat front: Flat front | Fabric: 100% cotton
Ralph Lauren's chinos came up a lot in our research, with different guys each recommending different pairs. Marc Briant-Terlet, CEO and co-founder of Horace, says the 100 percent cotton twill of these officer's chinos is amazing, making them last for years and years. They are part of the brand's RRL line, which centers on wardrobe stables based on ranch and midwestern designs and is known for both its high prices and its incredible quality. Considering how many wears you'll get, Briant-Terlet says, "They're definitely worth the money."
According to Nicolás Lazaro, editorial manager at Buck Mason, Ralph Lauren chinos are an investment in pants that "only get better with age," calling the RRL Officer's Chino "every menswear enthusiast's go-to when it comes to vintage washes and true-to-era details." Lazaro bought his pair a decade ago and tells us they've remained a favorite year after year. "They have a great slimmed-down profile with an ever-so-slight taper for a more contemporary straight fit, all done up in a nice, mid-weight twill with a perfect sun-faded finish you'll be hard-pressed to find anywhere else," he says. They come in two colors, khaki and olive.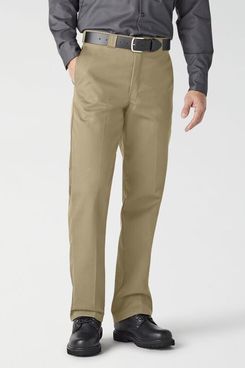 Sizing: Waist sizes 26–58, inseam sizes 28–39 | Cut: Straight fit | Pleats vs. flat front: Flat front | Fabric: 65% polyester, 35% cotton 
Two of our panelists enthusiastically endorsed the classic 874 work pants from Dickies, which GQ global style director Noah Johnson told us are the "ultimate egalitarian chino." He appreciates that they come in different inseam lengths ranging from 28 to 39 inches, meaning that even people who are on the shorter side might be able to avoid going to a tailor to have them hemmed, and taller people will likely still find a pair that's long enough (note that the 37- and 39-inch inseams will come unhemmed). Johnson also appreciates the "subtle sheen" of the fabric and the "flawless factory crease" you will find in any new pair. Fashion writer and DJ Isaac Hindin-Miller also loves Dickies — and has since he was a teen: "They are the sturdiest pants on the market, they're stain-resistant, classic, and will never go out of style." Hindin-Miller adds that he wears his favorite 874s in white all year round, "Labor Day be damned," but they come in more than a dozen colors to suit all seasons and tastes.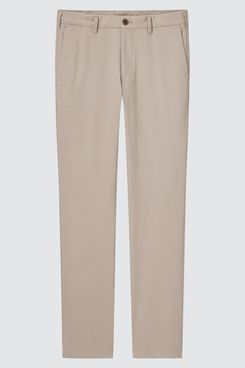 Sizing: Waist sizes 27–42, inseam size 34, with free alterations | Cut: Slim fit | Pleats vs. flat front: Flat front | Fabric: 60% cotton, 37% polyester, 3% Spandex 
When we asked UX designer Nehemiah Blackburn who makes his favorite chinos, his answer was the same one we often hear when discussing men's basics: "Uniqlo, Uniqlo, Uniqlo." Blackburn says he has worn the same pair of these slim-fit chinos for years, and they're "still in great shape." They're made of cotton, polyester, and spandex to provide comfort and stretch. The inseam for all sizes is set at 34 inches by default, but if you know exactly what length you need, you can order them online and Uniqlo will shorten them to your preferred length (from 16 inches to 32.5 inches in half-inch increments) for free. Uniqlo also offers free in-store hemming within 30 days of your purchase and "usually turns them around in a single day," according to Blackburn. Lazaro is also a fan of Uniqlo's chinos, telling us they are the first pair of "non-Dockers" chinos he ever bought. He calls them "the best under-$100 chinos you'll find anywhere," adding that "with a little tailoring or a folded cuff, they can look as good, if not better than, most luxury options."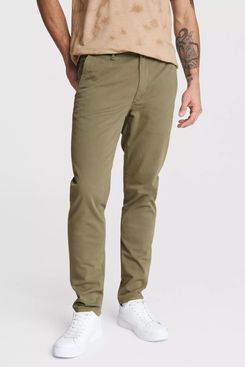 Sizing: Waist sizes 30–40, inseam size 32, in-store alterations available | Cut: Slim fit | Pleats vs. flat front: Flat front | Fabric: 98% Cotton, 2% Elastane
For a pair of chinos with just the right amount of stretch — enough to make them comfortable without sacrificing durability — wardrobe stylist Jessica Cadmus recommends Rag & Bone's Fit 2 Stretch chinos. In addition to the feel and wear, she says they have a "clean look" and "universally flattering" slim cut. All sizes come with a 32-inch inseam, but you can get them hemmed at any of the brand's store locations or take them to a local tailor.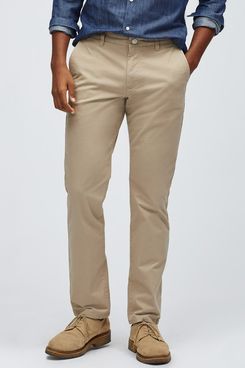 Photo: retailer
Sizing: Waist sizes 29–40, inseam sizes 28–36 | Cut: Athletic fit | Pleats vs. flat front: Flat front | Fabric: 97% cotton, 3% elastane
If you tend to feel like some chinos are too tight in the thigh area, these stretch chinos from Bonobos might offer a more comfortable fit. Calvin Stowell, chief growth officer at the Trevor Project, says that his bigger size means most chinos don't fit him well, but chinos from Bonobos "fit nicely over my butt and thighs without being too baggy at the ankle and last longer in the seat than other chinos." He prefers the brand's "athletic" cut for its roominess, but you can also choose from a slim taper or straight design for a more fitted option. Patrick Kenger, personal stylist at Pivot Image Consulting, also likes Bonobos' collection of chinos for the sheer number of choices in terms of fit, sizes, and colors (more than a dozen), so "you're bound to find something."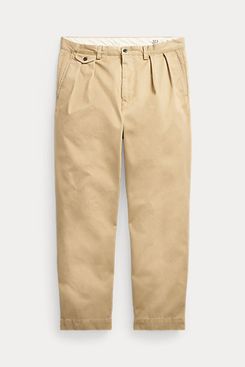 Sizing: Waist sizes 28–44, inseam sizes 29–34 | Cut: Relaxed fit | Pleats vs. flat front: Pleats front | Fabric: 100% cotton
If you like a wider leg, brand consultant Kapil Sehgal suggests these relaxed-fit chinos. He calls them a wardrobe staple and says their "soft cotton-twill fabric is super comfortable, and their oversize fit is perfect for working from home." Sehgal, who has worked in menswear for more than a decade, adds that pleated chinos are very of the moment: "The trend in menswear for the past few seasons has been toward oversize, comfortable fits, and I don't see that changing for a while." The Ralph Lauren Whitman Chino is currently available in five colors (which change seasonally): tan, white, aqua, yellow, and lavender.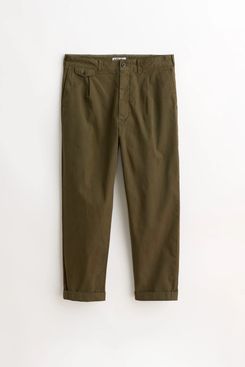 Sizing: Waist sizes 28–38, inseam sizes regular or long | Cut: Relaxed fit | Pleats vs. flat front: Pleats | Fabric: 98% cotton, 2% elastane
Strategist writer Jeremy Rellosa loves his Alex Mill chinos, which he has been able to wear on repeat throughout the fall, spring, and summer because of the looser, airier fit in the thigh. If you're looking to dip a toe into the world of pleated pants, these are the chinos for you. Because the single pleats are so subtle, Rellosa says, he can dress them up or down and, depending on how high or low he wears them on his waist, he can really show off the pleats or hide them. They have a little bit of stretch for comfort, and a flap coin pocket adds a unique detail. When we asked Rellosa to tell us more about the cropped length, he noted that the cuffed hem is stitched around the ankle, so you won't be able to uncuff the pants unless you're handy with a seam ripper. But he's into the look. "I ended up liking the cropped length because I can show off my socks on taller boots like my Blundstones or desert boots. And the cropped length looks great with loafers too."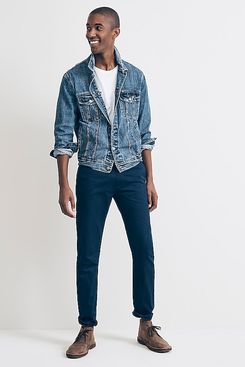 Sizing: Waist sizes 28–36, inseam sizes 30–34 | Cut: Relaxed fit | Pleats vs. flat front: Flat front | Fabric: Cotton and elastane blend
According to Strategist contributor Chris Black, you can't say chino without paying respect to J.Crew, a brand known for preppy basics that are "usually on sale." The 484 Slim-Fit Stretch Chino is made of a cotton-and-elastane blend to offer some stretch. The pants have a slim cut throughout the thighs and legs — perfect if you're looking for a foil to more relaxed styles. Black describes the 484s as "not exactly light" but still "fine in the warmer months." They come in a range of mostly neutral colors, including black, navy, lighter and darker shades of khaki, and an olive-toned Catskill Green.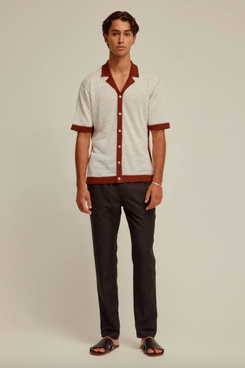 Sizing: Waist sizes 28–38, inseam sizes 30–34 | Cut: Straight fit | Pleats vs. flat front: Flat front | Fabric: 85% Tencel, 15% linen
This pair of lighter-weight chinos came recommended to us by model Dougie Joseph, who says he can wear them all summer "without overheating." According to Joseph, that's because Australian brand Venroy makes them "from a mixture of linen and Tencel, so they don't have that usual heavy feel of cotton chinos." He goes on: "The Tencel-linen fabric creates a whole new realm of comfort, while also giving the chinos a unique look." The Venroy Lounge chino has a straight cut throughout the leg and an elastic waistband for additional comfort, putting a spin on a more traditional structured chino.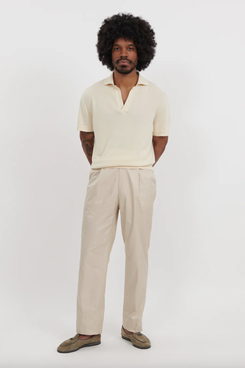 Sizing: Waist sizes 44–54 (based on European sizing), custom inseam length | Cut: Straight fit | Pleats vs. flat front: Pleats | Fabric: 100% cotton
Several guys have told us how much they love Stoffa, a New York City–based clothing brand that sells made-to-order menswear. Sehgal says the brand's cotton trouser is an elevated chino that he wears when he wants something more formal than his Ralph Laurens. He likes that they are "comfortable and can be dressed up and down," adding that "the price is a great value for a made-to-order trouser if you're very particular about fit." Each pair is cut and sewn in Pavia, Italy, by a third-generation trouser-maker. They have a single pleat, a straight fit, and side adjusters that allow you to tighten or loosen the waistband; you can also choose from a handful of colors and decide whether you want a plain hem, cuffed hem, or unfinished pant break. (Note that Stoffa's made-to-order service takes approximately five weeks from the order date.)
• Chris Black, Strategist contributor
• Nehemiah Blackburn, UX designer
• Marc Briant-Terlet, CEO and Co-founder of Horace
• Jessica Cadmus, wardrobe stylist
• Giovanni Dorin, sports and entertainment media partnerships at TikTok
• Matt Hranek, WM Brown founding editor
• Noah Johnson, GQ global style director
• Dougie Joseph, model
• Patrick Kenger, personal stylist at Pivot Image Consulting
• Nicolás Lazaro, editorial manager at Buck Mason
• Bruce Pask, men's fashion director for Bergdorf Goodman
• Strategist writer Jeremy Rellosa
• Calvin Stowell, chief growth officer at the Trevor Project
Additional reporting by Jordan Bowman and Ambar Pardilla
The Strategist is designed to surface the most useful, expert recommendations for things to buy across the vast e-commerce landscape. Some of our latest conquests include the best women's jeans, rolling luggage, pillows for side sleepers, ultra-flattering pants, and bath towels. We update links when possible, but note that deals can expire and all prices are subject to change.
Every editorial product is independently selected. If you buy something through our links, New York may earn an affiliate commission.