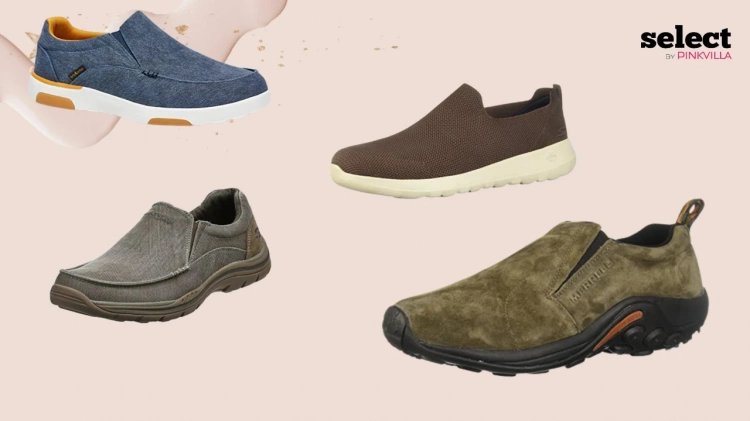 The products curated for this article are independently chosen by the
editorial team. If you make a purchase through the links mentioned below, we may receive a commission. Check out our product
research & curation process
Most men prefer to live their lives in a smooth way, and that's how they like their footwear — absolutely comfortable and smooth. If you are also someone who dreads the thought of having to tie your shoes after a long day at work, then slip-on shoes are here to save the day (and your feet). In this article, we've listed the best slip-on shoes for men that will upgrade your comfort and style. 
Well, if dressing up in casual chic attire is not enough to fulfil your fashion goals; you may also need stylish and impressive footwear to go with it. Say hello to versatile and airy slip-on shoes that will make your wardrobe look hip and trendy in no time. This is your chance to walk as you own it, literally!
Best Slip on Shoes For Men to Elevate Their Casual Look
Hey Dude's lace-up loafers for men allow you the freedom you deserve, thanks to its unique rounded toe design and flex and fold feature. This pair of slip-on shoes are designed to make your feet comfy and happy! The lightweight slip-ons weigh just 6 ounces, making you feel like you are walking on air. Suitable for your next adventure, these high-quality shoes are built to last all hurdles. Moreover, the soft fabric lining makes them breathable and comfortable for all-day wear.
Pros
Soft and comfy
Lightweight
Breathable design
Cushioned insole
Get ready to walk on clouds with this pair of slip-on shoes from Skechers! The lightweight slip-on sneakers for men come with high-rebound cushioning. The stretchy mesh upper provides a breathable and flexible fit which comes with a responsive 5GEN midsole and a cushioned insole. You can grab these easy-peasy shoes in a wide range of cool color options to choose from! Its multi-directional traction will help you go on those adventurous treks and cross tough terrains in style.
Pros
Comfortable fit
Breathable mesh
Soft insole
Lightweight
Shock absorption
Breathable and comfortable, these supportive slip-on shoes from Skechers are the perfect addition to your wardrobe and can be used in every season. They come with a relaxed fit, making them a piece of cake to put on and take off. Get ready to look no less than a fashionista, thanks to the canvas upper, stitching, and overlay accents. Moreover, the fabric lining adds to the comfort it offers, and let's not forget the memory foam insole that will give you excellent support and cushioning.
Pros
Durable
Flexible
Stylish look
Well-constructed
Attention all sports lovers! The Merrell men's pair of shoes are a versatile and durable footwear option that is designed for exciting outdoor adventures. The perfect blend of simple, comfy, and casual delivers a flexible and snug fit for all your upcoming adventures. The air cushion midsole and smooth leather upper make them a must-have and will soon become your new travel buddy. These durable slip-on shoes will also save you with their breathable mesh lining, resulting in a sweat-free walk.
Pros
Versatile style
Sturdy and durable
Easy wear and removal
All-day comfort
Reliable traction
Cons
Hard leather construction
Recovery is coming your way with these OrthoComfoot men's slip-on loafers that provide comfort, support, and pain relief. These supportive slip-on shoes are highly suitable for conditions like plantar fasciitis. As one of the most comfortable men's slip-on shoes for men, these casual shoes feature a canvas upper and arch support. The extra cushioning provides additional comfort and shock absorption that will shoo away any pesky foot pain you might be experiencing. If your feet need some extra support, this orthopedic design is the best match for you!
Pros
Good arch support
Pain relief
Vintage look
Orthopedic design
Super lightweight
Cons
Might take time to loosen up
For a casual outing around the town or a fancy party to attend, the DC Men's villain slip-on shoes will become your favorite pair in every situation. You can achieve your comfort and style goals by slipping into these lightweight and easygoing slip-in shoes for guys. The padded collar and tongue support your feet in the best possible way, and let's not forget about the durable rubber outsole that will give you the traction you need to conquer any surface.
Pros
Comfortable fit
Stylish appearance
Versatile
Durable outsole
It's time to step up your shoe game with the Amazon Essentials casual-style canvas slip-on loafers for men! The lightweight and breathable canvas upper makes them one of the best men's shoes for summer. Its timeless and low-profile design will add the much-needed convenience that you are looking for, as they are suitable for both daily and party wear. The cushioned insole and flexible rubber outsole will give your feet the love they deserve, keeping them happy and stylish.
Pros
Casual and versatile
Lightweight and breathable
Soft insole
Durable outsole
Foldable
Get office-ready in minutes with the COSIDRAM casual shoes for men. They are a comfortable pair of slip-on shoes for men, bringing together class and convenience. Make way for a polished and professional appearance as these slip-ons for men are made of genuine leather. And the elastic going on the sides ensures a snug fit that's comfortable all day long. The durable rubber outsole takes care of the much-needed traction and stability that you need to walk around in confidence.
Pros
Breathable
Hand-stitched
Offers ankle roll protection
Comfortable fit
Lightweight
There's no need for you to sacrifice your style to provide your feet with the support it needs, thanks to these 1TAZERO casual slip-on shoes. There are very few men's slip-on shoes with arch support and these are one of those rare gems! The arch support insoles will help you stay on your feet for as long as you want without you facing any joint pain. And the slip-ons that provide extra support for those who prioritise comfort over glam!
Pros
Helps ease pain
Supportive insole
Comfortable fit
Lightweight
Affordable
Cons
Might not be true to size
Trend-setters looking for versatile pieces of footwear should not miss out on these men's slip-on walking shoes by Kizik Lima. Supported by cushioned insoles and flexible rubber outsoles, this nice pair of easy-to-slip-on and off shoes will keep you going, quite literally! The sleek and modern design is perfect for casual occasions where you don't want to put much thought into your outfit but still want to look trendy. And we cannot miss out on mentioning the stability and traction that this casual pair of slip-ons give your feet.
Pros
Ultra-comfy
Cushioned insole
Long-lasting performance
Classic style
Extra-breathable
Now that you have had a look at the best slip-on shoes for men, it is time to glance over the buying guide and usage tips.
How to Choose The Best Slip-On Shoes For Men
Let us take a look a the major elements to consider when choosing the best slip-on shoes for men:
1. Look For Comfort: Look for slip-on shoes that offer adequate cushioning and support. A well-padded insole, arch support, and a supportive midsole can enhance comfort, especially if you'll be wearing them for long periods.
2. Check the Size And Fit: Ensure the slip-on shoes fit properly. They should provide a snug, yet comfortable fit without being too tight or too loose. Consider the width and length of the shoe to find the right size for your feet.
3. Consider the Material: Choose slip-on shoes that are made of high-quality materials which are durable and breathable. Leather, suede, canvas, or mesh are common materials used in slip-on shoes, each with its own characteristics in terms of style and breathability.
4. Analyze the Style: Consider the style and occasion for which you need the slip-on shoes. Loafers are a versatile option that can be dressed up or down, while slip-on sneakers offer a more casual and sporty look. Choose a style that aligns with your personal preference and the occasions you plan to wear them for.
5. Check the Sole And Traction: Look for slip-on shoes with durable and flexible soles that provide good traction. A rubber or synthetic outsole with textured patterns can offer stability and grip, which is particularly important if you'll be walking on various surfaces.
6. Compare Prices: Determine your budget and compare prices across different brands and models. Remember that investing in higher-quality and supportive slip-on shoes can often result in better comfort, durability, and overall satisfaction.
By considering these factors, you can make an informed decision and choose the best slip-on shoes for men that not only look great but also provide the comfort and functionality you need.
How to Use Slip-on Shoes For Men
Using slip-on shoes for men is easy and convenient. Here are some steps to follow:
1. Place Your Foot Conveniently in the Shoe: Start by placing your foot into the opening of the slip-on shoe. Make sure your heel is properly positioned at the back of the shoe. Use your hand if needed to guide your foot into the shoe until it reaches the desired position.
2. Style Them For Casual Wear: Slip-on shoes are the most suitable footwear for casual wear as they are easy to put on and off. The classic and versatile design makes them a good choice to pair with a t-shirt and trousers. 
3. Go For Long Walks: The comfort and support provided by slip-on shoes make them a great accessory for sports and long walks. You can find plenty of options with extra arch support if you are experiencing pesky foot conditions.  
Conclusion
We reviewed a number of shoes and have brought you the best slip-on shoes for men out there! It is time to give your feet one big holiday and pamper them with the most comfortable and fashionable slip-ons. This is your chance to walk the extra mile, in style! We hope this article will help you pick the best shoes to complement your new shoes. Thank you for reading!
FAQ's
What are Slip-on Shoes Called?
Slip-on shoes are commonly referred to as loafers, moccasins, or slip-on sneakers. These terms are used interchangeably to describe shoes that can be easily slipped on and off without the need for laces or fasteners.
Are Slip-on Sneakers Good for Walking?
Slip-on sneakers can be suitable for walking, depending on the specific design and features of the shoe. It's important to look for slip-on sneakers that offer proper cushioning, support, and stability. Features such as a cushioned insole, responsive midsole, and durable outsole can contribute to a comfortable walking experience. It's recommended to choose slip-on sneakers that provide adequate arch support and a secure fit to prevent foot fatigue and discomfort during extended walks.
What Skechers are Good for Standing All Day?
Skechers offers a range of shoe models that are known for their comfort and support, making them suitable for standing all day. Some popular Skechers options for individuals who are on their feet for long periods include the Skechers Performance Go Walk series, Skechers Work shoes, and Skechers Memory Foam models.
Are Slip-On Shoes Work Appropriate?
The appropriateness of slip-on shoes for work largely depends on the specific workplace dress code and the nature of the job. In many professional settings, slip-on shoes like loafers or dressy slip-on sneakers can be considered appropriate, especially if they are made of high-quality materials and have a polished appearance.
Why Trust select
Ankita is a budding journalist and a certified fashion expert. If the fashion police were an official organization, Ankita would definitely be a member of it as she patrols the internet for new trends and blunders that are associated with the fashion industry. Ankita makes sure that her experience and knowledge become the foundation of all the content she puts forward to her readers. Storytelling, dancing, reading novels, and binge-watching movies are her favorite pastime activities. 
Our product experts study the specifications of every product we suggest and try them out to bring what's proven to be worthy of your money, time, and energy. We also have subject matter experts from various fields like Fashion, Skincare, Haircare, Home Decor, and Health & Fitness onboard to make sure our suggestions are credible and trustworthy. You can trust Select to be your faithful shopping guide for all the right reasons!