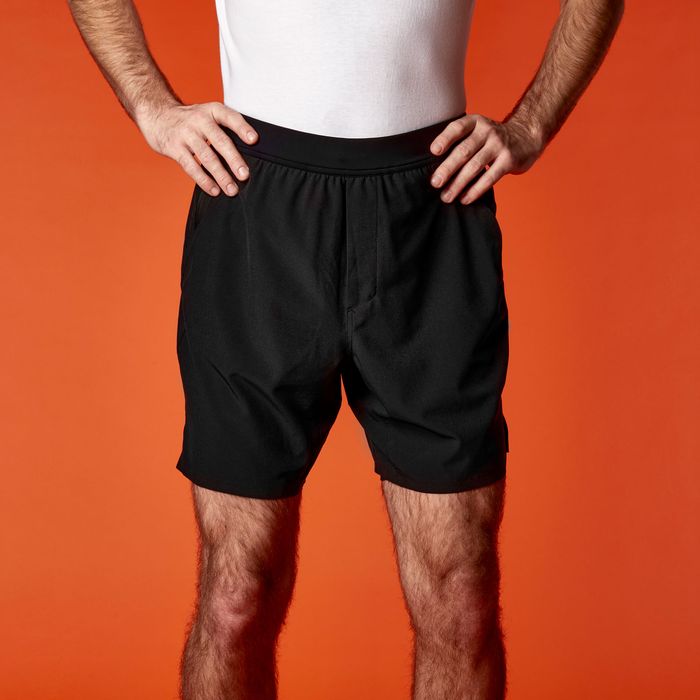 Finding the right pair of gym shorts sounds simple enough. Most guys just want a pair that they can sweat in and forget about. But with gym clothing growing more innovative and activity-specific, there are a lot of variables to consider when buying a new pair, like liners, inseam lengths, and moisture-wicking technology. There's no one universal pair for everyone, of course, but after testing dozens over the past few years, it became clear to me that a few key features set the standard for the very best gym shorts. I also spoke to personal trainers, athletes, and active folks to find out their favorite pairs for each activity.
A gym short's material is the most important thing to look for when choosing a new pair. Gym shorts are made to move and sweat in, so we're looking for fabrics that can stretch well and wick moisture efficiently, thus keeping you comfortable and dry. A blend of polyester, nylon, and spandex is the most common combo. We also paid attention to the exterior fabric, and how their durability stood up to our experts' most intense workouts.
Our picks and my personal favorites come with built-in liners, which generally provide more support and help with wicking sweat off the skin. Some pairs offer a snug, compression-short feel, while others have a liner that feels more like a pair of active underwear. We understand that some guys might prefer the comfort and freedom of an unlined pair, and we noted where those options are available below.
A short's inseam can affect your workout experience. A shorter short has more potential to bunch and rise up in the thigh, while the fabric on a longer inseam can restrict movement. While it ultimately comes down to preference and your height, our experts recommended their favorite inseams for specific activities below.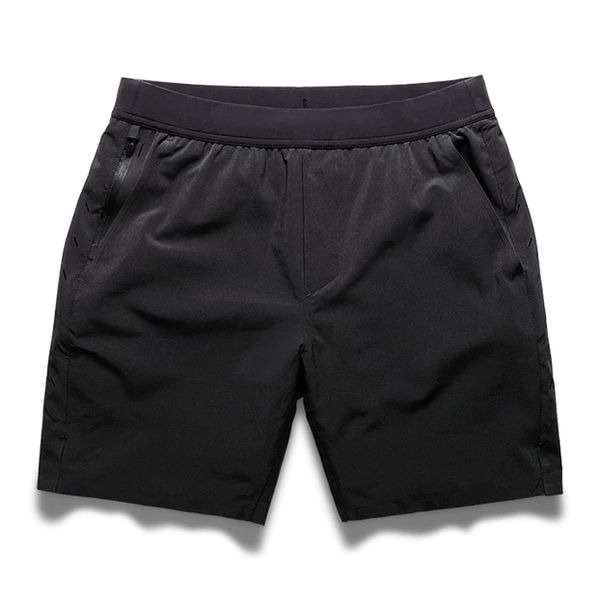 Material: Polyester and spandex | Lining options: Lined or unlined | Inseam length: 5 inches, 7 inches or 9 inches
These seven-inch-inseam Ten Thousand Interval shorts come as close as you can get to quiver-of-one gym shorts. Shorts with a seven-inch inseam are the most popular among the guys we spoke to, with eight telling us they exercise in this style, but the Intervals also come in two other inseam lengths: five- and nine-inch. (Five-inch shorts are the second-most-popular length with the guys we spoke to.) They come recommended by personal trainer Ariel Brill and multisport athlete Nik Karbelnikoff. Brill loves the lightweight stretch fabric of the Interval short, which he says would be great for any sort of heavy lifting at the gym. Karbelnikoff likes that these shorts are tough enough for CrossFit and gym workouts but also have the mobility and comfort needed for a six-mile run. "They are my go-to shorts, no matter what I'm training for. The liners never ride up, and I love having pockets for everyday use," he says. But if you prefer to skip the built-in liner, but they're also available without it. In the two years that I've been testing the Intervals, I've worn them not only for workouts and runs, but also for summer hikes and beach trips, and they show no signs of wear. For those reasons — and the wide size range, from XS to XXL — we think the Intervals are among the best investments you can make when it comes to gym apparel.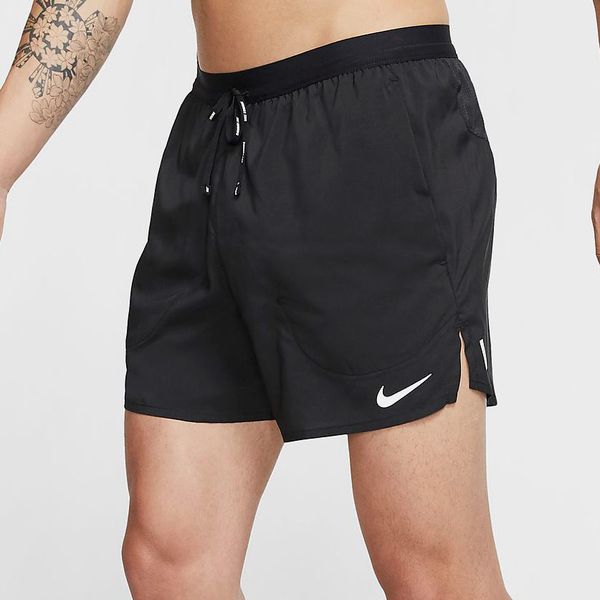 Photo: retailer
Material: Polyester, nylon, and spandex | Lining options: Lined or unlined | Inseam length: 5 inches or 7 inches
This unlined Nike pair with a five-inch inseam came recommended to us by personal trainer Chris Legitime of LegitFitNYC and Jackson Howard, an editor at publishing house Farrar, Straus and Giroux. Even without a lining, Legitime says the shorts still feel secure around the hip, but the lack of a liner means they're "not tight on the groin or quads, making them super-breathable and flexible for hip movements," he explains. While Legitime says he's not so interested in how shorts look, Howard adds that these lightweight shorts do have some aesthetic benefits too. "They make my butt look really good," he says. He wears his pair — which he has had for more than two years — for running, yoga, or just hanging around the house. The shorts also have four pockets: one zippered back pocket, two on the side, and a liner drop-in pocket. Given that the Flex Strides come in 14 different sizes (XS–4XL Tall), a seven-inch inseam, and a lined version as well, we think they're a worthy contender for your next go-to pair of workout shorts, especially for the price.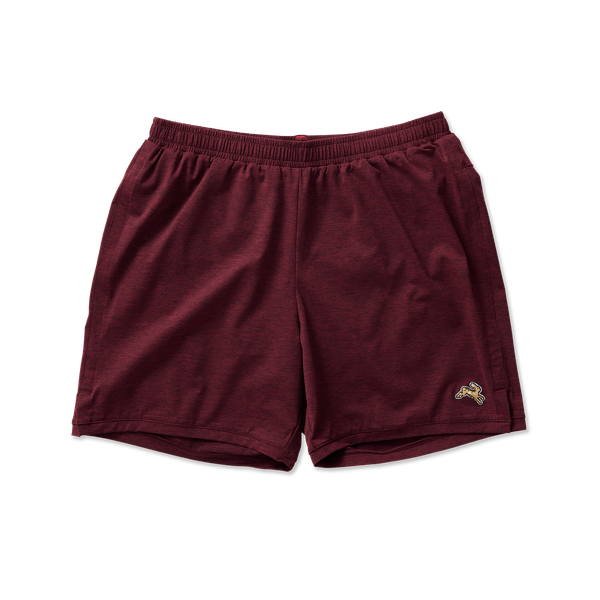 Material: Nylon, elastane, polyester, and spandex | Lining options: Lined | Inseam length: 5 inches or 7 inches
Boston-based running brand Tracksmith makes some of the most stylish and unfussy active apparel available today, and its Session shorts are no exception. The Session shorts feel most at home during runs, of course, but they work just as well for sweaty, aerobic gym sessions. Drew Westphal, who works in digital marketing, says he has also worn these lined shorts to do yoga, Pilates, and "a lot of stretching at home to help my golf game." While they've been comfortable for all of his workouts, Westphal says the real appeal of the shorts may be their lesser-known branding and interesting colors, which range from "espresso" (dark brown) to "forest" (dark green) to "wine" (dark red). They're also available in a five-inch inseam. I've been running in both the five- and seven-inch versions of the Session since 2019 for daily training. While these shorts have held up for countless miles, I also reach for them when I'm lounging around my apartment. The Session shorts have a buttery-soft texture and feel equally as good on the run as they do while relaxing.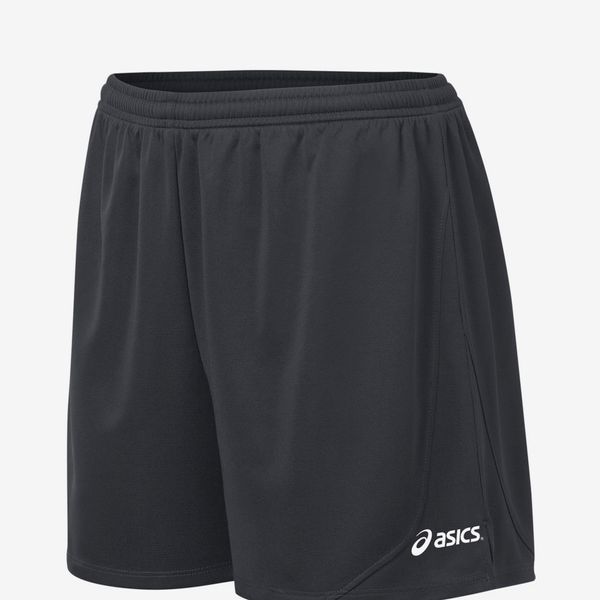 Material: Polyester | Lining options: Lined | Inseam length: 4 inches
The ASICS Rival II is a favorite of running-obsessive Strategist contributor Steven John. "Whether I'm going for a quick run through my neighborhood or logging miles on a hotel gym's treadmill, I often choose my ASICS Rival II running shorts," he writes. John says the Rival II shorts are suitable for use in just about any conditions and are a great option for guys who want light support from a liner; not a super-tight, compressive fit. They have a loose liner that provides a bit of comfort but, according to John, "doesn't add too much fabric when you're wearing briefs or compression pants," while the exterior layer is loose enough for a full range of motion.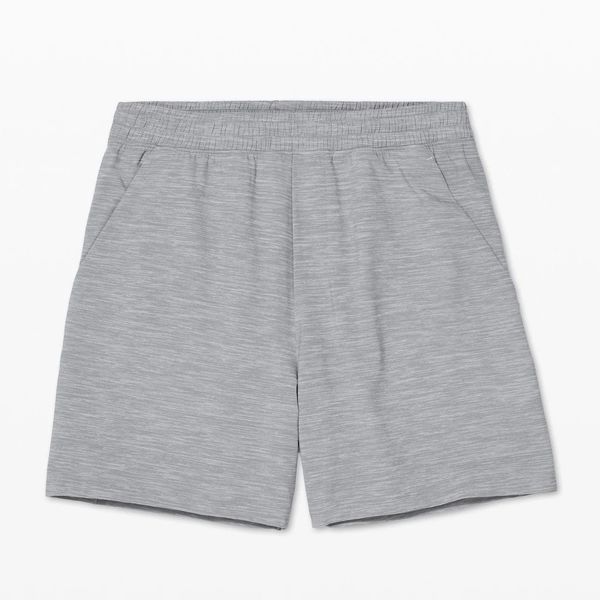 Material: Polyester and elastane | Lining options: Lined or unlined | Inseam length: 5 inches, 7 inches, or 9 inches
The Pace Breaker short is a Strategist staff favorite, as well as a favorite among stylish men we've spoken with over the years. "These shorts have been my go-to for a long time," says Ralph Lauren creative producer Yale Breslin. Like other Lululemon acolytes, he says the Vancouver-based brand has "mastered fit, simplicity, and technology" in creating this unlined pair, which he calls the ultimate gym shorts. Their length, according to him, is not too long and not too short, making these ideal for his at-home HIIT, yoga, and boot-camp workouts. A smaller detail he appreciates is that the shorts have minimal branding. Lululemon offers both lined and unlined versions in seven- or nine-inch lengths — but the unlined is our favorite. Matt Jared, co-founder of the yoga-and-meditation nonprofit United We Om, is yet another Lululemon Pace Breaker fan, but he prefers the slightly longer nine-inch version. "I wear these shorts when I teach yoga because the fit is loose and relaxed, but they stay in place and don't pinch no matter what shape I find myself in during class," he says.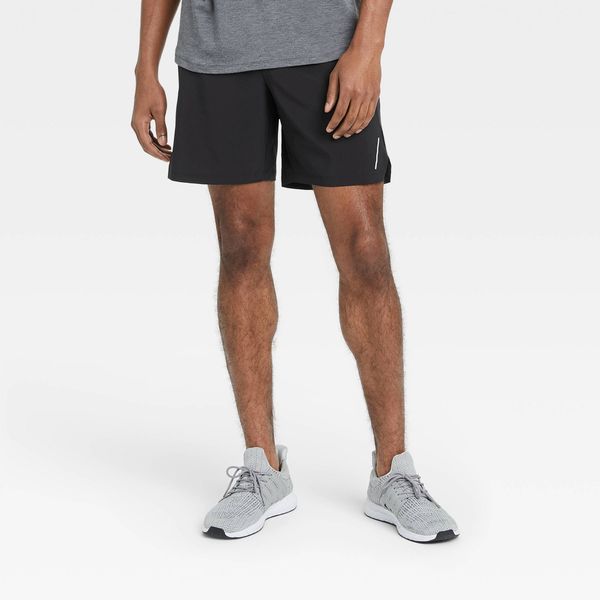 Material: Polyester and spandex | Lining options: Lined or unlined | Inseam length: 3 inches, 5 inches, 7 inches, or 9 inches
This more affordable unlined pair of seven-inch gym shorts (that seems inspired by the Lululemon pair above) comes recommended by personal trainer Andrew Flores, who says the shorts have been his "go-to for the last six months when I practice Muay Thai or boxing." Describing the feel, Flores says they have a "great stretch to them, meaning you can perform exercises in all planes of motion without obstruction." And from a fashion perspective, he says they also "go well with a long-sleeved tee for that post-workout run to the store." Target offers these in a lined version, which are also available with a three-inch inseam.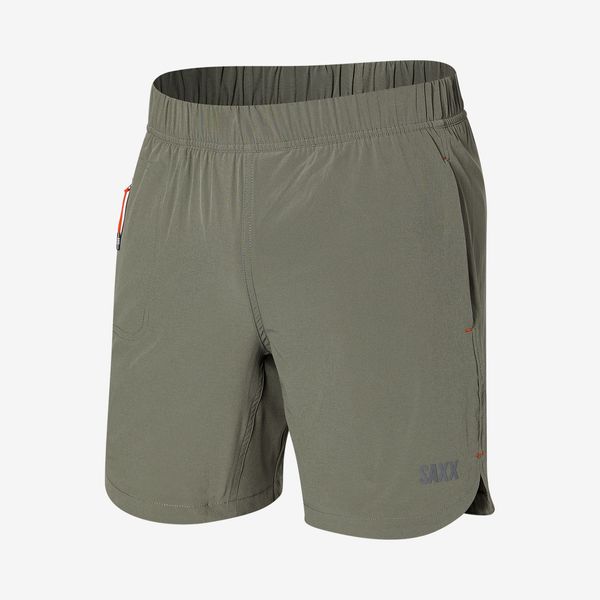 Material: Nylon, elastane, polyester, and spandex | Lining options: Lined | Inseam length: 7 inches or 9 inches
Almost all of the gym shorts on this list are available with liners, but Saxx offers the most comfortable one. "These are my go-to training shorts whether I'm working out at the gym or at home," says Sean Sewell, a personal trainer who runs the gear-review site Engearment and the online fitness program Mountain Fitness School. Sewell owns "three or four pairs" of the Kinetic Train shorts from Saxx, which have since been discontinued — but these newer Gainmakers offer the same compression and fit as their predecessors. "They're more expensive, but you're getting a semi-compression short and a high-quality Lululemon-type gym short," he explains. Sewell's favorite part of Saxx shorts is the signature "Ballpark Pouch" liner, which he says "keeps everything in place and provides support." Saxx also makes a seven-inch version, which some may prefer, but he thinks the nine-inch length "is really comfortable for most men, especially taller men." If a comfortable, supportive liner is your first priority in gym shorts, then you should consider this pair.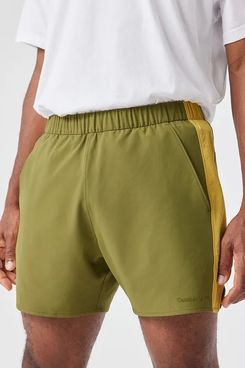 Material: Polyester | Lining options: Lined | Inseam length: 5 inches or 7 inches
I've frequently worn the five-inch High Stride for short runs and gym sessions since 2021, and I like that the liner doesn't feel too tight or restrictive yet still provides support. Outdoor Voices has added pockets to their latest version of the High Stride.
Copywriter Jon Roth is also a fan of Outdoor Voices' five-inch gym shorts. "Since I mostly hate exercise, finding cool workout clothes has been a good motivator," he told us. "These are cut high enough to show some thigh but also lined so nothing else shows." Outdoor Voices has made slight tweaks to the shorts since Roth purchased them (like the addition of pockets), but the brand told us that the newest style — which comes in several colors — is very similar to Roth's pair and, of course, has the same inseam length.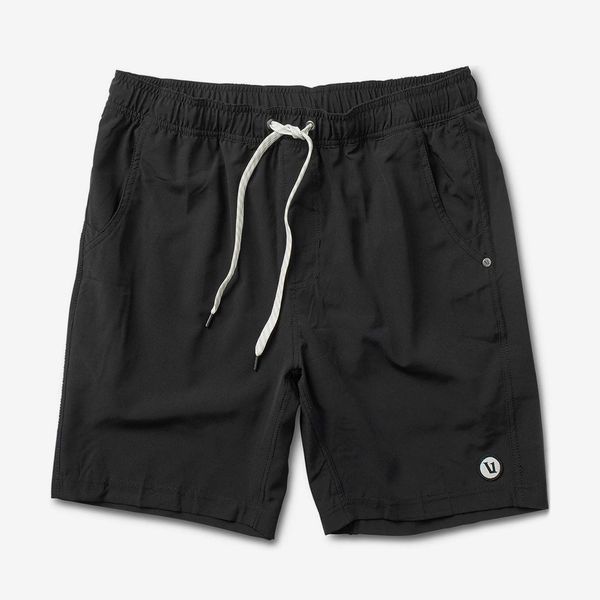 Material: Polyester and elastane | Lining options: Lined | Inseam length: 7.5 inches
The Kore Shorts' impressive stretch makes them ideal for activities like yoga and climbing. "Vuori makes some of the most comfortable and durable gym shorts," according to Brill, who likes the versatility of this pair (which is lined) and says it would be great for any "sport or outdoor activity." Tim Senesi of the popular YouTube channel Yoga With Tim is also a fan of Vuori and told us its shorts are among his favorites for yoga. "I love anything that fits comfortably and is not too loud of flashy," says Senesi. The Kore's liner is less compressive than those of other pairs on this list, so we recommend it for more relaxed workouts.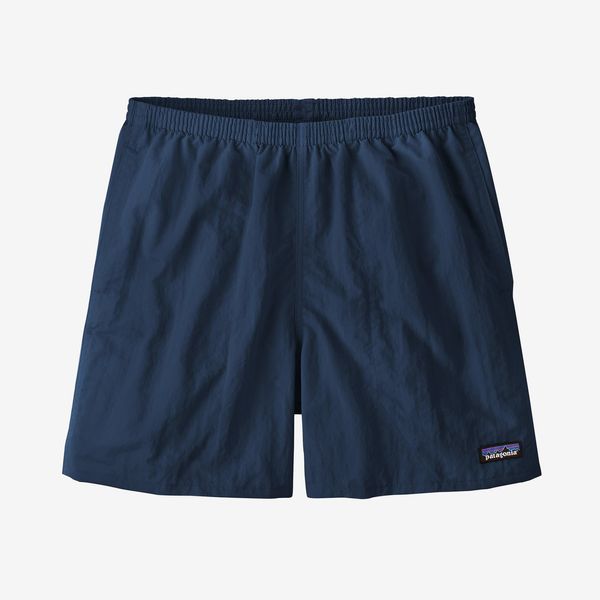 Material: Nylon | Lining options: Lined | Inseam length: 5 inches or 7 inches
Baggies are a perennial favorite at the Strategist. Besides all the other scenarios that we've described them as being perfect for — lounging, swimming, or everyday wear — these shorts feel right at home at the climbing gym. They're made from a durable nylon that stands up to the random bursts of movement one does while climbing: scrapes against the wall, weird stretches in awkward positions, and falls on the mat. That burly construction makes it easy to brush off chalk, too, unlike a knit fabric or a fabric with a looser weave. I've been climbing in Baggies since 2015, and they've been one of my most-used pairs of outdoor bottoms since. When wearing a harness, I prefer climbing in my seven-inch-inseam pair; I've found that the five-inch-inseam version is prone to bunching up near the groin.
• Yale Breslin, Ralph Lauren creative producer
• Ariel Brill, personal trainer
• Louis Cheslaw, New York Magazine associate editor
• Liza Corsillo, Strategist senior writer
• Andrew Flores, personal trainer
• Tre Holloway, personal trainer
• Jackson Howard, editor at Farrar, Straus and Giroux
• Matt Jared, United We Om co-founder
• Steven John, runner and Strategist contributor
• Maura Kutner Walters, Strategist contributor
• Nik Karbelnikoff, multisport athlete
• Chris Legitime, personal trainer at LegitFitNYC
• David Notis, former Strategist writer
• Jon Roth, copywriter
• Tim Senesi, yoga teacher, Yoga With Tim
• Sean Sewell, personal trainer, owner of Engearment and Mountain Fitness School
• Daniel Varghese, former Strategist associate editor
• Drew Westphal, digital marketer and yoga practitioner
Additional reporting by Liza Corsillo, Maura Kutner Walters, and David Notis.
The Strategist is designed to surface the most useful, expert recommendations for things to buy across the vast e-commerce landscape. Some of our latest conquests include the best women's jeans, rolling luggage, pillows for side sleepers, ultra-flattering pants, and bath towels. We update links when possible, but note that deals can expire and all prices are subject to change.
Every editorial product is independently selected. If you buy something through our links, New York may earn an affiliate commission.